The SF mayoral candidates – except for Sup. London Breed — debated their positions on housing issues Saturday at the Kelly Cullen Community center in the Tenderloin.
It was the first debate that the issue of Midtown Apartments – and the related displacement of the African American community – played a central role.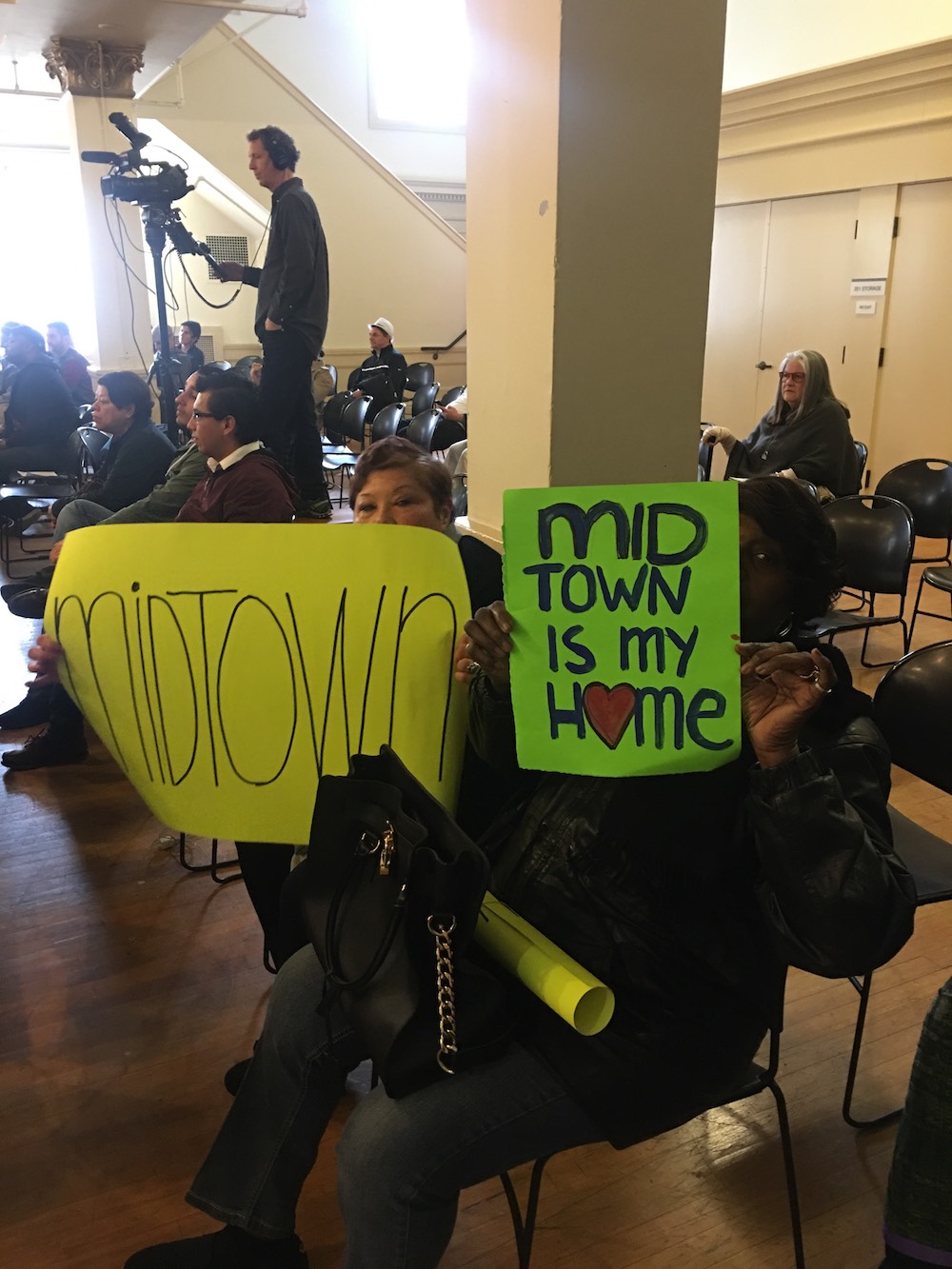 Positions from progressive front runners Jane Kim and Mark Leno were fairly similar and consistent—closing eviction loopholes by repealing Costa Hawkins, passing a billion-dollar bond specific to affordable housing, and implementing varying measures meant to force vacant units on to the rental market. Both candidates agreed that more needs to be done to build affordable housing over market rate.
Angela Alioto was the only candidate to say that San Francisco's designation of what constitutes "affordable" housing is not actually affordable for many working-class people.
I asked a two-part question about African American displacement from San Francisco in general and the displacement of the majority African American tenants at the Midtown Park Apartments.
Kim discussed creating a Mayor's Office of Race and Equity, and referenced a program in Portland, Oregon, that is attempting to bring displaced African Americans back into the city, and suggested that San Francisco could implement something similar.
Alioto enthusiastically recommended that the Midtown tenants sue the Mayor's Office of Housing in the Superior Court. Leno said that a local-hire program for tech companies would help existing residents in vulnerable communities earn the money that's needed to afford housing in San Francisco.
Most candidates initially did not directly answer the question about Midtown.
After the moderator had moved on to the next question, Kim asked if she could to circle back to the question posed about the tenant campaign at Midtown, and asserted that she supports the tenants' demands for no displacement and demolition "100 percent." After the forum, Leno approached the Midtown tenants in the audience and also pledged his support. A call to his office confirmed that Leno is in support of the tenant demands.
Midtown tenants say they were not surprised by Breed's absence from the forum. Breed has repeatedly cancelled or simply failed to show up at many Midtown community meetings where her attendance was promised. Some tenants even expected that Breed would cancel her appearance at Saturday's forum if she knew that Midtown tenants or supporters would be in the audience.
"Breed says she represents the Black community in the Fillmore Western Addition, but she's done nothing for us," said Mary Watkins, longtime Midtown resident and former union organizer present at Saturday's town hall. Breed has made her position on Midtown clear on previous occasions: she does not support the tenant demands for tenant self-management or equity ownership, and is supportive of the Mayor's Office of Housing and Mercy Housing's goals to demolish and redevelop Midtown as a Mercy Housing property.
We asked Breed's campaign for comment on her absence at the forum and her position on Midtown, but they haven't answered by press time.
Midtown tenants say they will continue to be present at future mayoral forums to make sure the question of restitution for Midtown residents and African American tenants in general is on the table.