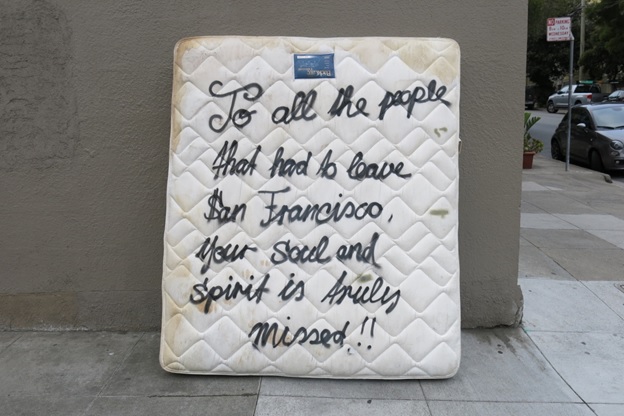 This was the week of candidates putting forward plans to address homelessness.
Mark Leno put forward his plan to end "street homelessness," and while some of the proposals are similar to ideas we've heard before, his plan includes what the previous administration never seriously considered: The concept that one of the best ways to address homelessness is to prevent evictions and keep people in their homes.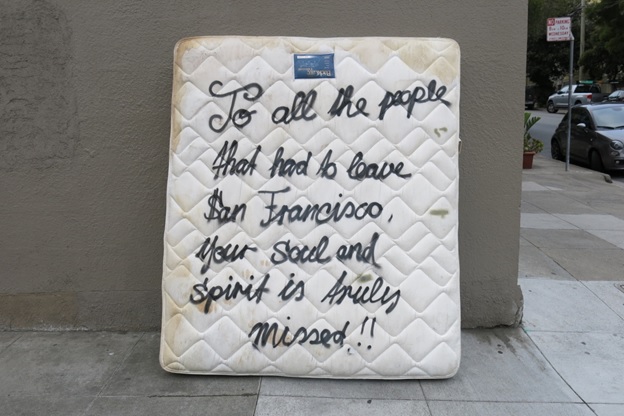 "70% of San Franciscans living on the street were living under a roof in San Francisco before they became homeless," the Leno plan states.
That's a sharp contrast to Ed Lee's time in office, when rental subsidies were curtailed and evictions became epidemic.
Leno, along with Sup. Jane Kim and Amy Farah Weiss, supports the ballot measure that would guarantee every tenant who is facing eviction the right to a lawyer.
Leno also points to the more than 1,500 SRO hotel rooms that are vacant and could be used to house homeless people.
The SF Public Press reported on this in the fall, and also on the reasons those rooms remain empty. Some landlords are just keeping units off the market because they think prices will continue to go up; once a tenant moves in and stays 32 days, the unit comes under rent control.
In other cases, landlords don't want to rent to homeless people because they're worried about the impact of tenants who need services that often aren't available. Leno's response:
We know that many SRO landlords leave units empty because City Hall isn't meeting the need for supportive services that help keep formerly homeless tenants safely and reliably housed. Landlords should not have to worry whether a new tenant exiting homelessness will have the social services they need to pay rent or maintain mental and physical stability — this should be a guarantee from City Hall.
TODCO, the Soma affordable housing group whose executive director, John Elberling, has endorsed Jane Kim, notes that
The residential hotels in SOMA, the Mission, and the Tenderloin that have been empty for years are owned by owners who have refused to sell them to nonprofit affordable housing groups at any reasonable price, and cannot not even lease them to the City for homeless programs because they are not up to today's codes. These owners are speculating these properties looking for a maximum price by "investors"/developers like StarCity. Many will ultimately wind up being "taken upmarket," after modest renovations, to become hip SRO housing for the City's new Young Gentry.
It might take a vacancy tax to force some of these landlords to accept tenants. Kim has proposed using eminent domain to force the owners to sell these buildings to the city, which would give SF a direct source of more than 1,000 affordable units. That's a lengthy legal process – it could take years, although some landlords might decide to settle and sell rather than go through the expense of litigation
Sup. London Breed released her own homelessness plan today, which doesn't mention the vacant SROs but does call for building 5,000 new housing units a year, reflecting her position that more market-rate housing will help bring down costs (and presumably prevent homelessness).
The city's own data shows that building market-rate housing makes the housing crisis worse.
She also cites the number of homeless people who used to be housed in San Francisco, and talks about the need for prevention (including more funding for rent subsidies.
Breed doesn't support the Right to Counsel ballot measure; she's introduced her own legislation at the board that at this point offers a more limited program than the ballot measure does. TODCO's got an analysis of Breed's plan here.
Neither of these plans includes full details of how they would be funded – Leno says he wants a top-to-bottom audit of all existing expenditures on homelessness to be sure there's no waste, and Breed is talking her tax plan that would raise $70 million a year. The need is far greater than either of those solutions.
But at least the debate is (finally) focused on prevention as well as cure. Now perhaps we can all start discussing whether this problem is linked to the city and the region growing too fast.
The superPAC run by the San Francisco Firefighters Union, which is supporting Breed (and will probably wind up attacking her opponents) just picked up another $75,000 in cash.
Documents on file with the Ethics Commission show that the independent-expenditure committee received $50,000 from Pilot Construction Management, Inc., which couldn't give money, even a fraction of that amount, directly to a candidate because local law bans corporate contributions – and because Pilot has done business with the city.
The president of Pilot, Lina Tan, has donated the maximum $500 in the past to David Lee for Supervisor and Ahsha Safai for Supervisor. Other than that, she and her company have not been major donors in the city.
The other $25,000 came from Mae C. Woo, a retired real-estate agent.
The conventional political wisdom has always been that front-runners don't like to debate; it rarely does them any good, and can lead to blunders. By some recent accounts, London Breed is now the front-runner in the race, which may explain why she hasn't shown up for some of the more progressive groups' endorsement forums.
She missed San Francisco Rising, the Latino Democratic Club, the Bernal Heights Democratic Club, and the Council of Community Housing Organizations. She showed up for the Democratic County Central Committee endorsement interviews, but left early.
Or maybe she's just really busy. Nobody can make all the events. Still, these were all forums held by progressive groups who would have had tough questions for her.
It's hard to cover a complex topic like housing at a contentious forum when you don't have much space, so I know what the Chron's Rachel Swan was up against. Still, our reporter had a different take on what happened at the Council of Community Housing Organizations forum. And when I watched the video, I was a bit perplexed.
Here's what the Chron reported:
The dramatic high point came when an audience member asked a question that seemed targeted at Breed, who wasn't even there: How would each candidate help African Americans who have been priced out of the city?

The audience member specifically cited the Western Addition, a neighborhood that was bulldozed by redevelopment in the 1960s. Breed, who is African American, grew up in a housing project there and now represents the area as a district supervisor.

It was an awkward moment for Leno, who has framed his campaign around the idea of political change — a notion that Breed's supporters have slammed, arguing that Leno is a 66-year-old white man who spent decades in City Hall and the state Capitol.

Leno lamented "the exodus of our African American population" from San Francisco but offered no concrete solutions to stop it. Kim said she would open an office of race and equity if elected mayor. Alioto blamed the Third Street rail line for driving African Americans out of Bayview-Hunters Point, though she didn't explain how the two things connected. Her mayoral platform is largely about saving the soul of the city.
I watched the video and actually, Leno had a perfectly reasonable response: He said that a serious local-hire program that sought to make sure that a fair share of the new tech jobs went to existing residents, including African Americans, would help prevent displacement by giving the vulnerable communities a chance to benefit from the high wages of the boom. That may be a good idea or not, but it's certainly a legit proposal. Kim also talked about a program in Portland that gives displaced residents first preference in affordable housing; again, that may or may not be a good idea, but it's a credible proposal.
Alioto's comments about displacement in Bayview Hunters Point seemed pretty clear to me, and I suspect most people in the room got the point.
I asked Swan about it, and she told me that
Leno's comments on the African American question seemed a little vague to me. I got what Angela was suggesting with regard to the Third Street rail, but to me the gentrification connection was unpersuasive.

I did think the Midtown question — clearly a dig at Breed — put Leno in an awkward position. Maybe it was more of a gut feeling sitting in the room there.
Each candidate had one minute to answer one of the most complex questions facing the city. Hard to be more than a little vague.
State Sen. Scott Wiener unleashed a vicious attack on Kim over her opposition to SB 827, the state housing bill that would upzone pretty much all of San Francisco without any new affordable housing requirements or any way for the city to capture some of the profound increases in property values that the law would create.
Interesting that he has made no such harsh comments about Leno, who also opposes SB 827 — and who Wiener has endorsed.