ONSTAGE A historical epic, a taut thriller, a chamber melodrama, a heart-warming comedy, a social scalding: Playwright Suzan-Lori Parks wrings a lot from her enthralling Father Comes Home from the Wars Parts 1, 2, and 3 (through May 20 at ACT) from 2014.
Her strategy? Start with a rock-solid premise: What if you were a slave who was promised freedom if you accompanied your master into the Civil War, fighting against the Yankees? There are enough ironies in that horrible situation, one actually faced by dozens of enslaved men called Body Men, to fuel the three-hour running time and keep you glued to your seat. (There are six more parts to Father coming, although Parks says she's in no hurry to write them.)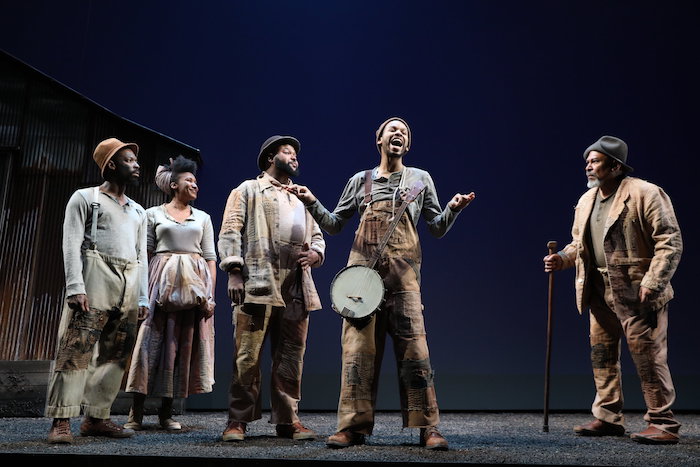 From there, Parks lets her crystal clear and ingenious plotting unfold in unexpected and searing directions. Many contemporary African American artists have found that an Afro-Surrealism rooted in absurdism and metaphysics is the only tolerable way to approach the phantasmagoria of the Civil War. But Parks plays it mostly straight: Despite obvious callbacks to Homeric epics the Odyssey and the Illiad, a hyperreal but completely plausible plot twist in part 2, and the introduction of an irresistibly charming, totally impossible character in part 3, there's no magical escape hatch for either the audience or the artist from the horror or the humanity of that still simmering American inferno.
That doesn't mean Father is shorn of poetry or beauty. Parks' trademark jazz-inflected dialogue pulls from both the classic (slave dialect, epic poetry, biblical passages) and the contemporary ("True dat," "jet") and gives the play a striking texture. The tone can shift on a dime, and you're never quite sure from one minute to the next if Parks is sending up stereotypical expectations of how enslaved people should behave and talk—the plantation, where much of the action takes place, is of full of cliches that run deeper than you think—or celebrating a culture of simple humor, friendly rivalry, and cheering romance, guarding itself against sudden terror.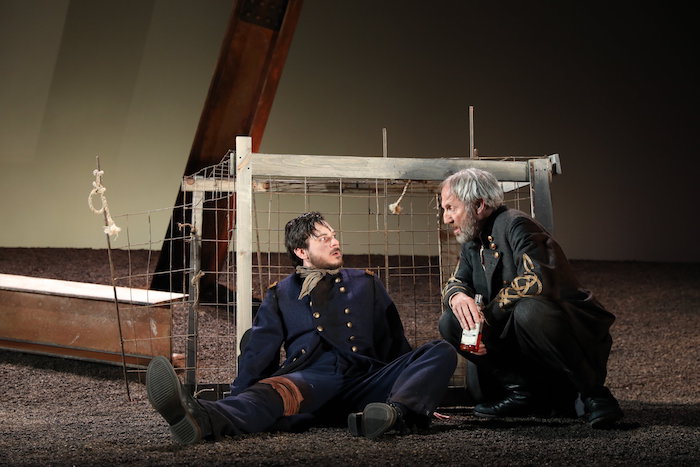 Here's the bare bones. In Part 1, the small slave community on a Texas plantation agonizes over whether the prevaricating Hero (a fantastic James Udom) will follow The Colonel (Dan Hiatt) in war. Hero's been promised his freedom before—at the tragic expense of another slave, Homer (Julian Elijah Martinez)—but after betraying Homer, Hero was himself betrayed. Will he fall for it again? Does he even want freedom, or know what it truly is? (This, I feel, is a genius insight of the play: Slavery so degrades people that the concept of freedom can be terrifying.) Meanwhile, everyone's looking for Hero's dog, Odyssey—or "Odd-See," because his eyes "go this way and that."    
Part 2 is a tense standoff in the woods a short distance from the boom of cannons, as The Colonel and Hero, who has indeed gone to war, watch over captured Yankee captain Smith (Tom Pecinka). The narrative and moral suspense ratchets up as the Colonel plays sick games with the other two, and opportunities keep opening for Hero to seize his freedom. The implications of "owning oneself" are overwhelming, in a society that puts a price on everything.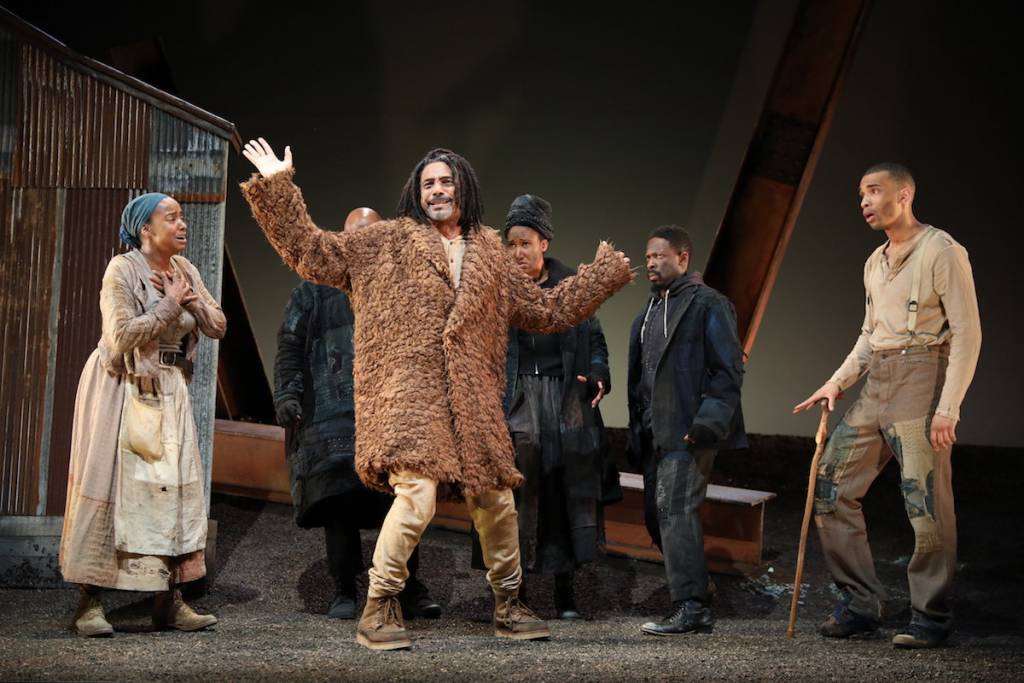 In Part 3, Hero, now renamed Ulysses after the general, returns to the plantation and his beloved Penny (Eboni Flowers, heart-rending) to find much has changed. Odd-See the Dog (a perfectly canine Gregory Wallace) returns and plays a crucial role in the melodrama that follows, with as much romantic turmoil as a telenovela, full of wonderfully funny moments and some of great philosophical gravity—what is freedom when you're left with nothing in a capitalistic society?
Those economic concerns are one of the wonders of the play, which offers a taut Marxist gloss on the price of bodies and ideology. Another great strategy is the deployment of enslaved people, both runaway and enchained, as a Greek chorus—Rotimi Agbabiaka, Safiya Fredericks, and Chivas Michael are a fabulous ensemble who simultaneously comment on and contribute to the action. Minimal sets by Riccardo Hernandez and moody washes of lighting by Yi Zhao abet director Liz Diamond's straightforward, uncluttered direction.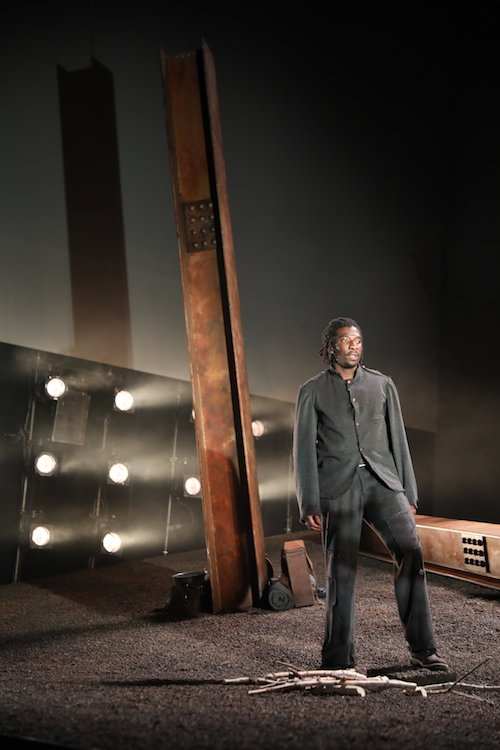 Steven Anthony Jones as the plantation's "Oldest Old Man" (his role as father figure brought home the realization that this family could be torn apart at a moment's notice) and musician Martin Luther McCoy, punctuating the stage business with lovely blues snippets written by Parks herself, round out the cast. While the Homeric references didn't quite add anything for me (you'll recognize several plot points from both the Odyssey and the Old Testament), they provided some great wordplay and a solid framework. I also missed some of the dazzling linguistic experimentalism Parks has brought to famous works like Topdog/Underdog and Imperceptible Mutabilities in the Third Kingdom, but that concentrated brilliance might be tiresome in an epic such as this.  
In a month that swerved crazily from Kanye West's ridiculous pronouncements that slavery was a choice and Donald Glover's sensational but highly problematic indictment of the country's racist legacy in his "This is America" video, spending company with Parks' deep, long, unwinding expressions of the historical black experience was emotionally refreshing and intellectually invigorating. 
FATHER COMES HOME FROM THE WARS
PARTS 1, 2, AND 3
Through May 20
ACT's Geary Theatre, SF
More info here.