Like Macy's holiday windows, Tom and Jerry's giant Christmas toy house, or the Sisters of Perpetual Indulgence's humongous Easter hats, you know an only-in-San Francisco celebration is just around the corner when vintage and contemporary consignment clothing store Sui Generis sets up its annual Folsom Street Fair window displays.
Founded by Miguel Lopez and Gabriel Yanez a dozen years ago, and currently comprised of a mens' store in the Castro and a women's store in Cow Hollow, Sui Generis is pretty much the go-to for anyone who recognizes good couture but exists on a city-survival budget. (I read fashion show reviews religiously, but I've only ever touched the work of some of the designers at Sui.)
The notorious Folsom windows have been part of the leather extravaganza experience for almost as long as Sui Generis' presence in the Castro, and the angle, with different themes each year, is always a fresh look at the often slightly fatigued ensembles that come together for leather week. (Fetishwear is a tradition, of course, and the clone look has its purposes, but that doesn't mean there can't be a little flair!)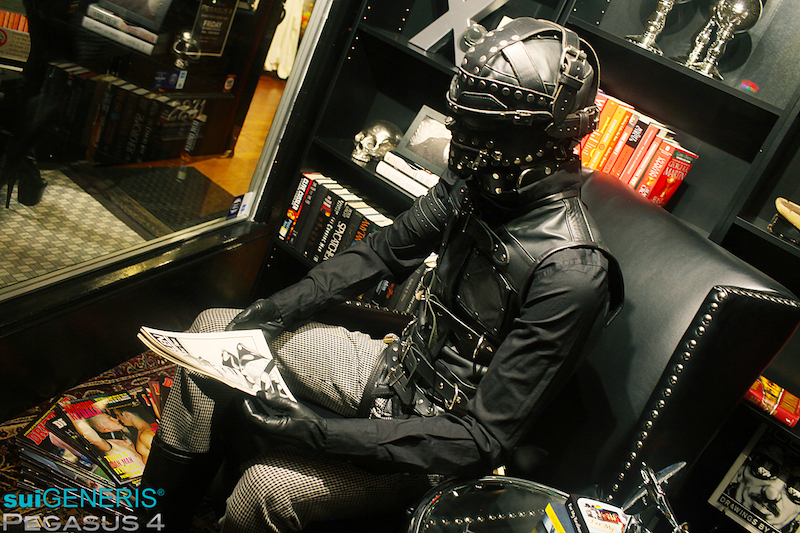 For the last eight years, the Castro store has been pairing its window unveilings—this year has a "leather & lace" theme, for those in touch with their masc and their femme sides—with a Folsom kickoff party called Pegasus (Fri/28, 7pm), drawing a lively crowd for shopping, sipping champagne, and swaying to one of my favorite DJs, Rich King.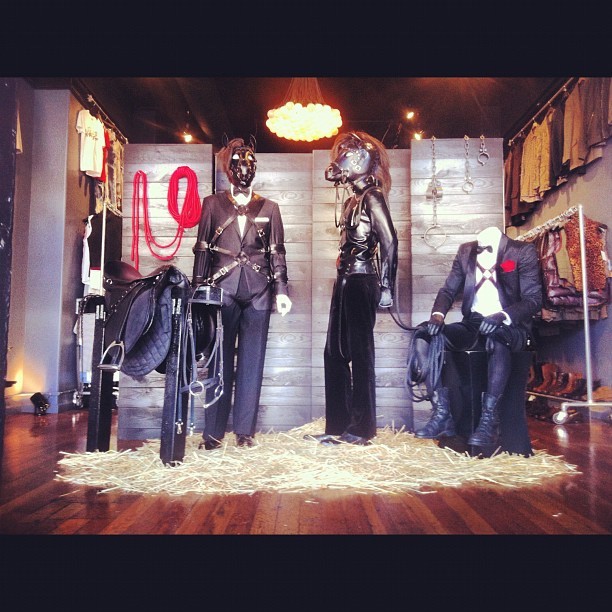 I spoke with owner Lopez about his window inspiration, his party, and how to look great for the fair and all its satellite affairs.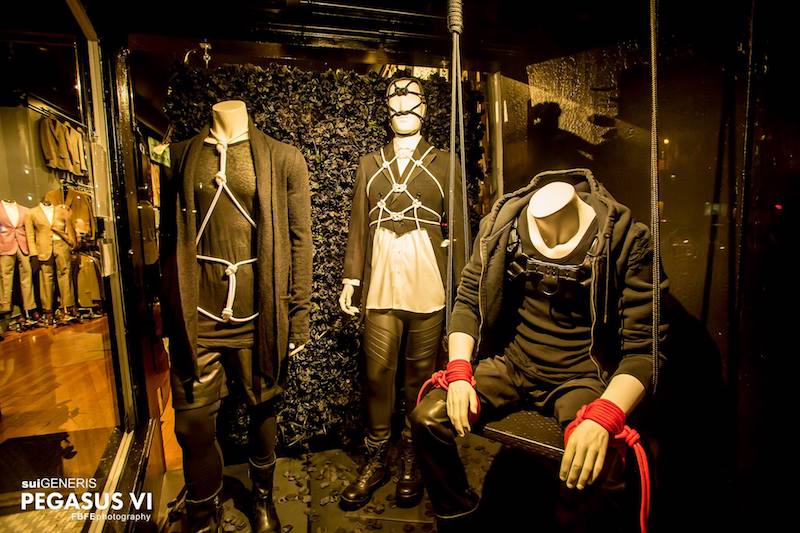 48 HILLS How long have you been doing the Folsom-themed windows—and what inspiration do you use when coming up with them?
MIGUEL LOPEZ We've been doing Folsom-themed windows since our first year anniversary back in 2007, at our first store on Church Street. (Our mens' store is now at 2231 Market St in the Castro.) We try to take different approaches to different fetishes, usually picking a theme and mixing it with fashion pieces from our store, trying to give it a different twist.
In the last few years we've been collaborating with Mr. S, mixing in their gear (bondage, latex, neoprene, etc.) with our fashions. Thanks [Mr. S. store manager] Santiago!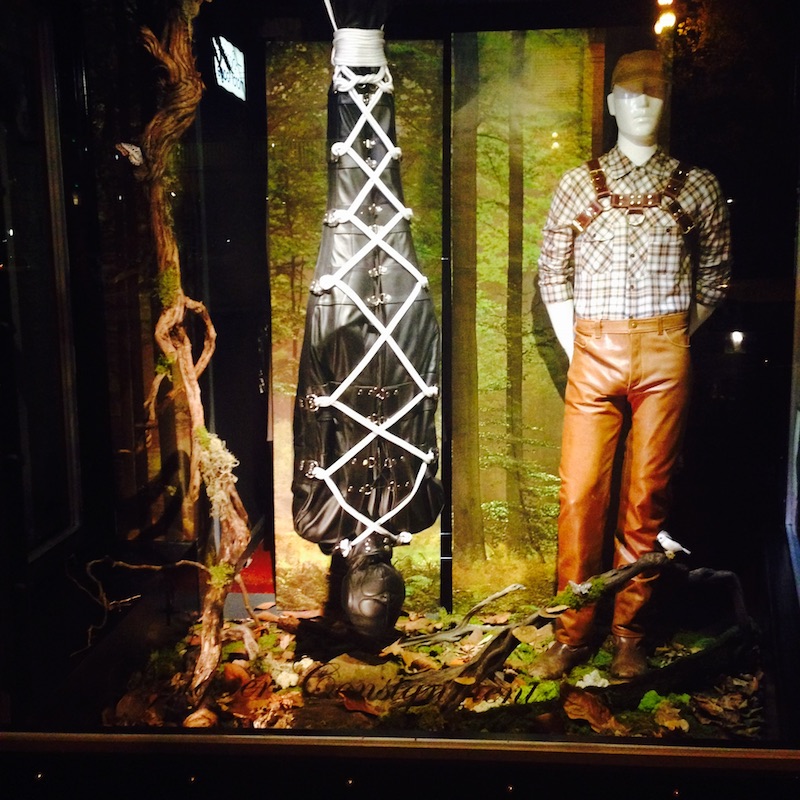 48H Leather and fetishwear can be expensive—but not many people think it can also be stylish, beyond the traditional looks. What are some tips on how people can mix leather-sexy with their individual style?
ML We believe that giving a personal take on your leather attire will make a more special and memorable outfit. You can mix styles, like black tie gala-wear with a leather corset instead of a cummerbund, or your leather braces and restraining cuffs with your tuxedo shirt, etc… or just wear a jockstrap underneath, if you are feeling naughty.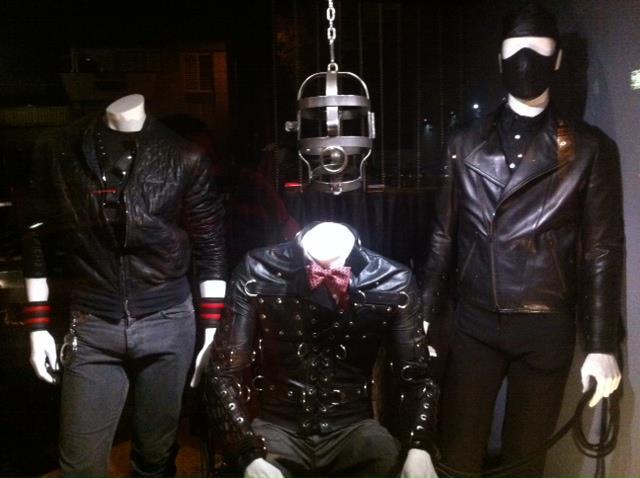 48H How about creating a chic leather look that doesn't cost too much? 
ML Go vintage and secondhand shopping: You can find unique clothing and accessories that already have some mileage, which in our opinion looks much better that something shining new. 
If you want new pieces, Mr. S is a great option, sign for their mailing list for special events/promotions, don't be afraid to spend on these pieces, think of them as an investment, in yourself and your community.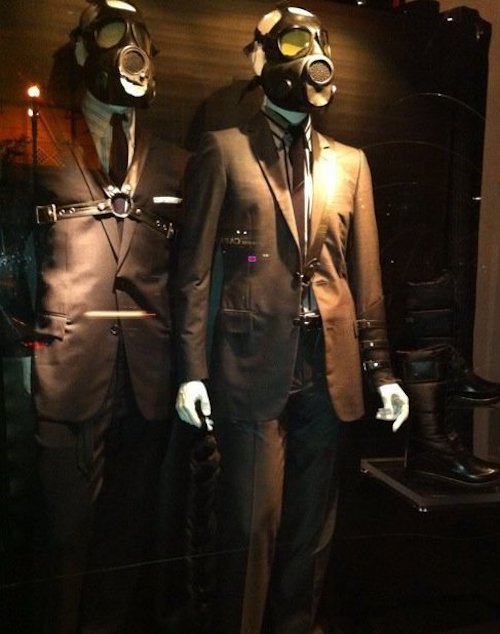 48H What designer pieces have come through the store that have been particularly good for Folsom?
ML For designer pieces, the ones that usually give things an edge and are not afraid of using/referencing S&M inspirations include names like Alexander McQueen, Jean Paul Gaultier, Helmut Lang, Givenchy, Comme des Garcons, Gianni Versace, Moschino, and Raf Simons.
Right now we are suggesting to mix leather looks with softer fabrics like silk, lace, tulle, etc. In the past weeks we were lucky enough that people were consigning some lace shirts and tops as well some unique items like this, from Junya Watanabe: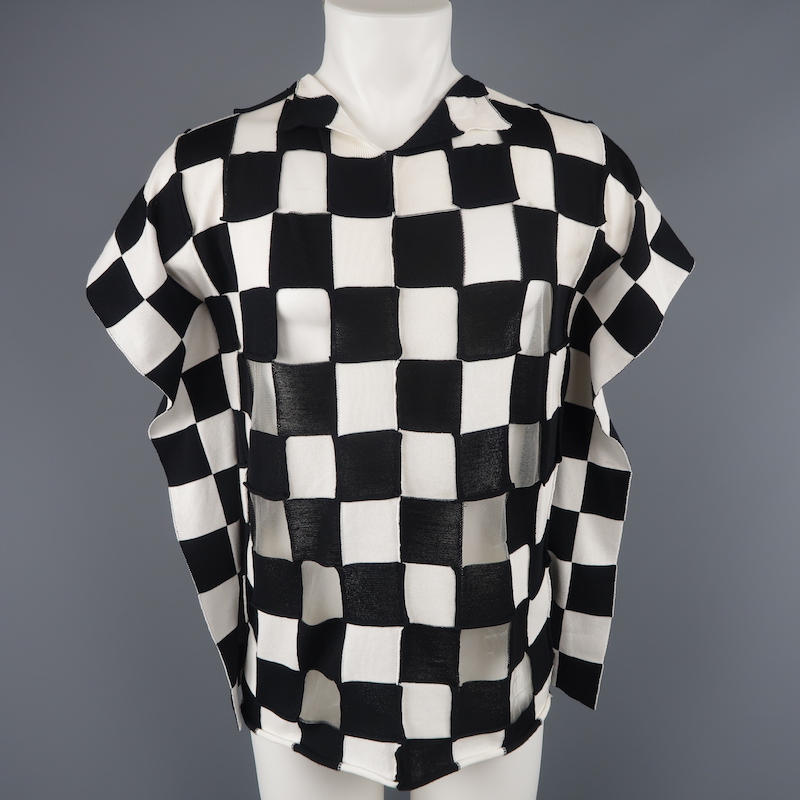 48H What do you have planned for the Pegasus party this year?
ML This Friday at 7pm we'll mix leather and style with our eighth annual party. It's always an easy way to get into this weekend; it's a social meet-and-greet kind of event; friends and clients bring their friends visiting from out of town to meet other locals, as well to introduce them to Sui Generis. A common line with our guests is that they share the love for fashion: Style and leather can go a long way for sure.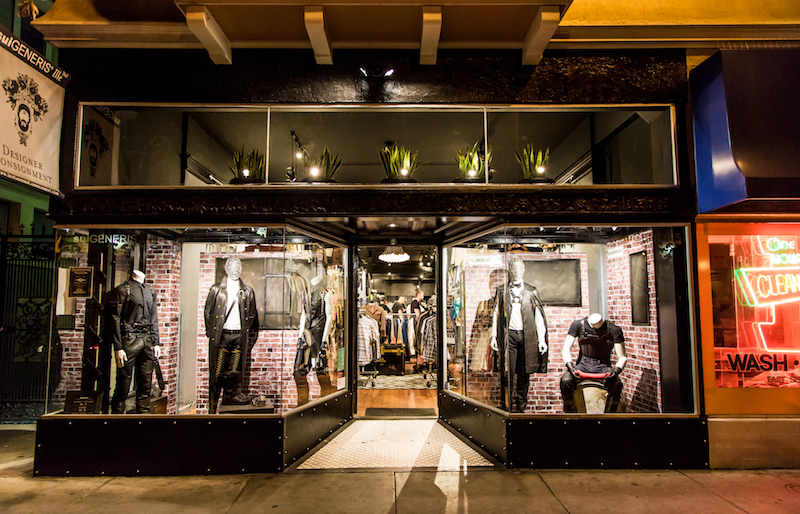 SUI GENERIS: PEGASUS 8
Fri/28, 7pm, free
Sui Generis, SF
More info here.