Richard E. Grant told 48 Hills he faced a major obstacle when it came time to portray Jack Hock in Can You Ever Forgive Me, the cinematic adaptation of infamous author Lee Israel's 2008 true crime memoir. The Hudson Hawk, Spice World, and Gosford Park actor couldn't find much info about the best-selling-celebrity-biographer-turned-forger's friend and accomplice to inform his performance.
There were no photographs of the real-life anti-hero who died of AIDS in 1994 at the age of 47. The majority of his friends had long ago succumbed to the plague themselves, and most of what was out there—the image of the past-his-prime gay dandy with a cigarette holder in one hand and a drink in the other, who regularly trolled Manhattan bars for tricks—was in late author Lee Israel's 144-page "obviously selfish, curmudgeonly exposé of herself," according to Grant. But authenticity was still paramount to the actor, so he kept digging and analyzing until he reached a characterization that he considered to be the real Jack Hock.
"You feel a responsibility to the fact that you're playing a real person, so you have to try to be authentic to what facts there are," says Grant. "He's not above cadging a drink off of her, staying in her apartment, and forging letters for her, so he's a grifter, somebody who's lived on the streets by his wits. But as soon as he gets any money, he says, 'Let's go to this cocktail bar or cabaret. Let's spend the money and go to eat.' He's someone who lives in the moment, for the moment. That is very attractive, and for an actor to play that, it's a gift."
I spoke with Grant, who is allergic to alcohol, about playing the often-intoxicated Jack Hock, what he really thought of costars Melissa McCarthy and Mx Justin Vivian Bond, and why he insisted on showing his bum in the film.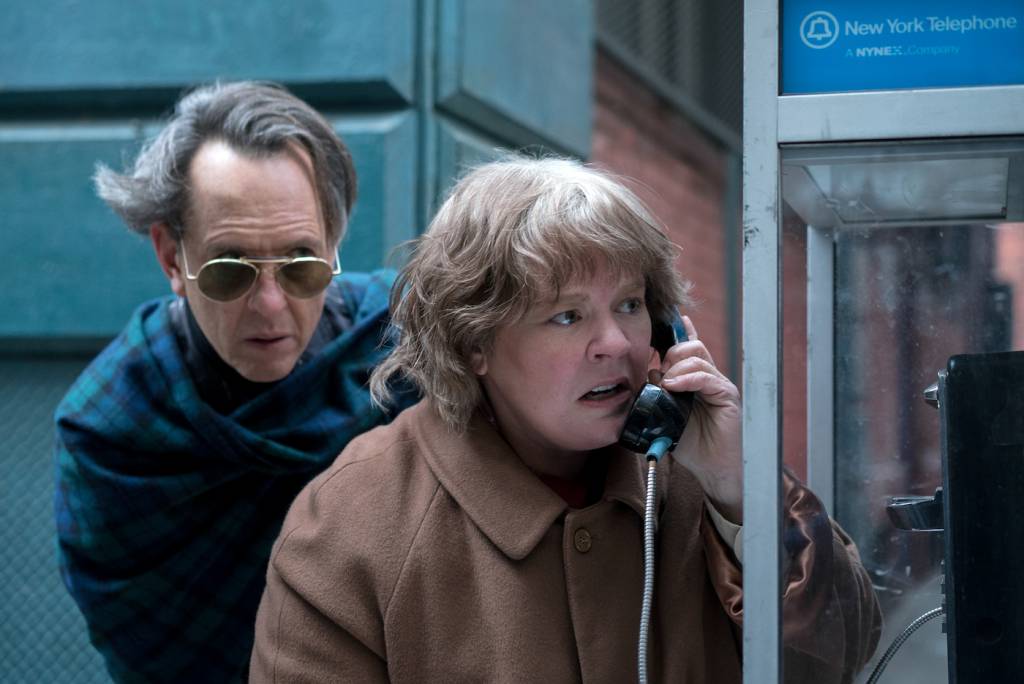 48 HILLS You're allergic to alcohol, yet you play a heavy drinker in this movie. How do you approach playing drunk?
RICHARD E. GRANT This is true. I found out when I was 17 years old. I think that more than anything, my observation of people when they're drunk is that they concentrate very fiercely on trying not to appear drunk. So I've just got to get through that door, so everything else goes out of focus to get into their focus. In doing that, you appropriate what I think it feels like to be drunk.
48H Does being the only sober person in the room ever get annoying?
REG I have often been accused socially or challenged that I am drunk, because if you're with people, sort of by osmosis, you get it. Where I do get out of the room is when someone is telling me the same story for the third time… You feel the testosterone violence level increasing in the room, and you think, "I'm just gonna Cinderella out of here." So I've learned to do that, and holding a glass of ginger ale is a great getup because people assume that you're on whatever.
48H I read that you and Melissa McCarthy got along so well during filming that director Marielle Heller worried that you wouldn't be able to successfully play frenemies in the film.
REG She feels completely nonjudgmental. What you see is what you get. She's a very emotionally present person. It's not fake or calculated and there's no subterfuge about anything. And if she's upset about something, you feel like you want to make it better for her. There aren't many people you can say that about. She's a powerful movie star who carries her authority very lightly. She just seems like a completely normal person.
So yes, I just worshipped her and we had just a brilliant time. I know actors always say, "We were a big happy family." With the dysfunctional family that I come from, I don't know what that is. But these 28 days we had on this movie last winter in New York were absolutely wonderful, and we were bereft when we all had to say goodbye.
48H It was such a treat to see Mx Justin Vivian Bond performing in the film in a memorable cabaret scene. Because Justin has such a history and following in San Francisco from when Justin lived and performed here, I have to ask you your impression of Justin.
REG Oh, it was instant top-to-bottom loved each other, and that was the first day of the shoot. We did that scene in the afternoon at that bar where Justin was singing Goodnight, Ladies. Then I went to see Justin do cabaret at Joe's Pub at The Public and have such a phenomenal rapport with the audience, and I absolutely loved it.
48H This film is already getting a lot of positive feedback. Was there a film of yours that was underrated by audiences that you believe deserves a second look?
REG I wrote and directed a film, Wah-Wah, about my very dysfunctional childhood in Swaziland in Southeast Africa where I grew up, dealing with my father's alcoholism and my mother's adultery, and it was marketed very properly in Australia and Canada. But it was released in America on Mother's Day in 2006 as a lighthearted Mother's Day-friendly comedy. And the first scene is a 10-year-old boy played by Nicholas Hoult playing me waking up and witnessing inadvertently his mother fucking his father's best friend on the front seat.
People took their mothers on Mother's Day to see this in Milwaukee or wherever, but that's not what was written on the tin. That was very disappointing because it took five years to get the thing from script to screen. But I've lived to tell the tale and had a great cast. And these things have ongoing lives on cable, so…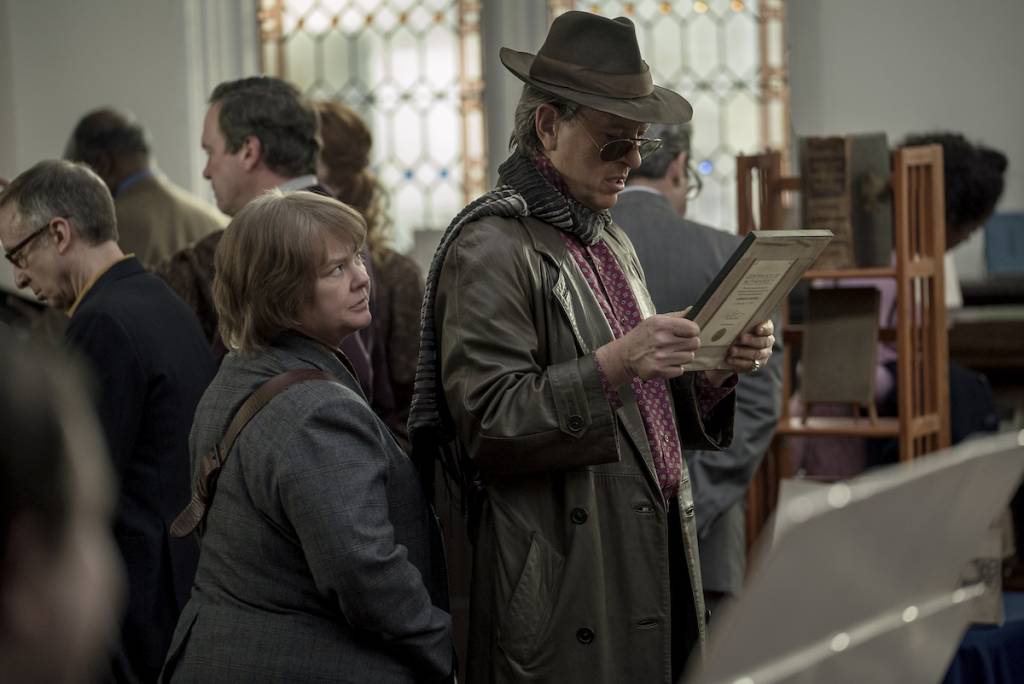 48H I first became aware of you, back in the early 1990s, after you appeared in an episode of the British comedy "Absolutely Fabulous." How did you end up working with that amazing cast?
REG I knew Jennifer [Saunders] because I'd done an improvised film for the BBC with her husband Ade Edmondson and Gary Oldman, and our children went to the same school, so I used to see them almost every day at the school gate. I was doing a play at the time, and she said, "Would you come and be in a dream sequence?" I knew Helena Bonham Carter as well and Joanna Lumley I'd met, so it was like going on holiday to a sort of comedy bootcamp for the day.
No one's ever asked me about this, but we had a very, very good time, and that's what I remember about it. But it was done in half a day and I still get residual checks, like 52 cents from Abu Dhabi or wherever that episode's been shown. So I know if I'm getting that, then Jennifer and Joanna are getting just a shedload of money from wherever.
48H Are there any actors you haven't worked with that you'd like to work with on a future project?
REG The first movie that I saw that was set in San Francisco was What's Up, Doc? when I was 15, and I was so smitten with Barbra Streisand. I've now met her four times. Melissa has had to listen to this endlessly, because she did a duet with her on an album, but I'd love to work with her or be directed by her because I think she's a phenomenal talent. So please tell Babs.
48H What's your craziest fan experience?
REG Oh, I had somebody who stalked me from Chicago and told me in letters if I didn't see her, that she'd commit suicide. Then she turned up outside my daughter's school when she was seven years old as I was walking my daughter home. This was the first time I'd ever seen her because she'd only written before. Then she came up and did that thing in Play Misty for Me and said, "Hi, I'm da da da da," and she believed that my daughter wasn't my daughter. Then you realize that she had serious mental health problems. So that was the most peculiar thing I've had to deal with.
48H Getting back to Can You Ever Forgive Me, is there anything from the film that we haven't talked about that you'd like to get off your chest?
REG My nudity. I had to sign a contract, because it was a point where I had to get out of bed after supposedly spending the night with Christian Navarro, so the costume designer gave me these boxer shorts. I said, "You know, I've never slept with anybody and kept boxer shorts on. I know I'm older, and if you just shoot my left cheek in the dark…" Then they got lawyers and agents and had to draft some nudity clause that I was not going to sue them. I said, "Listen, I'm the one who came forward with this, but it just seems unrealistic that if you've slept with somebody and you get out of bed to go and feed the cat that you're fully clothed."
CAN YOU EVER FORGIVE ME?
Opens on Oct. 26 in San Francisco
More info here.