Anything from the darkly hilarious mind of our very own drag Mistress of the Twisted, Peaches Christ, is worth a peek at—preferably through your shivering fingers. But when I heard she was taking over the Mint for a giant, immersive haunted house experience, I had to know more. Despite my mighty trepidations! 
"Terror Vault" (through November 3), written by and starring Peaches, co-created with David Flower, and part of new production team Into the Night, brings Peaches' trademark theatricality and love of classic spook-craft to the Mint's basement vaults. It's full of can't-fail frights, but also some escape room delights, and all populated by local actors who you may recognize from previous Peaches productions—or not, since they've transformed into mutilated zombies, satanic nuns, toddler creeps, and more.
I spoke with Peaches about the excitement of haunting the Mint—and some of the terrifying secrets it holds. Beware! 
48 HILLS I love that this is a fully immersive narrative horror experience. The theatricality is so you! What were some of the influences you drew on for writing and creating the experience? 
PEACHES CHRIST Once I knew we were partnering with [venue management company] Non Plus Ultra and could actually stage the show at the old San Francisco Mint, I knew that the show had to be site-specific. The production value of The Mint itself is so incredible, especially the old vaults below, so I began researching the history of the building and discovered some creepy facts along the way that helped inspire the alternate history narrative for the show. I also really collaborated with David Flower, the co-creator, because even though I was writing the script and he was the production designer, we had to really be on the same page to know it could all be executed correctly. Once we'd come up with the concept that The Mint was once used as a secret prison, the influences really came from old horror movies and San Francisco history. 
48H Having your way with the Mint seems like a surreal dream—or a fabulous nightmare. Did you run into any ghosts while you were putting this together? 
PC That building is definitely haunted. I have no doubt about that. There were times I was there on a weekend and was assuming I was by myself, but would hear voices, doors would slam and when I would go to investigate I wouldn't find anything. Most of us agree that the vaults are surprisingly the least active and it gets scarier the higher up you go. There's an attic—it's terrifying.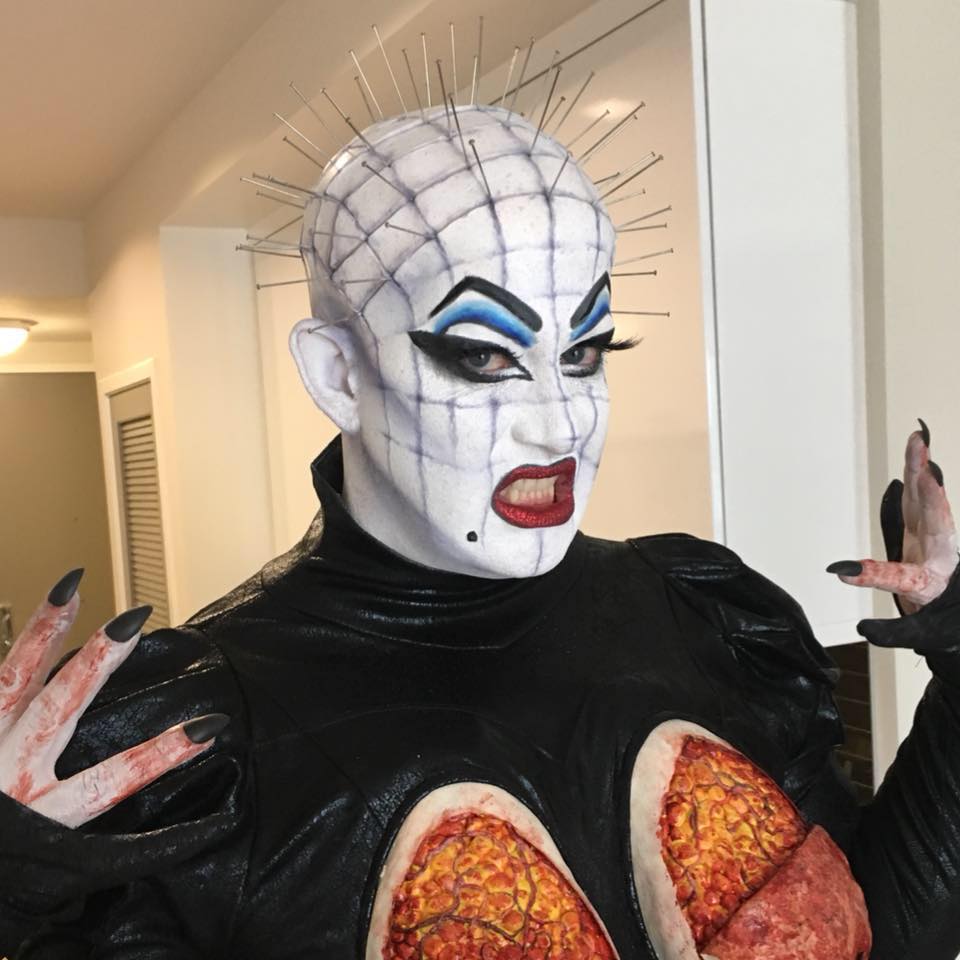 48H You're working with a crack team of ghouls and goblins both behind and in the scenes. Is this the team you've usually worked with? 
PC This is the first time I've partnered with David Flower: He's a professional haunt producer I met in Provincetown about a year ago. And Non Plus Ultra activates otherwise shuttered buildings on behalf of the city. A big part of what they do is refurbish these spaces that would otherwise be closed, making them available for private rentals, as well as providing public-facing events and activities. So our partnership fit in perfectly with their charge. Once the three of us formed this new immersive theatre production company called "Into The Dark," we knew our first project had to be a Halloween offering. For "Terror Vault", we were able to hire many of my regular crew members, casts, and artists to help create the attraction. Most of them are now simultaneously getting started on the work for "Troop Beverly Heels"—our next big Castro Theatre show starring Trixie Mattel happening Nov. 17th. I hope that shameless plug felt natural!
48H I know you can't give away too much, but how would you describe the wild ride of Terror Vault? What makes it unique from anything we've seen before? I've heard there's some of your signature satanic flirtations… 
PC Well, I think the biggest thing that makes it unique to me is that the audience becomes fully engaged in the story. Unlike some other haunts where you passively make your way through while things jump out at you and scenes happen, this is a story and the story is about a tour group attending a "Spooky Mint Tour" wherein things go horribly wrong and all hell breaks loose. As characters in this story you are engaged to make decisions, take action, and be involved while you try to survive. And yes, of course, it's all highly Satanic!
TERROR VAULT
Through November 3
The Mint, SF.
Tickets and more info here.