Actor Rupert Everett, who'd already garnered critical notice in acclaimed art house films Another Country (1984), Dance with a Stranger (1985), and The Madness of King George (1994), became a major Hollywood player when he played Julia Roberts' gay best friend in My Best Friend's Wedding (1997) and Madonna's in The Next Best Thing (2000). But there was no way he could create a sustainable career out of the campy confidante role—and soon he ended up back in independent movies, on British television, and out of the limelight.
"There's only so far you can go playing the gay best friend," says Everett, who's been out as gay since 1989. "Then all the straights wanted to play the gay parts and garnered every possible award for their bravery at tackling the gay psyche. But I could never get a straight part in that period, so there really wasn't any way forward for me. Then, when even my gay best friend career seemed to falter because I couldn't get people to come to The Next Best Thing, the whole thing looked like a bad experiment to [Hollywood]."
Tired of waiting for the next big role to come along, Everett decided to take his destiny into his own hands. He wanted to express himself in a particularly interesting way, to be an artist again, and that motivated him to create a "work of art." So the actor wrote, cast, procured funding for, and directed The Happy Prince, which chronicles the final years of 19th-century novelist and playwright Oscar Wilde, once revered for such important works as The Picture of Dorian Gray and The Importance of Being Earnest, but later forced to live in disgrace, poverty, and exile after being convicted of charges of sodomy and gross indecency, and imprisoned for two years.
I spoke with Everett about bringing "The Happy Prince" to fruition, why he has his longtime friend Colin Firth to thank for it, and why it's vital for young gay people to know their history—which includes Oscar Wilde.
48 HILLS You took so much on to bring Oscar Wilde's story to the screen. What was it about Wilde that made it worth it?
RUPERT EVERETT I had been through this whole gay life, starting with coming to London and going onto the gay scene in 1975. It had only been legal to be gay for seven years. So Oscar Wilde was a very real name to everyone, not just educated, artsy-fartsy people, because we were still walking in his footprints. The law had changed for homosexual acts in private—not public—but the police were making the most of the ambiguity of the law by raiding bars, clubs, and coffee shops, and shoving everyone into a paddywagon and taking them off for a couple hours of humiliation.
Then it was going through the AIDS crisis; show business, which was a fairly aggressively heterosexual boys club; coming to terms with my own sexuality and the challenges that ensued; and getting this extraordinary second-wind gay career from My Best Friend's Wedding. Then, to have that career stop as suddenly as it started.
In view of all that, when I was wanting to write a story, Oscar Wilde seemed to be the obvious subject that I could put everything of myself into and tell his story. And, for me, he's a kind of patron saint or Christ figure.
48H You call him a patron saint, but you're unafraid to also show his depraved side in the movie.
RE Yeah, because that's another place cinema's gone wrong since the politically correct movement really geared up. Because, before the 1980s, you could have a hero in a film who was a human being and maybe even a bad one. But Wilde isn't a terrible character; he's a real human person.
And why I think he's like Christ is because everyone got Christ wrong. The genius of Christ being godly and human—is that's what we all have. Maybe we have genius or talent and then we have all these human qualities, which are more than just having our feet washed by a hooker. Oscar's are vanity, snobbery, envy and greed—all the things that drive us all. But he got hoisted by it, while most of us manage to fudge our way through. I think that that's what makes him a wonderful hero.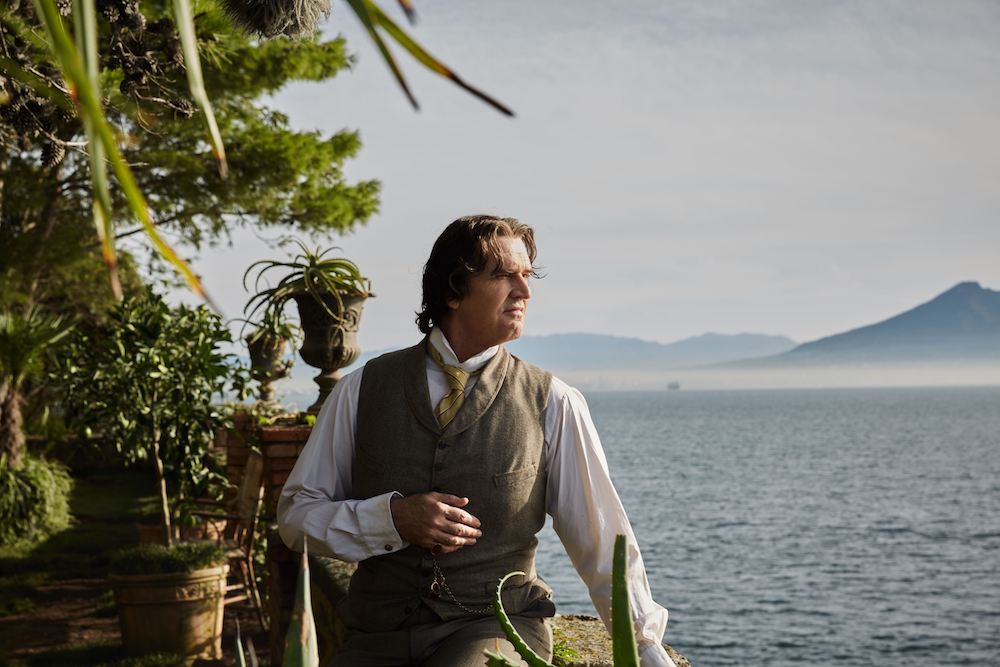 48H You assembled such an amazing cast for this film. How'd you do it?
RE They all said yes and then ran in a different direction for the most part; they didn't realize it would ever happen. Then it was about wrangling them at the last minute when the movie was happening.
By the way, people like Colin Firth, Emily Watson, and Tom Wilkinson—none of the deals would have come through without them. So at a certain point, it was awkward for them, because they realized that if they backed out, particularly Colin, the film would collapse.
Colin was amazingly supportive to me and helpful and stayed to do the film. And on his first day, when I was gushing, thanking him, he said, "Oh god, I wouldn't have missed this trainwreck for anything." But it didn't end up being a trainwreck.
48H You become almost unrecognizable in the film. How did you transform into a sickly, paunchy Wilde?
RE It happened over the 10 years of trying to make the film. I just drank a lot and became so blobbish that it wasn't really a transformation. It just happened on its own. But now that the film has happened, I see myself dry up.
I also had these things inside my teeth that push my face out and this amazing body suit made by this really famous artist, with all these different parts with different kinds of textures. I had this wonderful low-hanging ass, moobs, and a gigantic cock. I always thought Oscar was really well-hung, probably too well-hung for his own good, so I said to them I want a gigantic cock, and they made one.
48H Things have changed so much for gay people since Wilde's time. Younger people probably can't conceive of how how much harder it was for gay people in the Victorian era.
RE No, but they should, and I think that's the value of this movie if it has any. What's, for me, the main flaw of the virtual world is that it's completely deleted any historical context to all our lives. In other words, history now is two weeks ago. This is a very dangerous situation, because if you have no context… for example, as a young gay person, you just think the whole world has endlessly been like this. Then you're not living in the real world.
But you can get a lot of strength from knowing what we've come through to be where we are. The historical context is vital for us, because otherwise we start addressing the challenges that we still have from a very peculiar lens, and that lens veers toward the distorted lens of victimhood—and that's not the right way. I think the other V is better—victory. Because we've come such a long way since the Wilde story, and, just in my lifetime, what's happened is incredible. So we should be unstoppable, rather than victimized.
48H What's coming up next for you?
RE Nothing at the moment. Something will. What I really want for my life now is to keep engaged in the business. I would love to direct another film, and I've written one. But more than that, I'd just like to keep doing things and try to do good [projects] that are interesting and inspiring.
THE HAPPY PRINCE
Opens on Oct. 12 in San Francisco
More info here.