PARTY RADAR DJ duo Jenny and Omar have been such an important part of the our scene for so long, that even though Jenny moved away a while ago and Omar has become a big-time promoter and DJ (playing with legendary indie and Britpop bands and co-producing the incredible, 23-year-old Popscene party), they're still at the heart of SF's wild rock club nightlife.
Now, after 20 years, their insanely fun jam Sixxteen is calling it quits on its anniversary (Fri/19)—but you know it's going to be a glorious bang. 
When it launched in 1998, their club Sixxteen was quite an anomaly on the scene, offering out-of-control, campy rock respite from the serious techno and drum 'n bass that was de rigueur at both underground and mainstream parties, and the washes of bland pop-house drowning the gay bars. This was where metal-heads could compare denim cut-offs, drag queens could live their Lita Ford fantasies, and cute Pulp-via-Smiths fans could show off their tour buttons. (In its attraction for all genders and styles bent on partying to the end of the night—or at least the end of consciousness—it resembled another, earlier classic club, Baby Judy's.)
Where else could you hear Hole, The Dead Boys, Van Halen, New York Dolls, Bikini Kill, and the Donnas (and a slew of live bands) all smashed together in a glorious, ahistorical racket of rebellion? The club later morphed into an annual, must-attend Halloween party tradition, but it managed to keep up the same crazy energy, and surprise guest appearances. I talked to Jenny and Omar—who are so melded as the Sixxteen DJs that they answered as one—about the party and its rocking, rolling history.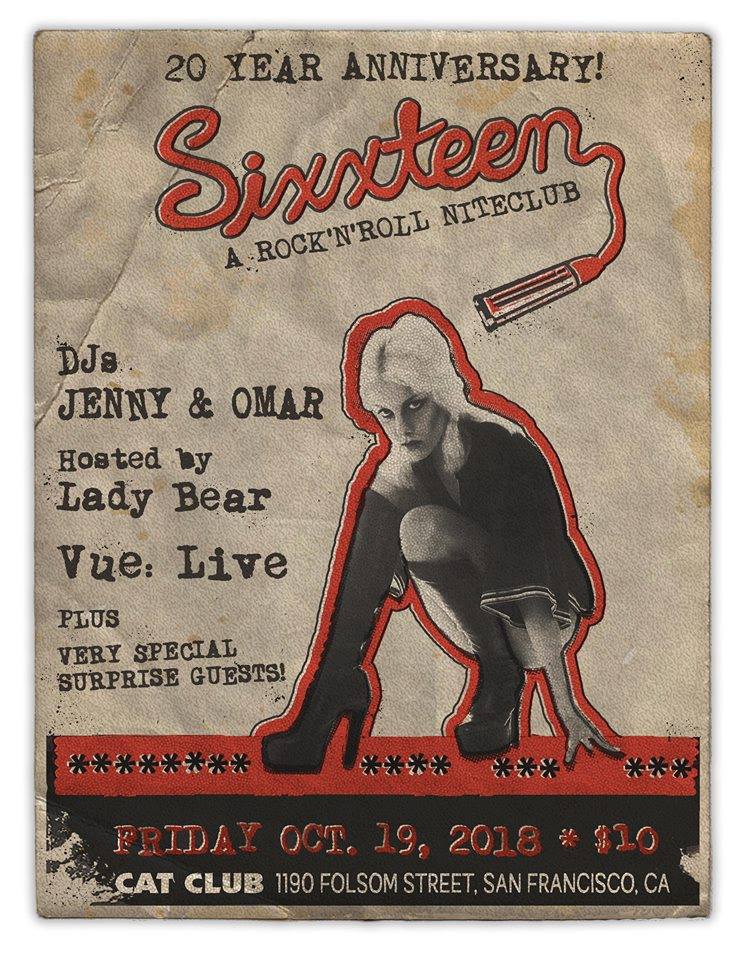 48 HILLS What compelled you to start Sixxteen, and what was the scene like then? 
SIXXTEEN We wanted to dance to Rock 'n Roll and there wasn't a club that played what we wanted to hear. It honestly started out as innocent as that. There were bars and people's houses where we could go to nerd out to Dutch Glam and hear Patti Smith, ac/dc or The Misfits, but no room to dance. Once we got the chance to throw the party, we wanted to do away with the misconception that punks, rockers, metal heads, mods, drag queens, and club kids could not get along under one roof. We turned haters into lovers and fighters into dancers.
We had no real idea that others would respond to it the way they did. It was sleazy, sweaty, debaucherous and everything we wanted it to be. A place to get lost, make out with a stranger and do everything in excess. Once the word got out that everyone was having a  good time, bands like the Murder City Devils, Drunk Horse, Vue, Black Cat Music and BRMC hit us up to play. One of our fondest and scariest memoies is of the Murder City Devils setting their drums ablaze in the middle of the Cat Club. We've come to realize that feeling simultaneous fondness and fear is succinctly Sixxteen.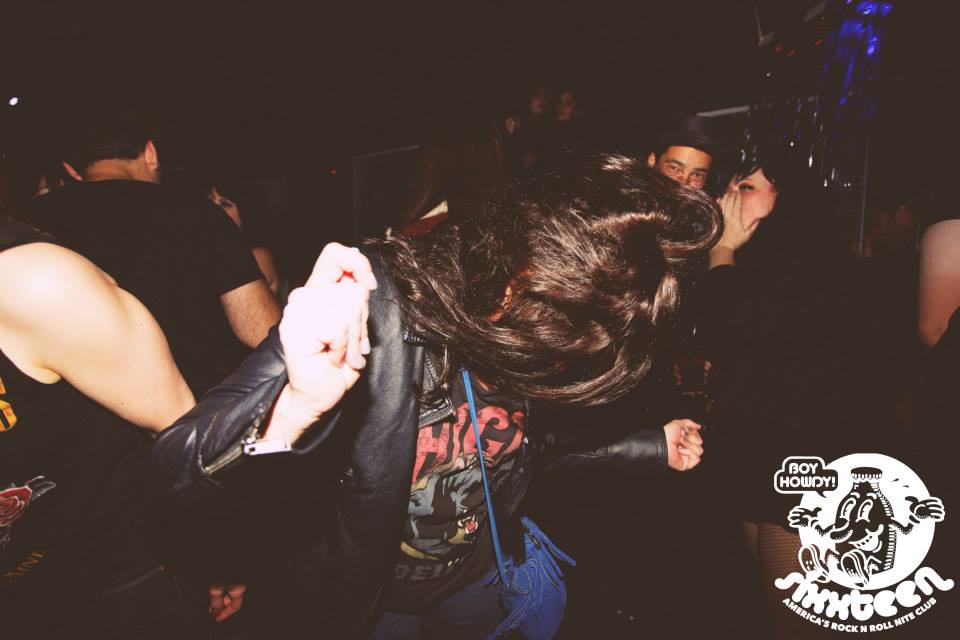 48H What changes have you observed over the nightlife scene in the past two decades? 
SIXXTEEN We can say with the utmost certainty that we could never do now what we did back then. There is no way we could get away with all the fun we had… haha. We have some great stories, let's just say that. When we started, there were more artists and musicians hanging around who needed a place to let loose. No internet and no social media meant that if you wanted to meet someone with the same music or fashion sense, you had to socialize with them in person. Also, once people caught wind that Motörhead, The Smashing Pumpkins, and Blondie would hang at Sixxteen, they showed up in droves for a guaranteed good time. 
48H Why are you ending Sixxteen, and what can we expect at the final party? Will there be a rock 'n roll funeral?
SIXXTEEN We think the 20-year mark is as good a place  as any to celebrate the party, the friendships, the amazing and lasting support we've had from our patrons, as well as a great stumbling-off point to ride out in a spectacular manner as ungracefully as possible. This is very much a celebration of the wonderful eccentrics that made the nightlife thrive, so we're not expecting to spend too much time grieving because we will be rocking out to some maximum rock n roll at maximum volume!
SIXXTEEN: A ROCK 'N ROLL NIGHTCLUB'S 20TH ANNIVERSARY!
Fri/19, 9pm-3am, $10
Cat Club, SF. 
More info here.