ONSTAGE Remember "Someone to Watch Over Me," "I Got Rhythm," "They Can't Take That Away from Me," and "Embraceable You"?
Can you hear these Gershwin tunes in your mind?
Did you ever imagine they were from the same musical?
Each of these classic tunes is featured in Crazy For You (though December 16 at Alcazar Theatre), a glittering extravaganza currently being performed by Bay Area Musicals.
The show has an unusual provenance. Though most of the songs were composed by George and Ira Gershwin for their 1930 Girl Crazy, in 1992 the play was reimagined by playwright Ken Ludwig and staged on Broadway where it garnered a Tony for Best Musical.
That's the version now at San Francisco's Alcazar Theater, directed and choreographed by Matthew McCoy. He and co-choreographer Danielle Cheiken adapted the dance numbers—created by Susan Stroman—into a stunning array of nonstop tap displays that will knock your socks off.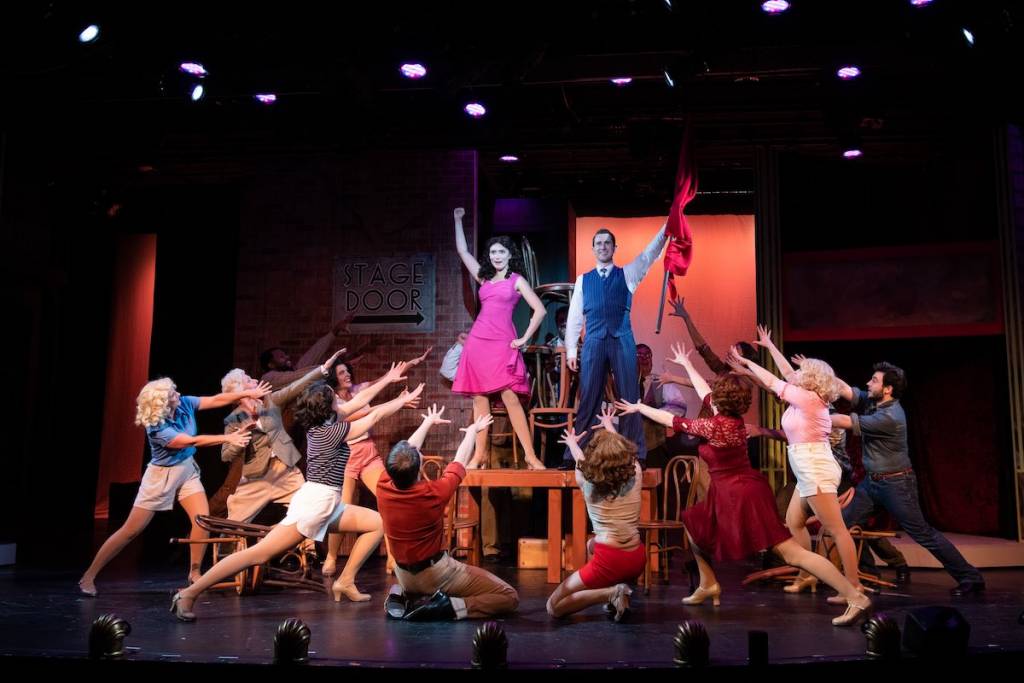 The plot is a familiar chestnut. A wealthy New Yorker, Bobby Child (the multi-talented Conor DeVoe), wants nothing to do with his family banking business and longs to be a hoofer. Rejected by the pompous impresario Bela Zangler (Tony Michaels), he accepts his domineering mother's (Mary Gibboney) assignment to foreclose on a derelict theater out in Deadrock, Nevada.
There he falls for Polly Baker (Danielle Altizio), the only woman resident in the town, who also happens to be the daughter of the theater owner (Charles Evans). Child's solution: Bring out the dancers from Zangler's Follies and put on a show to save the foreclosed theater. But this storybook plot is just the scaffolding on which to hang some uproarious physical comedy and the brilliant lyrics and music of the Gershwins.
Altizio's voice is transcendent: Her rendition of "Someone to Watch Over Me" is heart-wrenching, and her dance duets with Bobby are energetic and elegant. A comedic scene between Zangler and Bobby, who has disguised himself as Zangler in an attempt to win Polly's heart, is hilarious. Sitting in a Western bar, drowning their sorrows over the elusive women they love, the two mirror each other's actions with comic precision as they sing "What Causes That?" It's reminiscent of a silent Charlie Chaplin movie come to life.
The whole company keeps up the vibrant pace with astounding dancing and acrobatics, punctuated by punchy comedy. The women in Zangler's chorus line tap with Busby Berkeley precision. The faux shoot-outs and barroom brawls of the cowboys are uproarious.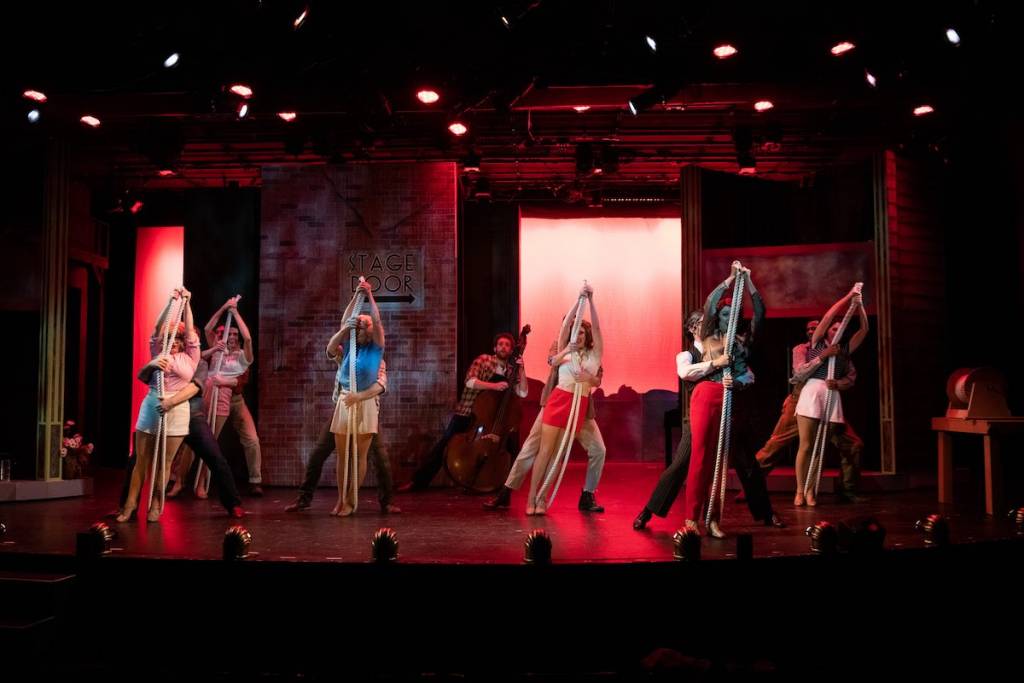 When the two groups—chatty New York follies girls and slow-talking desert miners who are "bidin' their time"—get together, their dance numbers are as sparkling as their sequined costumes. Bobby convinces Moose (Lucas Brandt), the clumsiest dancer of the miners, to try playing the bass. Moose's transition from gawky dancer to foot-tapping musician is accompanied by astounding choreography. In "Slap that Bass," lariats and pantomime dancers become the stringed instruments, while the excellent off-stage orchestra, led by Jon Gallo, provides the music.
Given it's a Gershwin work, it's no surprise that every song has the makings of a showstopper, and this cast does them justice. The jokes, with references to Mickey Rooney, the revolution scene in the Broadway's Les Miserables, and a sly reference that "no one would ever come to Nevada to gamble," were updated for the 1992 version—but they connect smoothly with the original script, and you have the sense that George and Ira would have approved.
The old story of boy-meets-girl, show business dreams, false identities, and absurd coincidences comes alive to the sounds of Gershwin and the skilled rhythms of fleet tap shoes. It's been an intense autumn and we could all do with a little exuberant fun. Crazy for You may hold no deep messages here, but plenty of high kicks, hijinks, and razzle-dazzle! 
CRAZY FOR YOU
Through December 16
Alcazar Theatre, SF.
More info here.