THE AGENDA The California Public Utilities Commission is meeting Mon/28 to discuss, among other things, PG&E's rates and the pending bankruptcy. Some of the meeting will be in closed session – but there will be activists on the scene.
A protest against any PG&E bailout takes place at 2:30pm, while the commission is holding an emergency meeting. 505 Van Ness, SF.
The SF Planning Department is all agitated about a bill by Sup. Aaron Peskin that would require all projects that seek to use the state's Density Bonus Law to pay the affordable housing fee on the extra space.
It's a bit complicated, but in essence, projects that filed their first paperwork before Jan. 12, 2016, are considered "grandfathered" and don't have to pay the fee.
Peskin wants everyone to pay. The planning staff disagrees:
There are a total of six projects that have invoked the State Density Bonus law and filed an EEA prior to January 12, 2016. Of these, one project that was previously approved has subsequently submitted an application to change to a Student Housing project (which would not be subject to the Inclusionary program) and another utilized the State Density Bonus law to shift building mass and height but did not obtain any additional units or floor area—so the Ordinance would have no effect on either project.

Of the remaining four projects, all but one have already been issued a Site Permit, meaning that there is only one project to which the fee requirement could potentially be applied, and this project is seeking entitlement from the Planning Commission in February. This project proposes a roughly 33% increase in residential floor area; therefore, the additional fee that would potentially be generated under the Ordinance is roughly $1 million.

So the planners want to give up a million dollars to protect the rights of a developer who got Sacramento to make it easier to build market-rate housing.
Then the commission will take up the second part of its housing strategy discussion. On the agenda: The CASA plan, state Sen. Scott Wiener's legislation to force more market-rate housing into cities, and local housing programs.
The department has put out a handy chart that looks like this: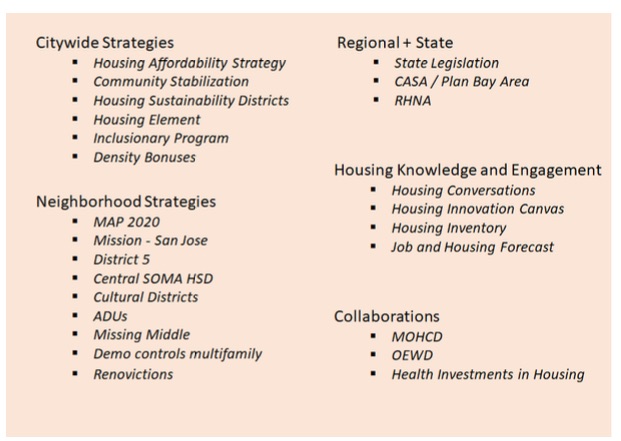 Which says nothing at all about the connections between new office space and the demand for housing, or the impacts of market-rate housing on affordable housing.
The meeting starts at 1pm, Room 400 City Hall.