ALL EARS There are a couple of reactions that stand out to Black Yiddishist opera singer Anthony Mordechai Tzvi Russell when he performs a blend of African American spirituals and Yiddish music with the klezmer trio Veretski Pass. 
"One is what I call the East Coast intellectual response. It's 'Oh, very nice, very beautiful, very Obama. It's a nice project, but it's not really a thing,'" Russell said. "For lack of a better word, that's bullshit. Jews and African Americans making music together is the bedrock of American music, and there are numerous examples of this convergence." 
 Russell calls the other reaction, "the Bay Area liberal response." 
"They're like, 'Of course! Israel is so close to Africa, and Blacks and Jews have suffered, and I had a Black girlfriend when I went to Cal,'" he said. "That sort of discounts all the work I've done with Veretski Pass. Like why would we have worked so had to make this if it existed already?"
Russell, who grew up in Vallejo, will be at the Jewish Community Center in Berkeley Thu/21 for the Veretski Pass Convergence Revisited album release show, in honor of Black History Month. The band premiered previous album Convergence there in 2014. And then on Sat/23 at Starline Social Club, Russell will perform with pianist-accordionist Dmitri Gaskin as Tsvey Brider ("Two Brothers"). 
As a teenager, Russell won a youth choral contest in Vallejo with a prize of $500. That seemed like a fortune at the time, and he felt he was on his way, concentrating on opera. But after years of performing, Russell started to feel constrained. 
"I decided opera wasn't for me because it wasn't giving me the kind of interpretive possibilities I wanted," he said. "The obligation of an opera singer is to express the composer's ideas, not the singer's ideas. When I encountered Yiddish music, it allowed me to do more interpreting." 
He encountered it, maybe surprisingly, at the movies. Russell and his husband, a rabbi, went to see the Coen Brothers' movie, A Serious Man. At some point in the movie, a character puts on a record, and Russell heard a bass voice, like his own, singing Yiddish. He assumed it was Paul Robeson, who sang in many different languages including Yiddish. 
It wasn't Robeson: It was Sidor Belarsky, a Jewish singer born in the Ukraine. "There he was on this record in this movie, and his voice had this quality that was very dark and very rich and very beautiful," Russell said. "I did some research, and luckily for me, he published around 70 songs in these bass keys."
Russell went to synagogue with his husband and started singing the music there. 
"There were people who were surprised at my ability to sing the melodies Jews pray too," he said. "I suddenly remembered that as an opera singer there were two things I was able to do well—sing a language idiomatically and learn melodies really quickly."
After studying on his own for a while, Russell went to Tel Aviv University for its Yiddish language program. Israel isn't the usual destination for people studying the language. "If you ever want to hear a Tel Aviv cab driver laugh like you've never heard, tell him you came to Tel Aviv to study Yiddish," he said.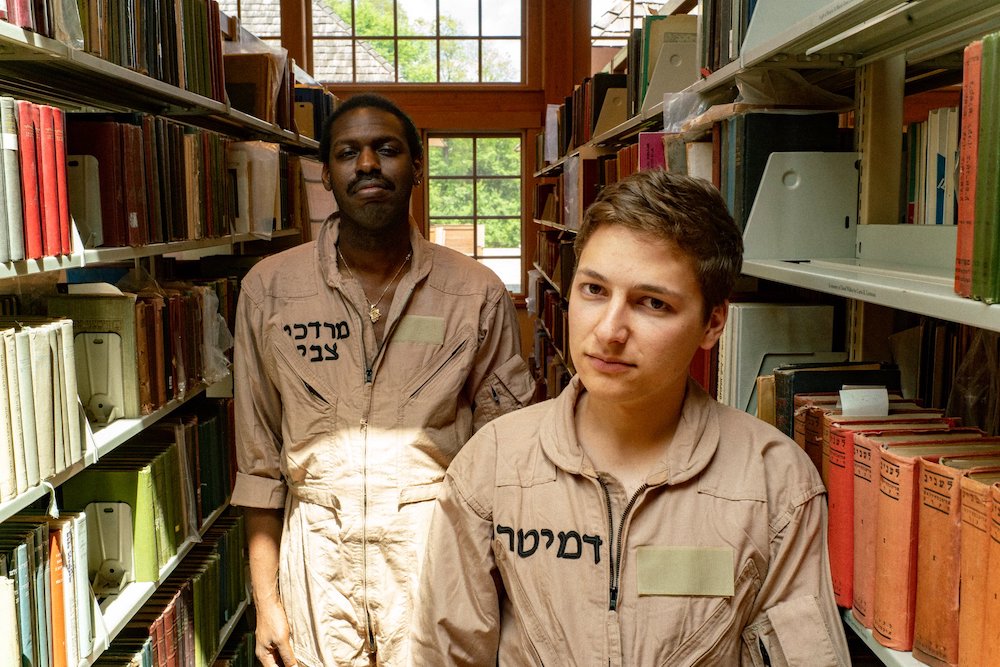 Russell decided to convert to Judaism. It was a decision he came to on his own, without pressure from his husband, he says. "I had a strong connection to Torah," he said. "I grew up in a very religious family that was very strong in biblical literacy, so I was very well versed in the Torah, the first five books of the Bible."
Spirituals and Jewish music have a lot in common, Russell says, with lullabies, anthems, and songs with a social justice slant. He decided to take elements of each types of music and combine them. At first he was only performing these as encores. Then he met the trio Veretski Pass at a music festival in Toronto, and singing with instruments like a fiddle and an accordion made all the difference, he said.
"They were the ones who fully realized this idea," he said. "They made it a musical reality." 
CONVERGENCE REVISITED
Thu/21, 7pm
Jewish Community Center, Berkeley
More info here 
TSVEY BRIDER
February 23 8 PM
Starline Social Club, Oakland
More info here