Spin Doctors' frontman Chris Barron can easily flash back to his first time playing San Francisco.
It was 1991 and his neo-hippie jam band was between touring its first EP Up For Grabs, a live recording that captured its predilection for musical improvisation — with some tracks lasting upwards of 10 minutes —  and the release of Pocket Full of Kryptonite later that year.
But Barron didn't know if he could take the stage at DNA Lounge for even one second after a friend of the band took him to Haight Ashbury and gave him a hit of Owsley LSD as they sat on the front steps of the famed Grateful Dead house.
"He was like, 'Oh, don't worry, it's very pure and not that strong," the singer told 48 Hills. "But when it was time for me to go on, I was in this jungle of neon color that I could barely find my way through."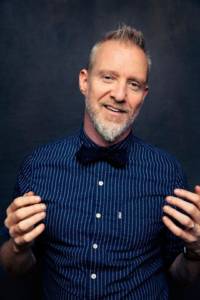 Not trusting that he could sing in pitch, he went to the back of the tour bus, and finding the band's drummer Aaron Comess, he laid down on a bench and put his head on his bandmate's lap and said in a panic that he didn't think he could hear pitches and therefore sing that night.
Comess had him test out his theory by playing their rock track, "Little Miss Can't Be Wrong" on guitar, and once the two were confident that the singer could perform in perfect pitch, they took the stage with Barron still tripping.
"It was like singing in this cave on an alien planet," Barron said. "If you've ever seen the bar scene in Star Wars, imagine being the band onstage and seeing all these people with googly eyes and trunks and long necks and just vaguely being able to see these strange faces out of the gloom. Then I spilled some water onstage and stepped in it, and it was like globules of mercury flying everywhere. So that was my first time playing in San Francisco."
Six studio albums and 2,000 shows later, the band is still best known for the five times Platinum LP Pocket Full of Kryptonite, high-charting rock hits "Little Miss Can't Be Wrong" and "Two Princes," and for sparking the '90s jam band movement alongside Blues Traveler, Phish, and Widespread Panic. The Spin Doctors will return to the Bay Area for a special 30th anniversary show (Sweetwater Music Hall, May 17, 9pm) featuring the hits, favorites, and deep cuts.
48 HILLS I've always thought of Spin Doctors as a San Francisco band, but you first formed in New York City in late '88, after John Popper left your then band Trucking Company to found Blues Traveler. What drew you to guitarist Eric Schenkman, drummer Aaron Comess, and bassist Mark White?
CHRIS BARRON We always had incredible chemistry together as musicians. I just thought that Eric was the most incredible guitar player I had ever heard, and I still think he's one of the most incredible guitar players.
Everyone in this band is such a cool musician. Each of us thought that the other guys were the best guys for the job. It was musicianship, and when we play music even today, there's still this special chemistry where groove-wise we're in each other's pockets.
48 HILLS Speaking of pockets, what stands out most when you think back to the recording of "Pocket Full Of Kryptonite"?
CHRIS BARRON For me, overall, it was that childlike dream-come-true kind of moment that sadly not a lot of people get to have. The band always had contentious chemistry as people, so we were in the studio and there was a lot of friction. But for the most part, we were walking on air. We couldn't believe we were making a record.
At the same time, there was a bit of I was six years old watching our little Sony black and white television. Shirley Temple came on. It must have been 1974, I was six years old, and I took one look at her and thought,  "I'm gonna marry her and we're gonna sing and dance." I didn't know she was older at the time. I just thought she'd come out of the TV and marry me. My wife, Lindsay Nicole Chambers, is a grown-up Shirley Temple in a way. She's a genius theatre actress.
But I've wanted to do this my entire life, so making "Pocket Full Of Kryptonite," there was partly a sense of I can't believe I'm doing this, and part of me felt like it was inevitable and probably going to happen all along.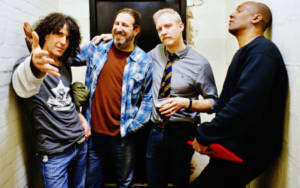 48 HILLS You had five charting singles off that album. I have to ask about the two that your band is most known for: "Little Miss Can't Be Wrong" and "Two Princes." So I always thought that "Little Miss Can't Be Wrong" was a diss track about an ex. But you admitted more recently that it was actually about your former stepmother?
CHRIS BARRON Yeah, I lived with her from age nine to 18 until my parents split up. She had a lot of problems and did a lot of screaming. She had a borderline personality disorder with malignant narcissistic tendencies. She was a tough cookie.
48 HILLS One of the things that always touched me about that song is the part where you soften toward her at the end. She caused you a lot of grief, but you still clearly have some sensitivity toward her.
CHRIS BARRON Yeah, she actually passed away a couple of years ago, I heard. I haven't been in touch with her since my parents split up.
48 HILLS Now, as far as "Two Princes," I have to ask about that now iconic neo-hippie outfit you wear in the video. To a lot of people, you're probably as associated with that Guatemalan hat and long knit sweater as you are with the song, itself.
CHRIS BARRON I bought the Guatemalan hat on the street in New York City because I was broke and it cost $6.
As far as the sweater, that shoot, which took place in December, went until two o'clock in the morning, and that night it dropped down to below freezing. So I had been sitting in the trailer with the hair and makeup ladies just trying to stay warm and drinking a cup of tea.
Then Rich Murray, the director, came in and said, "Alright, we're ready for you guys." I was freezing, so the hair and makeup lady gave me her long knit sweater to walk out in.
Rich was like, "What the fuck are you wearing?" And I was like, "Dude, I'm freezing." And he was like, "What the fuck is that sweater supposed to be?" And I said, "It's two o'clock in the morning, and I'm freezing." And he was like, "I have no time for this. Everybody's on overtime. We're going to go over budget. Get the fuck in front of the camera. I don't care anymore."
That's how that look came to be, completely because I had a $6 hat on and a lady's sweater.
48 HILLS Shortly after the release of your follow-up LP Turn It Upside Down, in 1994, Eric Schenkman left the band pretty abruptly by walking offstage during a show in Berkeley.  White followed in 1999. What happened?
CHRIS BARRON We had been just crazily overworked, and we went straight from the long slog of getting the first record to take off, killing ourselves on the road — back into the studio. The label sent us down to Memphis to work with an amazing producer, Jim Dickinson, but we needed some rest and maybe some group therapy.
We always cared about each other and would hurt each other's feelings in certain ways and never really resolve it. So at that point, there was a tremendous amount of tension and the band was a seething cauldron of mutiny and resentment. And Eric cracked and left the stage, and after that, we ended up splitting up for seven years.
48 HILLS Then in 1999 you suffered rare vocal paralysis and your entire musical career was in jeopardy after doctors told you that you had a 50/50 chance of ever singing again.
CHRIS BARRON That was a nightmare. I lost my voice for about a year and I could only whisper, so it was a lot of me writing things down on pads. People thought I was deaf and started to mime things, and it was like, "No, I can hear, but I just can't talk." So it was really kind of a shitshow and looking pretty bleak, but thankfully I came out on the right side of it.
48 HILLS Two years later, the Spin Doctors reunited and two more studio albums followed. 2013's critically acclaimed If The River Was Whiskey, was more of a blues record, and the rumor is your next album will be more of a rock and funk record.  
CHRIS BARRON We definitely came at If The River Was Whiskey as a blues record, but we always approached the blues from a personality place rather than a genre-based place. I think each guy in this band sees American music along this spectrum, from field songs through the blues through Dixieland, country, and jazz all the way to bebop — and rock 'n' roll is somewhere in the middle. And you're just picking the notes and the motifs that are going to serve the music the best.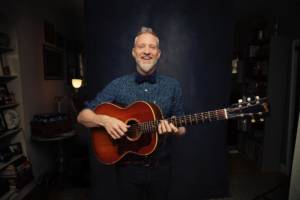 48 HILLS How do you balance the need for hits with the urge for experimentation?
CHRIS BARRON We've always come at music from a more authenticity perspective, and the older we get, the more we do this. It's about virtuosity, and virtuosity is not about doing some kind of musical gymnastics. It's about being so well versed in whatever you do that you can authentically present your personality with your art.
When you do that, you're going to make something good, and sometimes it's commercial and sometimes it's not.  But it's not like we come at each record going, "We've got to write a couple of hits or the record's a failure."
48 HILLS Do you still enjoy singing "Little Miss Can't Be Wrong" and "Two Princes"?
CHRIS BARRON We got lucky with a couple of songs on Pocket Full Of Kryptonite that got really big and they're most of the tunes we're known for and people still enjoy listening to after all these years, so we do enjoy playing them.
You know the song that kept us out of number one was Billy Ray Cyrus's "Achy Breaky Heart." I would always say that I would rather have a song like "Little Miss Can't Be Wrong" go to number two than have to sing "Achy Breaky Heart" for the rest of my career.
SPIN DOCTORS – A SPECIAL 30TH ANNIVERSARY SHOW
May 17, 9pm, $32/$27
Sweetwater Music Hall, Mill Valley
Tickets and more info here.