Alice Bag, who fronted first-wave LA punk band The Bags and appeared in Penelope Spheerisʻ eye-opening 1981 documentary The Decline of Western Civilization, adapted to modernity by blogging and writing about her band, ensuring the pioneering POC outfit would not be omitted from history.
"I wish that there was a whole other documentary that was focused on the bands that had a lot of women in them or people of color or queers making quirky music with synthesizers or banging on a water jug" she stated in The Milwaukee Record from 2018. "All the crazy creative elements of the early punk scene have not been adequately documented. A bit of our work was, but not nearly as much as we had done, which is regrettable. If you were in on the first wave, you might have escaped notice. If you came in a little later, there was enough popularity and mainstream attention that you might be better remembered than somebody who was actually a pioneer."
Decades later, some representative balance is finally being foregrounded: Bag along with Bikini Kill, Circle Jerks, Carbonas, Pansy Division, Bleached, and Plastic Bertrand are the first round of artists announced for the 11th installment of Burger Boogaloo. The annual music festival, held in Oakland's Mosswood Park, July 11th & 12th of 2020, will again be hosted by cult film director and self-named "Pope of Trash" John Waters. It definitely more queer, woman, and people-of-color fronted than most such long-standing festivals.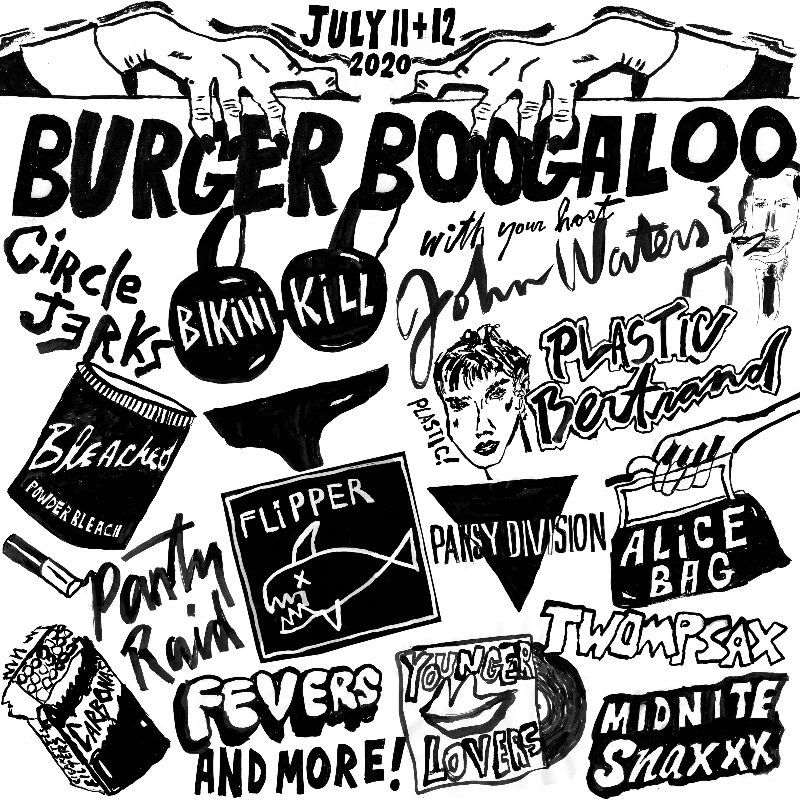 In past years the event has featured spirited performances from DEVO, The Jesus and Mary Chain, Shannon and The Clams, The Dead Boys and Iggy Pop. That tradition of rad entertainment for a sea of goths and rockabilly constituents resumes with Bikini Kill making their first Bay Area performance in over 25 years, Circle Jerks' and Carbonas' first show in 10 years and the Bay Area début of Plastic Bertrand.
That first wave of artists also includes Flipper, The Fevers, The Younger Lovers, Panty Raid, and Midnite Snaxxx. Further line-up announcements will be released in January and February 2020.
Burger Boogaloo takes place July 11 + 12, 2020. More info here.