The Band's Robbie Robertson feels that most rock autobiographies and documentaries lack "feeling."
But finding so much pathos and excitement in much of his former group's music as well as his recent solo track "Once Were Brothers" and his 2016 memoir Testimony, the 76-year-old musician and songwriter wanted his new rockumentary Once Were Brothers: Robbie Robertson and The Band to drip with similar emotion.
"I don't find much of that in rock 'n roll documentaries," he told 48 Hills. "You just can't cry during rock 'n roll, so they're always about, 'Oh, everybody's crazy and we were acting like crazy people.' But it turns out that this story is so moving and touching, and I was surprised and extremely proud that the filmmakers were able to get it to that place."
The heart-wrenching tale, blending previously unseen archival footage, photos, music, and interviews with Robertson's legendary collaborators including Martin Scorsese, Bruce Springsteen, Eric Clapton, and Van Morrison, chronicles the Canadian-American roots rock group's odyssey from Ronnie Hawkins' and later Bob Dylan's backup band to one of the most influential groups of the 1960s and '70s.
In seven short years, The Band mined America's vast musical past to create an entirely new sound across seven studio albums, which would go on to define the Americana genre.
After hearing such heavy-hitting tracks as "The Weight," "Up on Cripple Creek," and "The Night They Drove Old Dixie Down," Eric Clapton says in the film that he was spurred to quit Cream. Blues legend Taj Mahal calls them the "American Beatles" in his interview.
The movie makes the case that aside from The Band's great voices and songwriting skills, it was their intense bond or "brotherhood" that made them a force to be reckoned with.
But by the mid-1970s, whether it was the drugs, alcohol, or the pursuit of individual projects, members Rick Danko, Levon Helm, Richard Manuel, Garth Hudson, and Robbie Robertson just couldn't get along anymore, making their 1976 concert film The Last Waltz, filmed by Martin Scorsese at San Francisco's Winterland Ballroom, their swan song.
I spoke to Robertson, who last year released his fifth studio album Sinematic, re-released The Band's self-titled sophomore record, and scored Scorsese's Oscar-nominated film The Irishman, about Once Were Brothers (opening Friday at Landmark's Embarcadero Center Cinema), The Band's "brotherhood," and the group's San Francisco history.
48 HILLS So many bands describe themselves as brothers. How was the brotherhood among The Band's members different?
ROBBIE ROBERTSON My suspicion or what I've been able to observe is that a lot of bands are all buddies and close. But before this group made Music from Big Pink, we'd been together for six or seven years. We paid our dues, we played the Chitlin' Circuit and all the way up to Canada. We had been to hell and back before anybody even heard of us.
In the course of that woodshedding, that honing our skills, that gathering musicologies from all over the country — the best gospel music, mountain music, blues, rock 'n' roll, rhythm & blues, and classical music — the relationship in this brotherhood was such an incredible bond.
Then we became successful six or seven years later. We were successful in other kinds of ways, but not famous successful. We were successful in playing with Bob Dylan on the most unusual world tour of all time. We played at Jack Ruby's club in Fort Worth, Texas. We'd been everywhere and back. So in the course of that thing, you not only become brothers, you become blood brothers.
48 HILLS San Francisco is another city that plays an important role in The Band's history. You played your first live show at the Winterland Ballroom and also filmed The Last Waltz there. How did that come about?
ROBBIE ROBERTSON It really had to do with Bill Graham. When Bill Graham came to Woodstock and met with me and [our manager] Albert Grossman, he said, "I'll do anything. I want to be the one to present The Band." He wanted to do it at Winterland in San Francisco and at Fillmore East in New York and he really did do a big song and dance and I very much appreciated his excitement and enthusiasm for this. So we said, "You know what? We're going to do that. When we're going to play our first concert, we want to do it with you." So we played our first concert in San Francisco and our last one, both with Bill Graham.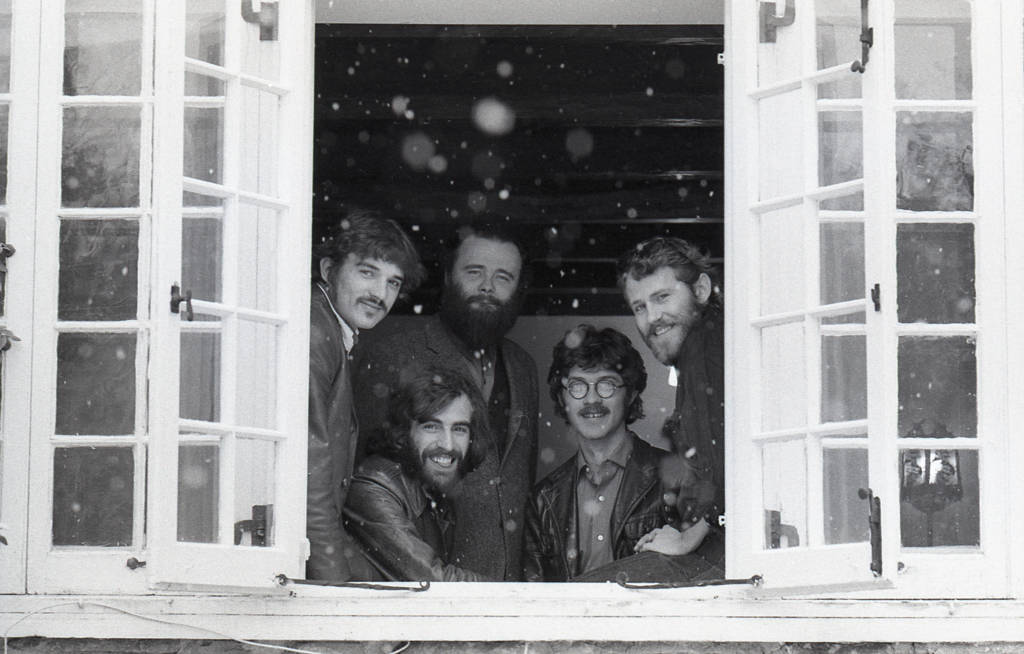 48 HILLS You said in the film that you hoped the members would come together again after The Last Waltz. Why couldn't they?
ROBBIE ROBERTSON I don't know that they couldn't. It just seems like Levon [Helm] says in the documentary that everyone went off doing their own projects and got so involved in what they were doing that there was probably no way that everybody was going to be able to come back.
We were all getting together to discuss what we were going to do. We were going to have this meeting at our studio in Malibu and I went there and nobody showed up except me. So I just thought, "Well, I guess that's telling us. I think we've got to bear witness to what's really happening."  Like I say in the film, too, "That was our plan, too, to come back together and I guess everybody just forgot to come back."
48 HILLS Did you feel like there was a hope for a reunion when The Band reunited to perform for your 1989 Canadian Music Hall of Fame and 1994 Rock & Roll Hall of Fame induction ceremonies?
ROBBIE ROBERTSON Everybody didn't come together for those things. There were a couple, two or three of us, at these different events that showed up for that. But not everybody was there, so it didn't feel like a unification of this. So there was no real discussion to be had, except that we loved one another — the guys that were there — and it felt like we'd always be brothers regardless of anything.
48 HILLS I read that the other surviving member of The Band, keyboardist Garth Hudson, was interviewed for the film, but the director, Daniel Roher, didn't think it was appropriate to include the footage afterward. Why was it shelved?
ROBBIE ROBERTSON The director said that when he got the opportunity to see Garth, Garth wasn't well and he was having some real health issues and things. He decided it wasn't complimentary to Garth and didn't want to do anything that didn't make him look great.
48 HILLS What is your relationship like with Garth today?
ROBBIE ROBERTSON Garth is fantastic, but he's a very private person. He lives in such a secluded lifestyle that I just check in every once in a while. Sometimes I see him and everything, but he definitely dances to his own beat. So all I can do is just check in with him, and when I see him, it delights me.
ROBBIE ROBERTSON AND THE BAND
Opens Fri/28
Landmark Clay Theatre
Tickets and more info here.