Here are some options for excellent nourishment that will help support local restaurants, food vendors and their staff in their efforts to stay afloat:
Arizmendi Mission is offering light-bake pizzas, bread, cookies and other assorted baked goods to support the worker-owned co-op from 9am to 4pm daily (closed Tuesdays).
Bistro SF Grill is offering takeout of a daily changing menu of entrees at cost ($5.50), meaning there are no profits drawn from the sales. Check the Instagram page for the menu each day and consider contributing to their fundraising efforts to maintain this program.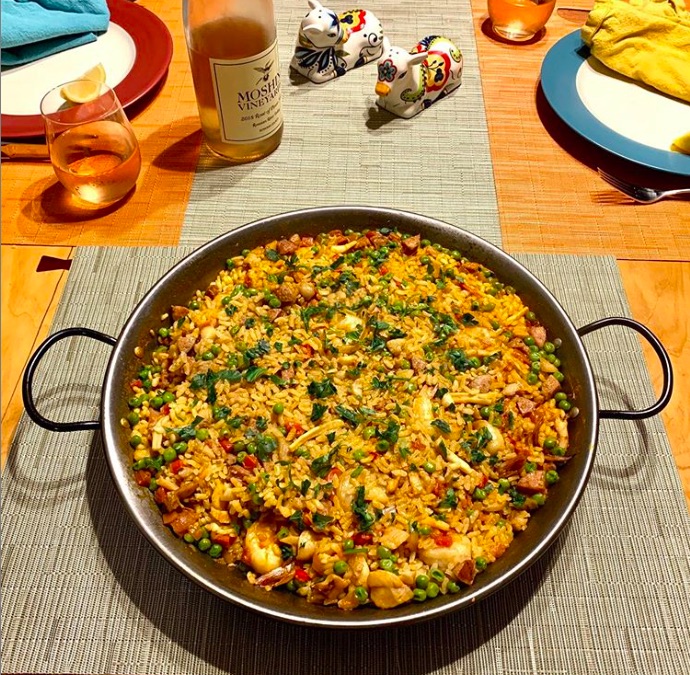 Tapas favorite Canela in the Castro offers yummy Spanish paella kits—veggie, chicken, seafood options—that come together easily at home for $25-$30 (serves two, paella pan $15 extra). You can also opt for a $45-$52 four-serving version and pretend the generous leftovers are for your suntanned guests.
How about a cocktail delivery with a side of a whole traditional Irish soda bread ($15) and/or a big bag of prawn chips ($6)? Casements, the new Irish bar in the Mission, will deliver full-bottle cocktail kits featuring their most popular drinks ($30-$45) or other bottles of liquor, along with something to soak it all up.
DNA Pizza is a great go-to for vegetarian and vegan pies (I love the potato pesto), and you can get liquor delivered along with your slices, to replicate that late night feeling of emerging from DNA Lounge itself. Add some thumping tunes, and you've got the total virtual SoMa nightlife experience.
Fish & Bird Sousaku Izakaya, which recently opened in Berkeley, is offering a menu that includes bento boxes ($10-$15) and 16-ounce batched cocktail kits ($29) of original creations such as the Midnight Lullaby (a spirit-forward offering with whiskies, bitters, vermouth, cioco and a hint of honey). Order here for pickup at the restaurant.
Hog Island Oyster Co. is offering various configurations of oysters and Manila clams as well as clam chowder kits with four servings ($39) and two-packs of Hog Island grilled cheese ($30). Check here for details on nationwide FedEx delivery, local deliveries to Marin and Sonoma counties and pick up at the Ferry Building and their outposts in Larkspur, Napa and Marshall. 
Kirimachi Ramen has created ramen kits with four servings for $40 and the option to add a bottle of Sequoia Sake for an additional $20. Delivery is free in San Francisco; call (415) 872-9171 between 11am and 3pm for delivery between 6pm and 9pm.
La Cocina has assembled four varieties of the new La Cocina Community Food Box ($80-$150) to feed you well while supporting their network of exceptional minority and immigrant women-owned businesses. The family-sized omnivore box, for example, includes items such as a dozen turkey momos from Bini's Kitchen, four pollito tamales from Alicia's Tamales Los Mayas and four Jamaican beef patties from Peaches Patties (to name a few). Pre-order for pickup at La Cocina (2948 Folsom Street) on Tuesdays and Fridays from noon to 3pm. A number of La Cocina-supported businesses are still open for takeout and delivery as well. (They sold out this week! A new round of boxes will be posted on Saturday, March 28)
A fancy feast? Lord Jiu's is a new high end collaboration between Lord Stanley and Mister Jiu's that's operating out of Lord Stanley. Check out the order form, which has offerings including wine, gift cards, and a five-course collaborative menu ($120).
The MINA Group of restaurants today launched MINA Family Kitchen to offer lunch and dinner menus of comfort meals that were created by affiliated chefs and restaurants. Entrees range in price from $17-$42. Visit this link for information on how to make an order for pickup at PABU (101 California) or delivery. Your orders support the MINA Group's efforts to feed their furloughed employees a hot meal daily. A 20% discount is offered to restaurant industry workers with proof of a recent pay stub.
Nari has discounted prices of many popular menu items and offers bottles of wine, pantry items such as duck and chicken stocks and two Dirty Girl Produce boxes ($20-$40) for pickup in the driveway of Hotel Kabuki from noon to 6pm.
Nopalito is selling meal kits that serve two or more ($14-$38), including the restaurant's popular carnitas, tamales de puerco and pozole, as well as margarita and michelada kits. Order for pickup at the Broderick Street location by emailing catering@nopalitosf.com or calling (415) 300-0029. Delivery is also available via Caviar.
Original Joe's of Westlake has added a grab and go food store with a menu of hot food plus stocks, sauces, fresh pasta, wine, cocktails and more. Call in an order for pickup at (650) 755-7400.
Prairie has turned into a general store of sorts to sell items including eggs, dried pasta, sauce, tinned fish and non-edible staples like paper towels, toilet paper and restaurant-grade Quaternary sanitizer. There are also dinner and pantry kits ($62 and $96, respectively). Bulk orders are welcome—place an order here for pickup at the Mission District restaurant.
Water2Table Fish Co. is selling sustainable seafood direct to consumers to support their fishermen in the absence of their regular restaurant clientele. Options include fresh fish, shellfish and other seafood plus smoked fish, conservas, caviar and condiments. Order by midnight for pickup (at Pier 45D) or delivery the next day.
Check out more options for Bay Area takeout and delivery compiled by SF Chronicle and here's a "Save our Faves" list of gift cards to order from local restaurants. Also, please take a look at some easy ways you can help feed overstressed healthcare workers and support local food businesses at the same time.