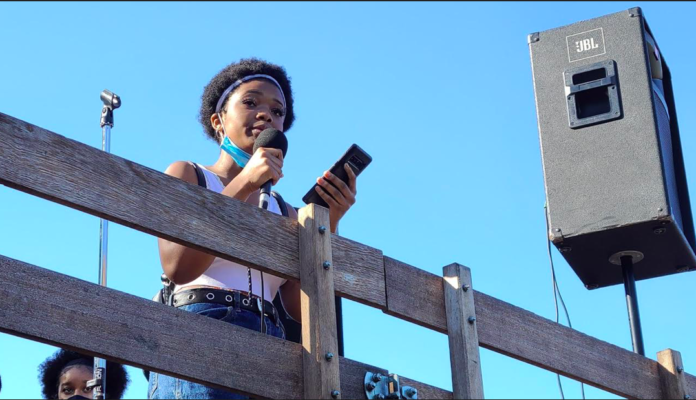 As former Black Panther Angela Davis spoke to the crowd of thousands that had gathered at the Port of Oakland June 19 to protest police brutality, a group of teenagers was preparing to lead their own rally in West Oakland.
The teens form part of Black Youth for the People's Liberation (BY4PL), a coalition that has already organized several actions to demand justice for lives lost at the hands of the police.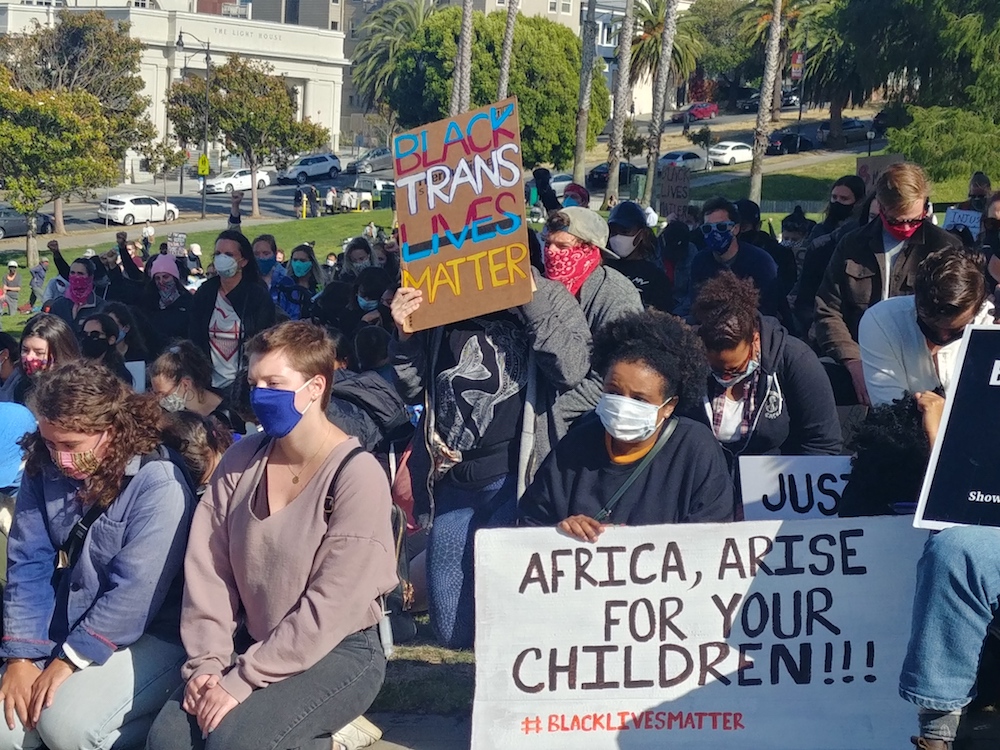 This public action, which included both a rally in Defremery Park, march, and the creation of a street mural, formed part of the greater Juneteenth commemoration that took place throughout Oakland. BY4PL emphasized that this event would center the voices of Black youth. All the organizers are under 20. Among them are Isha Clarke, 17, Akil Riley, 19, Lauryn Campbell, 18, Jadyn Polk, 14, and Luna EkunDayo, 15. Together, they brought hundreds of people out into the streets the day after California Highway Patrol agents shot and killed Eric Salgado in East Oakland on June 6.
"To understand what the community needs, where we are, we need to ask, what's hurting?" explained Luna EkunDayo in an interview with 48 Hills. "Keep in touch with our community, touch base with organizing groups, and always do a temperature check on a regular basis because sometimes we need healing, or we need to scream, or we need to yell, or release our emotions."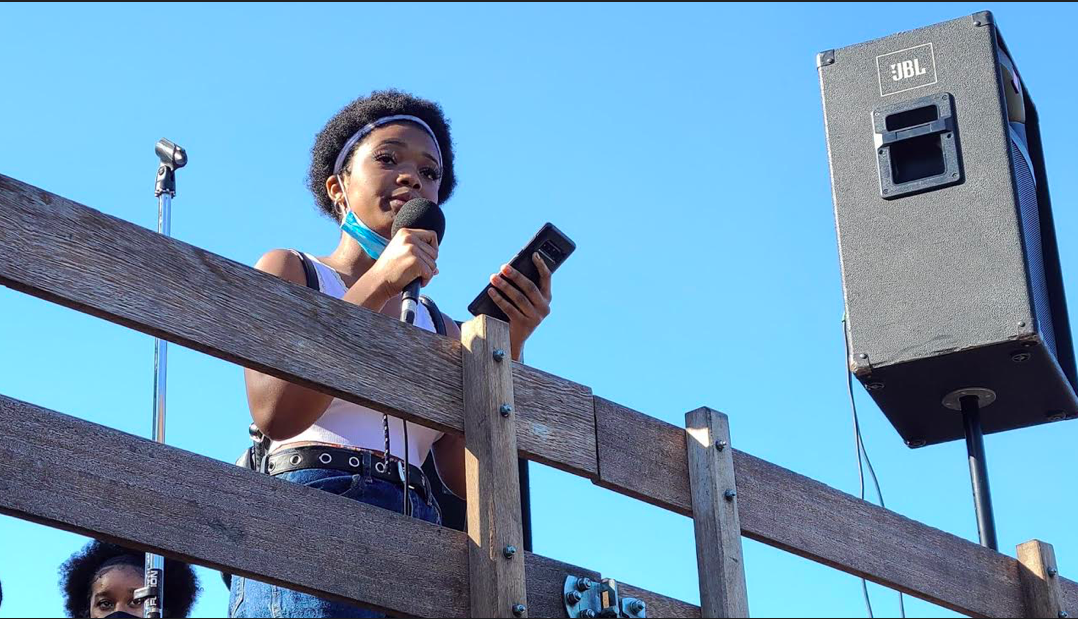 EkunDayo pointed out that the process to defund police departments and achieve Black liberation has just begun. She explained that while it may seem necessary to invest all of one's energies and resources all at once, the path towards racial justice is longer than it seems. "Giving yourself a break is very important. I really felt I couldn't leave social media because I felt like I always had to keep in touch with what's going on."
Just as an organizer should always have their ear to the ground to keep track of their community's needs, EkunDayo encourages activists—especially younger ones—to keep track of their own needs and obligations. "Keep in touch with yourself, and be aware of how everything around you is impacting you, be aware of how you need to heal," she said. "You cannot organize if you are not with yourself."
To that effect, this Juneteenth rally centered both action, celebration, and healing for young Black activists. BoomShake, a music collective led by women, trans and gender nonconforming individuals, encouraged all those in attendance to not just march, but dance and sing as well.
Isha Clarke, who has also worked to stop the development of a coal terminal in Oakland, addressed the importance of a dialogue between generations of organizers when she spoke to the crowd. "Look back and pay your respects to those that paved the way for you." she declared, "then look forward and start running that marathon towards liberation."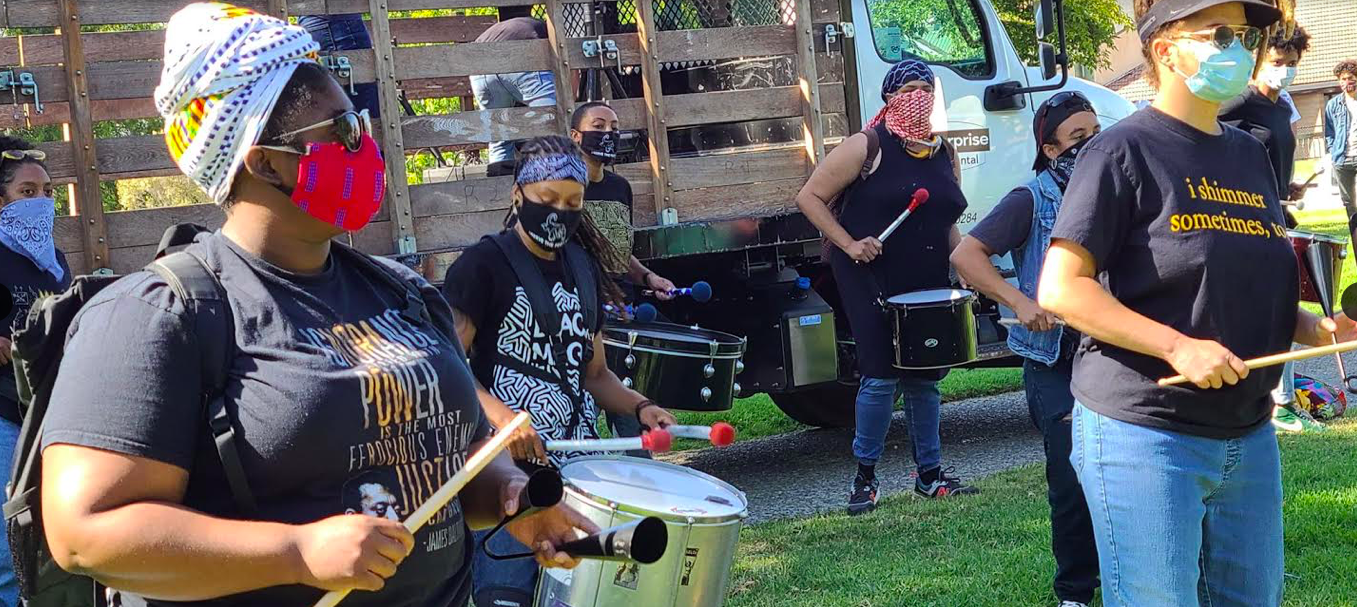 The members of BY4PL count with the mentorship of Caroll Fife, regional director of the Alliance of Californians for Community Empowerment and lead advocate of Moms 4 Housing, the group of Black mothers that occupied a house in West Oakland earlier this year to protest the lack of affordable housing available for low-income communities of color.
Fife is now preparing to run against Lynette Gibson McElhaney to represent District 3 in Oakland's City Council. As she prepares for that campaign, she made it clear that her work is strengthened by the efforts and vision of teen organizers. "They are ready to take up the mantle of organizing in this city," she expressed in her own speech, "they are taking up the mantle of past Black youth organizers."
EkunDayo, Clarke, and the other members of BY4PL are part of a larger conversation taking place nationwide through social media, where young organizers are expanding and reimagining what solidarity and equity looks like. Institutions that perpetuate racial injustices should not be reformed, but rather pushed aside, abolished, and cleared away to make space for new organizations that are not a product of white supremacy.
"That's one of the reasons I chose to study public health," says Barune Thapa, 23, who attended the rally and will be starting his graduate studies this fall at the T.H. Chan School of Public Health at Harvard. Thapa is now starting to work on a nationwide campaign that seeks to prioritize the needs of communities of color in policy that pushes for Medicare for All. "Access to healthcare, even when it is universal, can still be unequal depending on race if we don't push for public health policies that take into account race and income."
Barune attended the protest with his younger brother, Sidhant, 17, who also expressed his intent to make his family, immigrants from Nepal, really engage with organizing. "We need to look at whatever field we are in, whatever we are doing and involve anti-racism work into it," explained Barune. "This is a continuous way of living."
"Keep your ear to the ground," EkunDayo reminds us. "Keep your ear open to Black youth organizing and don't forget that Black power matters."