It's no secret that COVID has been rough on our health, even when we don't catch the virus itself. About a third of US residents are dealing with severe anxiety. Half of them have experienced significant depressive feelings during the last few months. And just as they are with the coronavirus, communities of color are more at risk for quarantine-time mental health challenges due to structural racism.
The staff of Excelsior health center Community Well knows it—which is why they're spending time during the pandemic trying to get the word out about the facility's free online "H3" ["Happy, Healing and Healthy"] wellness classes to communities of color.
The program was designed to serve BIPOCs and other individuals to whom health and wellness resources have been under-available. It's open to all community members regardless of race, joining a variety of Bay Area facilities from the California Institute of Integral Studies to the Liberation Institute that are offering sliding scale, online-accessible health resources in the COVID era.
"After looking at the recent SF health data we saw that BIPOC communities were ranked higher when it comes to disease and chronic conditions like diabetes and high blood pressure," Community Well founding partner and marketing coordinator Catherine Marroquin told 48 Hills in an email interview. 
"Those numbers are doubly impacted because the locations that these BIPOC communities live in are less-resourced, less funded, and have less access to health services than other locations in San Francisco that do not have larger populations of BIPOC communities," Marroquin continued.
H3 classes are currently being offered through Zoom. By signing up on Community Well's website, community members can enjoy yoga and Latin dance classes, "food as medicine" tutorials, community therapy transformational circles, and a six-week chronic illness prevention program. Individuals who are down to link with Community Well in person are invited to attend a socially distanced guided hike on fourth Saturdays.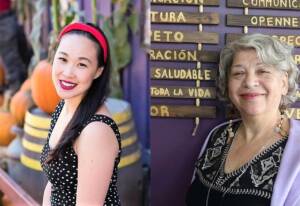 People with specific health concerns are able to book consultations on first and third Tuesdays of the month with the health center's homeopathic health professionals. This offering is meant, "to help ease discomfort in the areas of trauma, anxiety, stress, insomnia, pain, and other acute chronic conditions," according to Marroquin. Individuals will receive free remedies for the problems discussed in their consultation.
The H3 program is funded by the one cent per ounce soda tax that San Francisco voters approved via Proposition V in 2016, part of the community nutritional offerings for which proceeds from the measure were earmaked. Community Well's program will run at least through January 2022, with the option to be extended through 2024.
So far, over 130 people have availed themselves to the classes.
The health center, which is guided by a volunteer advisory board, is also producing a YouTube series that focuses on relevant health tips. Video tutorial subjects have ranging from Community Well clinical nutritionist Angel Le's tips on boosting one's immune system to curandera and holistic life coach Tereza Iñiguez Flores' presentation on managing stress.
It's all part of creating a significant and lasting effect on BIPOC health in the San Francisco area.
"We understand the historical barriers that BIPOC communities have had resulting in many, many years of compounding circumstances that have a direct impact on members of these communities' overall health and wellbeing," says Marroquin. "We designed the H3 offerings as an accessible, on-going, transformational program that could support BIPOC communities."
You can sign up for Community Well's H3 classes online, and they are offered at various times throughout the week.