M.C. Schmidt of Matmos waves a limp assemblage of taped-together scraps of paper in front of his computer camera. "This is the third hour, this is the second hour," he explains, as his musical and romantic partner Drew Daniel looks on with quizzical pride. You wouldn't know it from looking at them, but these scraps of paper are the genesis of one of the year's most ambitious electronic albums. 
The Bay Area-bred, Baltimore-based duo has always been into out-there concepts. They've made an album from samples of medical procedures and another with their washing machine ("it's appropriate that a domestic noise should interrupt this interview," says Daniel as he makes Schmidt an espresso on a rather loud machine.) 
But The Consuming Flame: Open Exercises in Group Form might be their most gobstopping project yet: three CDs, three hours, all at 99 beats per minute—and featuring a cast of 99 musicians. 
Schmidt and Daniel are two of those musicians. The others are an all-star cast, at least to those with their ears attuned to the worlds of experimental and electronic music: Clipping., Yo La Tengo, Pig Destroyer, Oneohtrix Point Never, Mouse on Mars, Matthew Herbert, Rrose, Rabit, David Grubbs, Dax Pierson. Not that you'd be able to point them out on a blind listen.
"It feels sort of vainglorious if we take too much credit for this record, because it was really 99 people doing something and we're making a sort of exquisite corpse out of it," says Daniel.
The genesis of the album was Schmidt's collaboration in Italy with a jazz group called Squadra Omega. All the musicians decided to play at 99 BPM, and their recordings remain on the album as the "cocktail jazz" section at the end of the first disc.
The couple originally envisioned the album as an exploration of artificial voices and vocal synthesizers, with 99 BPM as a compositional basis. "The idea of 99 people sort of emerged after a few months where I was like, 'hey, what if not only was it 99 BPM, but 99 people too?,'" says Daniel.
Though longtime Matmos collaborators like John Wiese and J. Lesser appear, Schmidt and Daniel are keen to emphasize that the list of musicians is not necessarily a "list of favorites." Rather, they reached out to artists whose styles they felt would work within the structure of the album, which though slower than most techno moves with the same steady pulse.
"We didn't really know who Giant Swan was, but we played this festival with them in Australia and they were super-fun people," says Daniel of one of the album's most frequently cited collaborators. "And it just made sense to me. There's something about industrial music and techno getting folded onto each other, so I felt like it was plausible and meaningful to ask them to contribute."
Schmidt and Daniel spent a year assembling their collaborators' contributions into what it soon became clear would become a three-hour album, using those taped-together pieces of paper as a structural reference. 
"Normally, songs have distinct start and end points, and you can make a little playlist and try out how it feels to go from this song to this song," says Schmidt. "This was quite different—what's the best possible collage of things that are already collages?"
During the editing process, "miniature bands" began to emerge. Matmos has pet names for them, like "Sarah Band" (a play on the dance form sarabande), which puts together percussionist Sarah Hennies with guitarist Owen Gardner and post-rock legend David Grubbs.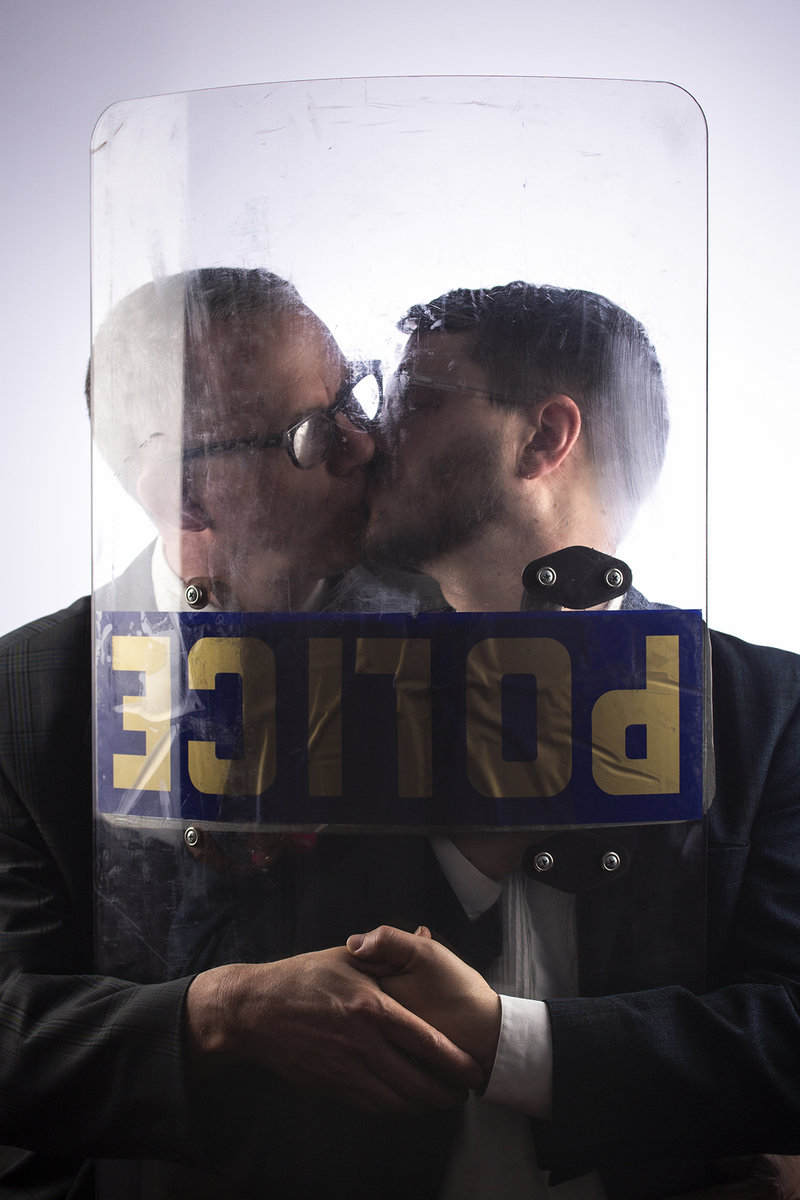 The mini-band that might get the most attention is a duet between Daniel and Oneohtrix Point Never's Daniel Lopatin, maestro of the Uncut Gems soundtrack and the man arguably most responsible for inventing the vaporwave genre. As their synths arc in unison, you can hear a thousand music-nerd conversations about dream collaborations suddenly coming true.
Though anyone who's heard the Houston producer Rabit will recognize his trademark, high-velocity metallic clangs, only a sharp ear could recognize a chopped-up snatch of rapping as the voice of Clipping. member and Hamilton actor Daveed Diggs. To help listeners through the maze, Schmidt and Daniel enclosed each CD with a poster mapping every musician's contributions by the minute. Each collaborator is represented by a colored bar.
"You'll see there are many moments, and some of them are minutes long, where literally neither Drew nor I are making a sound," says Schmidt. "And then there are parts on the chart where it'll say it's me, but I'm just looping and layering and queuing other people's stuff." 
The final product, released August 21, is available on CD and digitally. The CD version is split into three tracks, while on Bandcamp and streaming services, it's split into 44 neat little "areas" with quirky, characteristically Matmosian titles like "Revelatory Mint Clot" and "Nice Men in Stable Relationships."
"I wanted it to be in a fancy box," says Daniel, "but that costs too much."
Whether split into three tracks or 44, three hours of experimental, primarily rhythmic electronic music is a lot to consume in one sitting. I was, in fact, the first person Matmos had spoken to who had listened to the entire album. I explained that I found it most helpful to follow along with the poster, with the colored bars forming visual associations that made it easier to figure out where I was in the album on a subsequent listen.
But even the members of Matmos aren't entirely sure how one would ideally listen to The Consuming Flame, though taking it on a road trip to Fallingwater in rural Pennsylvania was promising. 
"I don't ever think that I've sat and listened to all three hours in a row yet, nor do I necessarily think that there would be any great benefit to it," says Daniel. 
"Ideally we want people to listen to the whole thing," says Schmidt. "We're also realistic enough to know that that's not how it goes."