Terry Kochanski says when she first took the job of executive director of SCRAP, a non-profit creative reuse center, one of the first things she did was get together for tea with artist Aiko Cuneo, the daughter of beloved Bay Area artist Ruth Asawa, the founding president of SCRAP's board.
"I talked to her about different things we can do to strengthen the legacy of SCRAP, and to honor the legacy of Ruth," Kochanski said.
On November 19, Cuneo and her brother Paul Lanier, who's also an artist, will take part in a virtual discussion, Ruth Asawa: Through the Eyes of Her Children, talking about their mother's legacy. The event is a fundraiser for SCRAP, which continues to support and promote artists who work with reclaimed materials.
"I started by calling it a fireside chat, and we want to make it special," Kochanski said. "We made a strong effort to have this be something not everyone has seen with family photos and family stories."
Cuneo says her mother, who grew up on a farm in California and was interned along with 120,000 other Japanese Americans during World War II, was a big proponent of arts education—as well as a lifelong recycler. 
"As a young girl, she understood recycling. Her father would re-hammer nails. She would use vegetable wires for rings," Cuneo said. "She collected wood and old tin cans in the internment camp: She was always looking for a place to use things somewhere else, and schools are a perfect place."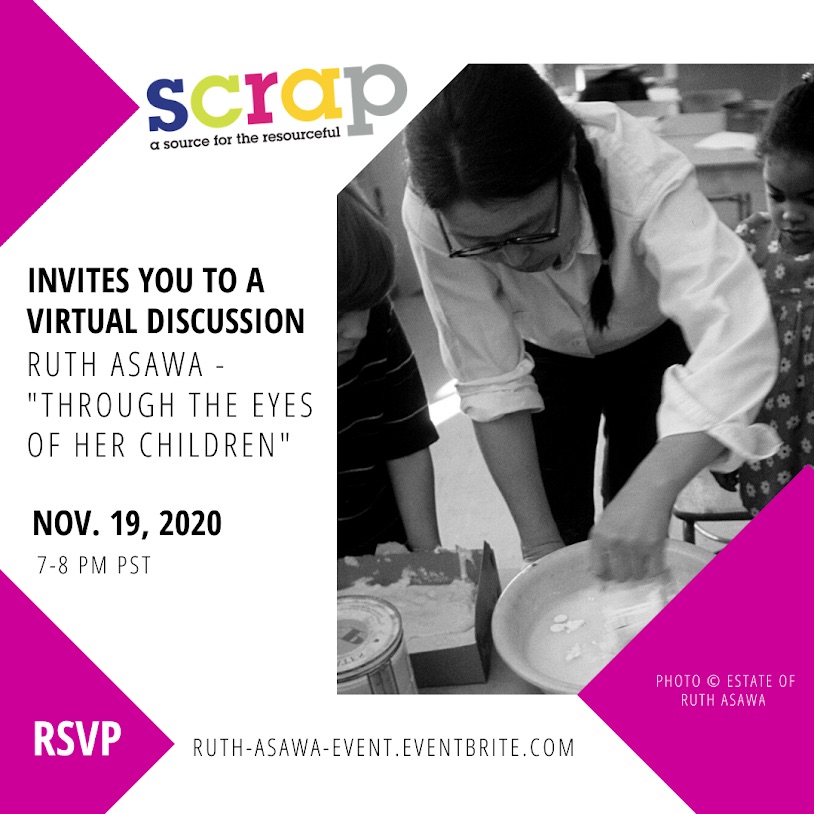 Asawa, an artist known for her delicate wire sculptures, served on the San Francisco Arts Commission and California Arts Council, as well as on the National Endowment for the Arts and the Fine Arts Museums of San Francisco boards. She was instrumental in founding the public high school, the Ruth Asawa San Francisco School of the Arts. 
Her focus on arts education also led her to co-found the Alvarado School Arts Workshop at that San Francisco elementary school. The school used throw away items like egg cartons, yarn, scrap paper and milk cartons, which the workshop reclaimed. This experience was part of what led Asawa to get involved with SCRAP, aiming to establish somewhere teachers like herself could go for materials. 
Cuneo says she is "nervous as heck" about the event, but she's excited to share memories and photos of her mother and she's been hearing from people around the world who are looking forward to it.
Cuneo, also an arts educator who worked as an artist in residence in San Francisco public schools for many years, says she used SCRAP herself, so she knows what a great resource it is. She also uses materials she finds there in her own work, she says.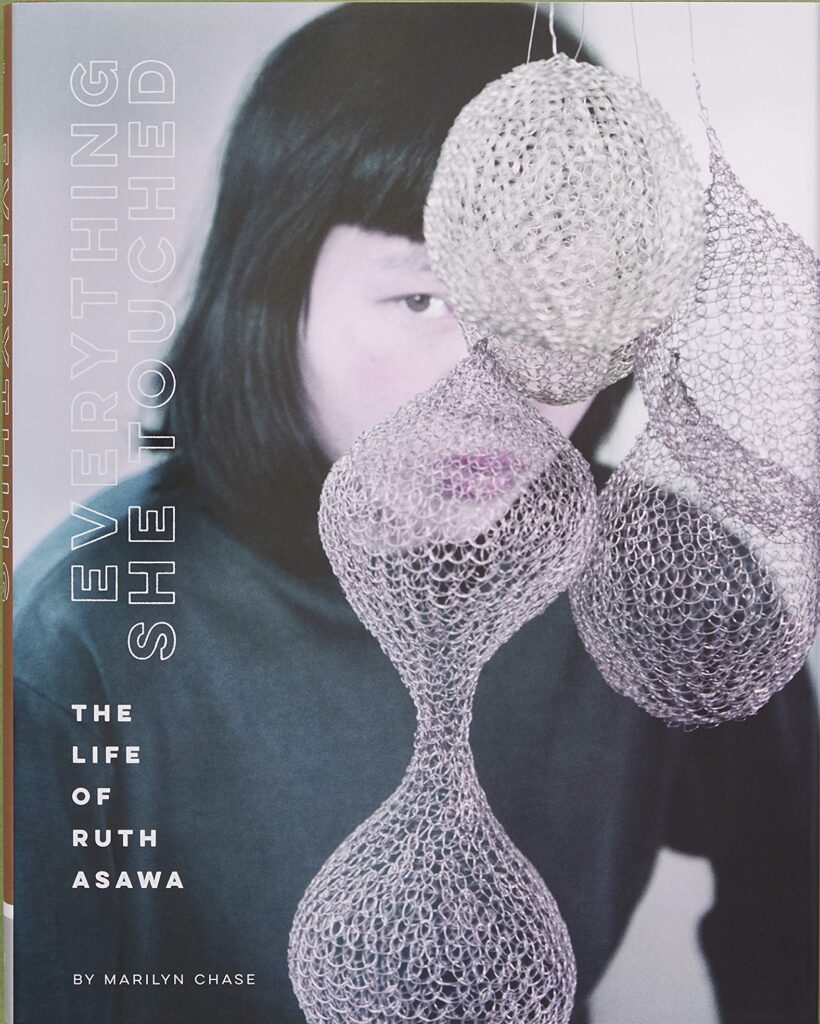 Kochanski says she first came to SCRAP as a customer, brought there as by a friend, and she loved it. Many people only know SCRAP as that physical building, the large depot on Toland in the Bayview she first went to, but it goes beyond that, she says. The message of environmental stewardship and keeping things out of the landfill is an important one, and even with the pandemic and online learning, the institution wants to help children expand their minds with art. Kochanski says they've partnered with San Francisco Unified School District to distribute free art supplies. 
"Ruth would be so proud of the way we're pushing programming out into the community," Kochanski said. "We made 1,800 face masks for people at the African American Cultural Complex, and for the Bayview Senior Center."
They are also doing Zoom workshops with school children, she says, providing materials with their "SCRAP in a box," and doing projects like helping students make their own comics.
Cuneo and Kochanski hope other communities will be inspired to start organizations similar to SCRAP.
"You can go there, and you don't have to spend anything," Cuneo said. "It's always a surprise to see what they have. You can go and look and see things you're not going to see at Walmart or Target."
Ruth Asawa: Through the Eyes of Her Children November 19, 7- 8 pm, online. Tickets are a donation to SCRAP. Supporters at the $100 level and above will receive a copy of Marilyn Chase's new book, Everything She Touched: The Life of Ruth Asawa.