Beginning November 17, the Yerba Buena Gardens Festival and Community Music Center are joining forces to launch a new "Creative Voices" series, featuring artists and leaders in musical and cultural dialogues and conversations. Each free virtual installment, over the span of three months, spotlights a pairing of YBGF artists and CMC faculty to discuss, perform, and listen to music relating to community issues that inspires action and cultivates well-being.
The series kicks off Tue/17, 5:30pm with a discussion called "Composing for Racial Justice" with keyboardist and composer Samora Pinderhughes and bassist, composer, and educator Marcus Shelby. The series continues on Tuesday, December 8 with a discussion called "Music for Life," with Ukulenny and Beth Wilmurt, and the third installment on Tuesday, January 12, 2021 presents "Mindful Singing in Community" with vocalist Valerie Troutt with the seven-member family band the Curtis Family Cnotes.  
"It is an honor to partner with Community Music Center to present this new series," says Yerba Buena Gardens Festival Executive Director Linda Lucero in a press release. "We are so proud to join forces to instigate discussions, open dialogues, and to be inspired by the leading artists and cultural leaders in our community."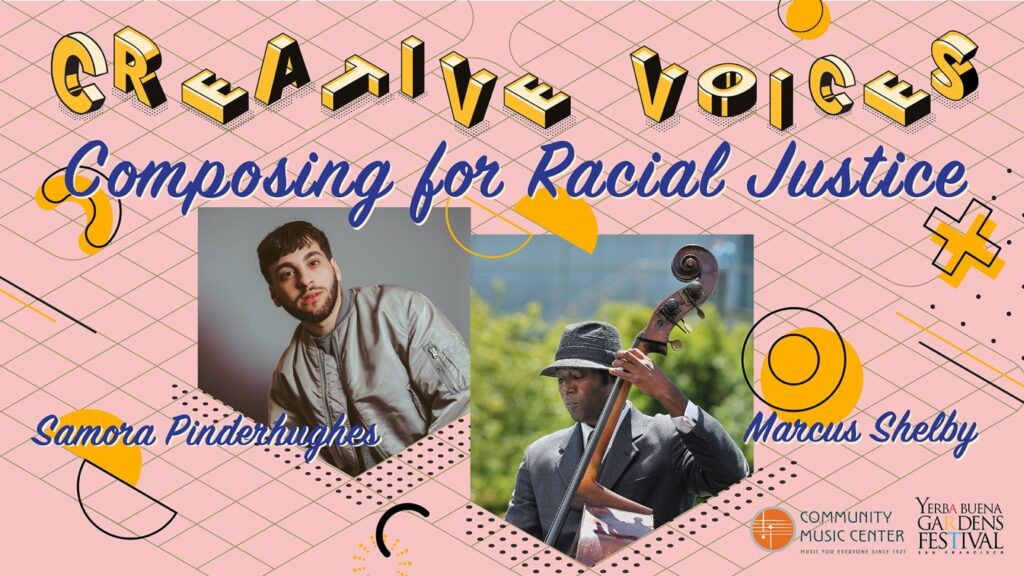 Berkeley-raised, Juilliard-trained pianist-composer Samora Pinderhughes gained national attention with "The Transformations Suite," a multimedia project exploring the radical history of resistance within the communities of the African Diaspora. Currently pursuing a Ph.D. in Creative Practice and Critical Inquiry at Harvard University under mentor Vijay Iyer, he joins San Francisco bassist-composer Marcus Shelby in a conversation about composing for racial justice.  YBGF's resident artist Marcus Shelby, San Francisco Jazz royalty, has created a celebrated body of work for his orchestra inspired by a multi-faceted array of Black life, from legendary abolitionists and civil rights leaders to Negro League baseball. He has directed CMC's tuition-free Teen Jazz Orchestra since 2013. Moderating the discussion is Preston Justice, YBGF's house emcee, and the programmer of OMCA Friday nights.
"We are thrilled to partner with the stellar Yerba Buena Gardens Festival," says Community Music Center Program Director Sylvia Sherman. "This series will bring together artists in musical dialogue to share their thoughts and feelings on how music can inspire all of us to address the important issues of our time."
Community Music Center, founded in 1921, is a nonprofit music school and performance space with branches in the Mission and Richmond Districts. The organization makes high-quality music accessible to people of all ages, backgrounds, and abilities, regardless of financial means. Last year they awarded $2.4 million in tuition assistance, serving more than 3,500 students of all ages, ethnicities, and income levels with music lessons, classes, and other programs. The school offers online music lessons to students of all ages on over 30 instruments, and a wide range of musical styles, including jazz, blues, Latin, pop, folk, rock, and western classical. This organization also presents free and low-cost virtual workshops, concerts, and events. Go here for more information.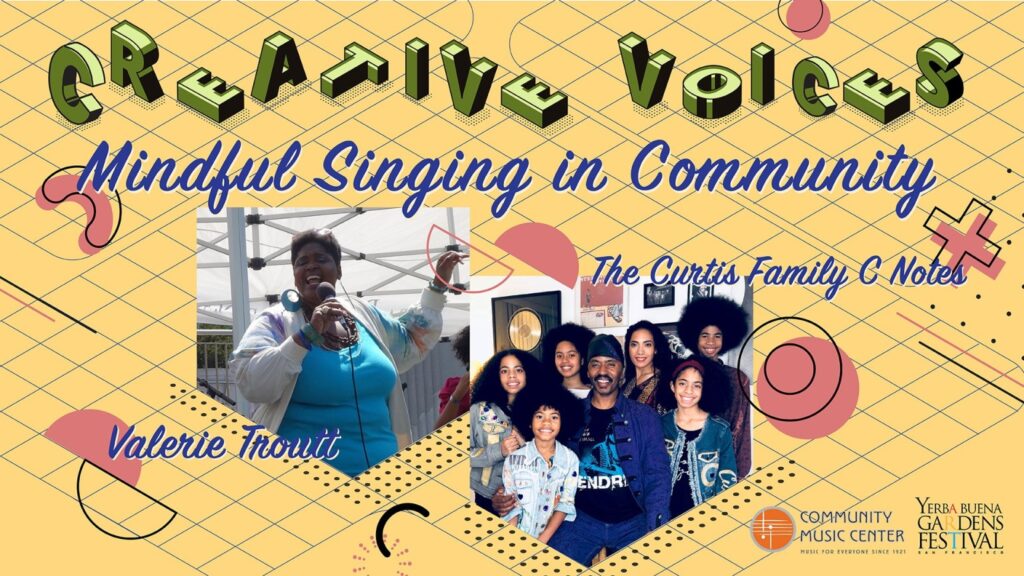 Celebrating its 20th Anniversary this year, Yerba Buena Gardens Festival is the independent presenting organization dedicated to enhancing the vitality and quality of life in the parks and open spaces of Yerba Buena Gardens through the curated presentation of free artistic, community, and cultural programs. YBG Festival presents classical, world, and jazz music, contemporary and traditional dance, theater, children's and family programs, and cultural events reflecting the rich cultures and creativity of the region. Artistic excellence, inclusion, diversity, and innovation are highlighted in their service to The City. Being the only curated arts park, fully dedicated to the long-term presentation of free arts and cultural programs, Yerba Buena Gardens has a unique place in the cultural landscape of San Francisco. Go here for more information.