Teaching Behind the Mask is a series of voices from infant, toddler, and pre-school classrooms across San Francisco. It's a collaboration between Barbra Blender, Eliana Elias, and the remarkable early-childhood education teachers who continue to serve children and families during the pandemic. Read previous installments here and here.
Dear Julia Morgan and the Issei women who built the building located on 1830 Sutter Street in the City of San Francisco, home to Nihonmachi Little Friends preschool:
Sending out a thank you note from your future…
What does it mean for us to be teaching and learning with young children in this historic building that you built in 1932? Working in this community over the years, I have been thinking more and more about what is in our blood and our identity. Aren't our roots filled with the spirit of taking a stand for social justice?
This is a sincere thank you letter written to you in January of 2021. I would like to start by sharing an unforgettable moment that happened a year ago: I was telling the children the story of the building:
"This building was built a long, long, long time ago. It was the idea of very brave women who came to the United States all the way from Japan…They had the help of another very brave and thoughtful architect. Her name was Julia Morgan. They all worked together to design and build this place…"
Listening intently, five-year-old Aurora, surveyed the beautiful building that has been our school's home since 1975. Aurora asked, "They are not here because they got old?" I confirmed that these women had passed a long time ago. Then Aurora's made a sweet, simple yet profound request: "They are not here, but we can say 'thank you' to them?"
I was deeply touched by Aurora's request and I felt strongly connected to Aurora's words and thoughts. Yes indeed: We cannot see you, but you surely are with us. Here I am today: formalizing my "kansha," (gratitude) to you and to all the inspiration you have given me, during these past challenging months.
Being grateful to those who came before us…
Thank you for leaving us such powerful footprints. You defied the social order of the time, and you did not conform to the traditional roles that relegated women to second-class citizens. To the Issei women I say Thank You for being pioneers and for your "nintai," (resiliency) and strength you showed. After so much hard work to build your beautiful building, you were forced into going to internment camps and robbed of the joy you could have had under this roof. Your history is well recorded in our school's website, Nihonmachi Little Friends Home, and we honor you.
To Julia Morgan I say: Thank You for partnering with a marginalized community, who was not even allowed to own land when this building was erected. Thank you for fighting for your own education and using your privilege to stand with those who had less power than you. You charged nothing for your services to make the Issei's women's dream come true.
In 1924, you had also partnered with the Chinese community to build the Ming Quong Home for Girls, defying the racist and exclusionist practices that had also affected that community.
Don't worry. We will carry on your message of hope, resiliency and "omoiyari" (compassion), and continue to stand for what is right. I want you to know that your legacy has helped us grow into a strong community.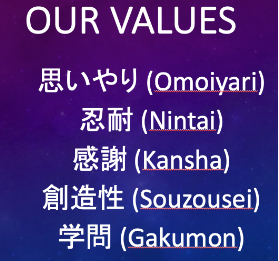 Uncovering more about your history inspired me to reflect back on the threads of my own history, to become more appreciative of my own roots and culture, and to cultivate my stance in the field of Early Childhood Education.
Developing a philosophy of education that reflects my values and the lessons I have learned from you…
I have come to understand our work in Early Childhood Education and our everyday life with children as a political act. We are building democracy from the ground up. All the essence is within: Joy of "gakumon" (gaku- "to learn" and mon- "to inquire"), taking an inquiry journey, developing the ability to collaborate with one another, seeking multiple perspectives and sharing a deep appreciation for all the diversity present in the world. In essence, we share the joy of living together.
This past year has challenged us in unprecedented ways. A pandemic, social and political unrest, and a nation reckoning with the long-lasting scars left by slavery, and the recent invasion of the Capitol. In both Julia Morgan's story and in your story, I find nuggets of hope and guidance to face these challenges: Stay strong, be a co-conspirator with those who are marginalized, and look for opportunities to go deeper into what is important.
Lessons from an improbable source: COVID 19
Back in March 2020, unexpected challenges came our way. The pandemic offered me the opportunity to pause and identify my personal values and beliefs, and also revisit our school's core values and beliefs.
One of our school's core values, for instance, is "Souzousei," (creativity, problem solving, and flexibility).
From the safety protocols that we had to implement, such as wearing masks and breaking up our school community into smaller pods, we have learned that together we use our creativity to take care of each other and minimize the risks of contagion. We were touched by children's incredible ability to be adaptable and were reminded of the significance of human connection. Even from their individualized small sand boxes, the children could be encouraged to share and exchange those intangible things such as ideas, feelings, and their undying curiosity.
We have also actively worked on small and impactful changes. We present the children with a whole new set of possibilities when we word our concerns and requests in positive and encouraging ways. We capitalize on the children's fertile imagination and gently say things like: "Let's make sure you open our wings… to give each other some space." Flying like their favorite hummingbirds or airplanes or ladybugs, children can follow the protocols without feeling the heavy burden placed on the demands for physical distancing. In their unmeasurable ability to find joy in the small things and their remarkable ways to connect with each other, children always inspire me.
Standing up against injustices…
As we encounter repeated assaults against the rights of members of marginalized communities, I return over and over to the image of us using collective muscles and working together to make visible to the children the power of equity, respect, and of individual responsibility. These, I believe, will support the children to grow up to stand against injustices, regardless of how different the victims might be from themselves.
Just as Julia Morgan and all of you Issei women modeled for us, reciprocal partnerships between different communities can bring about powerful change. I can already see this sense of fairness growing in Aurora, whose family history goes back to the dark days of the internment camps. Her great grandparents went through unimaginable sacrifice. Aurora's family has a strong history of advocacy and is passing that down to Aurora.
Along with her great aunt, Satsuki Ina, a community activist, writer and filmmaker of From a Silk Cocoon, Aurora has already started standing with other communities. For instance, she proudly attended a protest that was taking place in Japantown to defend DACA. As Aurora learns to stand with her family against the prejudices plaguing our times, I celebrate all she has learned here at Nihonmachi Little Friends. I know she will be standing with those who seek justice, just like you have during your time.
Past, Present and Future
I have no words to express how honored I am to be a part of this community. Nihonmachi Little Friends is a place that symbolizes the power of social justice and equity, and it grew to be a very special place for me.
The community within is as beautiful as the building you willed to us. Children like Aurora and educators such as myself continue to benefit your legacy. I have an image of us today standing on a bridge that connects the past, the present and the future.
On Friday, November 20, 2020, that bridge was even more visible to me when our community celebrated 45 years together. During our virtual sushi social, we were reminded that in January of 2020, our beloved building was listed on the National Register of Historic Places and the California Register of Historical sources.
Our website reads: "These actions preserve and honor the incredible history and legacy of the Issei Women who built the Japanese YWCA in 1932, despite facing the discriminatory California Alien Land laws, subsequent incarceration during WWII, and post war political and social conflicts."
Our director, Cathy Inamasu, who has been working tirelessly since the opening of our doors, invited us to join her in a toast: "Here is to the next 45 years." Her words pushed my gaze into the future… I think of those words as an invitation… an invitation to continue to elevate the field of Early Childhood Education to its proper place of importance. An invitation to face the challenges we have now with the same courage that you showed us.
I look forward to the miraculous connections that are still to come while traveling on this bridge.
I will close with Albert Einsteins' words: "There are two ways to live your life. One is as though nothing is a miracle. The other is as though everything is a miracle."
Your legacy will not be forgotten. It will continue to inspire me, my colleagues and Aurora and her generation… to always push the limits imposed on us, as we pursue a better world.