In times that call for comic relief and finding common ground, Alameda cartoon artist Christina Spiegel is here to help. Her humorous drawings in black and white are not just an apt color scheme, but truly about telling it like it is. With witty one-liners coming from characters of all orientations, Spiegel cuts to the chase for us to share, not just the joke, but the deeper feeling tone as well.
Spiegel, one of the founders and former owners of Ink Blot Gallery, lives and works from her central Alameda home. Growing up in Trenton, New Jersey, she moved to San Francisco in 1989 after meeting a guy at a party with a Volkswagen Microbus who was headed out west. "It was not a romantic relationship, just a kindred spirit who also wanted to read Kerouac's On the Road while actually being on the road," she said.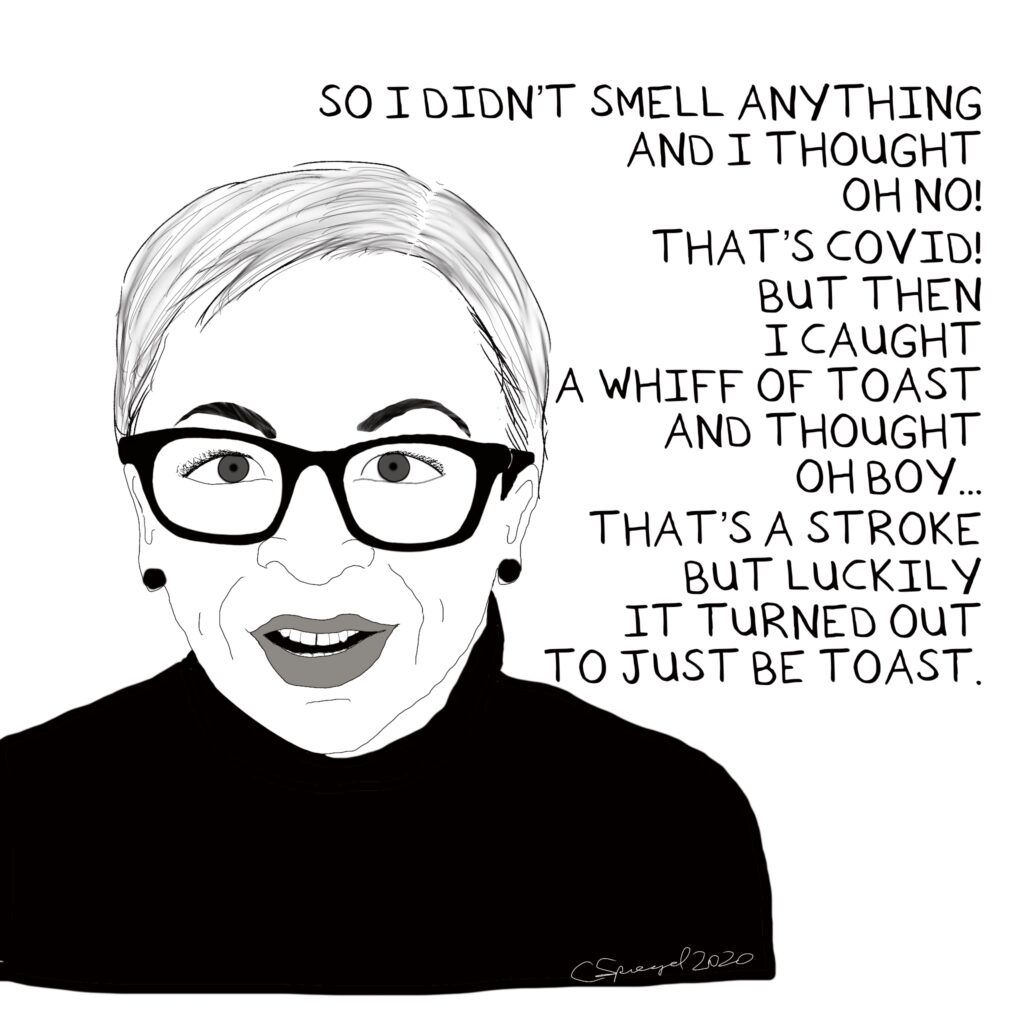 Spiegel studied creative writing, psychology, and ceramics at Mercer County Community College in West Windsor, NJ, near where she grew up, and photography at San Francisco City College. She arrived at cartooning via stand-up comedy in San Francisco in the 1990s, as a regular in the line-up at the 50 Mason. Apart from being a cartoonist, Spiegel co-owns SunClean Carpet Care, an organic carpet cleaning business, with her songwriter husband Mark, which helps them sustain a creative life.
"I am not a fine artist. I'm more of a joker that doodles. I stopped doing stand-up when my daughter was born and started cartooning. It gave me a way to keep making jokes but instead of standing up I get to sit down. Plus, the hours are better," Spiegel said. She cites comedian Stephen Wright and cartoonists Lynda Barry and Roz Chast as criss-crossing influences. The words for her cartoons often read poetic, having been drawn to Beat poets Lawrence Ferlinghetti, Gregory Corso and Allen Ginsberg, when she was younger and still an avid reader of poetry today.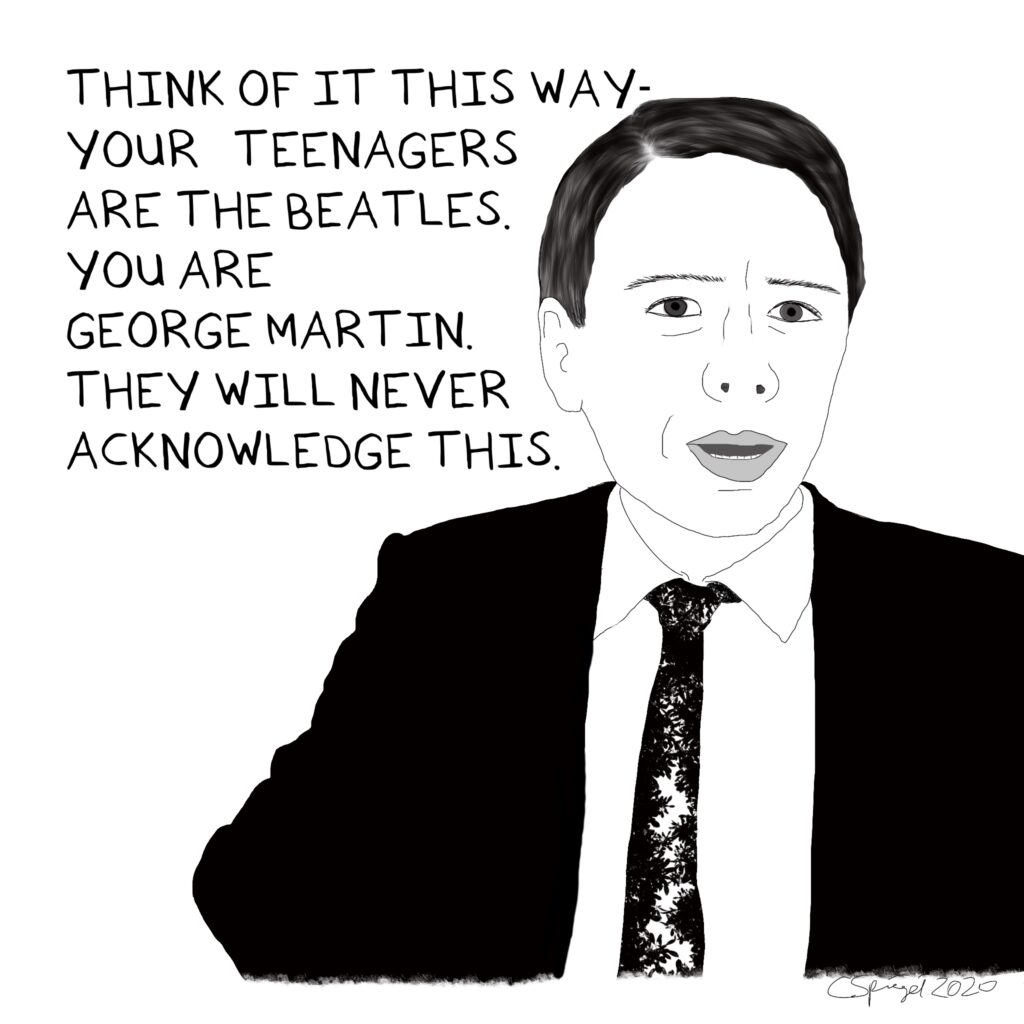 Spiegel moved to Berkeley in 1999, taking up residence in the bustling UC south campus neighborhood. In 2003, she and her husband moved to Alameda. The couple were sold on the "yesteryear" vibe of the island community, but their real motivation, she joked, came from a bumper sticker that read, "Alameda is where hipsters go to breed." That, and the fact that she didn't want her child's first words to be "kind bud"—a phrase often heard along Telegraph Avenue by marijuana street vendors.
Spiegel draws every day. Early on, she drew with pencil on the backs of index cards, then moved to Strathmore mixed-media paper, inking with Pigma Micron pens and filling in with a Pentel brush pen. She recently switched to digital media, using Procreate on an iPad or Wacom pad, which she calls a game changer. "The UNDO button has improved my life 100 times over," she said. Working in a similar vein to Barry and Chast, Spiegel's cartoons provide social commentary. "I would like people to laugh and feel seen, to feel compassion for themselves and others," she said. Her cartoon portfolio is titled Like All of You, named after her former stand-up comedy set but also because she wants to represent everyone in an all-inclusive manner.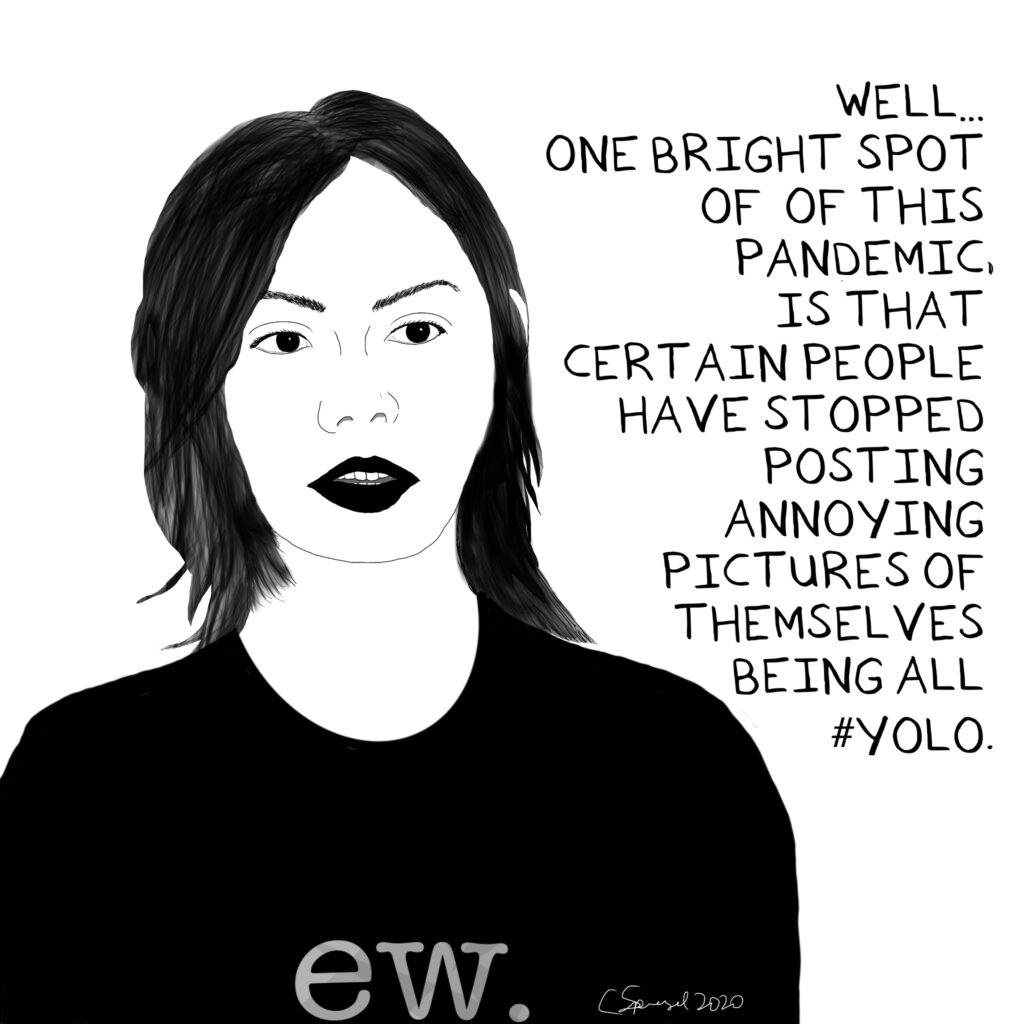 Her humor is largely observational, but the Pandemic has restricted her usual process and has challenged her source material. Though she typically draws at home at her desk, she does most of her writing and thinking in cafe's or other public places, watching people and gathering snippets of conversations on relatable topics. "I sorely miss the entertainment of other people's conversation. Is that wrong?!" she quips.
These days her ideas come through phone calls with friends, across the dining room table with her hilarious teenager and husband, and from weekly game night Zooms. "To be honest," Spiegel said, "it's challenging to find humor when I know so many people are dealing with illness, unemployment, scarcity and all the other uncertainties of this moment." And yet she does, for all of us.
Spiegel is working on a number of Like All of You projects including a book of poetry, a cookbook and greeting cards and is seeking a publisher for her book, I Hope This Helps, an alphabetical series of cartoons that explores mental disorders and treatments in an honest, nonjudgmental way with characters that are diverse and relatable. She was recently included in two beautiful publications, East Bay Artists 2020 and Mabel Magazine, both Alameda-based publishers. Spiegel is also planning an event at Ink Blot Gallery, post-Pandemic.
In the meantime, Spiegel offers this advice: "Find the jokes—nothing else matters." For more information, visit her website at www.likeallofyou.com and on Instagram.