San Francisco's COVID-19 Command Center artist-in-residency program is far from a historical outlier—hiring artists to document the country in its moments of crisis is a United States tradition.
As part of President Franklin D. Roosevelt's Great Depression-era New Deal, vast numbers of photographers and painters were employed via the Works Progress Administration [WPA] Federal Art Project effort. Those creatives took home much-needed pay checks for both documenting the country's cultural and economic upheaval first-hand—one thinks of the iconic Dust Bowl family shots by Dorothea Lange—and creating works that captured the nation's zeitgeist, such as Aaron Douglas' 1934 four-panel mural for the New York Public Library "Aspects of Negro Life."
In the thick of the current pandemic, artists have once again been employed to document a dark time; San Francisco's COVID-19 Command Center (located at Moscone Center South) recently announced its artist-in-residency program. Produced by the San Francisco Arts Commission in partnership with the city library and the CCC, the initiative is overseen by SFAC galleries director Meg Shiffler, who has tapped the skills of four local BIPOC artists; photographers Mabel Jiménez and S. Renee Jones, and comic artists Bo Rittapa and Ajuan Mance.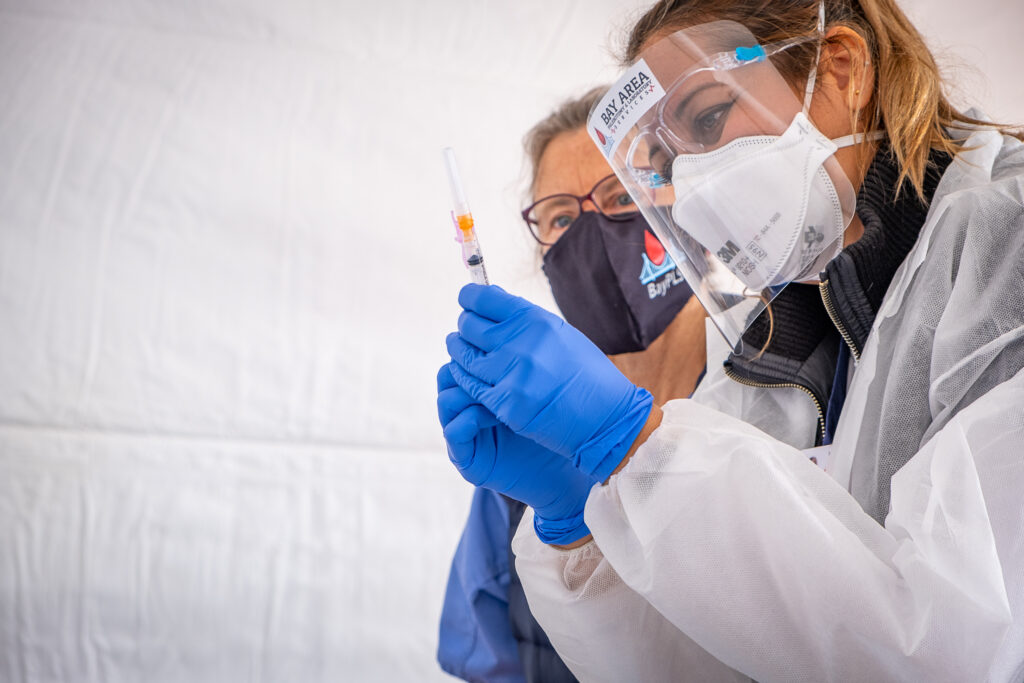 "The way the City is working hand in hand with community leaders and nonprofit organizations to prevent and eradicate COVID-19 is a story that should be recorded," says Shiffler.
The artists' final portfolios will become part of the city's COVID community time capsule. But first, they need to figure out what, exactly, goes on at and around the Command Center.
"Three floors of tons of people in huge rooms, coordinating and making things happen," Jiménez tells 48 Hills about what she's seen working in the CCC itself. "I'm still learning how to navigate that."
In fact, the repurposed Moscone South is only the nerve center of an operation that extends across the 7×7 miles of a city that needs to be filled with testing sites, community relief, and informational posters.
To create the images that may frame future generations' understanding of the health crisis, the artists don a blue vest that reads "CCC Artist in Residence" one day a week for 12 weeks, and get to work capturing different areas of the aid work.
For some, that's meant leaving the Center itself.
Jiménez, a Tijuana-raised artist who served as photo editor of the Mission's long-running bilingual newspaper El Tecolote for seven years (she continues to contribute to the publication), chose to focus her residency on how the pandemic was affecting the city's Latino residents.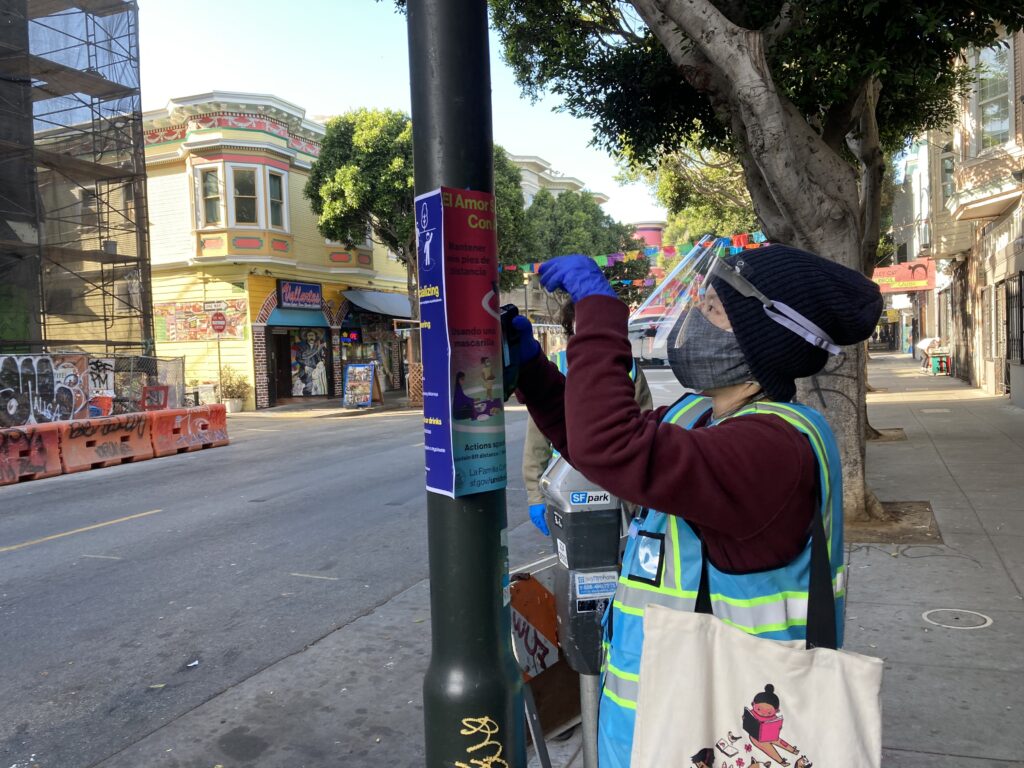 "We've been the most affected community in San Francisco in terms of number of infections," Jiménez told 48 Hills. "A lot of immigrant communities, undocumented communities, don't qualify for unemployment, for stimulus checks. We're impacted not just by the number of people who get the virus, but all these economic impacts that really hit us differently."
She found her shots centering in on the work of the city's Latino Task Force and other community sites. One of her photos shows a doctor and other health care professional, gazing at the orange liquid in a vaccine syringe with steely resolve. In another, CCA artist in residence Bo Rittapa shows similar focus as they affix informational posters to a 24th Street pole.
Jiménez says her deep connections to local leaders have informed her shots.
"I go to get a test at 24th and Mission BART station, and I see Martha Sánchez, who is an institution behind Casa Sánchez chips and salsa," says Jiménez. "She's a neighbor. I arrive places and there's already a familiar face there, and that has helped me a lot to get access—also, to help people relax around me a little bit."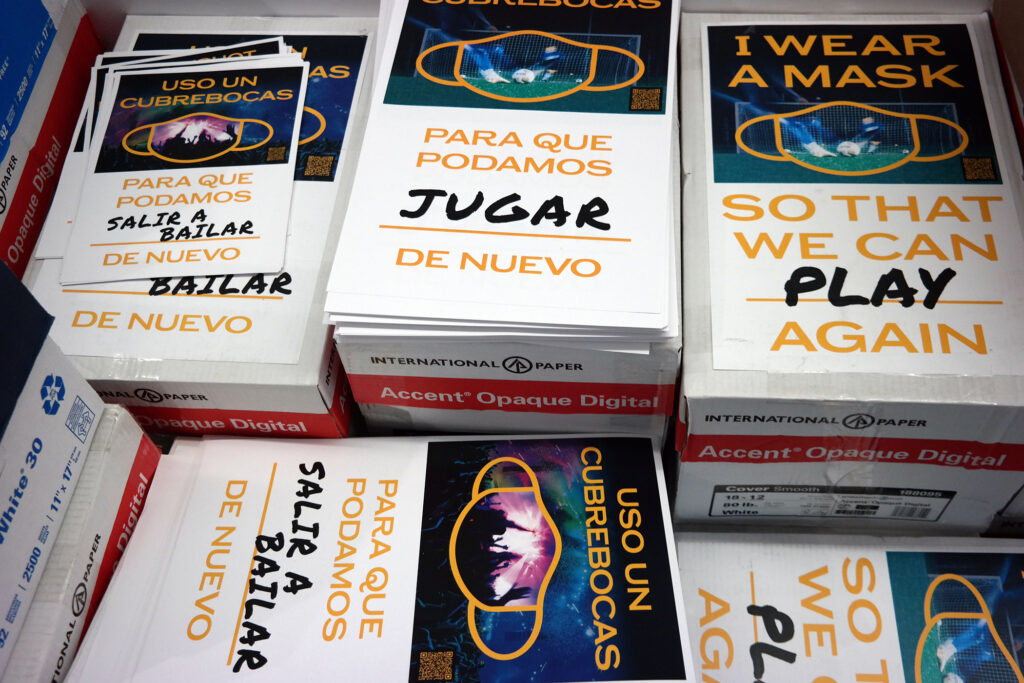 Thrilling as field work has been for some of the artists-in-residence who have been able to hit the streets, it wouldn't be the COVID crisis if no one was sheltering in place. In this case, that would be comic artist Mance, an author and Mills College English and ethnic studies professor who has been working from home since the first days of the pandemic.
Mance decided that with several high-risk individuals in their family, it wasn't going to be possible for her to work on their comic panels on-site at the CCC. And so, the artist embarked at a stay-at-home residency.
After receiving an elucidating video tour of Moscone South ("thorough and informative; and it was also impressive," she says) to get the lay of the land, Mance began conducting video interviews with the arts administrators who had been deployed to the Command Center. The comic artist connected with many of the workers over the era's isolation—but also discovered common ground in the agility that they all had shown in order to carry out their job under duress.
"I have found that as a remote worker whose daily routines and contacts have been upended by the pandemic, I can truly relate to their experience of learning to work differently and in a different place, without the normal day-to-day contact with colleagues and friends," Mance says.
That sense of purpose has become a central narrative in some of the artists' work.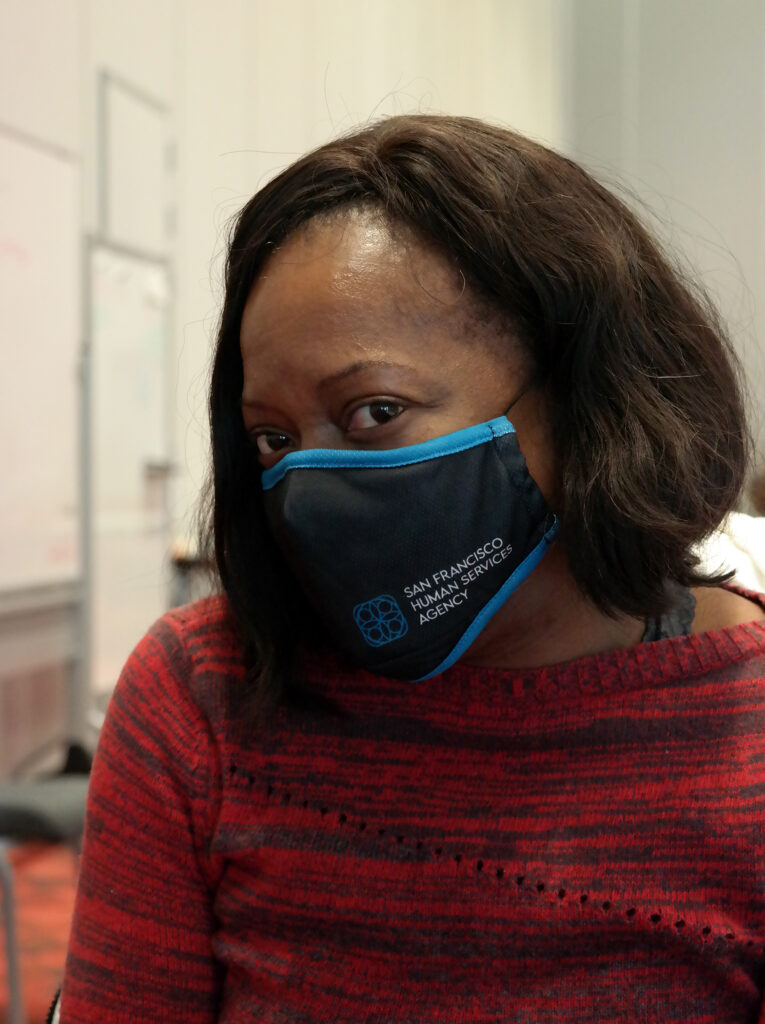 "The one thing that I keep coming across is that everyone has a strong 'duty of service,'" says Jiménez. "That's the way it keeps coming up. They want to serve."
"A lot of the time you feel powerless," she continues. "But even though some of [the aid workers that I've photographed] have been deployed for a year now, and they're getting to that point of burn-out and tiredness, the one thing that keeps them going is the fact that at least they have a job where they can do something about this."
To hear of their resolve is heartening—and reminds that we are all crossing our fingers that what these artists put into the time capsule at their program's conclusion are tales of pandemic-fighting success, driven by the heroism of frontline workers.
"These are stories that are ultimately quite hopeful in that they capture the willingness of city employees across all departments to step up and help navigate their communities through this unprecedented time," says Mance.