A federal judge today refused to block the federal Bureau of Prisons and the private Geo Group from imposing sanctions on San Francisco Bay View Editor Malik Washington for speaking out about a COVID outbreak in the halfway house where he lives.
Washington now faces discipline that could include a return to prison.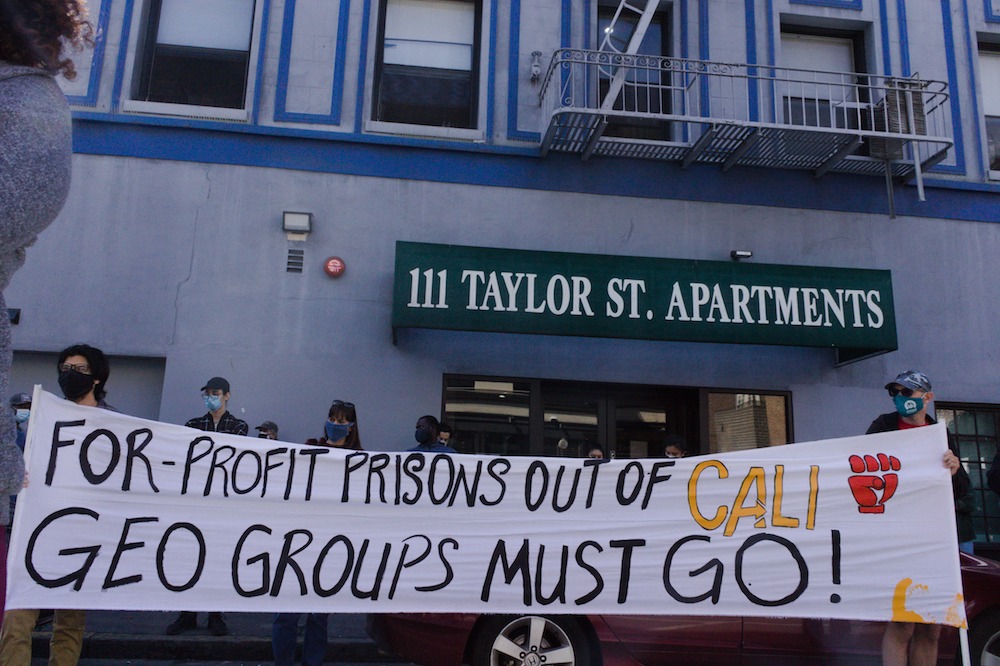 The ruling by Judge Jon S. Tigar mostly cited procedural issues – whether, for example, Washington had exhausted all "administrative remedies" before going to court.
But Tigar also upheld a BOP gag order and stated that Washington had no right as a person in custody to speak with a reporter about a public-health crisis.
And in oral arguments, a lawyer for the BOP said that part of his concern was that after press coverage and political organizing around this case, Washington was "gaining notoriety" that could be bad for the Taylor Center, the private halfway house in the Tenderloin.
Richard Tan, the attorney representing Washington and the San Francisco Bay View, argued that Washington had only broken the news about the COVID outbreak out of concern for others. Geo Group wasn't transparent about how big the outbreak was, and Washington feared that he could unknowingly potentially spread the deadly virus to the owners of the San Francisco Bay View, Willie and Mary Ratcliff who are both in their 80s and have underlying health issues.
Washington has been allowed to leave the facility six days a week to go to work at the Bay View.
Christopher Jeu, an attorney defending the Bureau of Prisons, argued that Washington had admitted to going to at least two off-site events, meaning events held neither at his place of work or his place of residency, the Taylor Center, during Nov. 2020. He said that was a violation of the rules.
Jeu continued his argument by stating that Washington wants the free reign that most other journalists have without the restrictions that come with being in the custody of the Bureau of Prisons. He also said that Washington was "gaining notoriety" that could potentially be unhealthy to the institution, and referred to the #FreeMalik rally that took place this past Sunday in front of the facility.
Tan stated Washington had no part in planning the rally, which was organized by Washington's supporters, who have come forward since his story first broke in 48hills.
Jeu concluded his opening arguments by complaining that Washington spoke at Humboldt State University Tuesday night via Zoom. He ultimately argued that Washington should have worked out an agreement with the Geo Group (who run the Taylor Center) and the Bureau of Prisons instead of going to the events and rallies without direct permission.
Tan argued that Maria Richards, facility director at the Taylor Center, had put a prohibition on speaking to the press only after Washington had notified 48hills of the COVID outbreak. However, Tigar noted that the Bureau of Prisons has had a rule in place stating that no one in their custody can speak to the media ever.
Tan said Washington had made no attempt to hide his location when he went to outside events. Tan noted that Washington's whereabouts could have easily been discovered by simply reading through San Francisco Bay View articles over the past several months and argued that the Bureau of Prisons and Geo Group only chose to bring them to light after Washington had publicly spoken out.
It's not entirely clear what will happen next. The Geo Group management had scheduled a disciplinary hearing for Washington, but put it on hold until after today's ruling. Now that hearing will likely take place.
The private prison company could wipe out Washington's ability to go to work, refuse to return his cell phone, eliminate the "good time" he has earned – and potentially send him back to prison.
Washington was scheduled for release in May. Those sanctions could keep him locked up until as late as August.
Tan told us that
We are very disappointed by this ruling, since in our opinion there was undisputed evidence before the judge showing that the Geo Group banned speech critical of the BOP/Geo, and retaliated against Malik for publicizing the COVID outbreak at the Taylor Street Center. The case is still continuing. We expect that once the evidentiary record is developed further, Malik and the SF Bay View's First Amendment rights will be vindicated.