On Sunday, 60 people rallied outside of private a halfway house at 111 Taylor Street in San Francisco demanding that San Francisco Bayview editor and incarcerated journalist Keith "Malik" Washington, who is serving out the remainder of his prison sentence at the facility, be released to home confinement until his sentence ends in May.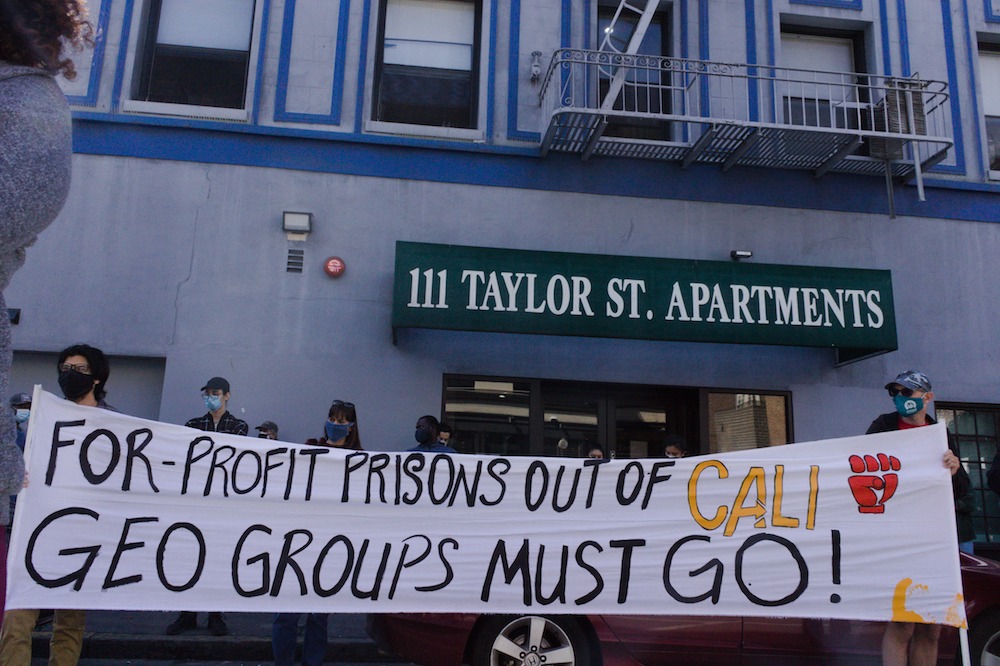 Supporters of Washington pointed to the unsafe conditions in the halfway house, which do not allow for sufficient social distancing and potentially ushered in the January COVID outbreak that occurred there, as shown the in the expose documentary "One Eleven Taylor,",produced by the Adachi Project, a media storytelling initiative bearing the name of late Public Defender Jeff Adachi, "as justification for Washington's release to home confinement."
Nube Brown, Washington's fiance and the managing editor of the Bayview, said that it would be safer and more humane for Washington to serve out the remaining months of his sentence at their home in the Bayview, saying Washington could more safely socially distance and work given that he has a stable living situation and gainful employment outside of the Taylor Street facility—the ostensible end-goal of rehabilitation and re-entry services.
"Malik had a job before he got to the halfway house. He had family support. We knew we were going to be finding an apartment together before he got to this halfway house…why can't he come home?" said Brown. "For six months now, he has been coming back to this place night after night, when he could be coming home to someone that loves him, to a beautiful apartment, but he comes back here. How is that a halfway house, how is that successful to [his] re-entry?"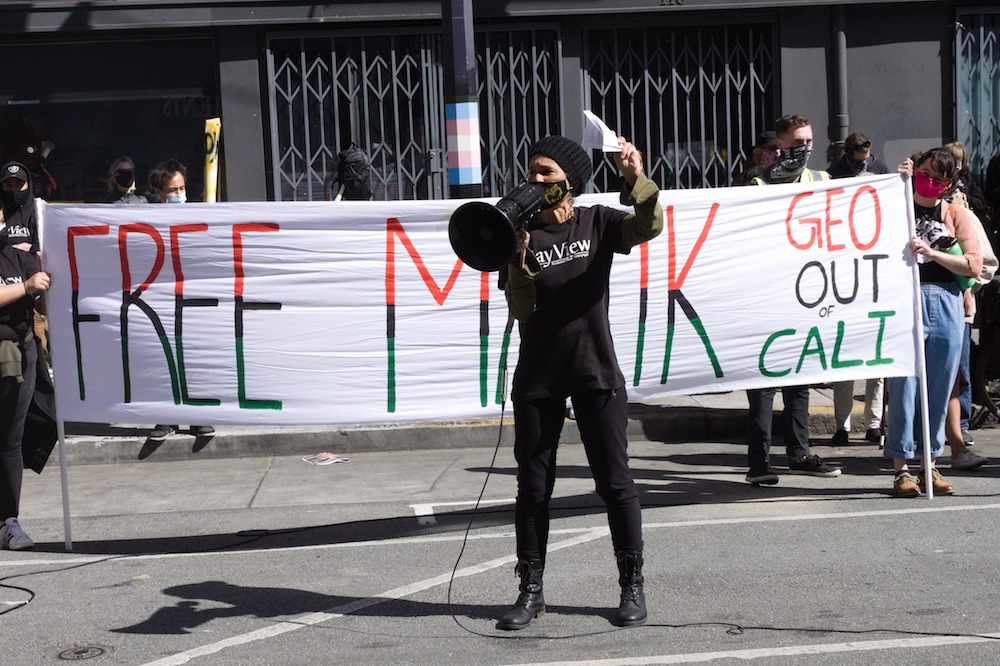 In addition to Washington's release to home confinement, supporters called for the federal and California state governments to end their contracts with Geo Group, a multinational corporation that contracts with governments to operate for-profit re-entry facilities, including the halfway house on Taylor Street. They pointed to the company's COVID problems and the apparent conflict of interest stemming from the company's funding model. Geo Group gets paid depending on the number of prisoners occupying the facility – which is supposed to be serving a mission of rehabilitation ending in residents' exit from the halfway house.
Rally-goers called for California to end all contracts with for profit private prison companies, such as Geo Group. It's currently illegal for the California Department of Corrections and Rehabilitation to approve new contracts or renew existing contracts with companies that operate private prisons, such as Geo Group, under AB32, which was signed into law in October 2019. But existing contracts are allowed to expire under their current timeline according to the law. 48hills requested a copy of the contract between Geo Group and the Federal Bureau of Prisons for operating 111 Taylor Street Apartments in January and has not yet received it.
In addition to demanding Washington's release to home confinement, supporters decried alleged retaliation Washington has endured during his time in the halfway home, including having his cell phone confiscated for roughly one month before having it returned on February 12 after soliciting media attention in January regarding a COVID outbreak in the halfway house.
Washington has since sued the Geo Group and the Federal Bureau of Prisons, which contracts with Geo Group to operate the halfway house, to remove disciplinary sanctions levied against him for "unauthorized contact with the media" and desist from future disciplinary actions for contacting the press until his release. Washington's next court is March 10.
Residents of the halfway house on Taylor street can have their phones and their right to leave the site for work revoked at any time the staff decides that is necessary. Brown criticized this policy, saying that both the carceral system and associated re-entry services are excessive in their curtailment of rights in response to transgressions, and that a re-imagining of rules of conduct in those systems is necessary.
"We need to stop being tolerant of 'oh he broke a rule,' that shouldn't be a rule on the first place," said Brown, referring to the confiscation of Washington's cell phone after speaking out about the COVID outbreak. "He's a journalist, he shouldn't need authorization to speak to the people, it's part of his job."
Furthermore, according to the complaint filed by Washington, there is a rule stating that a "News Interview Authorization Form" must be filled out and approved before residents of the Taylor Street halfway house can contact the press. Brown said the policy operates as a "gag rule," having the effect of silencing incarcerated journalists like Washington, as the time it takes to process and approve such requests to interact with the media precludes the ability to timely gather and report news.
"It's the slow wheel of justice—this paperwork needs to be authorized here, and then this paperwork over here, and by the time you've gotten approved, he wouldn't be able to do anything, the press conference would have been over," said Brown.
Supervisor Matt Haney, whose district includes the Tenderloin, where 111 Taylor Street Apartments is located, criticized the alleged retaliation against Washington, saying that a free press is crucial to holding the government accountable.
"I'm an elected official, and journalists have the right and responsibility to tell us when we're not doing right … that is the right he has under the Constitution, and for a private prison company to try and lock him up because of that, I can think of nothing more shameful," said Haney.
San Francisco District Attorney Chesa Boudin also supported Washington, saying in a letter read during the rally that it is crucial that the freedom of the press is not obstructed, highlighting journalists' role of informing the public.
"The last four years have shown the need for ensuring that people, especially those in the press, are free and able to tell truth to power…it is especially concerning when people like Malik Washington, who are devoted to truth-telling, are targeted precisely for trying to ensure that critical information is made public," said Boudin. "We must ensure that the truth gets told to protect the vulnerable."
Geo Group has come under controversy in the past for other reasons, including for allegedly coercing detainees to work for a dollar a day, having unsanitary conditions at their facilities, and not protecting inmates from gang violence.
I reached out to Geo Group and the Federal Bureau of Prisons regarding the prospect of Washington's early release to home confinement for the remainder of his sentence, but heard no response by press time.
To attend and view Washington's hearing at 9:30am on March 10, click here.