Rudy Jimenez of Green Thumb Organics says stories like his don't usually get a seat at the table. He's looking forward to pulling up and changing that at Real Food, Real Stories' fourth annual StorySlam, Recipes for Resilience (online, Thu/24).
"I feel like as a young farmer there's not a lot of stages for young people of color to be seen and our stories to be told," he said. "Our stories about farmers are mostly about big companies."
Vinny Eng, an organizer with Best of the Bay-winning food mutual aid heroes SF New Deal, and a former sommelier at Tartine Manufactory, thinks this is exactly the right time for an event celebrating people involved in food.
"Everyone has been touched by COVID in one way or another," Eng said. "I'm excited for such a great platform for people to humanize people in food and food systems."
Eng and Jimenez will join chef Sarah Kirnon of Miss Ollie's, Nomtipom Wintu ethnobotanist and medical herbalist Sage LaPena, shepherd and volunteer firefighter Ruthie King, and host Jocelyn Jackson at the event, which is RFRS's main fundraiser. But this year, due to the devastation in the food industry, all the money raised will go to the Resilience Fund, providing financial assistance to those whose livelihood was affected by COVID or the last year's wildfires.
Jimenez grew up in Salinas, the son of migrant farmworkers, thinking that it was a healthy childhood because he was close to nature. He reconsidered that when he wasn't allowed to go outside on days when chemicals were being sprayed.
Wanting to support the land and healthy food, Jimenez decided to grow organic produce when he saw his father's health deteriorate. "He went from being very active, working 12 hour days, to watching TV," Jimenez said.
Inspired by his father, and his 30 years of experience farming, Jimenez started Green Thumb Organics in 2015 on four acres of land he leases.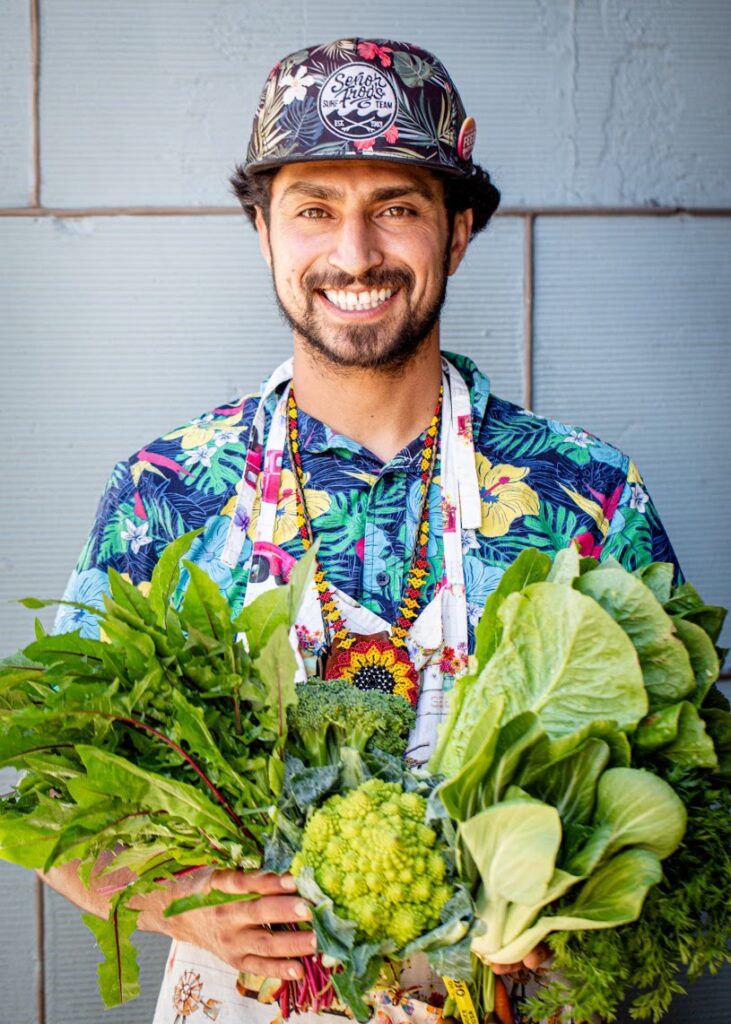 To learn how to run the business and grow food organically, Jimenez went to Agriculture and Land-Based Training Association (ALBA) in Salinas. He wanted to get his father involved, so the two attended together to learn about things like the paperwork involved in leasing land and how to get an organic farm certified.
When the pandemic hit, Jimenez ended up doubling his leased land and his output, and now he grows about 80 different vegetables on 10 acres. This is very different than most of the farms in Salinas, he says.
"Usually there's just a few different crops," he said. "It's like trying to control nature instead of learning from nature. I'm trying to change the narrative."
Jimenez sells the food he grows at farmer's markets in San Francisco and Berkeley, and his goal is to own his own land, so he would be able to grow things that take more time, like fruit tress and berries. Along with farming, he works with Urban Arts Collaborative in Salinas, giving workshops in nutrition and health, part of his commitment to food justice.
Eng is also committed to food justice, which he said was shaped by his childhood, where he was the youngest of five kids, and a lot of times there wasn't enough food. For so many in San Francisco and the country to be in a similar situation is appalling, he says.
"We find ourselves facing a failing of policy and of elected officials to commit to providing for the well-being of everyone," he said. "People are hungry not because of a lack of resources, but because there's wealth hoarding."
Eng says he looks forward to seeing the other storytellers and sharing his story—even though he's not totally sure what it will be.
"I'm really curious where story is going to go–I haven't finalized it yet," he said. "I'm incredibly thankful to tell a story that hopefully will resonate and to be in community with the other storytellers."
Storyslam 2021: Recipes for Resilience
March 25, 5 pm (online)
Tickets and more information here