Workers at Dandelion Chocolate announced their intent this week to form a union.
The organizing drive is one among several other such efforts, including at Tartine Bakery, which is currently contested after meeting resistance from Tartine's owners, and Anchor Steam Brewery, which was successful and is now a part of International Longshore and Warehouse Union Local 6.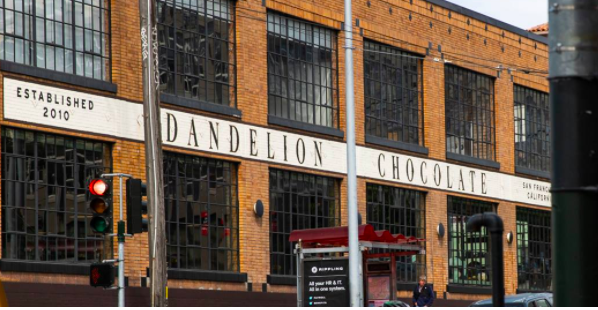 If the Dandelion Chocolate workers unionize successfully, they will also join Local 6. Local 6 has also represented another chocolate maker, Guittard Chocolate, for more than 40 years.
Claiming that the company is managed with little worker input and that these decisions have worsened working conditions and stagnated wages, workers demanded to have more input in decisions around how the company operates, more transparency from management, and that the company hire more workers and pay higher wages.
"Right now, we have a lot of top-down decisions that get made for us without input and almost in a retaliatory way," said Christine Keating, who has worked at Dandelion Chocolate for seven years. "We want to have a seat at the table when those decisions are made."
Todd Masonis, founder and CEO of Dandelion Chocolate, said he was surprised when he heard about the workers' intent to unionize, but is currently exploring the implications.
"In the moment, I was surprised, but upon reflection I am very eager to hear more, learn about unions, and engage deeply in improving Dandelion…We're currently learning what it would mean to be part of a union and want to make sure we are doing things right in this process," Masonis said in an email interview.
Workers have been organizing to form a union for roughly a year and a half to date, but they say recent decisions made by management pressured workers to finally announce their intentions Wednesday.
Chyler Barraca, a chocolate maker at Dandelion's store on 18th and Valencia Streets, said that several weeks ago their team was reduced from 11 workers to six, yet their team was still asked to make 600 chocolate bars daily, a similar number to what their team was producing before the cuts occurred.
Masonis then informed them, Barraca said, that he would shut down all chocolate production at the Valencia storefront and have all production be done at the factory at 16th Street, which has more efficient machinery.
Masonis then gave the six chocolate makers at the Valencia location until noon the following day to either agree to be relocated to the Mission Street factory or take a voluntary layoff with six months of unemployment insurance and a $1,000 severance, Barraca said.
Two workers accepted the buyout, while the others remained with Dandelion Chocolate.
Staying, however, has made those workers anxious, as they say that it remains unclear which positions relocated workers would fill and what salaries they would earn working at the 16th Street factory.
"We didn't know if they could take all the chocolate makers into chocolate making, if there wasn't room would we have to move into confections, or product-making, or warehouse…if we're not making chocolate, that means our wage might change, and there was no guarantee of full-time hours…and we still don't know to this day," said Barraca.
Tim Ryan, who was also a chocolate maker at the Valencia storefront until chocolate production there was paused on Thursday, also said that he fears that he could be doing a different job that pays less upon moving to the 16th Street factory.
"The people who stay, we don't have a job right now, technically. We just shut down the factory [at Valencia Street], we don't know what our job will be moving forward. It could be something that pays less, has less hours, is something completely different than what we were hired for.
Masonis said that all workers being transferred to the 16th Street factory will receive at least the same pay as they got at the Valencia store.
"All chocolate makers moving to the new factory will be making their current pay rate or higher…we paused production at Valencia to make sure that we could operate safely and with a reasonable workload, which was challenging and exacerbated by the recent exit of that site's manager. We've offered the six affected chocolate makers equivalent positions and are currently trying to figure out schedules and roles that work, recognizing that the 16th St factory has different machinery that may require additional training before they can be operated safely," he said.
Another reason that Dandelion's workers decided to unionize was because of past controversy around reports of systemic racism within the company, as reported by Mission Local in June.
Barraca, who is Filipinx, said that they were perceived as aggressive after communicating to her store manager, who left the company in March last year, that she felt her comments regarding police brutality were insensitive. According to Barraca, they were referred to as being "not approachable" in their internal performance assessment document, and their promotion to shift lead was delayed as a result.
"They wanted me to be more 'approachable' in order to make my promotion 'more seamless'…I felt like I was being projected on my someone who clearly wasn't trying to understand my cultural background…just because I'm quiet and somewhat stern, it doesn't mean I'm intimidating," said Barraca.
Masonis said that he could not comment on the context behind this incident as the manager involved with assessing Barraca's report is no longer at the company, but said that the word "approachable" did not appear in the report, which he called a "performance review" and said that its purpose was to "proactively engage with newer and more junior team members, especially if acting in a lead or management role." Masonis added that efforts to create a workplace that welcomes diversity are ongoing.
"We are committed to being an inclusive and equitable organization and have a formal process for investigating claims of discrimination or bias. We take this seriously and welcome further discussion and continuing to make progress here," said Masonis, who pointed to a series of ongoing public commitments by Dandelion Chocolate to form a more equitable workplace after allegations of systemic racism within the company came to light in June last year.
As of now, the group of workers that is unionizing, which is about 45 workers out of the total of 84 employees, have filled out authorization cards and Local 6 has filed for an election to be held with the National Labor Relations Board, which will likely be held within the next six to eight weeks.
A minimum of 30 percent of the company's employees must petition to unionize in order to trigger an election at the NLRB, and the group forming a union cannot include any managers, clerical workers, anyone involved in the company's finances, guards, or anyone who may be deemed to have sensitive information, according to Agustin Ramirez, a ILWU organizer who is involved with the Dandelion Chocolate workers' unionization effort. Under federal law, if more than 50 percent of the workers vote for the union, management will have to recognize it and begin collective bargaining.