So close, yet so far. There may not be a big gay parade this year, but there will still be lots of parties and vaccinated cuties out there looking for a stoney, good times—so make sure to have your 2021 Stoner Pride Pack at your ready.
First off, Sava, the only LGBTQ owned and operated delivery service, has already done a lot of the work for you. They partnered with several gay-owned cannabis businesses to create the Parade Me Around Pride Bundle, featuring a four-pack of Sonder Space Crystals aka cannabis pop rocks, a four-pack of Cranberry Sage medicated sodas from Cann, 2 four-packs of Drew Martin low dose botanically blended pre-rolls, and a cute sweatshirt with a unique Pride design (S-XL). The cost is $75 plus tax.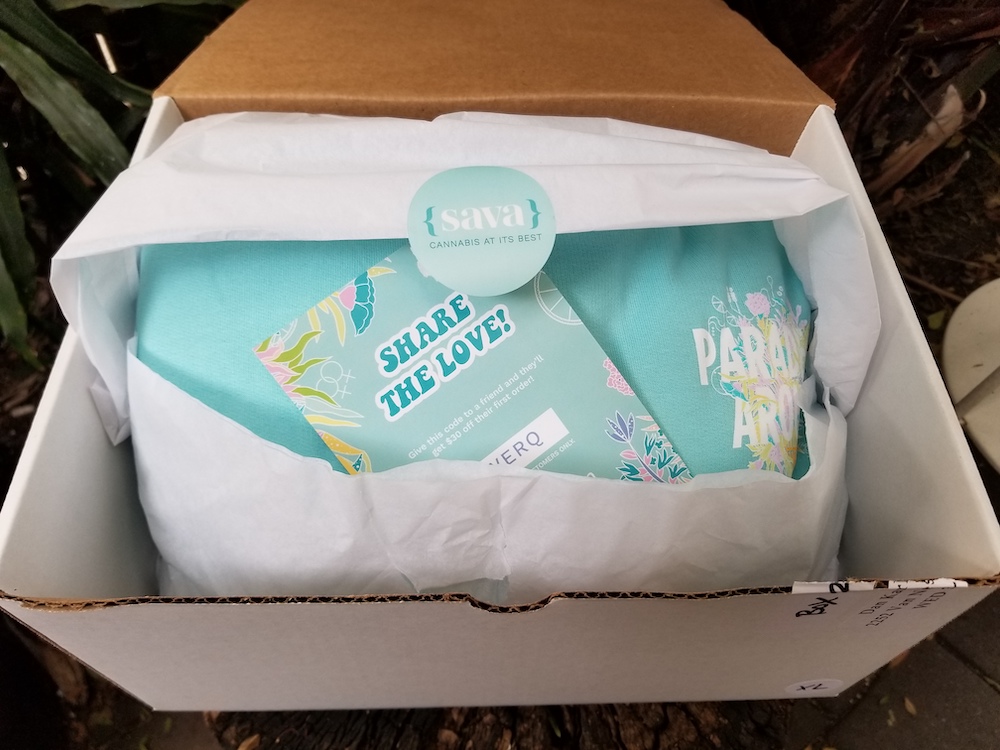 I love the space crystals which I featured a few months ago. They are fun to share with friends and hotties, and make for an excellent icebreaker if you are feeling shy.
The Cann sodas have a very nice flavor. I've noticed a lot of the carbonated cannabis beverages lately trying for some unique flavors. They are not meant to taste like a booze stand-in, a sweet soda, or something that has a harsh aftertaste. The Cranberry Sage tasted of both with a nice upbeat, effervescence quality that won't get you too high. They feature 2mg of THC and 4mg of CBD.
At first, I admit I was nonplussed about low-dose joints. I'm from the School of Bong where stronger is better, but as with microdosing, I am coming around. We are seeing people for the first time in awhile and maybe getting stoned to oblivion isn't the best thing to do first off. Plus, as my friend Veronica told me, "Some people just don't want to get as stoned as we do."
One of the interesting things about Drew Martin's prerolls are the flavor combinations. The Rose Petal and Peppermint joint got me nice and high, as did the Ginger Root, Lemon Balm, and Damiana one. The Chamomile, Yerba Santa, and Calendula joint and the Lavender Passionflower preroll, did not affect me quite as much, but everyone's system works differently.
The packaging is beautiful and a conversation starter.
As for the sweatshirt, it is nice to see it is in more the trans flag colors because, as much as I love the rainbow coalition of the LGBTQ+ community, "rainbow" everything can be a little too much and kinda gaudy.
Thank you to Sava for putting together this bundle celebrating a few of the local queer businesses creating cannabis goodies in our community.
Now for a few more add ons for the Stoner Pride Pack.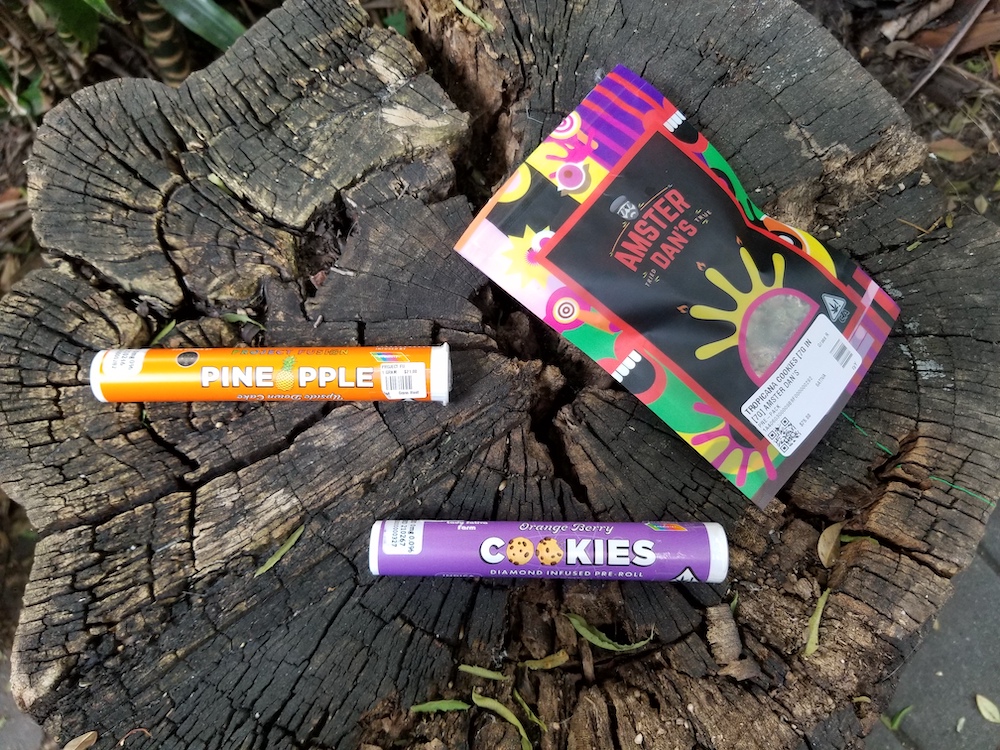 Want to get higher!? Then I recommend the continued output of Project Fusion. They keep creating new infused joint flavors, and I keep loving them. For Pride, I recommend the diamond-infused Orange Berry Cookies (Indica) and the live resin-infused Pineapple Upside Down Cake (Sativa). They burned well with wonderful effects. These run at $20 but I've been getting them on sale for $15 lately.
As for flower, I love the Tropicana Cookies from Amster Dan's which I purchased at Grassroots. It was $75 for 7g. It is a bright sativa that supplies a good hearty buzz like Jack Herer but isn't quite as intense as some Jack's can be. It smells like grapefruit which is wonderful. I couldn't find contact information on Amster Dan's, but I'm sure Tropicana Cookies will show up in some form at a dispensary near you soon.
No Pride pack would be complete without the inclusion of the gay gummies.
Plus Gummies has updated their Pride tin to include the trans colors and those to represent the inclusion black and brown people to make the rainbow flag even more inclusive. Throughout June, Plus is donating 10% of the proceeds of the Rainbow Sherbet gummies to the TGI Justice Project.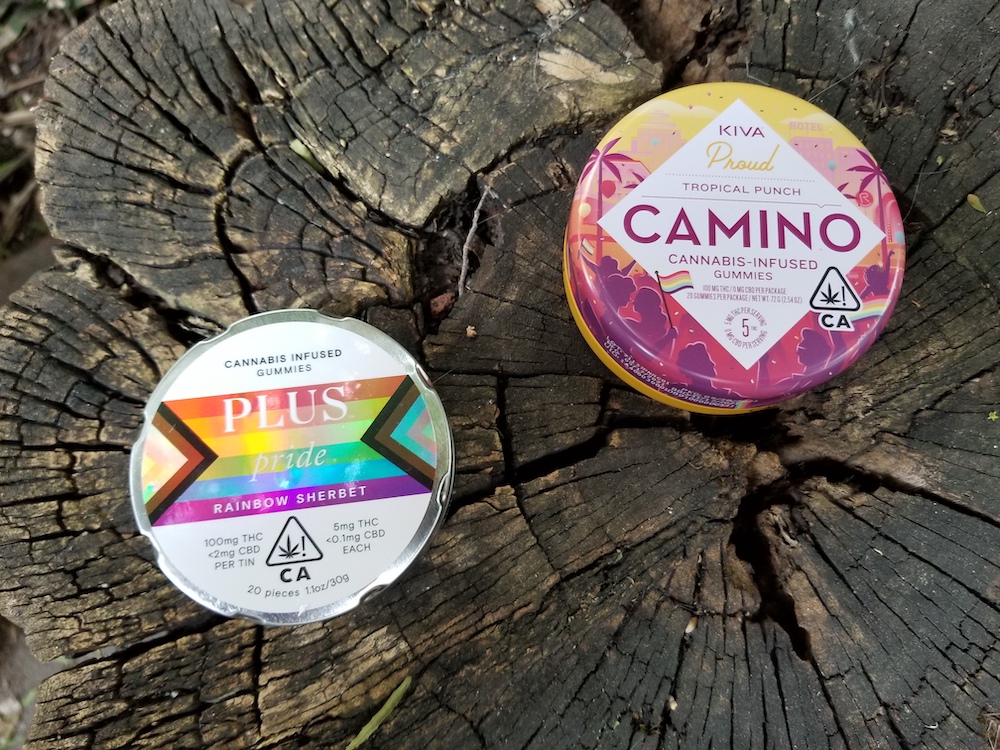 Camino Gummies also has their limited edition Proud Tropical Punch gummies and tin. The flavor is fruity, but not like Hawaiian Punch. I had several friends comment on their fun buzz. Both the gummies sell for around $20-25 a tin and are on sale at many dispensaries in the area.
For you aficionados of vaping, Jetty has their Reckless Rainbow cannabis oil cartridge and PAX pods out for Pride. Buy any Reckless Rainbow product this month and Jetty will make a donation to Mr. Friendly and other LGBTQ causes.
I think we covered most of the bases on the 2021 Stoner Pride Pack. It's something you can share with others when you see them out and about at Pride, many for the first time in quite some time.
There will be smiles and hugs which will last longer than you can ever remember giving and getting. Stories and remembrances to share. And after the year and a half of Covid, this is more precious than any parade I can remember because we will be together again with no screens separating us.
Those joints, grass, gummies, and sodas will only enhance this by giving us bliss, laughter, relief from pain and anxiety and peace. Isn't that what part of Pride is about anyway?
Please check with your favorite local dispensary for any other Pride related specials and fundraisers.
If you are out and about in San Francisco on Sunday, June 27, I will be DJing at the Cinch Saloon for Pride beginning at 3pm or thereabouts. There will be gogo boys, jello shots, a back patio, great drinks, and me!
Happy Stoner Pride to you every day!
I want to thank my buddy Veronica Guevara and Emily Hois for their contributions to my research.