Though his work maintains bold statement, considerate precision, and circumscribed technique, Eddie Colla actually draws outside the lines. A conversation with him reveals a deeply thoughtful and clever person who operates within boundaries of his own. When I asked him why he became an artist, he told me he doesn't think people become artists. In his estimation, all children are creative. They make things. They make up stories, creatures, imaginary places. "We arrive in the world as artists," he said. "Then, some of us stop."
The why that happens is a more interesting question to Colla.
Colla studied at the School of Visual Arts in New York and graduated from California College of the Arts with a BFA in Photography and Interdisciplinary Fine Arts in 1991. He displays an ironic sense of humor, but don't be fooled, his work is quite deliberate, thought provoking and prescient. What three words would Colla use to describe his own work?
"I don't like rules," was his response. "Which is actually four words." Point taken.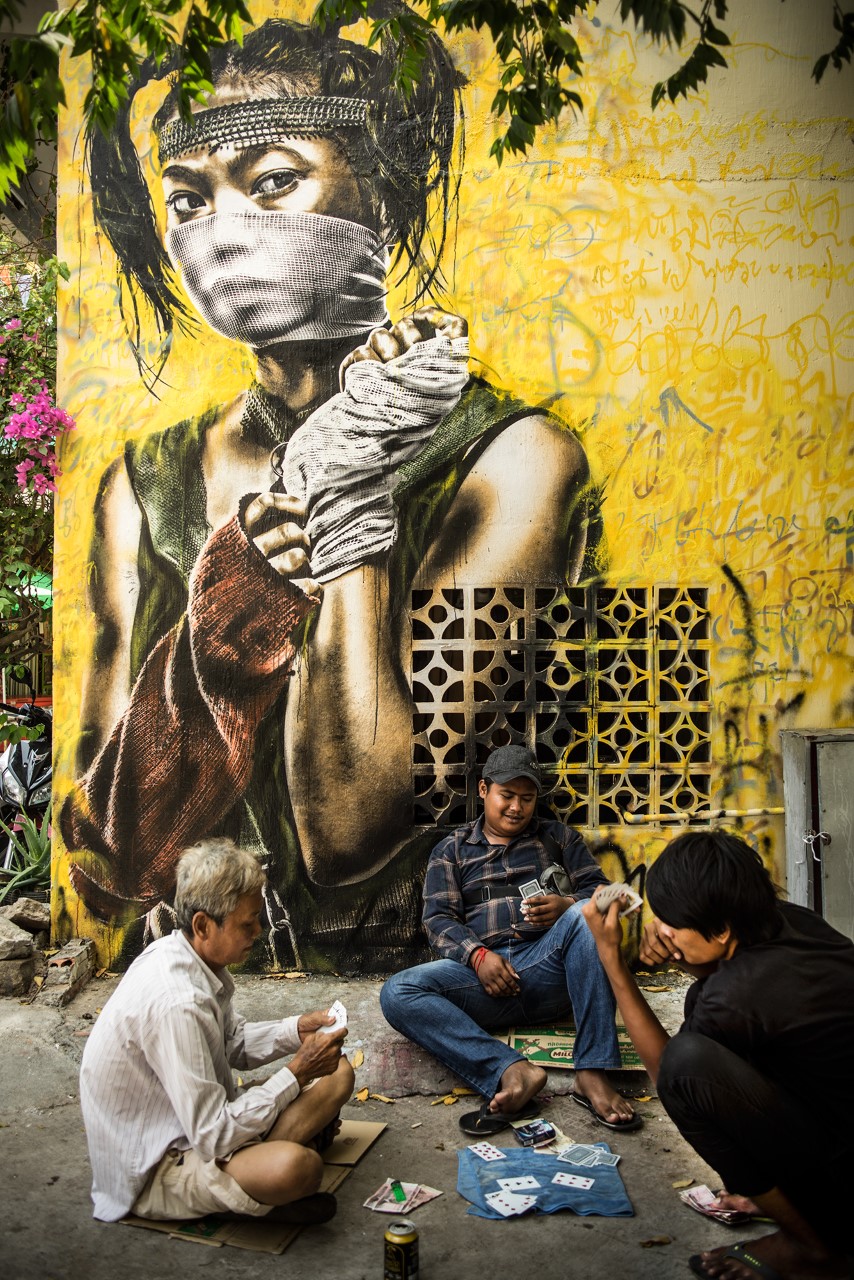 Seriously, though, Colla says much of his work is about alienation and disconnection. Specifically, what happens when people feel threatened by their immediate surroundings. His work also focuses on exploring the timelessness of things which hold perpetual relevance; the experiences that don't go away.
Sometimes, the writing is on the wall. In a visual language, that is. Colla's public works across the Bay Area, Los Angeles, and Miami, alter external space with only his permission, his purpose and a bold yet limited palette. Colla sees this aspect of his work as a necessary opportunity to offset the excess of advertising bombarding the urban landscape and to broaden the audience that exists outside the parameters of the gallery experience.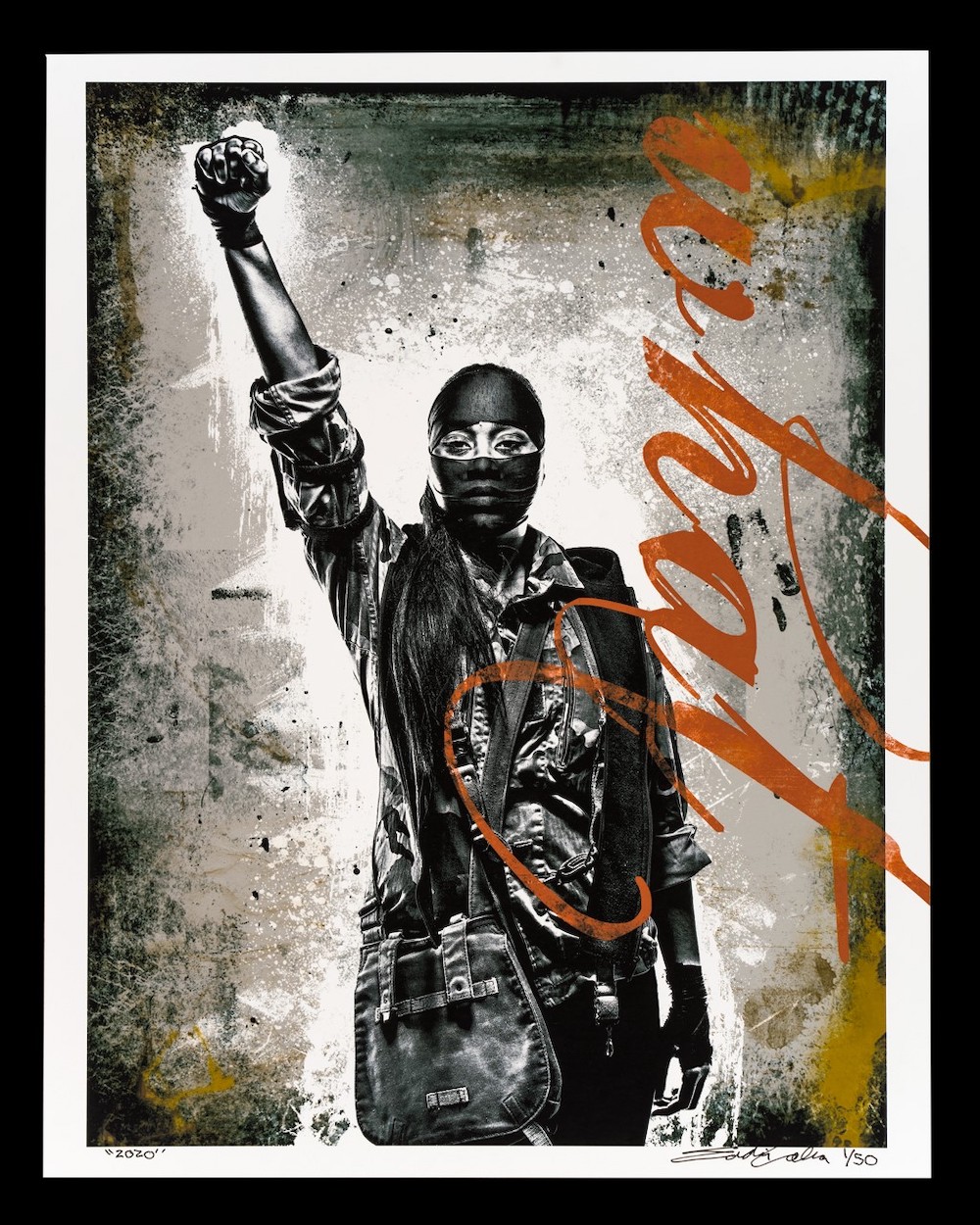 Inside the walls, his portraits prefer to investigate our imperfections, gracing galleries across the country, France, Mexico, and The Netherlands. There is an oxymoron of simple complexity in both his work and his persona, quiet proof that "Eddie was here." That we are here. Sharing in a multi-layered existential crisis.
Colla grew up in New Jersey. He came to the Bay Area because he wanted to get as far away as possible from there without having to learn a new language. For the past five years, he has maintained a studio in East Oakland. Prior to the pandemic it served as a layover and a place for storage. After Trump got elected, Colla promised himself he would remain out of the country as much as possible, which he did.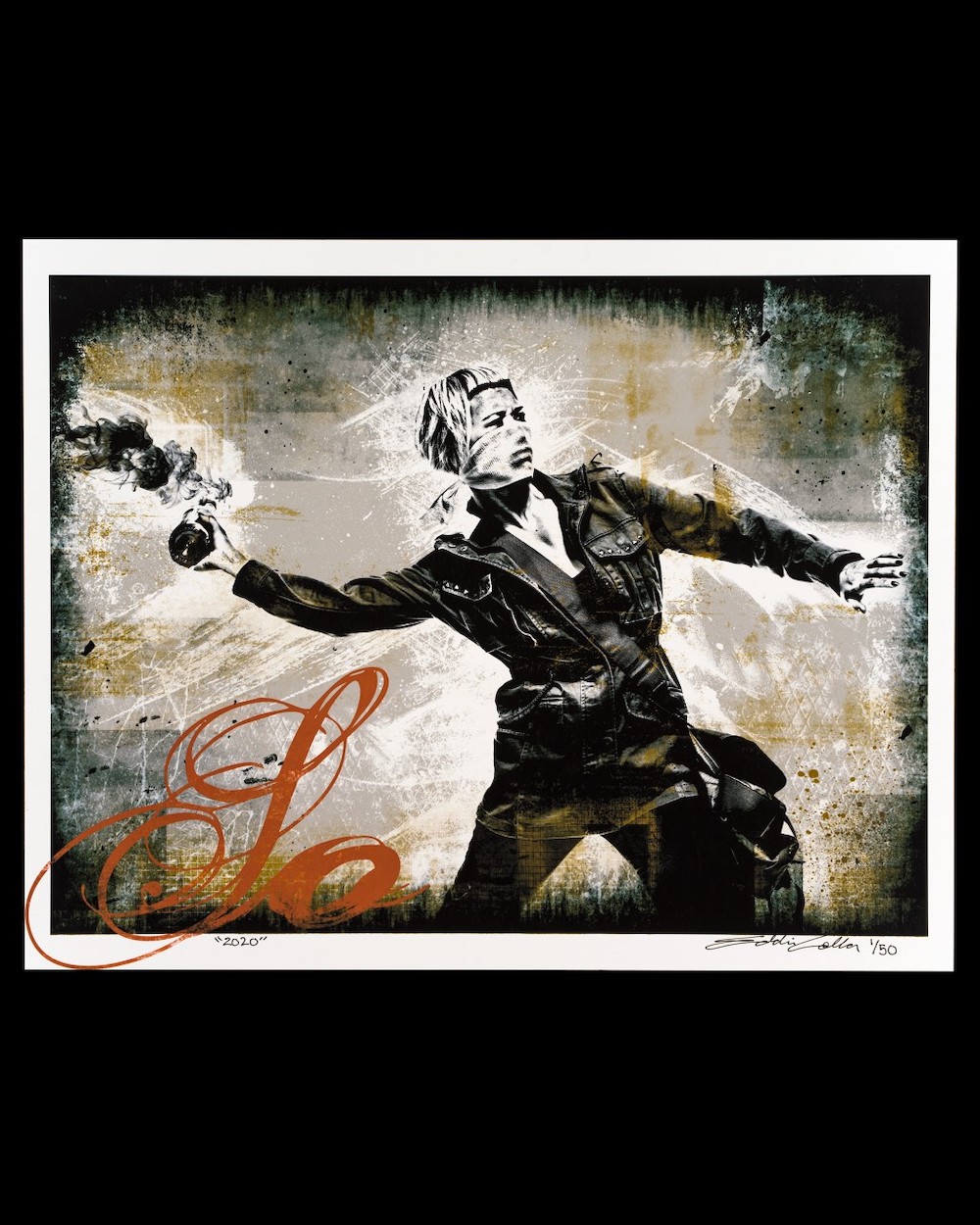 "As a result of bad timing, I got stuck here when the lockdowns began and our undereducated, overconfident president turned the United States into a pariah nation," he said.
An exhibiting artist since 2008, Colla's work has been featured in the New York Times, Los Angeles Times, the Huffington Post, and the Chicago Tribune. It would be overwhelming to list all of the things and people who make their way into influencing his work. His process, he said, can be summed up as either an attempt to understand and navigate the world or to have the world understand him. He is unsure which is more often true. If he has a deadline, he can be extremely efficient and productive. Without one, Colla says he might spend the day doubting all his decisions.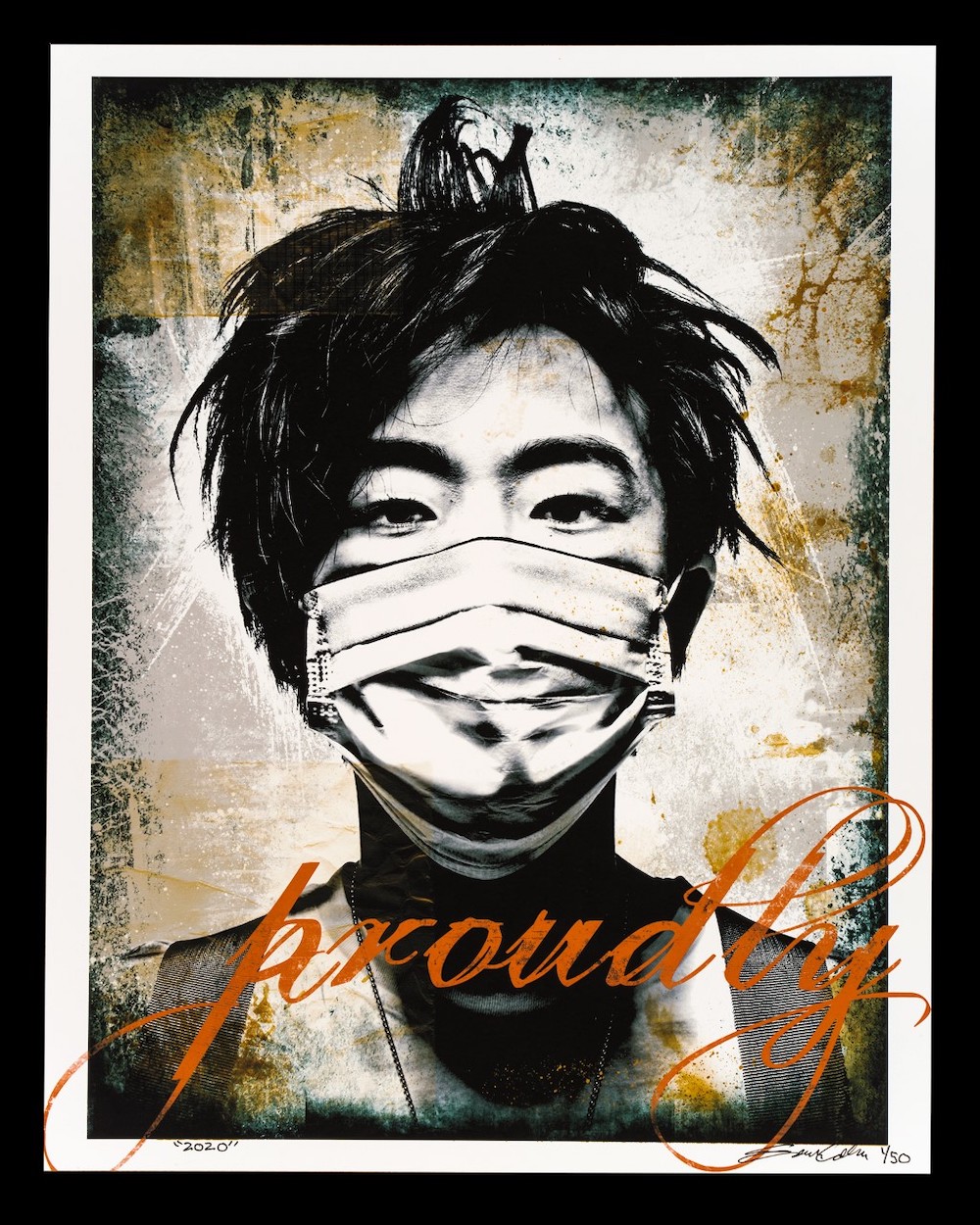 "I can start by having a coffee and wondering if Leo Sayer is still alive. That will raise other questions which can go on for hours and before you know it, it's time for dinner," he said. He's human.
Colla has many interests outside of making art, some of which blossomed this past year. He plays the New York Times Spelling Bee religiously. He writes a lot. And during the pandemic he became a pretty good cook, mostly because he was afraid if a stranger touched his food, he would almost certainly die with his final thought being, "Fuck! I knew getting takeout during a global pandemic was a bad idea." No one wants to die with regrets, he added.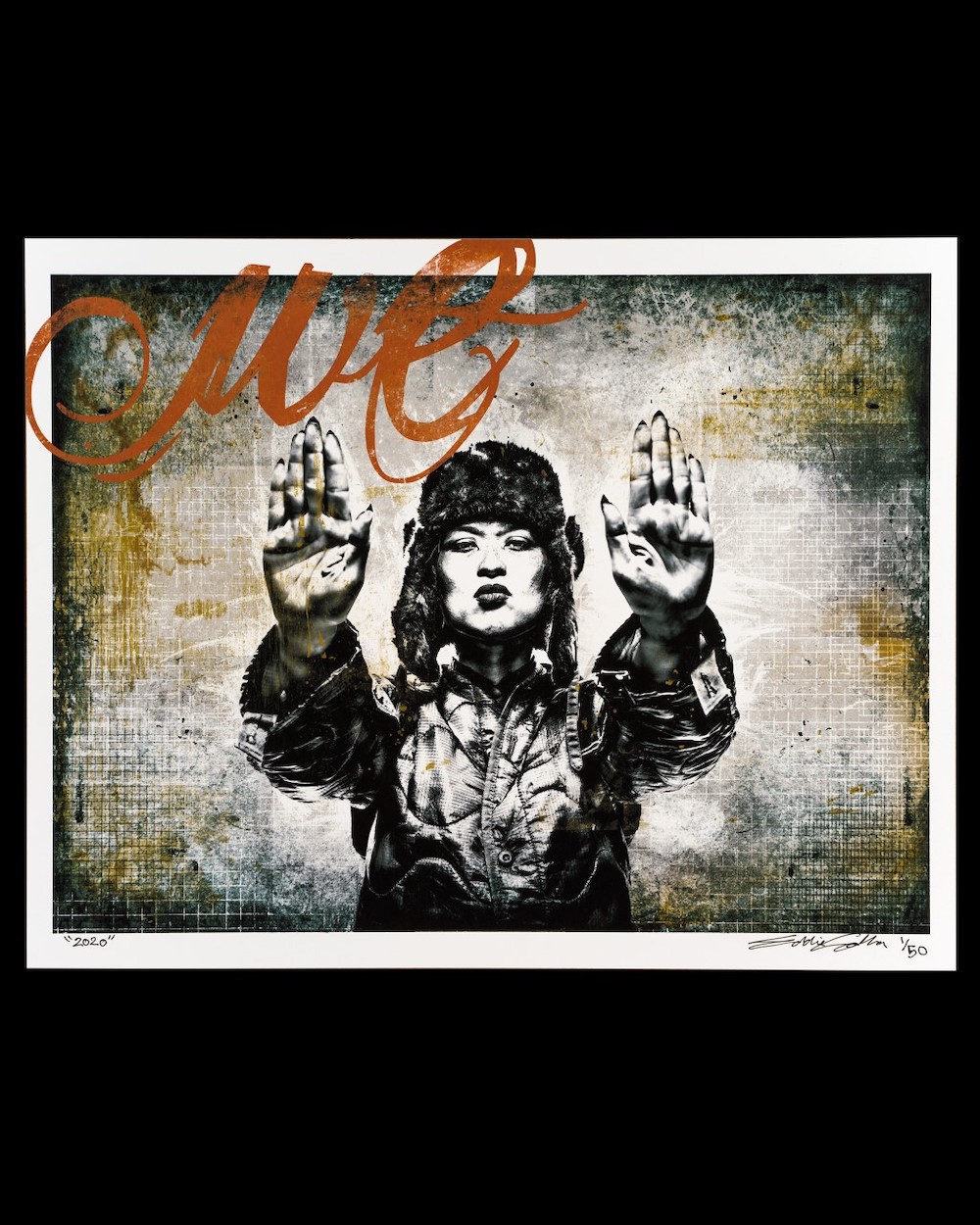 Tongue out of cheek, Colla said the events of 2020 only confirmed the issues he had been working with for the past nine years. In a moment of clarity, he wrote the piece, "Twilight's Last Gleaming," in conjunction with five paintings made between 2009 and 2018. Each print contains a single word from the second line of the Star-spangled Banner: What, So, Proudly, We, Hailed.
"That the images were made prior to 2020 was necessary to demonstrate that this past year was not an apparition but a predictable consequence of negligence," Colla said. The question at the center of the work is will we return to normal, or will we perish?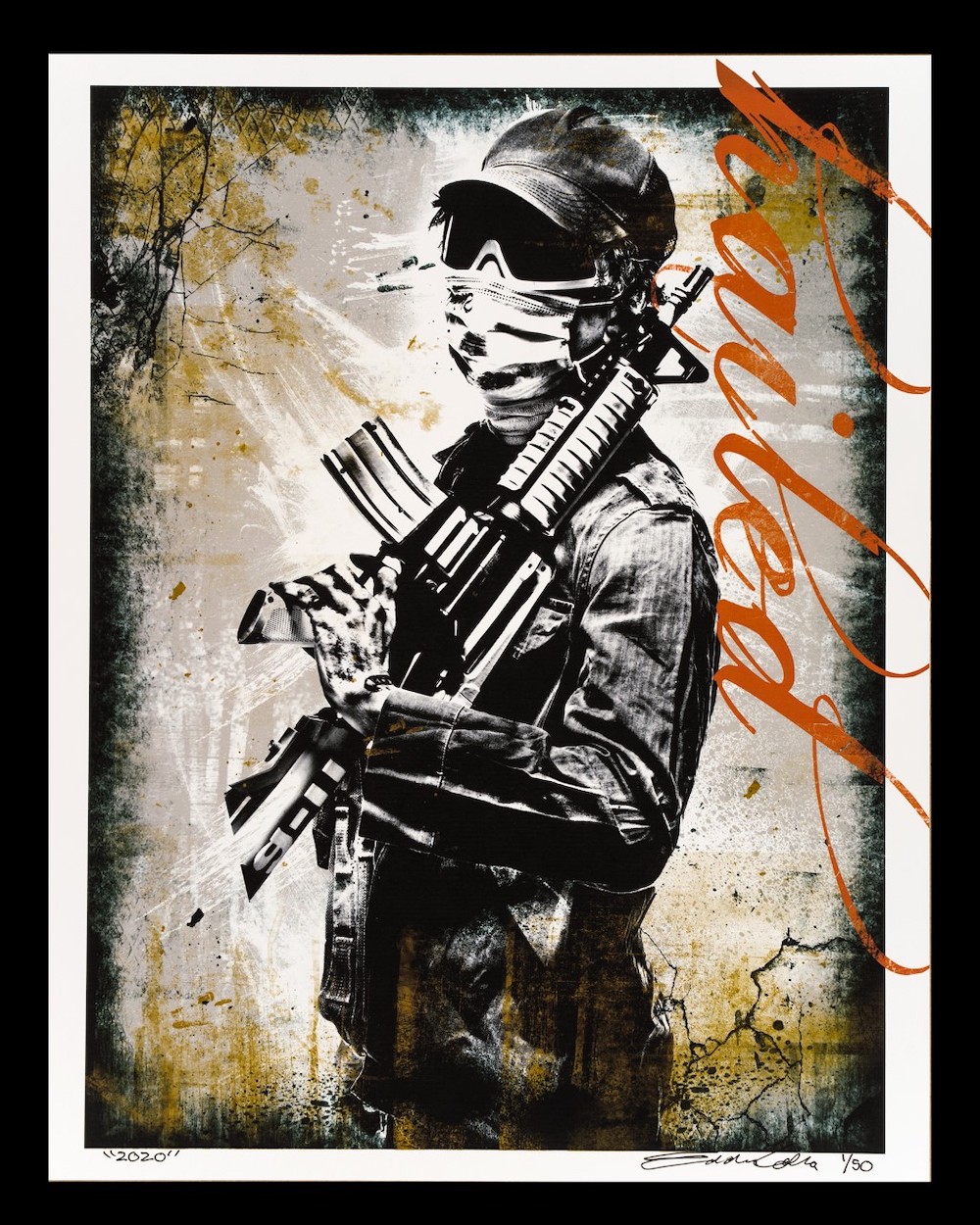 Lately, Colla has been working collaboratively with painter James Swinson as an exercise to break routine. "It forces you to solve problems you wouldn't normally encounter in your own work," he said. While his own work is very planned, working with Swinson is spontaneous, generating new ideas. The pair recently completed a mural at Le Fantasique, a new restaurant on Franklin Street in Hayes Valley.
Colla has also begun working with discarded materials from his studio, interpreting it as a similar process. Rather than teamwork with another artist, his partnership is with the accidental. "It's a great analogy for life as a collaboration of intent and circumstance," he said. 
As closing words of advice to readers, Colla had this to offer: "Use moisturizer. Floss. Learn Mandarin. I don't care who you are, what you do or where you are from. These three things will serve you well in the future," he said.
For more information, visit his website at eddiecolla.com.