Welcome back to Good Taste, your weekly changing menu designed to help you know the local food scene a little better. Warning: reading has no calories, but you may be compelled to act on some of these bites once you're done. Do it your way!
That's life: My aim today was to check out the new Joyride Pizza today and tell you about it. After a few twists and turns, I am enjoying my pizza as I write this column late, but I stumbled on what I think is an even more interesting story within this story along the way.
Even though I understand and am empathetic to pandemic pivots, I must admit that I was sad to hear that Samovar Tea Lounge owner Jesse Jacobs converted his Yerba Buena Gardens and Valencia Street locations into Joyride Pizza, simply because that was a favorite "special occasion" place to take visitors who were staying downtown. It was the first and only place where I was able to try rare and interesting teas such as purple tea from Kenya, but I'm happy that Samovar is still selling tea online.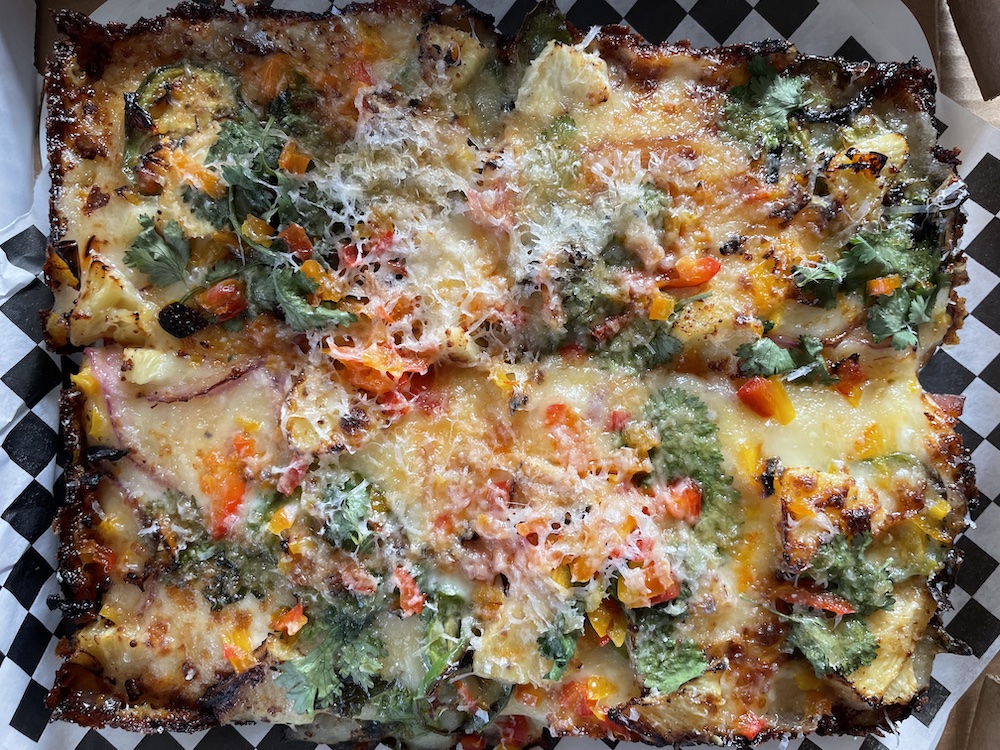 Back to the twists and turns: Joyride takes orders for pickup and delivery on its website, and I'd say just go for pickup or dine in at the moment because my delivery order (which is fulfilled by DoorDash) accidentally went on its own journey that took a number of hours to arrive. After reheating, I definitely enjoyed my Sweet Heat Pineapple pizza. But it probably isn't the first pie to order if you're wanting to check out the vibe of the Detroit-style concept, which is square with crispy caramelized cheese corners and apparently still so hot right now in San Francisco. The original cheese pizza has the appropriate racing stripes of marinara, but the Sweet Heat does not.
Next time I do place an order from Joyride, though, I will try that cheese pizza and will double down on the dessert, even if I'm by myself. Yes, I am an animal, but I am an animal who is now in the know that Joyride's cheesecake is made by JM Rosen, and you want it in your mouth.
You may recognize that name if you're in the restaurant business, but I had never heard of Rosen until today, so I checked out the company website and discovered that it's a wholesale business based in Petaluma that makes cheesecakes for restaurants like House of Prime Rib and Kincaid's. And—here's where the unexpected story comes in—JM Rosen claims to be the maker of Frank Sinatra's favorite cheesecake.
Jan Rosen and her sister opened for business in Petaluma in 1983 and delivered a New York-style cheesecake to their friend Dorothy Uhlemann, who worked as Sinatra's personal assistant, the following year. According to the site's company history, "Mr. Sinatra was such an avid fan of the J.M. Rosen Cheesecake, he talked it up with some of his favorite restaurants' owners. Maude Chasen from Chasen's in Beverly Hills called and ordered a sample. One week later, Michele and Jan were regularly delivering cheesecakes to Chasen's, Matteo's, Musso and Frank Grill, the Regent Beverly Wilshire, and dozens more." Musso and Frank is still a customer.
When I tell you that I am rationing this little slice of heaven, it's only a fib, because I will demolish the rest of it as soon as I finish writing. A heavy slice of New York cheesecake after a big meal, like steak or now pizza, is not the business, but Rosen's airy take is wonderful. I wish I had ordered more for the freezer.
All you can eat: More than one of my friends has been wondering aloud on social media if there are any all-you-can-eat spots cranking back to life right now. While I don't know of any day-to-day spots yet, I can recommend this weekend's $20 AYCE seafood boil by Gumbo Social at the Outer Sunset Farmers Market. The event is in honor of Mr. Gumbo Dontaye Ball's 21st again birthday. Arrive hungry and have no shame.
Save the date: Looking to the month ahead, you may want to get down with Pandan-Monium at outdoor venue District Six on September 26. The vendors haven't been announced, but District Six's event post on Instagram shows a picture of a pandan flan dessert from Marley's Treats. Using pandan leaves in dessert applications brings a flavor that varies according to how it's extracted and how much it is diluted with sweeteners afterwards. For example, my pandan-eating activities have yielded experiences comparable to a strong herbal flavor or something more gentle and akin to coconut cream. It's definitely an "it flavor" around these parts, and will be a fun day.
TV guide: Chef and owner of the Arabic comfort food restaurant Beit Rima Samir Mogannam was recently a contestant on the Food Network series Chopped, which you can catch streaming or on demand. In an Instagram post, he said it's been "my favorite show for well over a decade now." In the accompanying video, he adds, "Outgrill me? You're out of your mind. When it comes to my cooking, I'm the Middle East meets West Coast, perfect flavor combination. I try to be humble, but I'm a beast behind the grill. This competition is mine. Let's go!" You'll have to watch to know the outcome.
If you're still hungry, please hop over to Tamara's site California Eating for even more treats.