Welcome to Good Taste, your weekly cheat sheet on what to eat around the Bay Area. This edition focuses on the culinary delights that await at Outside Lands, which is not only the year's biggest music festival, it's the biggest food event of 2021.
If you're heading to Golden Gate Park for Outside Lands (aka Coldchella) this weekend, I can help you plan your snacks. Food and beverage options are available all over the festival grounds, including plenty near the main stage, which is called Lands End, and dedicated "Lands" for wine, beer and cheese. It's handy to know that lines for food start soaring in between acts on Lands End and other stages, but it's definitely calmer if you go for a bite while a set is in progress. Warning: sticker shock will be in effect, but you should also be able to find some decent deals and learn about newer restaurants and pop-ups in the Bay Area.
For background, I've attended every Outside Lands but the first (which I just listened to out of my bedroom window) and have covered both the music and food extensively. Below, you'll find my eating picks and curiosities for the festival, including one that's gonna get you hiiiiigh!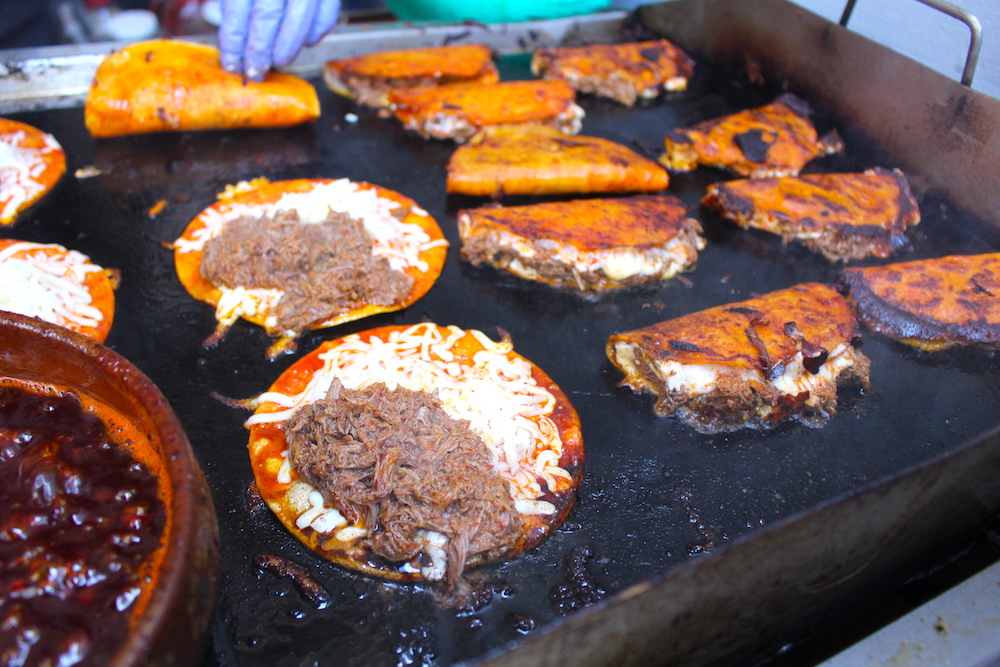 Have you had the quesabirria tacos from El Garage yet? This weekend, you'll get your chance to taste what kickstarted an unstoppable trend in the Bay Area when the Richmond restaurant that originally started in an actual garage makes its festival debut. They'll also be serving fresas con crema, for your sweet tooth.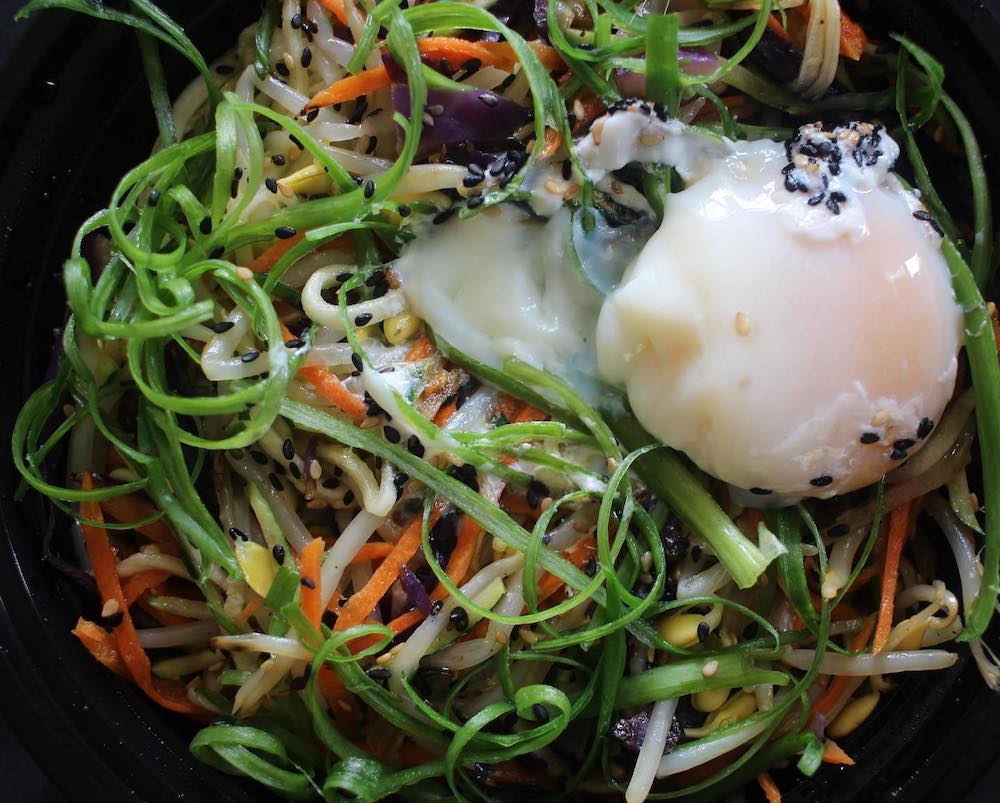 Vegetarians and vegans definitely get consideration at the festival and many vendors offer meatless options. One new item available this year are bibimbap bowls from Um.ma, the stellar Korean restaurant on Ninth Avenue. I love the shredded vegetables and the sticky purple rice underneath and think about this food way too often.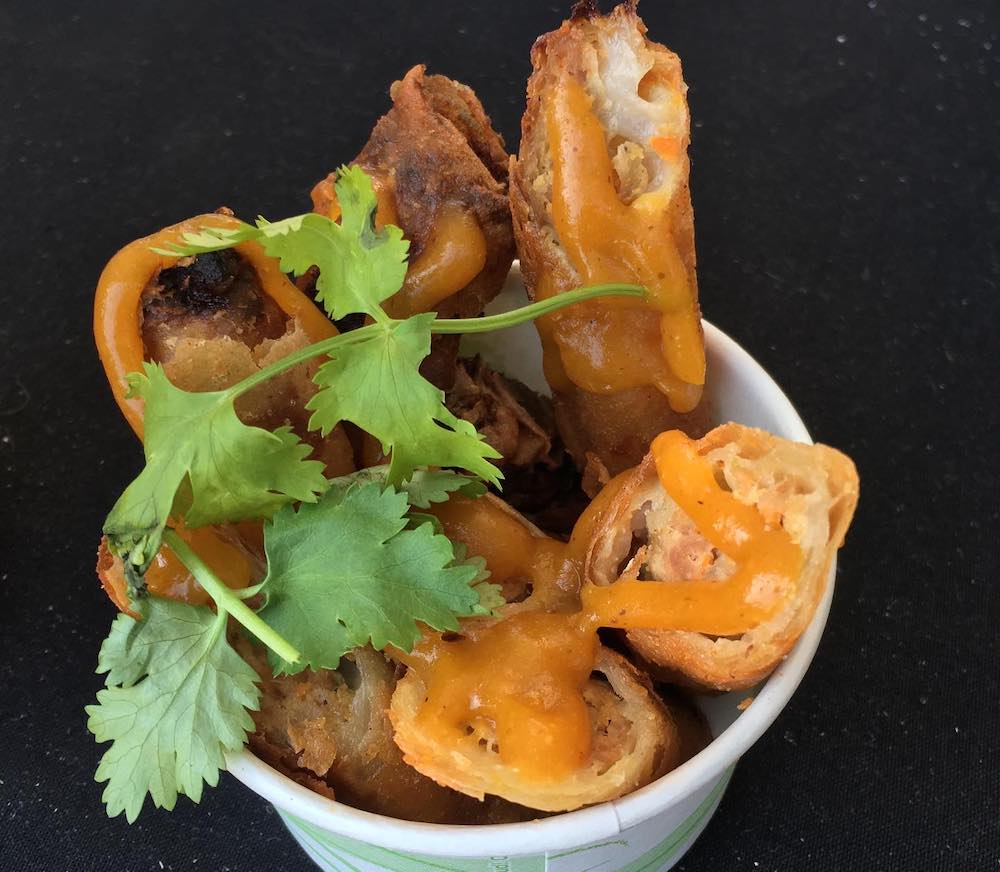 Before he recently opened the instantly-popular Filipino restaurant Abacá in Fisherman's Wharf, Francis Ang's pop-up culinary project was known as Pinoy Heritage. Abacá is a newcomer to Outside Lands, but Pinoy Heritage has participated in the past — the pork lumpia pictured above are from his booth at the last Outside Lands in 2019, and they're basically perfect.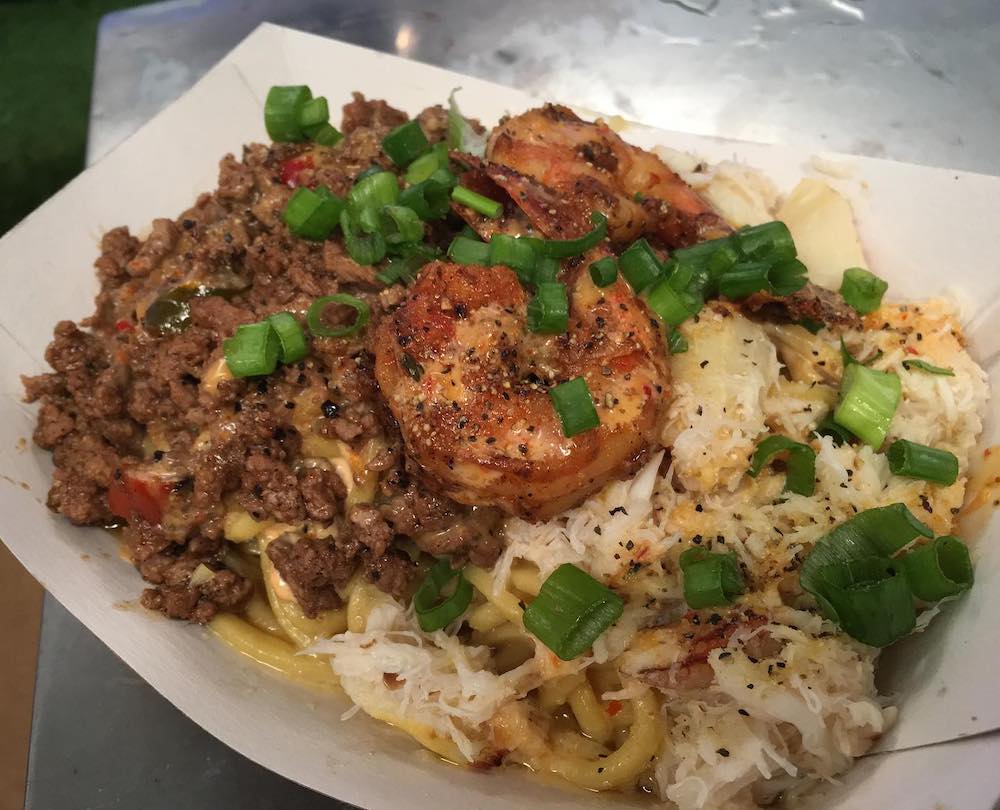 One of the higher ticket items at the festival is the Creole surf and turf from Oakland pop-up Chef Smelly, but I think it's worth it — especially if you're sharing. If I recall correctly, it was pushing $30 in 2019, but I was so happy to have those super dank garlic noodles that people usually have to wait a long time to acquire.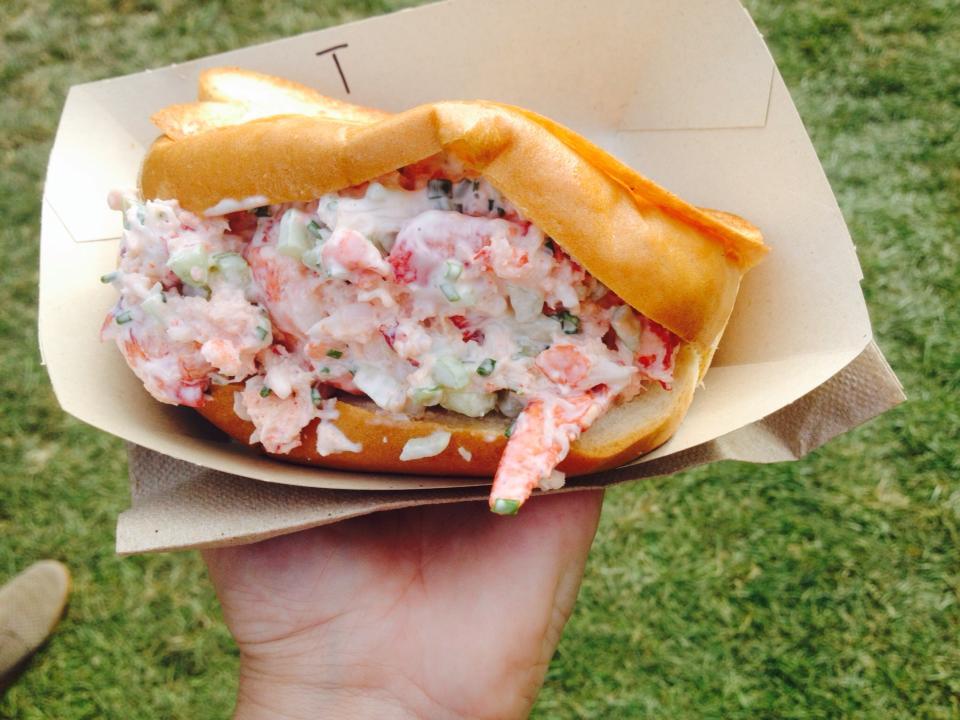 The lobster rolls from Woodhouse Fish Co. are typical festival buddies of mine. I have been known to grab one on the way out to keep the celebration going. This year, they're also shucking oysters and ladling clam chowder into sourdough bowls.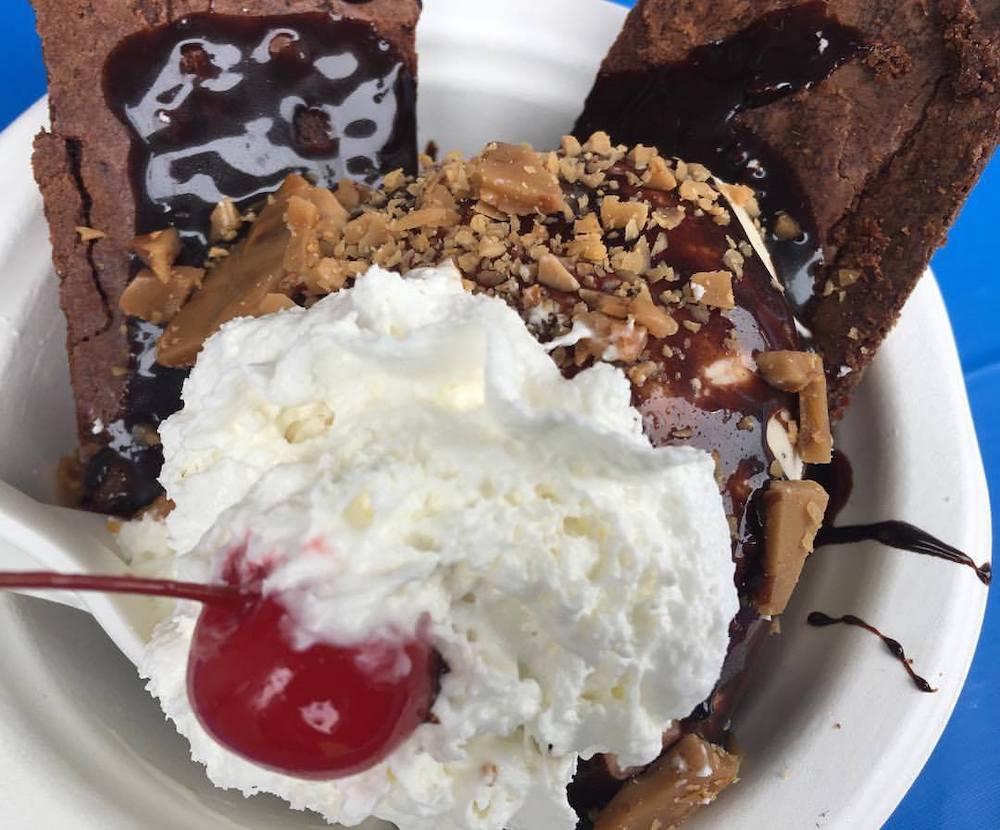 Not to state the obvious, but Outside Lands is not a warm weather festival by any stretch of the imagination. And because it's so cold all the time, my friends at Charles Chocolates have one of the most important offerings of the festival each year: hot chocolate. If you ask for the "secret ingredient," you can get your cup — or brownie sundae, because it's always ice cream weather — topped with coffee toffee.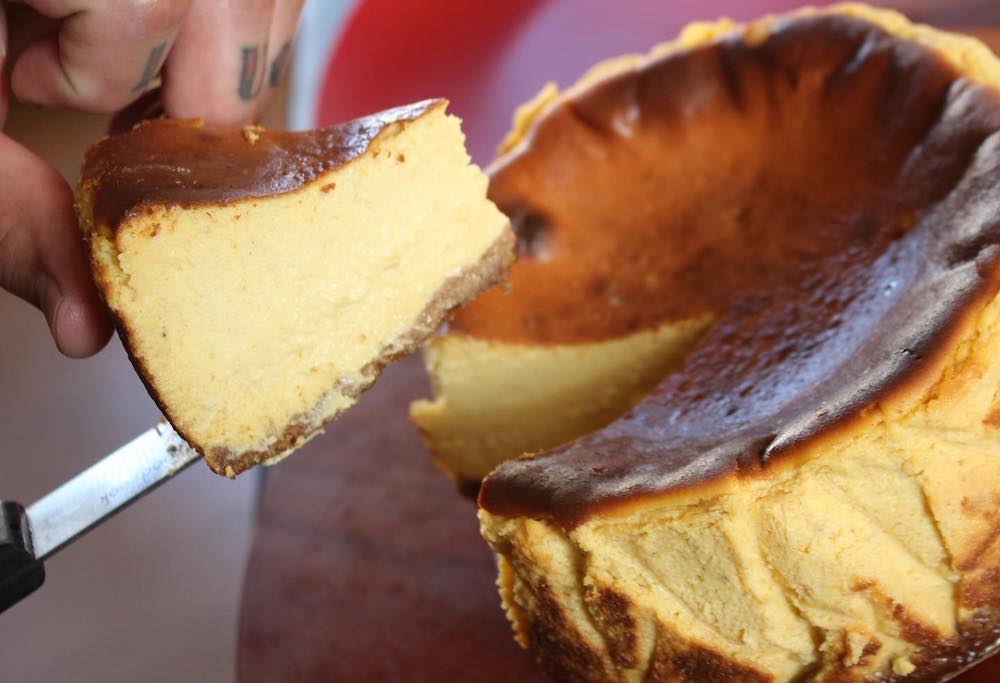 Basque cheesecake became one of SF's "it" comfort foods of the pandemic, leading to a major new line of business for Oui Oui! Macaron in the process. They'll probably have many more fans after people try their rich and creamy slices at Outside Lands. Their more adventurous flavors, such as salted egg yolk, are as worth trying as the original and I'm guessing there may be pumpkin for Halloween.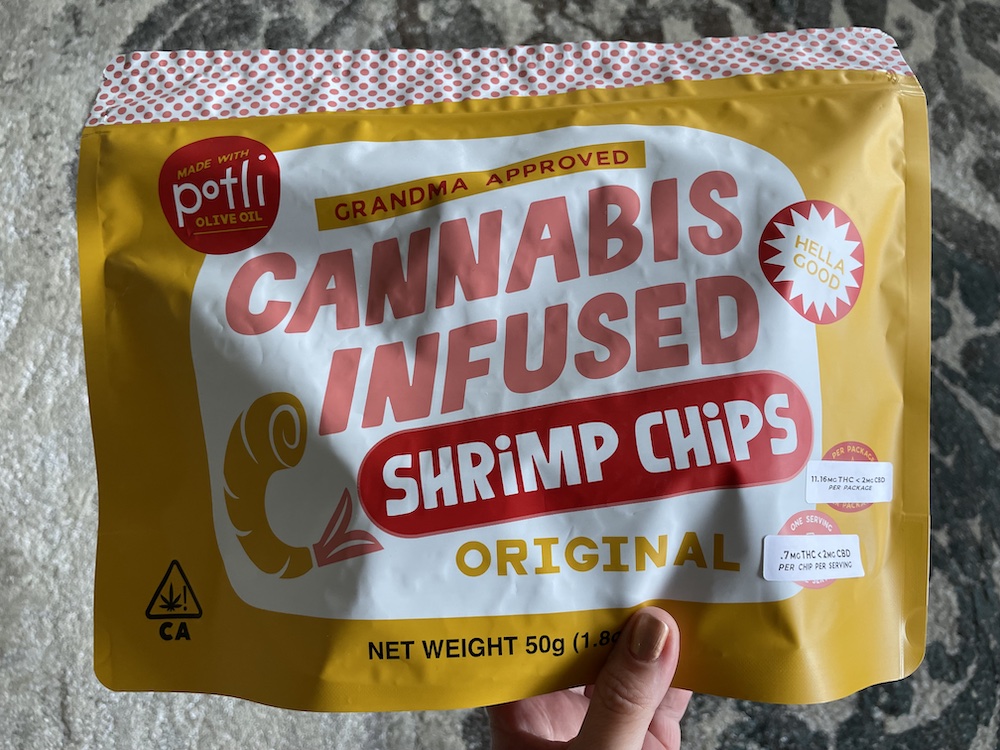 Outside Lands launched a cannabis area called Green Lands in 2018. The Outside Lands 2021 app allows festival goers to pre-order a selection of flowers and edibles, and if that's up your alley, I suggest securing a giant bag of infused shrimp chips made by San Francisco company Potli. The chips, which taste great and not weedy, look like the kind you fry up at home, rather than the Calbee brand shrimp chips that Potli's colorful packaging evokes. Each contains .7 mg of THC and 2 mg of CBD, so they're good for sharing (or hoarding) and won't make you forget your name.
As far as potentially intriguing new festival food items that I haven't personally had the chance to sample, I'm looking longingly at the Wagyu truffle maze ramen from Mensho Tokyo, the Tenderloin ramen place where you typically need to stand in line for an hour to eat; tonkatsu pork rice bowls from Ox + Tiger, the Filipino-Japanese pop-up; smashburgers and beef tallow fries from Smish Smash, a pop-up at Neptune's Alameda; and ube pandan milkshakes from Marley's Treats, a purveyor of purple sweets in Hayward that makes incredible cinnamon rolls. There's a lot more to discover this weekend, and I'll show you what I find next week on the flipside!
Save room for snacks and drinks after you exit Outside Lands, because you never know what you'll find. The easy score you'll see and smell right away is a bacon-wrapped hot dog, which is always a good idea at the end of the night. I've seen a guy selling pizza slices and La Croix — "La Croizza" — on the way out. I wish I remembered which Sunset avenue I randomly walked up on my way home in 2019, but I stumbled on a lively garage cocktail bar from a couple who said they put it on every year. Don't disturb the neighbors, but know that it — or perhaps a fairy selling mushroom chocolates) will probably be out there to find if you look hard enough.
Keep the party going at Tamara's site California Eating.