I was in a small town in upstate New York in June, buying some fishing gear with my son, and the clerk looked at my debit card (which came with an SF logo on it) and asked me if I lived in San Francisco.
Yes, I told him. Most people in other parts of the world respond with something about what a cool city that is and how much they would like to visit. Not this time.
"Then," he said, "you have my complete and most sincere condolences."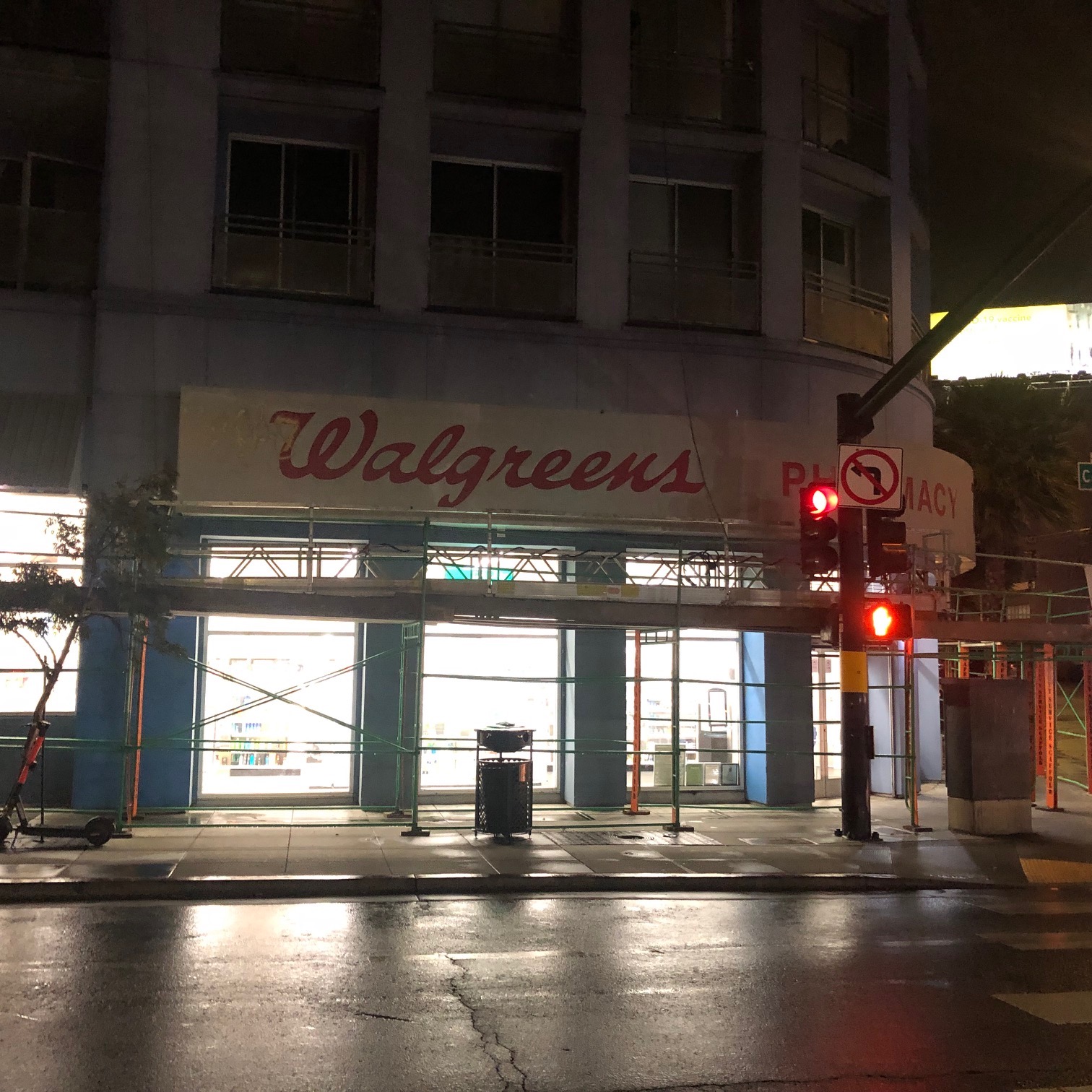 Turns out that a few days earlier, video of a shoplifter riding a bike through a Walgreens in the city had become a national sensation.
Now, the news media all over the country have become obsessed with shoplifting in San Francisco. And the latest Huge Giant Scoop in the press is that Walgreens is closing several stores—maybe because of all the shoplifting!
Except that Walgreens has been planning to close stores anyway. There's an excellent story about that here; SEC filings show that the company has plans to reduce its footprint in a lot of cities, particularly places like SF where, frankly, there are way too many Walgreens stores (53 at last count).
Here's what the company has been saying to shareholders:
On October 24, 2017, the Company's Board of Directors approved a plan to implement a program (the "Store Optimization Program") to optimize store locations through the planned closure of approximately 600 stores and related assets within the Company's Retail Pharmacy USA segment upon completion of the acquisition of certain stores and related assets from Rite Aid. The Company continues to expect to close approximately 750 stores and related assets, of which substantially all have been closed as part of this program. The actions under the Store Optimization Program commenced in March 2018 and are substantially completed with remaining activities expected to complete by end of fiscal 2020. The Store Optimization Program is expected to result in cost savings of approximately $350 million per year to be fully delivered by the end of fiscal 2020.
Oh, and while the shoplifting video was picked up by more than 300 news media outlets, almost nobody has reported that Walgreens stole $4.5 million from its workers in California—far more than it lost to shoplifting in San Francisco.
Even the Chron figured this out: There's nowhere near enough shoplifting to justify closing these stores.
The level of false narratives about crime in SF just keeps getting crazier. This morning, Sup. Hillary Ronen tweeted that she was joking that someone would blame Chesa Boudin for the failure of 300 cops to get vaccinated. And then the POA did exactly that:
The Breed Administration continues to move forward with plans to move people out of Shelter-In-Place hotel rooms, and it's not clear where they are going to go. But Sup. Matt Haney has called for a hearing at the Budget and Finance Committee Wednesday/20 to ask the Department of Homelessness and Supportive Housing about plans to rehouse individuals displaced from those hotels.
We are talking about a lot of people—at least 2,000 formerly unhoused are now in safe, secure housing. I don't see how the Mayor's Office can evict them without sending many back to the streets. That hearing starts at 10:30am.
Everyone loves the idea of Accessory Dwelling Units, or ADUs—in essence, second units in single-family houses. Many thousands have been built in the city over the years, mostly without permits, and have provided (relatively) affordable housing for renters. Now, of course, it's legal and fairly easy to get a permit for an ADU.
But there's a problem: Big landlords are using the ADU legislation as a way to build more in their properties—even if it means taking space and amenities away from existing tenants.
I have heard so many stories: Tenants used to have a storage space and laundry room; now it's gone for an ADU. Tenants used to have parking spaces; now they're filled in with a new unit.
In some cases, I've heard about such substantial construction that tenants believe the entire building is being changed.
Sups. Rafael Mandelman, Hillary Ronen, Dean Preston, and Myrna Melgar have introduced legislation to make clear that the right to build an ADU does not include the right to take away from existing tenants amenities that they have had in the past.
I get that parking lots could better be housing. But if an apartment comes with a parking space, and then it's taken away, the tenant shouldn't be paying the same rent. The landlord's making more money on the deal; the tenant should get some benefit.
That legislation comes up for a hearing at the Land Use and Transportation Committee Monday/18, at 1:30pm.
The committee will also consider extending the city's eviction moratorium until Dec. 31. The city can't stop evictions for non-payment of rent, since the state pre-empted that, but things like owner-move-in evictions could be blocked—if local judges pay attention to the law.
The city's Redistricting Task Force is starting work on drawing new lines for the supes districts, which could have deep and lasting implications on city politics and policy. The process has really just begun, but the Task Force will be meeting Friday/22 at 1pm, and will be discussing data sources and criteria for district boundaries. It's open to the public by zoom.