Activists and unhoused San Franciscans rallied and formed a caravan with their vehicles outside City Hall today, demanding that Mayor London Breed act to keep all Shelter-In-Place hotel rooms in San Francisco, which currently house roughly 2,000 unhoused San Franciscans, open until December 31.
The current plan from the Department of Homelessness and Supportive Housing is to gradually end the SIP hotel program over several months, phasing all hotel rooms out of the program by June 2022.
Activists and medical professionals said that the SIP hotel program has been life-altering, helping formerly unhoused people deal with mental stress and heal from any physical conditions stemming from living on the streets.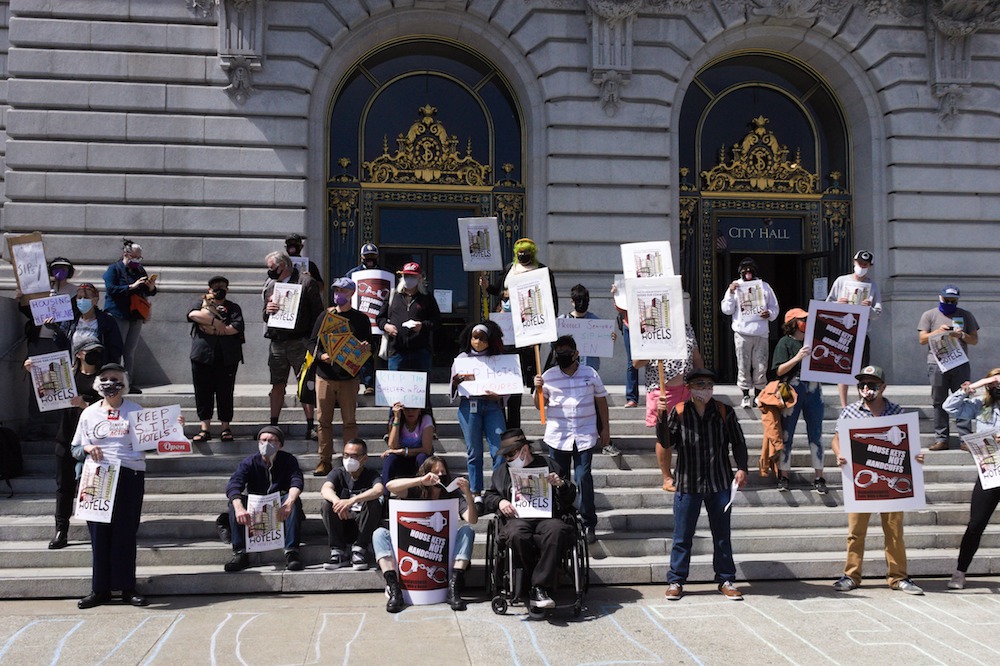 "If you compare the mortality rates, when we put people into SIP hotels, they drop by about 45 percent," said Jennifer Friedenbach, executive director of the Coalition on Homelessness. "Having the dignity of a door to close, the stability of a bed to sleep in, access to a bathroom and hygiene, being able to hold onto and take medications and not have them be confiscated, getting enough sleep, these are things that often don't happen on the street or shelters, but do happen in SIP hotel rooms."
During the demonstration, members of the Do No Harm Coalition, a coalition of medical students and health workers advocating for public health-focused public policy, said the SIP hotel program has been an effective and humane solution during the COVID pandemic, allowing residents to better adhere to taking medication regularly as well as improving overall mental health.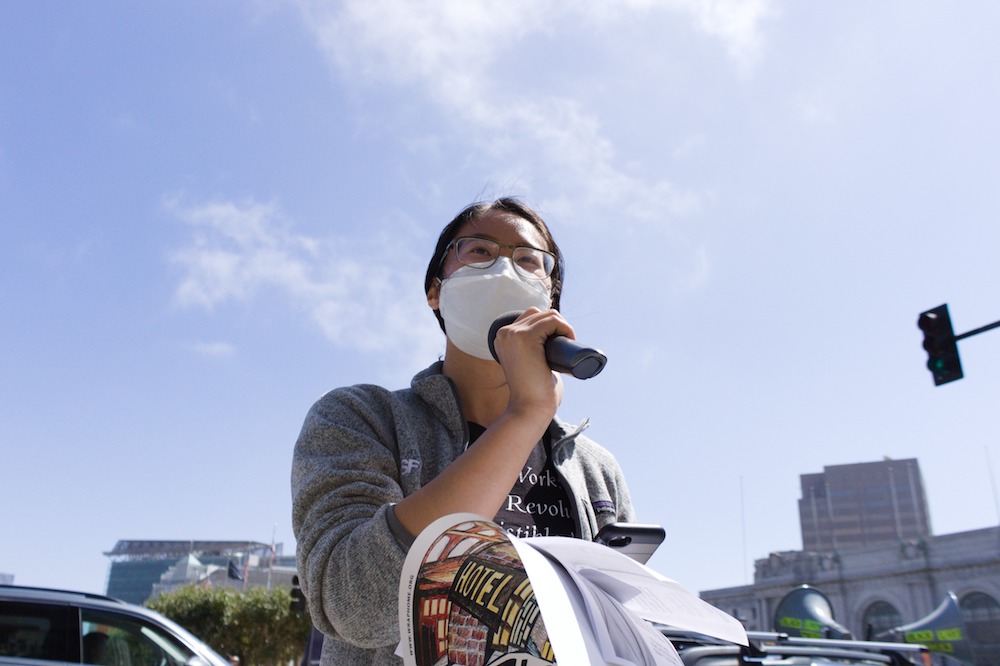 "Being able to have stable housing means that people can have their medication is one place, so people can continue to take meds regularly and stay up-to-date on medicated assisted treatment, or diabetics, or liver disease," said Lina Khoeur, a fourth-year medical student at UCSF and a member of the Do No Harm Coalition. "Being displaced or feeling that you don't have a place to go to is unsettling. It's hard to manage anything else when your basic needs of having a safe place to sleep are not met."
The vaccination rate among the unhoused is low compared to the vaccination rate for San Franciscans at-large, and homeless people are at a higher-than-average risk of dying from COVID, according to a letter from the Do No Harm Coalition.
HSH previously said in an August 24 memo that it's necessary to close the hotel rooms in advance of looming costs to the city when FEMA funds expire at the end of 2021, as well as allowing time for HSH to transfer people from SIP rooms to other housing, namely shelters.
"HSH must continue to demobilize the [SIP] program in anticipation of the pending general fund cost of operations and the considerable time it takes to rehouse SIP guests and demobilize sites," the HSH memo read.
Friedenbach said the city's decision to close the SIP hotels piecemeal ahead of the looming December cutoff of FEMA reimbursement funding, which has allowed the city to run the hotels at a fairly low cost, deprives unhoused San Franciscans of otherwise usable rooms which give them privacy, dignity, and the space to plan out their lives, ultimately giving them a better shot at exiting homelessness.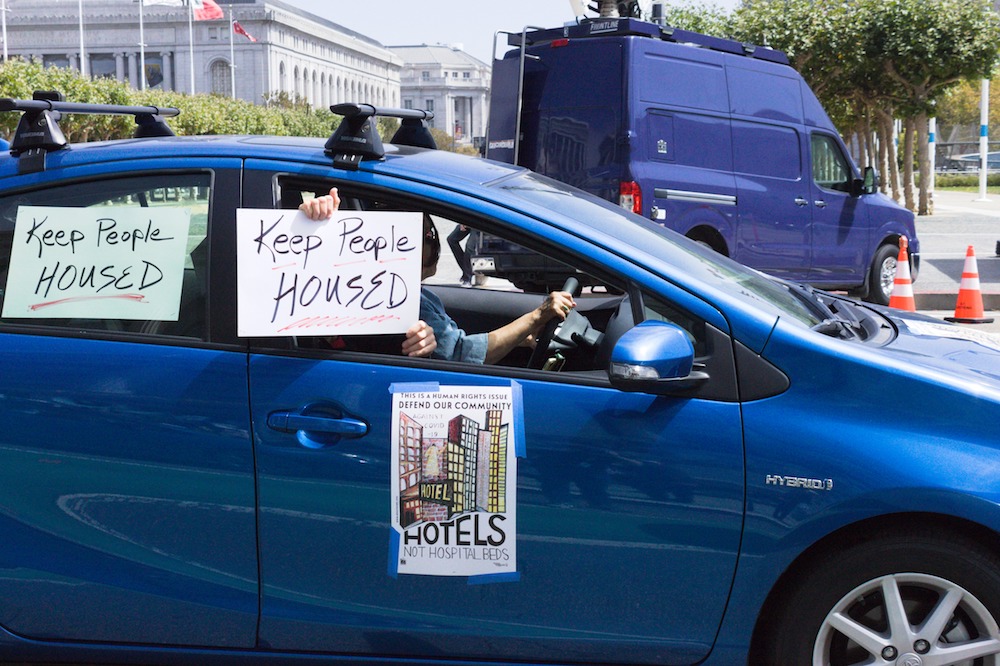 Friedenbach said the city should keep the rooms open as long as possible, transferring occupants into permanent housing while filling hotel vacancies until FEMA funding expires.
"Right now they're moving people from SIP hotels into permanent housing, which leaves an empty room," she said. "If we kept that hotel open, we could have the opportunity to have folks move in off the street. Does that mean that they will all get housing at the end? We hope so, but even if they don't, it still means they have a few months of respite, and a better opportunity to exit homelessness—when you're out on the street, just living day-to-day, there's no way to do long-term planning," Friedenbach said.
"We're asking them to pause hotel closures until the end of the year, and close them in one fell swoop. Yes, that will be a massive effort, but we think the city can do it."
As of mid-August, HSH is no longer transferring COVID-vulnerable people, such as those in SIP hotel rooms, into congregate shelter beds, although HSH is continuing to add cots in shelters for those without COVID co-morbidities, having already added 170 beds, with plans to add 143 beds to shelters by the end of 2021, according to Friedenbach. Most people in SIP hotels slated to close are placed into other vacant SIP rooms at hotels yet to be closed.
HSH did not respond to requests for comment.
Supervisor Matt Haney, whose district includes a large number of unhoused people, said he supports the call to stop hotel closures, saying that it's a reasonable bet that the federal government will extend FEMA reimbursement for states' COVID costs, such as the SIP hotel program, as the feds have done before.
"I hope that the federal government extends the reimbursement even beyond the end of this year, and they've extended it a few times already, which was our prediction, and I think they'll extend it again," Haney said. "The hotels shouldn't close, especially when we are still receiving reimbursement…we have three months, those funds should be used to bring people inside."
According to Haney, who chairs the Board of Supervisors' Budget and Finance Committee, FEMA funding is necessary for the city to operate the hotels, but added that the city's current plan to lease the hotels is not cost-effective, saying that it would better for San Francisco to purchase more of the hotels to be converted into affordable housing, which is already happening for some, such as Hotel Diva, but not all, of the hotels.
"I'm not sure I'd call the SIP hotels, at the scale we have them now, cost effective without reimbursement," Haney said. "What would be more cost-effective is to house people permanently and purchase the hotels. I don't think it would make sense to lease the hotels at the scale we have now, permanently. We need some temporary transitional placements to get people into housing, and SIP hotels are much more effective than the shelter beds," said Haney.
Although the board has passed emergency ordinances in regards to the SIP hotel program previously, Haney questions the efficacy of such a move at this point, pointing to a lack of clarity as to what such an emergency ordinance should entail and the mayor's history of ignoring the board's legislation on hotel rooms.
According to Haney, management of the hotel program ultimately falls to Mayor Breed, as the program emerged as a response to the health emergency declared by Breed in February 2020.
"I'm working with the service providers and advocates to figure out if there is something we should do at the board…ultimately these decisions are in the mayor's discretion and her powers during the public health emergency…We passed an ordinance saying that they have to bring everyone inside, and they said no."