Yimby Law, the developer/tech millionaire-funded legal action arm of SF Yimby, filed suit Thursday against the City of San Francisco, looking to overturn last October's successful community appeal of the 469 Stevenson project's environmental impact report by the TODCO Group's Yerba Buena Neighborhood Consortium.
The suit—termed "legal grandstanding" by knowledgeable lawyers—dose not actually address any environmental issues about that controversial project's EIR at all, like failing to evaluate the earthquake risks of a 27-story tower without a pile foundation on the edge of historic Soma marshlands.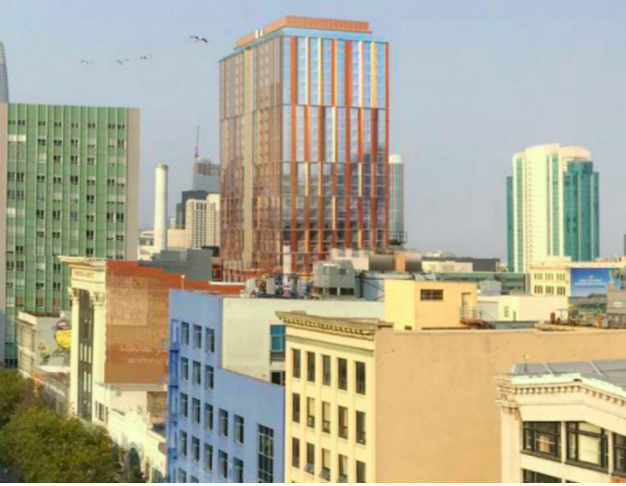 Instead it looks to nitpick every minor glitch in the project's drawn-out four-year approval process that might somehow conflict with recent state "streamlining" laws. For example, was the final Board of Supervisors' appeal hearing that rejected that EIR one too many, exceeding an allowed total of five public hearings? Those same laws require the EIR process to be followed, which specifically allows such appeals.
But the suit is a good grandstand play for Yimby PR. The San Francisco Chronicle gave it front page coverage, without bothering to ask for comment from the community appellant. That fits neatly with the media push by several local politicians to claim this 500-unit market-rate project—a direct gentrification threat to Soma's adjacent Sixth Street Community, the last affordable neighborhood left in Soma, and opposed by longtime Soma community groups that fight gentrification including South of Market Community Network, United Playaz, and Westbay Pilipino Multiservice Agency—was something wonderful that was wrongly denied.
Of course, the project itself was not actually rejected by the board, just its EIR. Build could go back though the EIR process, fix what was wrong with the first EIR, and presumably get approved again and go ahead. There would be no grounds then for a second appeal. But it hasn't. Why?
Because the irony is the 469 Stevenson project they all champion is itself a fake. There is no realistic hope that its proposed developer, Build Inc., could in fact get it built any time soon.
Build Inc. is a local company that lacks huge deep pockets. It already has two large projects that are fully approved, but going nowhere. Its master-planned 1,575-housing unit India Basin Project, approved in 2018, has yet to start any work. Likewise, its 300-unit One Oak Street 40-story tower approved in 2017, has not moved ahead either.
The reasons are the same for these and several other approved market housing projects in the city, like Maximus Partners' Park Merced redevelopment. Construction costs have gone up 40 percent in just the last four years, and thanks to the economic disruptions of the COVID pandemic there is no hope they can go back down any time soon. At the same time, market housing rents and prices, which zoomed up until 2019, have plateaued or even declined. As a result, none of these projects "pencil out" – that is, none are financially feasible today.
Companies with deep pockets—national firms with multi-billion-dollar Real Estate Investment Trusts, like Related Companies, Tishman Company, Boston Properties, Kilroy Real Estate Trust, and others—can still go ahead and sink tens of millions of the their own funds into a project to get it started if they think it is worth the risk. But most are now putting everything on hold, waiting to see how things turn out if and when the COVID pandemic is finally over.
Small local developers like Build, though, look to find a big investment partner who has cash, get the project approved, and then move ahead when possible. One local company, for example, is working with CalSTRS, the state teachers' union pension fund, which has almost $300 billion in funds to invest. That has enabled that developer to at least go ahead and buy a proposed Soma housing site, even though it's not yet approved.
Build hasn't even purchased the 469 Stevenson project site. It merely has an option lasting until 2024 to buy it from the current owner, Nordstrom's.
When Build started planning for its India Basin, One Oak Street, and Stevenson projects several years ago, the economy was booming and it had a chance to get investment funding from one of the huge development conglomerates in China, such as the giant Vanke. But that hope was dashed last year when the Chinese government stopped all investment in projects outside China, because of a looming real estate financial crisis within China itself.
In response, Build is now coming back to the Planning Commission asking to modify its One Oak Street project to increase its total housing units from 319 to 453 smaller units, and cheapen its architectural design from a striking curved tower to a boxy slab at the key City intersection of Market and Van Ness.
Perhaps that will work to make it "pencil," but not without a new yet-unidentified investor.
And given that Stevenson Street, next to Sixth Street's skid row, is an even less attractive location for market housing than One Oak, there is no realistic hope for its market housing development at all, ever.
As one big developer told me, "I can buy a half-dozen already approved market housing projects in strong market locations that still can't start construction now. So why would I pick one in the worst possible place?"
But—it is a wonderful affordable housing site for our Soma community's future.
You have to hand it to Yimby Law and its political allies. They sure have taken that lemon of a Stevenson project and made it into good PR lemonade.