Real-estate developers always try to find a way to take what might be a legitimate policy interest and exploit if for immense profit.
In the 1990s, it was "live-work" housing. The city, trying to find ways to protect artists who had moved into empty warehouses a decade earlier and were now facing eviction, set new rules that relaxed zoning and code rules and allowed people to stay in homes that might not have met all the normal rules for residential use.
Fine—until the developers used that loophole to build high-end luxury lofts in what had been industrial areas, driving up property values and driving out light industry. I watched this from my office at the Bay Guardian building on Mississippi Street at the foot of Potrero Hill: Sire after site that was once a warehouse, a hardware store, a place that offered decent blue-collar jobs became a very expensive "live-work" loft for tech workers.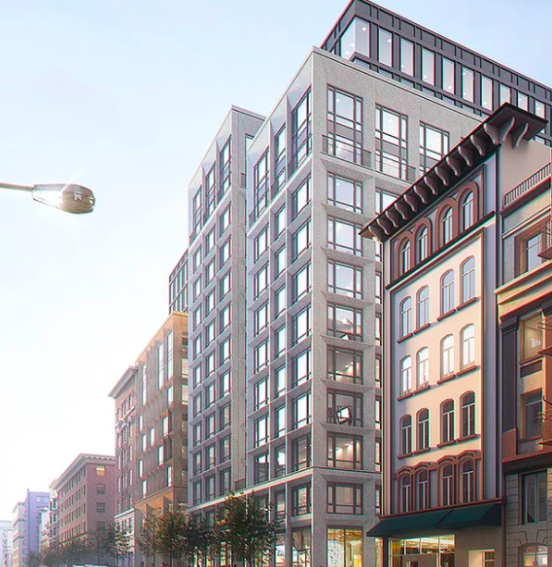 The developers made a fortune buying property low and selling cheaply built units for millions of dollars.
The latest craze is "group housing."
San Francisco has always tried to allow low-cost housing for people who can't afford a traditional apartment. Single-room occupancy hotels have been, and are, a critical source of affordable housing, and those spaces typically have shared bathrooms and the units have no kitchens.
But "group housing" today is a different thing: The developers pushing these projects are essentially building dorms for young high-paid workers. The units aren't affordable by any stretch, but if the developer can cram enough people into them, the project will make a profit.
The latest example of this, at 450 O'Farrell, showed how loopholes in city law can allow projects designed to be family housing can turn into high-end dorms.
Sups. Aaron Peskin, Rafael Mandelman, and Shamann Walton have introduced legislation that would better define what "group housing" means, and, among other things, prevent the definition from being used to create what are in practice short-term rentals or expensive tiny apartments.
The Land Use and Transportation Committee will consider that legislation Monday/28 at 1:30 pm.
The Budget and Finance Committee will consider Wednesday/2 a proposal by Sup. Ahsha Safai that would regulate street vendors. It's a bit complicated, and the supes are going to have to deal with a wide range of issues.
A 2018 state bill decriminalized street vending and made it difficult for cities to regulate vendors. The idea, according to the supes Budget and Legislative Analysis, was
to promote entrepreneurship and support immigrant and low-income communities. SB 946 stipulates that restrictions on sidewalk vending must have a direct relationship to "objective health, safety, or welfare concerns." SB 946 also prohibits criminal penalties for violations of vending regulations and sets maximum amounts for administrative fines.
Other than the Port, most of the city has no regulations on vendors at all. Here's the summary of the bill:
Under the proposed ordinance, street vendors are required to obtain either a Roaming Vendor permit or a Stationary Vendor permit from Public Works to sell food and/or merchandise on City property, including a public right-of-way or any other street, sidewalk, alley, walkway, or pedestrian path. Vendors using an energy source, such as propane, must obtain approval from the Fire Marshal, and vendors selling food must obtain a permit to operate a food facility from the Department of Public Health. Separate fees may apply and be payable to the Fire Marshal and the Department of Public Health. In addition, applicants must attest that they procured the food or merchandize through legal means and that they will maintain proof of ownership or authorization to sell to be provided upon request.
A lot of the vendors I see in the Mission will never be able to prove they got their materials through legal means—either because they didn't, or because the informal economy that street vendors occupy doesn't use receipts or sales documents.
I get that there are public-health issues with selling food, and I get the fire-safety stuff, but the hassle of getting those permits is going to drive a lot of the small vendors (say, the ones selling bacon-wrapped sausages with grilled onions, yum) off Mission Street.
How do you address the public-health and safety issues without killing these micro-businesses? (I think about the Tamale Lady, who went from bar to bar at night selling fresh tamales. She also used to come to the Bay Guardian at lunchtime. I ate a lot of her tamales, and so did my coworkers, and I never heard of anyone ever getting sick from her food. Could she get a permit?)
From the Small Business Commission:
The Commission had a robust discussion around the merits of creating a permitting system for street vendors, and were particularly concerned about the City's creation of a program that may be difficult for people to navigate or comply with. Several Commissioners emphasized the following recommendations:

– The need for language translation, outreach through community organizations, and cultural sensitivity to ensure smooth implementation of this proposal.

– Emphasis on a streamlined permitting and application process, which could include an online application.

– Ample noticing and technical assistance support in the rollout of this proposal.
Whenever I see legislation like this, I always ask: What is the problem here that we are trying to solve?
Anyway, this one is going to be tricky.
The full board is going to consider two different ballot measures to better regulate Recology, the city's garbage and recycling operation. One of the measures would simply change the way that the city manages Recology rates and practices, to eliminate the kind of corruption that has the FBI crawling all over City Hall.
The other would make it possible for the supes to put the entire contract out to competitive bid—which is Recology's worst nightmare.
It's all, I suspect, going to come down to how the company responds—if Recology plans to spend millions of dollars fighting even basic reform, then the supes might be willing to say: Your whole 88-year-old deal that gives you a guaranteed private monopoly is going to be on the line.
That meeting starts at 2pm.