The Board of Supes is back this week after an August recess, and will grapple (either this week or next) with a developer who wants to build 316 units of market-rate group housing (that is, young, single, tech-worker dorms) in the Tenderloin.
The developer, working with a Christian Science Church that exists on the site, originally proposed to build a 176-unit project with some apartments big enough for families.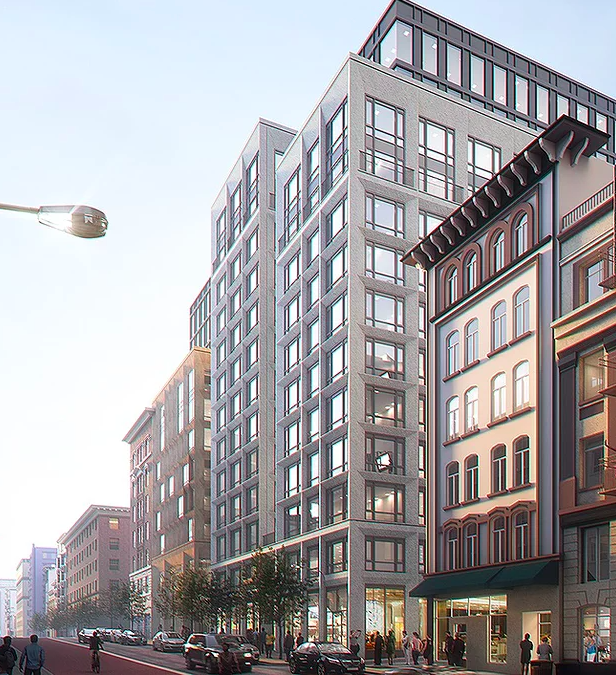 Family housing didn't "pencil out." That's quite a statement. So now we have this.
But Forge Development now says that a traditional market-rate housing development can't get financing these days. That's an interesting message for the Yimbys, who insist that the major impediment to more housing is local land-use regulation: The previous project had community support and was approved by the Planning Commission, no problem.
Now it won't be built—either because the developer can't get financing or because the developer just wants to make more money.
Think about that message. Forge had all of its entitlements and no "Nimby" opposition. But the determining factor on what gets built in San Francisco is not, by and large, community input or approval delays. It's international speculative capital deciding where the highest return is. And more housing for families (much less housing that's remotely affordable) doesn't seem to make the cut right now.
So now, we have this tech dorm.
The Planning Commission, for reasons that defy logic, approved the plan back in February, and the Tenderloin Housing Clinic and an SRO hotel next door have both appealed to the supes.
The supes generally don't overturn Planning Commission decisions—but this one is going to be tough.
I often find myself in disagreement with Randy Shaw, who founded and runs THC. He has attacked me for little apparent reason in the past, and is often on the side of the Yimbys. He was a huge supporter of former Mayor Ed Lee, and helped create the Twitter Tax Break that was part of the tech boom that devastated working-class and low-income communities in San Francisco.
But in this case, Shaw is strongly opposing this new housing. As he notes:
First, developer Forge Inc. has treated Tenderloin residents and groups with contempt. Forge ignored repeated requests by planning staff and commissioners to resolve their differences with the community; unfortunately, Forge's negotiating strategy of failing to work cooperatively with the community was rewarded by the Planning Commission with a project approval. It's as if some commissioners decided that they had tried their best to get Forge to negotiate and having failed to move the developer they had no choice but to approve the project.

That's not how community outreach should work. A developer should not be rewarded for ignoring planning commission requests to modify projects to meet overwhelming community opposition.
Plus:
Forge's 450 O'Farrell project will be a two-year nightmare for the adjacent supportive housing tenants. The Pacific Bay Inn may well need to be vacated, or new placements suspended. The project approval was not accompanied by an analysis of the construction impacts on the 1907 Pacific Bay Inn or on the very vulnerable residents living there.These tenants are typically home most of the day. If a project is going to be built next to them, their needs should be considered.

Why is San Francisco allowing a project that makes no sense for the community to displace or reduce existing permanent supportive housing? There are three other permanent supportive housing sites either adjacent to the planned project or across the street. All could lose residents during the long period of construction noise. Why should the city risk worsening its homeless crisis for a project that doesn't serve neighborhood needs?
All good points.
But it gets more complicated. A law firm representing the Christian Science Church has written a letter to the supes saying that—since the project will involve rebuilding and expanding the existing church—federal law requires the board to approve it:
Currently, the Church does not have a building that can adequately accommodate its religious exercise and has been seeking to construct a new house of worship since 2013. This Project—which includes a new church building and Christian Science Reading Room that will meet the religious needs of the Church, in addition to 316 group housing units—has faced extreme and unreasonable delays in the land use approval process by the City, which have severely impeded the Church's religious exercise as described below. We urge the Board to reject this Appeal and uphold the Planning Commission's conditional use approval. Failure to do so would potentially expose the City to years of litigation and substantial damages and attorneys' fees.
The previous project, which the city approved, also included a new church and reading room. So the city hasn't actually interfered with a religious group—the church had a valid permit to build four years ago, and could have had everything it wanted.
Except developer profit.
Both sides have agreed that they would accept a continuance until Sept. 14. Sometimes that happens if there's a chance that they can reach an agreement. Seems awfully unlikely here.
Perhaps the supes should ask to see the figures—what type of return are the lenders asking for? Perhaps this project is a bellwether—clear evidence that the Yimby narrative makes no economic sense, since new construction will never bring prices down if the only new construction that can get financing is the sort the city doesn't need.