The Board of Supes put off until Tuesday/5 a vote on the bizarre project at 450 O'Farrell, but the issues that came up at the first board hearing on the deal go far beyond this development.
The background: A local Christian Science Church in the Tenderloin and Forge Development want to tear down the existing church building and replace it with a new church—and 316 units of mostly market-rate "group housing."
That's likely to be short-term tech-worker dorms. In fact, during the hearing Tuesday/28 city planning officials admitted that group housing is almost by definition fairly short-term rentals.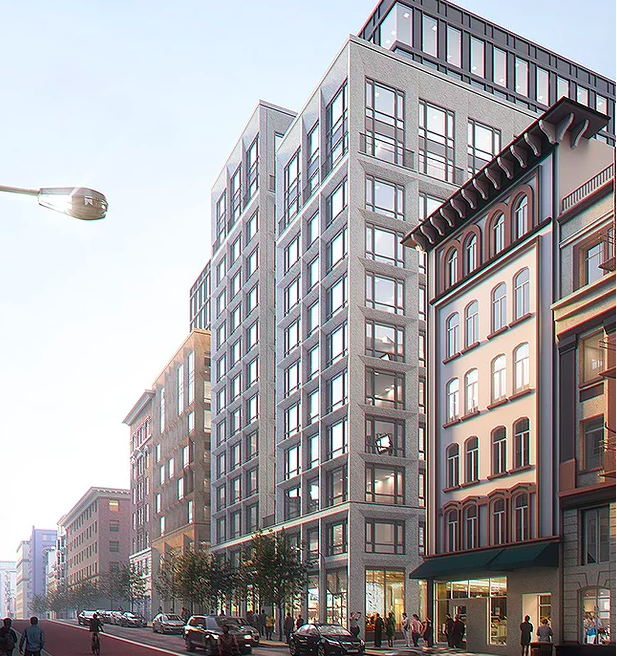 The city already approved a project for this site, back in 2018, one that included a rebuilt church and 176 apartments, including family-sized permanent housing.
But that, Forge's representative said at the hearing, was no longer financially feasible.
In essence, he said, the cost of construction in San Francisco and the demands of the investment capital markets precluded any traditional market-rate housing in the neighborhood.
A three-bedroom apartment, he said, would have to rent at $7,500 a month to make the project feasible. And the investors were dubious that a Tenderloin project would attract people with that much money.
So the only option was to turn this into dorms, which would rent for an average of $3,500 a month—for what might be a shared room with limited kitchen facilities.
Under questioning from Sups. Aaron Peskin and Matt Haney, the city planners admitted that they had seen no financials from the developer that would support that position. In essence, the planners just took Forge's word.
That, of course, happens all the time, and leads to bad decisions. Developers can say anything they want about their financial needs, and since the city has no mechanism to demand that the figures be made public, the planner just go along.
The San Francisco Sunshine Ordinance addresses this, but only in terms of city subsidies to private developers:
The City shall give no subsidy in money, tax abatements, land, or services to any private entity unless that private entity agrees in writing to provide the City with financial projections (including profit and loss figures), and annual audited financial statements for the project thereafter, for the project upon which the subsidy is based and all such projections and financial statements shall be public records that must be disclosed.
The limits of that definition have never been tested.
So we don't know, for example, whether the previous project, which the community supported, was "feasible" at a profit rate that most business would accept, but not at a profit rate that the developer and financial markets considered high enough.
But there's a much larger issue here. The Yimby activists have long argued that if the city would just approve more housing, prices would come down. That only works if there's a real functioning market in the housing world of San Francisco—and this project shows there clearly isn't.
No Nimbys opposed or blocked or delayed the original project. The Tenderloin community backed it. The Planning Commission unanimously approved it. The developer had the green light to build 176 units of housing—and under the rules in place at the time, only 13 percent had to be affordable.
Who killed that project? Wall Street. There wasn't enough profit in it.
You can, it appears, allow all the new density you want, upzone the neighborhoods, streamline regulations … and still, the city won't get housing that meets our needs if the private sector is driving the process.
Instead, we have this deal. And the more you look into it, the weirder the whole thing gets.
Remember: Forge and the church have had an approved project for three years. They could have broken ground a long time ago. Instead, they came back to the Planning Commission in June and asked to change the deal from 176 dwelling units to 316 dorm rooms.
At that meeting, Commissioners Kathrin Moore and Theresa Imperial asked the key question: Who is this housing for? And Sue Diamond asked what "group housing" is anyway and whether the supes should address something that is ill-defined and potentially a huge developer loophole.
The commission voted 4-2 to approve the changes, with Moore and Imperial against it.
If this project were proposed today, the rules for the Tenderloin would have mandated 25 percent of the units be affordable. But when it was originally approved, those rules were different—only 13 percent of the units had to be offered at below-market rate. We're talking about a big difference: under current policy, 79 units would be affordable. Under the old policy, it's just 41—about half as many.
City planners decided that this was "grandfathered" in, since a version of the project was approved under the old rules, and this was is "substantially" the same.
Haney, like many of us, was deeply puzzled by that: How can a new project that is twice as large as the old one, with a completely different type and mix of housing, be "substantially" the same as the old one? "I have a hard time believing that," Haney said.
Carly Grob, representing the Department of City Planning, said that the Environmental Review Division didn't find any reason to believe the impacts of the new version would be different. So it required no new analysis, and thus gets to go forward under the old rules.
Haney pointed out that the Planning Commission had set some conditions on its approval, including that the developer would seek ways to include larger units that might be acceptable for families that include more than two people. Did that happen?
"We've had some initial conversations with the architect," Grob said. "But we haven't seen any revisions to date."
And yet: Planning wants this to go forward.
So what is "group housing," anyway?
Back in the 1980s, artists managed to move into a lot of empty old industrial space, creative live-work lofts that didn't exactly comply with building codes. So the Planning Department went through a process that led to code changes allowing live-work housing that didn't have all of the requirements of traditional dwelling units.
This was lovely for the artists who had lofts. It was also a huge loophole for developers, who roared into Soma, tearing down industrial buildings and creating new "live-work" housing, at very high prices.
We may be seeing the same thing here.
Peskin asked Grove to explain the difference between a dwelling unit and a group housing unit. It comes down, she said, to a ruling that a former zoning administrator, Larry Badiner made 16 years ago. Under that ruling, a "group housing" unit can have a kitchen with a sink and small refrigerator, a microwave, and up to two stove burners. If there's a traditional oven, it becomes a "dwelling unit."
"This is what drives us all nuts," Peskin said.
Grob said there's never been a group-housing project of this size. She acknowledged that the decision to allow it as group housing was a close call. "They have doubled the number of units and but it's still substantially complaint," Peskin said. "I am befuddled by that determination. And I am befuddled that they come back and say this doesn't pencil out. Did you independently determine if their pro forma claims are accurate?
Grob: "We did not."
Sup. Myrna Melgar, a former member of the Planning Commission, asked the developer to explain why the number and type of units had to be so dramatically changed. "The underwriters were unable to find any underwriting," he said. "It was not financeable."
He told her that the project would address "the missing middle" in local housing. But the rents would start about $2,600 a month, for what amounts to a short-term dorm room; that means, ased on the federal standards that no more than one-third of your income should go to rent, the cheapest units would require a household income of $94,000.
The median income in the Tenderloin is far, far below that number.
Haney asked for a one-week continuance on Tuesday, and he told me that the parties are all still negotiating. The supes always look for a way to make a deal on projects like this. But the developer has refused to make anything more than token concessions. I don't see what any deal would be.
The Church has warned the city that it has the right to build an appropriate place of worship, and the current building isn't up to modern standards. Haney asked Grove about that, and she confirmed: The Church already has an approved project, which could break ground in just months. But the developed has decided that project isn't sufficiently lucrative.
The Yimbys typically swarm into City Hall any time there's a chance to build more housing, of any type, even if it makes no sense for the city. In fact, they went into banshee mode when Sup. Dean Preston suggested that, based on the city's Planning Code, a project at 1846 Grove Street should be two units instead of four. That's a two-unit difference.
But there's not a lot of Yimby action on this project, which involves 316 units. One of the key project opponents is Randy Shaw, director of the Tenderloin Housing Clinic and a close ally of the local Yimby groups.
I don't claim to understand Yimby politics. And while the Chron reports that Haney is moving toward the pro-market-rate housing position, he's clearly not happy with this project.
Going to be a big test for the board.