Under the Stars is a quasi-weekly column that presents new music releases, upcoming shows, and a number of other adjacent items. We keep moving with the changes, thinking outside the margins, strategically planning out our trip to the 11th Annual California Roots Music and Arts Festival taking place in Monterey this May 26-29 to see Brother Ali, Ice Cube, Durand Jones & The Indications amongst others… And steadfast getting those running shoes broken in for the first 2022 edition of Sunday Streets on April 10th taking place in the Tenderloin.
A special salute goes out to SF Jazz Founder Randall Cline who recently announced he would be stepping down in 2023 from his post as Executive Director after 40 years of dedicated service, ensuring San Francisco shall always be an international jazz destination. Well done, sir. We thank you! Ok, let's get it!
"Saturday Night Special," Strata Records—The Sound of Detroit Reimagined—by Jazzanova (180 Proof Records/BBE Music)
It's by no mistake that the original album cover for Saturday Night Special by The Lyman Woodard Organization has a picture of cigarette papers, cash, and a pistol. Recorded in 1975 it remains a jazz-fusion classic. And that photo is comprised of articles found in bandleader Lyman Woodard's pockets, simply arranged on a hotel room bed after a show that presumably took place in his hometown of Detroit.
The title track hits far more gully than the picture.
It's a bittersweet city anthem that reflects walking the streets of any metropolis just before 6am. The choreographed hand-claps placed in-between a Mellotron-versus-electric-piano discussion accentuates witnessing steam rising from manhole covers. That massive bass solo in the middle, moving at a persistent city pace, getting where you need to be with hustle. And the sun swinging around tall, grey buildings before people inhabit them once again. Its sparse and muted production value, a brilliance that inhabits each song on the record, personifies the "need what I need" artistic aesthetic.
DJ, historian, and label boss Amir Abdullah concurs.
"When I first heard the Lyman Woodard Organization Saturday Night Special, I thought it was a song from a Blaxploitation soundtrack. Once I realized that Lyman was from Detroit, I immediately thought that if there was ever a 'theme song' for Detroit that 'Saturday Night Special' would be it. There is such a cinematic vibe to the song full of grit, rawness, and determination that just soaks into your veins. This album/song will always be in my bag of records to survive the apocalypse with."
The remix Abdullah's his label just put out is the second single to be released from the upcoming BBE album Strata Records – The Sound of Detroit – Reimagined By Jazzanova project. The "Saturday Night Special" remixes feature superior quality reworks by Kai Alcé, DJ Amir, & Re.decay. When Abdullah and German electronic collective Jazzanova began work on the Reimagined project, breathing new life into the Strata Records archive, this jazz-funk classic was right at the top of the list of "musts" for the band to re-interpret.
It's a quality move that speaks to the integrity DJ Amir has always held for not just highlighting pristine jazz arrangements, but also the forethought to make these pieces of history, audio snippets of Black culture, accessible to new jazz ears. That's how this Black American art form called jazz, America's classical music, keeps its relevance and stature.
The remixes can be purchased here and you can pre-order the complete Reimagined project here. It's out on April 22nd.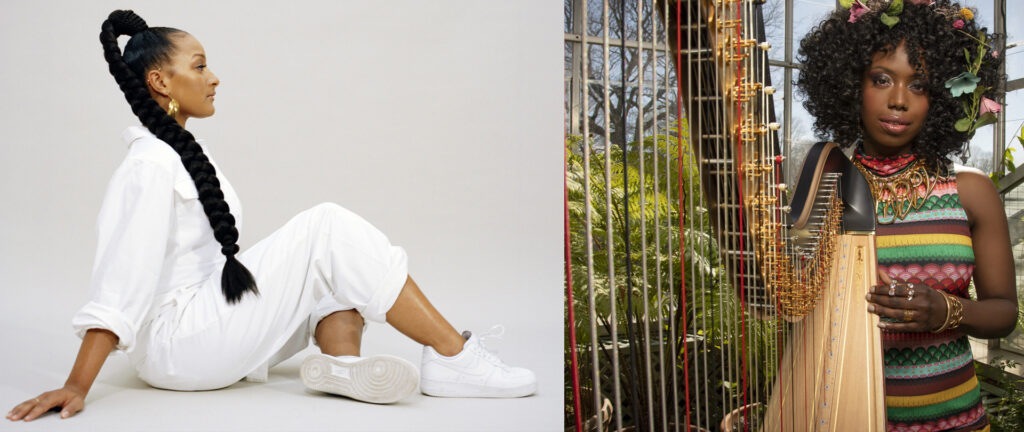 Nubya Garcia and Brandee Younger Perform at SF Jazz Fest, June 13
Representing London and New York City respectively, two sublime, ascending instrumentalists, reshaping how jazz sounds and looks in the 21st century, will share a limited one night only double bill at this year's 39th annual San Francisco Jazz Festival.
Nubya Garcia's album Source from 2020, which appeared on many year-end best-of lists, her Concord Jazz debut album (making her labelmates with Esperanza Spalding), stayed rooted in Caribbean influence while touching on soul, dub, and cumbia.
Recorded during lockdown, Force Majeure, an American songbook of sorts created and performed by Younger on Harp and bassist Dezron Douglas, captured a wide appeal during dark times.
Younger and Douglas, stuck in their East Harlem apartment with no idea on how income would ever happen again for them, streamed a set each Friday where they ran down arrangements, snapped jokes at one another, lamented on the loss of life, and showed their own personal humanity in the face of NYC's and the country's shelter-in-place reality. With a virtual tip jar fastened, they garnered national attention. It eventually became an album that also topped many 2020 year-end lists.
Younger, a member of the Beychella Marching Band, released her far-reaching yet inclusive album Something Different in 2021 to critical acclaim as well.
Having both of these seminal Black women, on one bill, is a testament to SF Jazz doing they damn job in preserving the past and highlighting the future within the same space. Any jazz, funk, hip-hop, or electronic music head needs to make this event a priority.
Purchase tickets here, because they will sell out.
Jaime Drake, "Easy Target/New Girl" (AntiFragile Music)
Anyone who reads this column is familiar with the super-soft place we hold for any type of music that resembles a version of '70s AM gold. For me, it's attached to long car rides with my parents while traveling all over Upstate New York as a wee lad. Half-choice and circumstance, at that time a cassette player in the car was not in the budget, so at the behest of the terrestrial car radio, somehow all the stations that had Todd Rundgren and Carole King warm vibes—Black radio stations were nowhere to be found driving in the sticks—possessed big antenna energy, making those dead-zones a time for a youngster's ear to explore.
Singer-songwriter Jamie Drake's warm open hug of tune "Easy Target" is just the companion for taking in those Adirondack regions and their magnificent lakes, verdant valleys, and steep cliffs.
The track, a quick two minutes and change, hitting the pop nectarean spot for sure, swirls up indie, folk, pop, and Southern California breeziness into that casual pace you wanna shuffle about in around 5pm. Written with Nashville's Caroline Spence, the track shows you Drake's love of classic Laurel Canyon sounds. With an album coming in June, hold space for "Easy Target" energy, we could all use it.
Pre-order here.
Neutrals, "Bus Stop Nights E​P" (Static Shock Records)
For at least 15 years, possibly longer, bassist and vocalist Phil Benson has been a stalwart on the indie rock scene in Ess Eff, by way of one version or another. Previous and post (lead vocalist here) Terry Malts fame, if you were to stumble into a venue and that lanky "Phil" is on the stage singing, playing bass, or just exuding some type of insistent energy, you've made it to the spot you need to be at, independent of what your initial plans were.
Benson's latest project, Neutrals—the "true sounds of middle-aged North Lanarkshire via Oakland" according to the trio's Facebook page—is "in and out" post-punk of the most economical sort circa '79.
Fronted, founded, and voiced by Alan McNaughton, the singer calls out a town bullshitter on the relatable "Gary Borthwick Says" from their most recent "Bus Stop Nights EP," which seems to be the hit. Yet "Pressures of Life," with its energetic buoyancy and words of wisdom sung with that Glasgow nasal aplomb by McNaughton, fueled by Phil's basswork and Philip Lantz's sublime drum fills, is the track I can't wait to consume live.
Purchase the EP here AND if it's sold out you can probably cop some fresh vinyl merch at their outdoor show on April 16 at Phono Select Record Store in Sacramento at Fruitridge Rd.
Kids On A Crime Spree, Artsick, and Lunchbox share the bill.
DEHD at The Chapel, May 9
The once lo-fi roustabout trio called DEHD—hailing from Chicago's progressively high-yielding DIY scene and consisting of guitarist Jason Balla, bassist Emily Kempf, and the ever super quiet drummer Eric McGrady—have come quite the distance from their "we jam econo" beginnings.
A new song, "Stars," from their forthcoming album, Blue Skies, out May 27 on Fat Possum, doesn't reek of super-bloated recording excess. Yet a clean, highly polished sheen makes their quirk shine a bit more palatably to normcore ears. It's still different in that punky nature for sure, but these types of tunes emanate with a certain light, making the band and track for that matter feel newborn.
Good on ya folks.
It's so gratifying to see one of your fave upcoming bands not only graduate to a larger label, but also retain that thing, or aesthetic, that made you become of fan of their type of 'jangle' even with the larger recording budget.
DEHD plays The Chapel on May 9, and you should purchase tickets here.