More than 60 community members gathered around a Bernal Heights apartment yesterday evening, chanting, dancing, singing, playing music, and speaking out against the eviction of 65-year-old Denhi Donis.
Donis has lived in the bottom floor of the two-unit building for the past 15 years and has been hoping to evade an Ellis Act eviction, which was stalled only by eviction protections during the pandemic.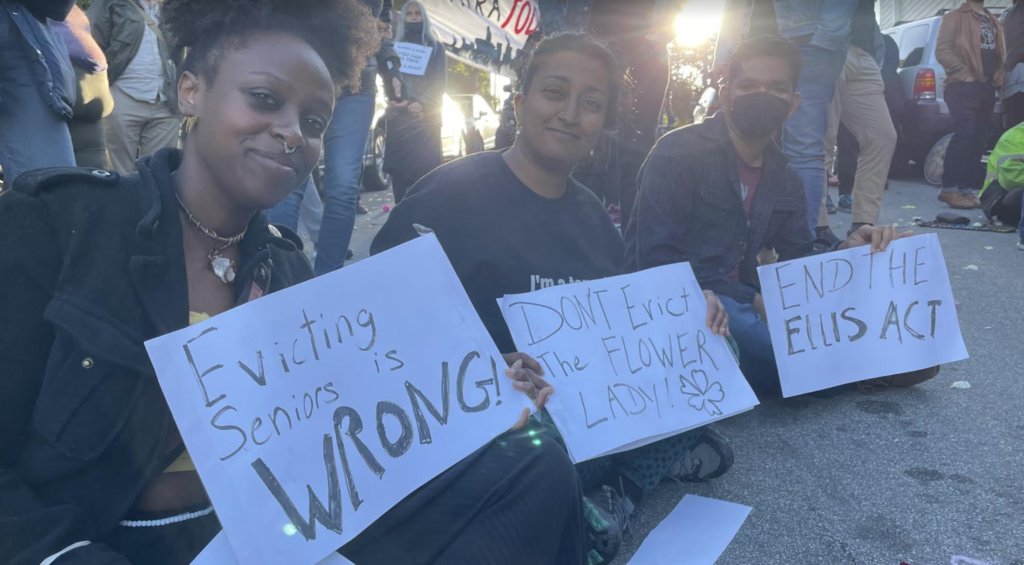 Now, Donis' landlords Thorsten Gernoth and Blanca Estela Rodríguez, are attempting a second Ellis Act eviction to remove Donis, who is widely known in the community as the Flower Lady for her colorful presence selling and offering beautiful flowers in the neighborhood. This was evident throughout the event, where Donis was never without flowers in her hand and never without giving them to someone beside her.
The threat of an eviction is particularly challenging for Donis, who is a cancer survivor who continues to endure medical issues.
"I need a home to have two surgeries and recuperate," she says.
The Ellis Act is a 1985 state law that allows landlords to legally exit the rental business — essentially requiring landlords to evict all tenants in a building and remove the building from the rental market. However, studies show that the vast majority of Ellis Act evictions occur within the first five years of an owner purchasing a property, often to increase profits by flipping buildings or stripping tenants of rent stabilization. While it's unclear what Gernoth and Rodriguez plan to do with the property, city records indicate they purchased the building in 2017.
There is little that can be done legally to fight an Ellis Act eviction in court, notes Fred Sherburn-Zimmer, executive director of the Housing Rights Committee of San Francisco. "It's a big loophole to tenant protections. Every Ellis Act eviction is unfair because they are all no-fault evictions; it's one way that tenants can be evicted even if they do nothing wrong." 
The lack of any legal route is one reason why so many community members are committed to fighting her eviction together — it's the only way to keep Donis in her home. There are posters with requests to email the landlords to ask them to stop the eviction posted in the neighborhood and a petition with nearly 500 signatures with a similar request.
"We need to pressure these landlords. They need to feel the heat and understand that we don't put up with this in San Francisco. They knew when they bought this building there was a senior with cancer living here. We're not going to stop fighting until we stop this eviction," said Sherburn-Zimmer.
Tenant advocates are fighting to change that on the statewide level. AB 2050 would prohibit landlords from using the Ellis Act for the first five years of owning a property in hopes of preventing them from misusing the Ellis Act to evict residents from rent controlled buildings. The bill is currently being considered in the Assembly.
Ellis Act evictions are not the most prevalent in San Francisco: They represented a little over 7 percent of the 1,048 evictions between March 2021 — 22. But the number of tenants who leave due to the threat of an Ellis Act eviction is likely 12 times that number, said Deepa Varma, program and campaign director of Tenants Together. She's hopeful that AB 2050 can move the needle on such evictions:
"We've been fighting the Ellis Act since 1985. This is the year that we think we can finally stop many of these evictions."
Donis moved to San Francisco 25 years ago to escape domestic violence and build a better life for her and her two children, Maya and Emiliano. The family lived in a shelter for a year, and Donis' first job was at the Women's Building in the Mission District, followed by other jobs doing social work at nonprofit organizations around the city.
"I've always been looking to see how I can help," she said.
Then, Donis lost her job at Planned Parenthood when they ran out of funding, and her son suggested that she begin selling the flowers she was always giving away. With that, she began selling flowers on a street corner on Valentine's Day and has continued to do so for the last six years.
"I sell flowers because it makes me happy. It's the way that I contribute to life, to protests, to cultural events, to indigenous events. This is my way of praying."
Now, community members and neighbors hope to return the gift to Donis by keeping her in her home.