Twenty tenants rallied in front of their residence at the Plaza East Apartments, a 193-unit public housing complex in the Fillmore, to call on the city to halt the demolition and redevelopment of their homes yesterday.
McCormack Baron Salazar (MBS), which developed the apartments in 2001, plans to replace the public housing complex with 260 luxury units alongside 193 units of public housing in a 19-story tower.
The tenants demanded that the St.Louis-based developer present an alternative set of redevelopment plans with transparency and tenant input; they want to ban any market rate housing and instead ensure that there are units for public and affordable units.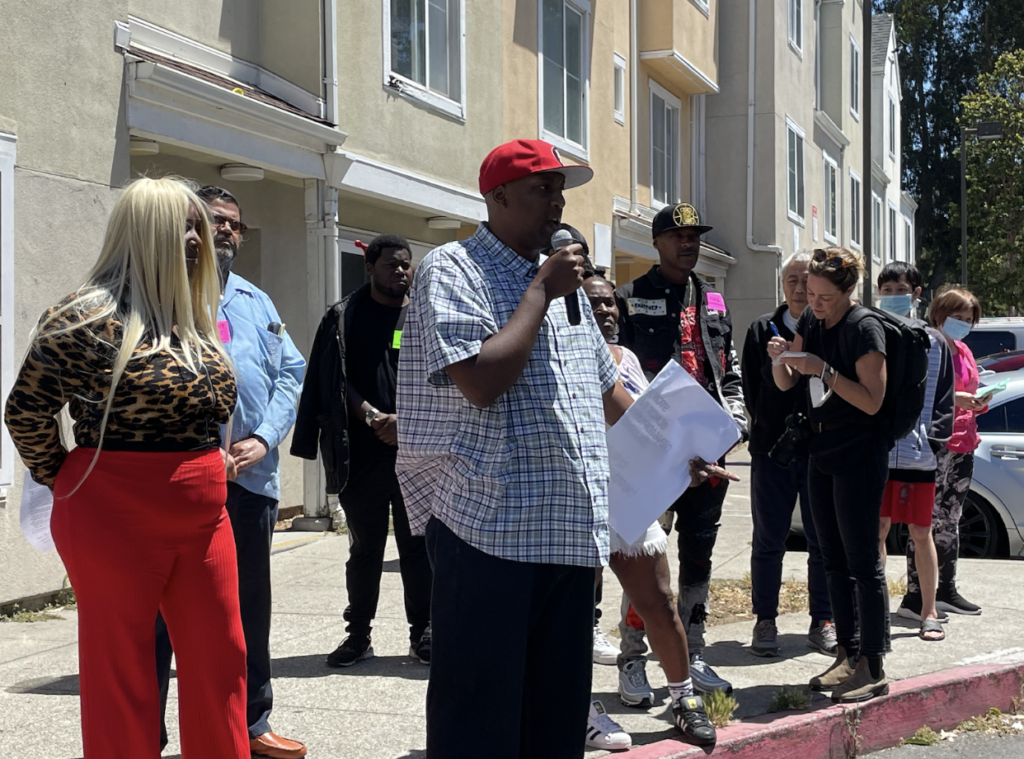 The apartments house a predominantly Black community, many who have lived in the there for years and is situated in the historically Black neighborhood of the Fillmore. "If they redevelop, it will be the death of the community as we know it — it'll forcefully change who lives here," said Dennis Williams, Jr., a grassroots organizer and small-business owner, who has lived in the Plaza East Apartments since their inception. 
"Plaza East is not looking for market rate rent tenants, we're looking to bring back tenants who were kicked out to have homes," said Yolanda Marshall, a single mother of four children and 15-year resident at the Plaza East Apartments. What she's referring to is the violent history of the Plaza East Apartments.
Built in 1956 to provide affordable housing in the Western Addition, Plaza East was owned and managed by public entities, but due to a lack of sufficient federal funding to properly maintain the property, MBS rebuilt the building in 2001 under Hope VI, a federal grant program to to rebuild public housing properties, oftentimes through corporate partnerships, effectively privatizing public housing. MBS reduced 30 percent of its units in the process by eliminating some 83 units — and only 57 percent of former Plaza East residients moved back in.
"The developer that is seeking to redevelop is the same developer that tried to 20 years ago. Over 83 homes had nowhere to come back to the first time they redeveloped it. We want 100 percent of people to come back to their homes," said District 5 Supervisor Dean Preston at the rally.
A resolution urging the San Francisco Housing Authority and MBS to create an alternative to their current plan introduced by Preston passed unanimously at yesterday's Board of Supervisors meeting. The resolution echoes demands of residents, calling for a redevelopment of 100 percent affordable units.
What's more, since residents have regularly complained to management and the Depatment of Building Inspections about the deteriorating and horrific conditions of their homes, even though the building is relatively new. Williams said that his unit has raw sewage leakages for the past seven years, creating such an unhealthy environment that he could no longer raise his now five-year-old son and 12-year-old daughter.
"It's caused a strain on my relationship, not being able to raise my kids."
Demorio Lee said that mold is so pervasive in his bedroom, he is forced to sleep in the living room and that the mold, which lines the walls and floors, has existed for years. "I can feel it in my breathing." 
Mold in the building is not an outlier: Marshall similarly noted that there was mold in her unit in addition to rodents, a malfunctioning heater and that she lived for five years without a stove. "I had to use other people's stove. But that's why the community is great here. We support each other."
Last April, the Mayor's Office of Housing and Community Development loaned $2.5M to MBS repair Plaza East focused on sewage issues, street lighting, and fire alarm maintenance. This was set to be completed in a year, but Williams said that residents are still waiting on improvements.
At the end of the day, Marshall said that what tenants are asking for is simple: "We just want our homes to stay affordable. And we're going to be here fighting for our community and we're not going anywhere."