April Fool's Day was a month long this year. That's an eternity these days, so it's OK if you don't remember.
That's when Maskless Mayor Breed took a Eurotrip as her city lost all mask and vax requirements for indoor events. Yes, they'd already lifted those requirements for restaurants and smaller venues, but April 1 expired the mandates for indoor "mega-events" of 1000 or more people. That same day, COVID cases spiked at unmasked Bay Area elementary schools. This was weeks after revealing the alarming number of child deaths from the Omicron variant. By the by: Omicron—which was first discovered Stateside here in SF—had mutated into the more contagious BA.2 variant, which itself mutated into the even more contagious XE variant.
But at least we can pack in Warriors games, right, London?
In the weeks that followed, numerous high-profile folks tested positive (Barack Obama, Jen Psaki, Lin-Manuel Miranda's wife, Kamala Harris), but unmasked celebs still packed in the Oscars, the White House Correspondents' Dinner (which Fauci didn't attend, despite claiming we're "out of the pandemic" phase), and the Met Gala. Everybody partied like it's 2019 all over again. Do they not realize it's called "Covid-19" after its breakout year? Hell, it confused Ted Nugent.
I myself spent the month attending and reviewing several events in the now-maskless SF, noting vax policies as I did. I felt relatively safe travelling to and from the venues until some unqualified Trump judge in Florida somehow nixed every mask mandate in the country. BART kept masks, then it didn't. It has instituted them again, but those of us riding know the damage has been done. 
In the meantime, I continued to avoid venues that didn't care about mandates in the first place. The only bar I went to was Zeitgeist, where its former-Lucky 13 staffers were complete hard-asses about wearing masks indoors. The only club I went to was the DNA Lounge, which seemed to have the most strict vax check-in anywhere in the country.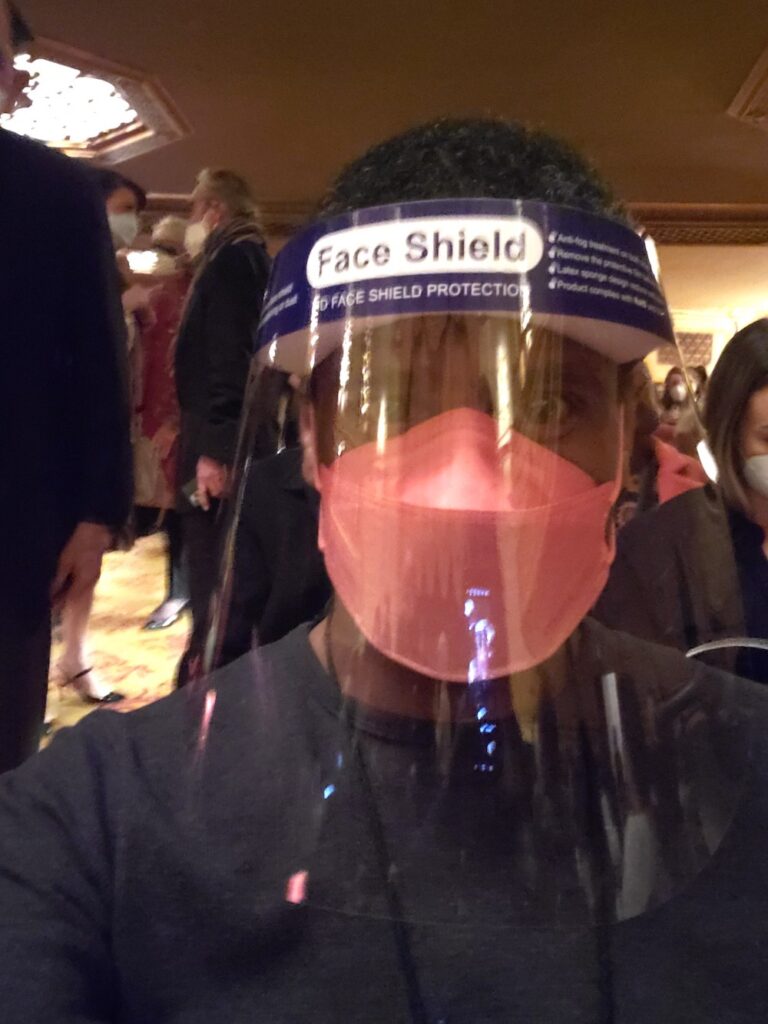 Then, I walked past Zeitgeist to see that no one was wearing masks at all. On April 19, the DNA Lounge—having been beaten into submission—was forced to drop its policies or risk closing. (Owner Jamie Zawinski wrote a heartbreaking blog post explaining it all, and calling out irresponsible venue owners.) As someone who almost never goes out for leisure anymore, I just lost the two places I actually did go.
Then I wrote how Twitter was purchased by an anti-vaxxer, leading to messages from acquaintances and strangers about how masking and vaxxing are one's "personal responsibility." I frequently countered that logical fallacy by saying that if you're forced to live with a chronic smoker because you can't leave, it's not just your "personal responsibility" when their second-hand smoke gives you cancer. Second-hand smoke is airborne—kinda like COVID. In both cases, you could (and should) wear a mask, but here's the thing: one-way masking is a Band-Aid, not a cure. Touting "personal responsibility" is gaslighting meant to avoid responsibility.
Speaking of which, I passed my six-month booster date, so I tried to get a second one. Unfortunately, they're not available to anyone under 50—and only 15% of those eligible have actually gotten it. Trying to get free COVID tests from Breed's Department of Public Health is a Kafkaesque nightmare. Just searching for them traps you in a Möbius strip of red tape and dead links that forces you to give up in frustration rather than find the life-saving medical test.
But hey, Breed says "Back to normal." That seems to mean reinvigorating SF's Financial District after remote work and The Great Resignation left those shiny offices nearly vacant.
Sure, they could tear down those buildings and replace them with residences, shelters, and other necessary facilities; sure, Breed could repeal the Twitter tax break and start taxing rich SF citizens and companies (something even Eisenhower did, and he was a Republican), but why act sensibly when The Chronicle prints a Monica Gandhi op-ed with the absurd headline saying masks don't work? (Gandhi, Peter Chin-Hong, and Leana Wen make up the medical equivalent of a pro-COVID Legion of Doom.)
I mean, it's not as if SF's current confirmed cases are among the highest in the country. It's not as if those cases are mostly breakthrough cases brought on by each stronger new variant. It's not as if even if one survives infection that they're still at risk for Long COVID—a condition we still know next-to-nothing about. And it's certainly not as if COVID-specific medical bills have increased the homeless population Breed is so eager to hide from the world! Yes, Breed certainly has the wishes and best intentions of her constituents in mind.
And that's the punchline of this extended April Fool's joke: she's not doing what the public wants. The people have made it clear, in no uncertain terms, that we want more mask and vax mandates. Yes, even the people who think "the pandemic is over". The only people that don't are the exact same ones who defend the Jan. 6 riot, support Putin marching into Ukraine, and who "squee!" at the thought of Roe v. Wade being repealed.
That aforementioned April 1 saw another headline kinda fly under the radar: the one about ivermectin. Remember that? It's the de-worming horse paste recommended by Joe Rogan. The report was that after a year-plus of clinical research and trial, scientists conclusively proved ivermectin—like hydroxychloroquine before it—does absolutely nothing against COVID. Zip, nada, zilch. Meanwhile, the BBC is tilting its head in confusion asking "Why is China still aiming for zero COVID?"
Why indeed. We're just starting our third year of a fighting a-virus-we-could-have-conquered-in-a-few-short-months-if-we'd-been-serious. It's a month after April Fools Day, and I'm one of the few not laughing.
You probably can't tell because I'm still wearing my mask. Two of them. And a face shield.