When photographer Harry James Hanson and writer Devin Antheus were considering San Francisco queens for a book celebrating national drag legends, they knew they had to start with Phatima Rude.
The singular artist—who moved to The City from suburban Minnesota in 1988 and quickly became one of its most familiar fringe performers at Club Uranus at the Endup as well as Trannyshack at the Stud—helped originate the scare-queen persona that decades later inspired the likes of RuPaul's Drag Race's Sharon Needles and The Boulet Brothers Dragula's Vander Von Odd.
While her look and performance style, which frequently involved staple guns, drills, and piercing needles, may have pushed some normies away, Hanson and Antheus write in their photography book Legends of Drag: Queens of a Certain Age that she was all about community building.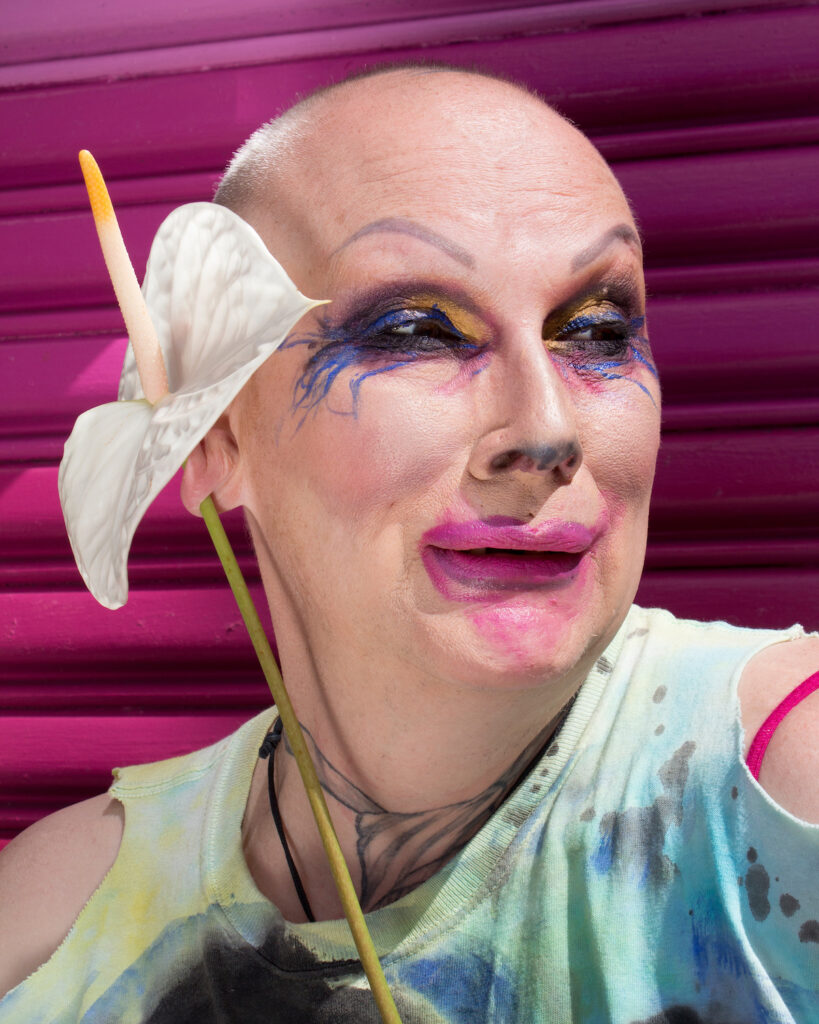 For newcomers, she cut hair, painted faces, offered outfits, and introduced them to clubs. For her daughters in the House of Rude, she was a devoted drag mother. She was also an activist who famously fought the SFPD for the right to hold queer space at anti-capitalist community Station 40, back in 2010. The authors conducted their photo shoot and interview with Rude from this Mission location back in 2018, three years before her death in May of 2021.
"We feel very blessed for the years of friendship we shared with Phatima," Antheus told 48 Hills. "Always an outsider wherever she went, she really demonstrates the power to be found in life on the margins. As a liminal creature, she was always welcoming neophytes to SF's underworld and continuously pushing the boundaries of what drag could be. She showed that life lived fully is the best antidote to the fear of death. She's deeply missed from the countless lives she touched, but her legacy lives on."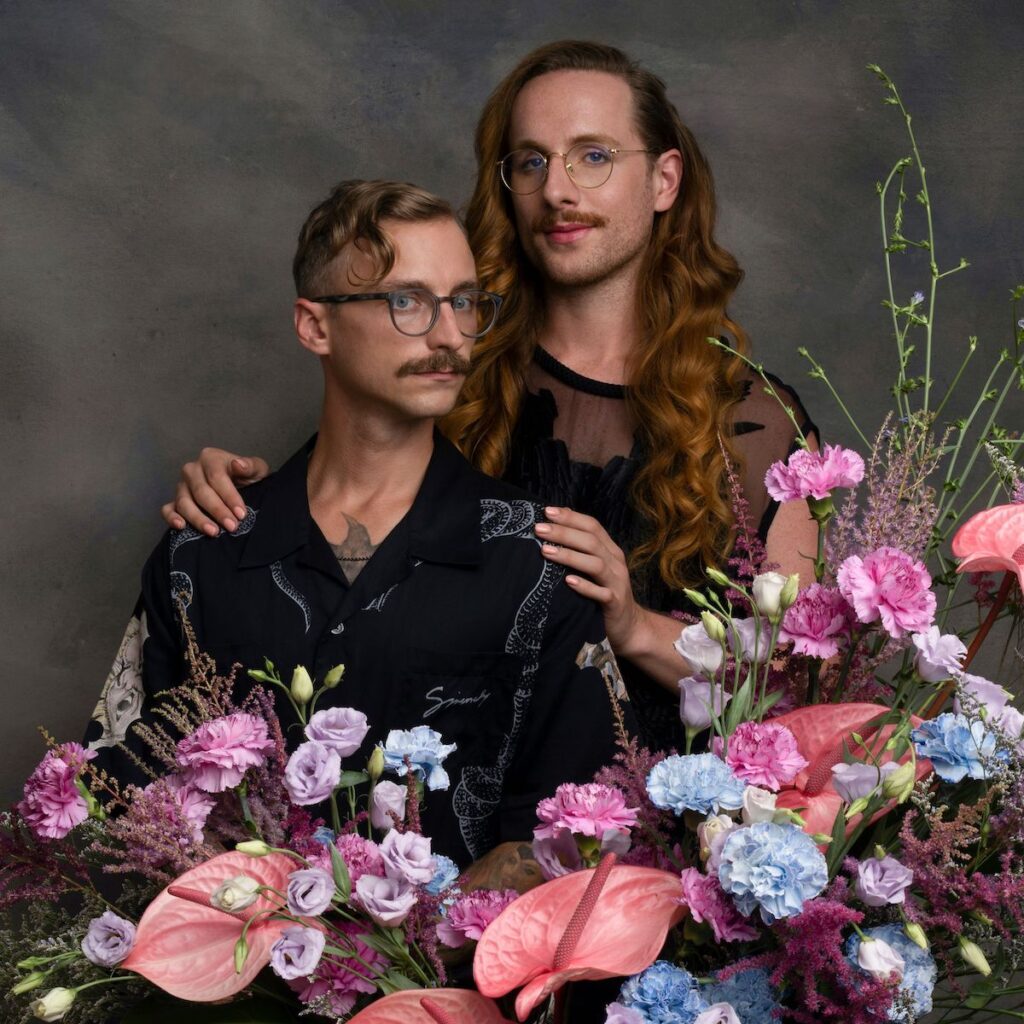 Rude's passing underscores the importance of an archive of living drag history like Legends of Drag. With the book, the authors also honor local icons Joan Jett Blakk, Carla Gay, Renita Valdez, Collette LeGrande, Olivia Hart, Glamamore, Juanita More, Mutha Chucka, Tita Aida, BeBe Sweetbriar, Sister Roma, Mrs. Vera Newman, Donna Personna, and Rumi Missabu, as well as dozens of others from across the country with striking portraiture and moving narratives.
I spoke to Hanson (a Brooklyn-based artist, creative director, and drag performer) and Antheus (a local floral stylist, spirit worker, and writer) about the inspirations behind the book, the importance of recognizing queens of a certain age, and how (amid book bannings and disruptions of Drag Queen Story Hours), Legends of Drag's histories should be regarded as templates for future queer resistance.
48 HILLS What was your first encounter with drag? Has your perception of the art form changed over the course of working on the book?
HARRY JAMES HANSON It's difficult to nail down a precise first encounter. Probably Bugs Bunny? I feel as though drag has always been a part of my life. The first time I fully stepped into that world was seeing The Rocky Horror Picture Show at Milwaukee's Oriental Theatre. The "anything goes" ethos really appealed to both of us, so we attended many late-night screenings as teenagers. Rocky was very much our drag boot camp.
DEVIN ANTHEUS Creating the book has brought into focus how drag is impossible to define in any singular, concise way. It's a series of gestures and rituals that can be interpreted and enacted in infinite permutations, none less valid than the other. That slipperiness is what makes it so magical.
48 HILLS Describe the night out that inspired Legends of Drag. What was it about seeing older queens performing that made you want to produce this book?
DEVIN ANTHEUS We found a palpable rawness and an inimitable refinement that comes with decades spent perfecting an art form. The quality of performance from the older girls simply cannot be bought. That was the evening of the winter solstice—the darkest night of the year— and we'd spent a few hours earlier, around sunset, doing a little ritual for the ancestors at the memorial on Market and 17th for queers who died in the Holocaust. That working perhaps had us extra receptive to the powerful current we felt flowing at Aunt Charlie's later that evening.
48 HILLS What made a drag queen a great candidate for your book?
HARRY JAMES HANSON We looked for queens who are already demonstrably leaders in their local communities: the mothers of drag houses, the long-time hostesses of the various dives and cabarets, those who've worked tirelessly behind the scenes to set the stage for the success of later generations and the continuity of the drag tradition. Besides that, we kept the parameters loose to be able to include a wide variety of queens representing different lineages, backgrounds, and aesthetics.
48 HILLS How do the queens in the book feel about being regarded as "queens of a certain age" and "queer elders"?
DEVIN ANTHEUS We actually picked up the phrase "queen of a certain age" from one of our models, Witti Repartee when we first shot with her at Coney Island. Some of the girls are squeamish about being described as elders but they also recognize it as a badge of honor, having survived unthinkable situations and being here to tell the tale. Many of them are surprised to find younger people interested in their stories but are happy to share. Ultimately, though age may be a unifying quality between our models, it's not really the focus of our inquiry. Regardless of their feelings, "legends" is a designation we can all agree on.
48 HILLS What was your experience like going from city to city to interview and photograph your subjects? What were some of the best experiences, and what were some of the more challenging moments?
DEVIN ANTHEUS Traveling, especially during the pandemic, brings all sorts of unique and unpredictable challenges but proved well worth it. Many queens historically made their livings on the road, and so taking on a type of nomadism ourselves really helped flesh out our understanding of the way things were. Going from city to city also allowed us to ask our contacts in one locale for tips and connections for the next.
Some highlights include visiting the museum-like houses of Rumi Missabu and Darcelle XV, tea time with Karen Valentine (an ever-gracious hostess), and having an audience with the notoriously reclusive Sir Lady Java, literally enthroned like a queen in her thoroughly bedazzled LA home.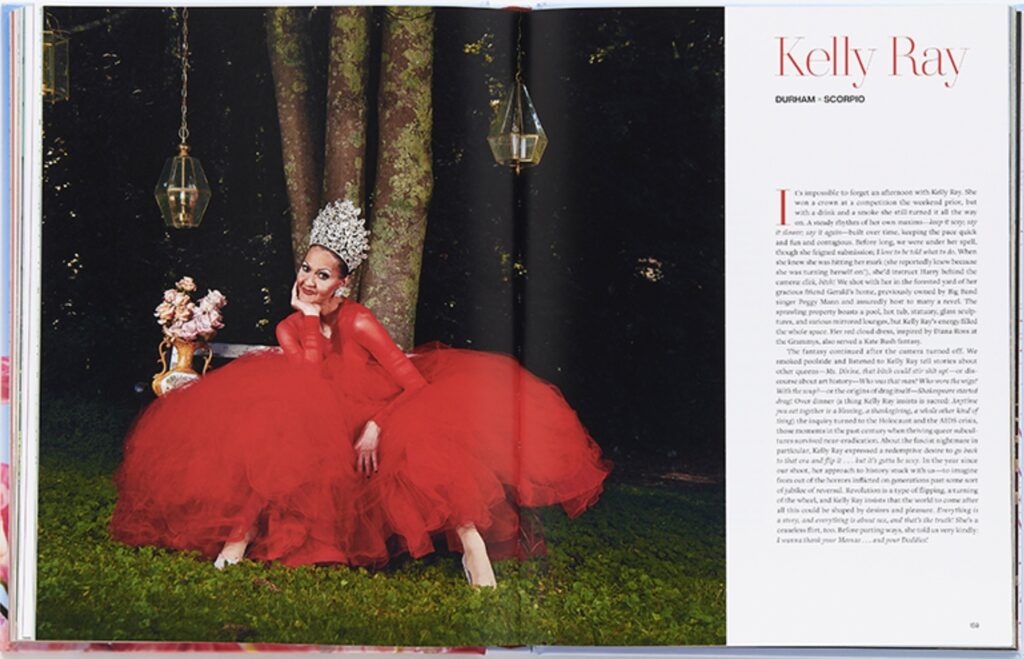 48 HILLS Harry James, how were these models different from your typical subjects?
HARRY JAMES HANSON There's a certain confidence and mastery of the craft that only comes with experience. When you've been doing drag for 30, 40, 50 years, you're a verifiable expert. My approach was less as a photographer shooting a subject, and more as an artist collaborating with another artist. These queens know their angles, how to pose, and how to enchant the camera, with very little direction from me. I'm just the conduit.
48 HILLS Devin, please explain the floral element in the photos.
DEVIN ANTHEUS Flowers reveal both the fleeting and eternal dimensions of beauty. Even in this secular age, they remain necessary at the biggest ceremonies of our life. We gift them to those we love, those who need healing, and at any cause for celebration. There is something both devotional and elevating in the inclusion of flowers in portraiture. We used the flowers to add layers of context to each profile, while also turning up the dial on the dream-like quality.
48 HILLS Why was it important to add their signs to their profiles?
HARRY JAMES HANSON We included our models' signs to offer another layer for our readers to interpret—more context to their place within our starry universe. The representation is fairly balanced throughout the book, though Virgos and Scorpios take the lead with 10 entries each.
Virgo perfectionism can certainly be an asset in this industry if you know how to channel it productively–and our girls do! All of the Scorpio queens are power players within their communities, which speaks to Scorpios' dogged determination. RuPaul herself is a Scorpio, after all.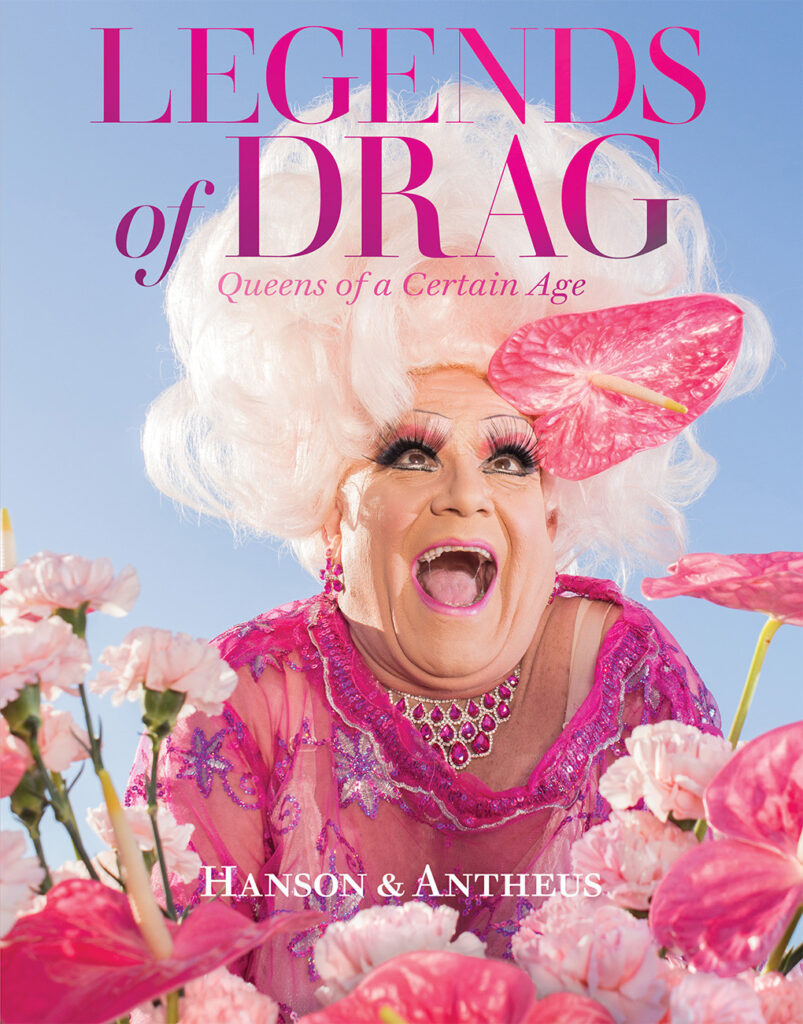 48 HILLS Four of the queens profiled in Legends of Drag passed away before the book was released, which, to me, underscores the importance of capturing these histories before it's too late.
DEVIN ANTHEUS Four of our models passed before the book's launch, and each one of them reaffirmed that we need to give the girls their flowers while they're still here. If the world is ending, this is how we've chosen to spend the end times.
48 HILLS With book bannings and disruptions of Drag Queen Story Hours, why is now the perfect time to put the book out?
DEVIN ANTHEUS Fascists of all varieties always need an "other" to exclude or destroy in order to cohere their fragile sense of belonging. This isn't the first time drag queens, trans people, and other gender rebels have fallen into the crosshairs and it likely will not be the last. By sharing the histories of those who thrived in the art form while it was still very much an outlaw practice, we're hoping to equip readers with strategies and tactics for resisting whatever repression our enemies engineer next. Rather than insisting on the family-friendly nature of drag, we'd rather leave bread crumbs for the next generations to unearth the quite subversive roots of the tradition.
You can purchase Legends of Drag at bookstores and online.