Mr. David, also known as Glamamore, is widely honored as the drag matriarch of San Francisco. That title is a big deal in a performance community as internationally influential as that of SF, but it hardly sums up his contributions to a vast family of gender artists.
For proof, you may look to the de Young Museum on Fri/13, when Mr. David will send over 200 dresses down the runway that he made for his best known drag daughter Juanita More. Mr. David has been a seamstress since 1978, and is responsible for some of SF's most glamour-fantastical looks over the past decades.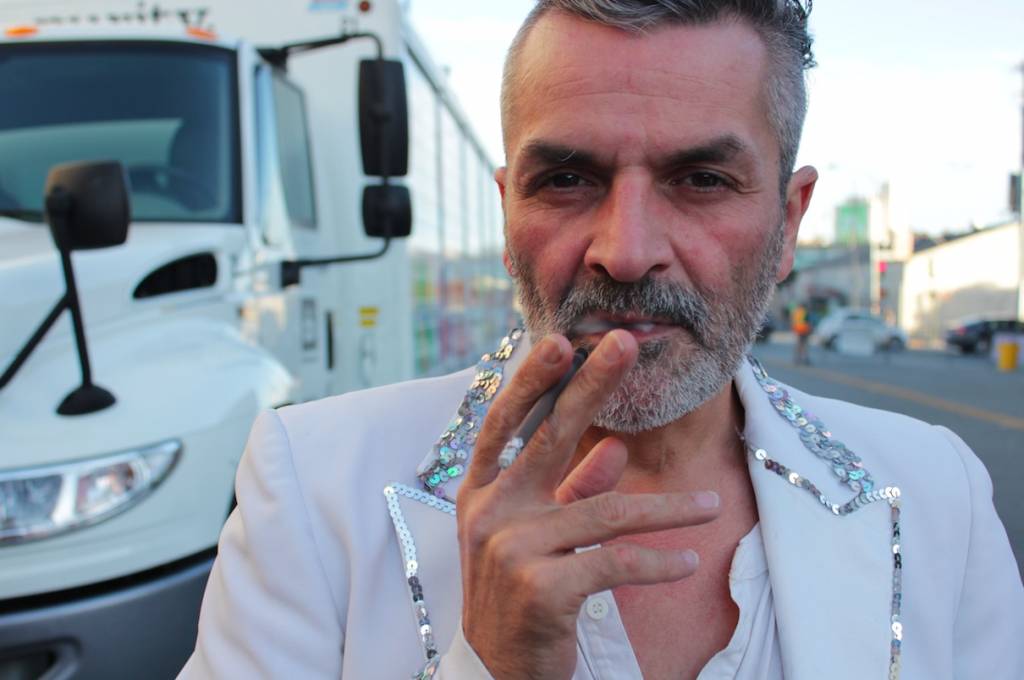 Mother and daughter estimate that what will be shown on Friday is a mere 10 percent of the looks that Mr. David has crafted for Juanita, a promoter, DJ, philanthropist and cookbook author, over the years.
Those familiar with queer nightlife in the city have met Mr. David. You can find him at the bar bantering with staff, or on the sidewalk out in front, smoke curling from one of the cigarettes that give him the gravelly voice of an old Hollywood star. Mr. David does much of his socializing in boy drag — less prep time involved so that he can better give an endless parade of club kids the floor to confide in him, ask him for advice, beg him for clothes.
Nightlife desperately needs, and seldom has, elders like these.
And then there is the matter of the SF aesthetic. Juanita More is among the most influential promoters in town, and her signature glamorous look has become the gold standard for many baby drags looking to snatch some perfection out of a world that can often be too crass, too boring, in the year 2016. Mr. David's looks on her are proof that you need not hew to society's norms to become an icon — really the only way to do that is reject them.
"I remember standing at the foot of the stage watching Glamamore perform for the first time and realized I was finally seeing real drag," remembered Juanita in an interview with 48 Hills. It was the 1980s, New York City, the glory days of the BoyBar Beauties. "During his performance I knew that I would someday be connected to him." 24 years ago, Glamamore put his offspring in drag one night before Halloween. "It happened and it hasn't stopped," said Juanita.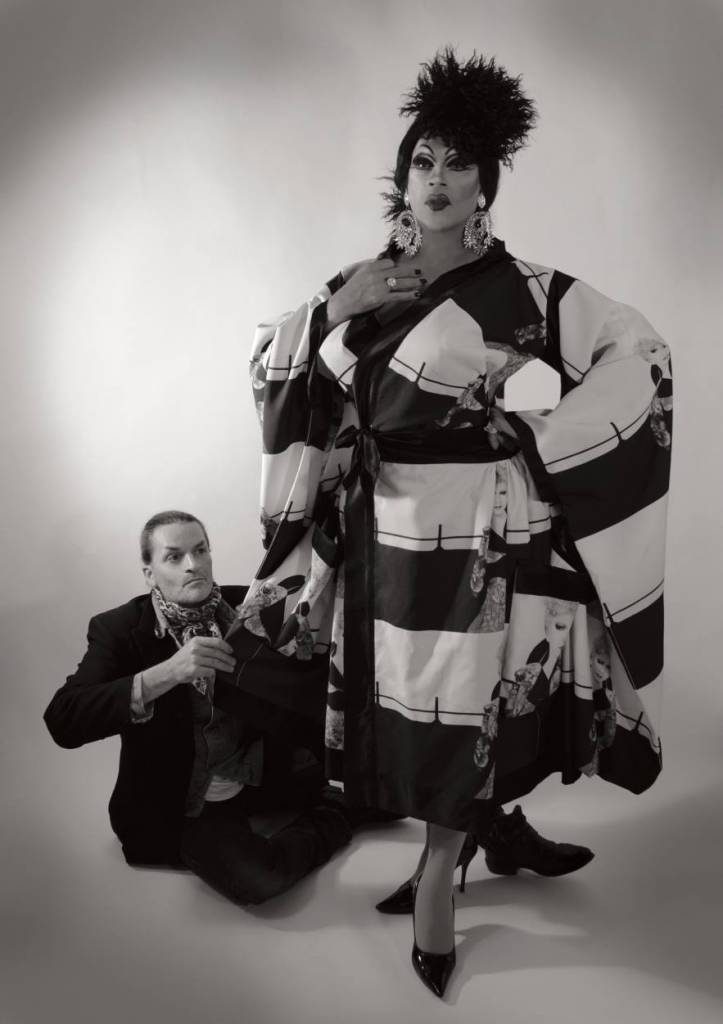 It's hardly a stretch to say that this runway show represents the very best of what the Bay has to offer; creativity born out of love not profit, queer excellence, and the tight bonds of chosen family.
"Mr. David's effect on the drag community is huge," said Juanita. "He is respected immensely as both a performer and couturier. The love he has of his craft shines through in everything he does."
Having tried many times over the past years, I can tell you that Mr. David is impossible to get a scheduled interview with — impossible! But luckily this time Juanita (who often serves as mom's PR liaison, among other helper roles) volunteered to sit him down and administer the questions for 48 Hills.
48 HILLS Can you estimate how many people you've made custom designs for? 
MR. DAVID I've had some kind of worldwide business in fashion since 1978. It feels like I've been sewing a dress a day since then.
48 HILLS How many looks will be sent down the runway at the de Young?
MR. DAVID There will be an easy 200 pieces shown at the de Young — which is really only about 10 percent of what I've made for Juanita.
48 HILLS Where on earth are all these garments stored?
MR. DAVID Most of them are stored primarily in a storage unit in SOMA. They are housed in clear plastic bins by color — except for some of the more delicate organzas.
48 HILLS I know SO many people who would love a dress from you but you are so b u s y. I know you don't choose your clients based on how much money they can pay — how do you choose who gets frocked by Mr. David?
MR. DAVID It's never about the money — never has been. It's like choosing a lover. There has to be some kind of turn-on or connection.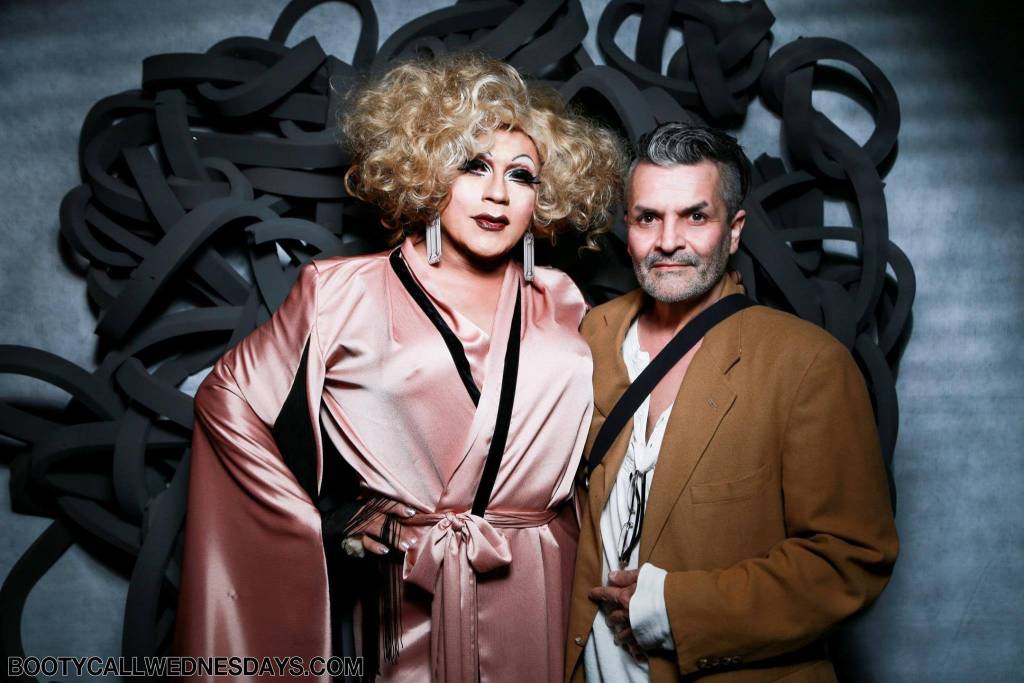 48 HILLS How did you start making clothes? When? Where? Who taught you?
MR. DAVID I started sewing at three years old. Then I started going to a specialized school that allowed it's students to find their artistic outlet. One day they saw me sewing and from then on — let me sew! My mother was fully supportive and even egged me on.
48 HILLS Describe your process for creating a look for a performer. Do you make patterns? Are they always the ones to come to YOU with an idea, or are you ever like I must put this look on this body.
MR. DAVID My clients are my main inspiration. When we work together it is usually a symbiotic relationship — someone will come to me and say "I need to look like a hotdog" and I'm totally okay with that. It's rare that I push my own specifics on someone. It's always a union. Every so often I'll come up with an idea for an outfit but then never find the right person to wear it. And I've never liked making stuff for hangers. Which is why you won't see my stuff in a store.
48 HILLS What's it been like for you, seeing this drag boom? The art form is so popular now, what effect do you think the squadrons of baby drags have had on how drag is practiced and, maybe most importantly, its role in society?
MR. DAVID First off, drag plays an important role in our world. I get excited when I see the fledglings within my own personal circle express their creativity and eagerness to strive for excellence. I think drag is simply a part of life — I mean it dates back 40,000 years. So whether we like it or not, it's here.
48 HILLS What constitutes good style, in your opinion?
MR. DAVID Mmmmmm. It's a combination of daring and paying attention.
MR. DAVID FOR JUANITA MORE: 24 YEARS RUNWAY SHOW
Fri/13, 7:30pm, free
de Young Museum
More info here.