Is there anything, really, that drag goddess Juanita MORE! can't do, besides hook me up with that cute cub at the afterparty? (Oh wait, that happened.) Mother of the House of MORE!, community leader, activist, DJ, party promoter, gourmet cook, artist's muse, fashion model, Latina groundbreaker… the list goes on and on and on and on. Pretty much the only things missing from her glamour directory is a signature scent and a synthpop-freestyle crossover album she cut in the late '80s that got bargain-binned but is now a cherished collectible. We're expecting those imminent reveals, however.
Before the shutdown, Ms. MORE! was incredibly busy with her Powerblouse and Beatpig parties at the Powerhouse bar—which transformed drag newbies in mighty queens and scruffy boys into squealing freaks, respectively—as well as feeding the children with her delightful and often charitable pop-up menus. This gal was even solving the housing crisis by helping to match queers in need with suitable situations on her amazing Juanita's List Facebook group. And of course, the annual Juanita MORE! Pride Party was one of those can't-miss annual civic events that everyone loves but no one can seem to remember.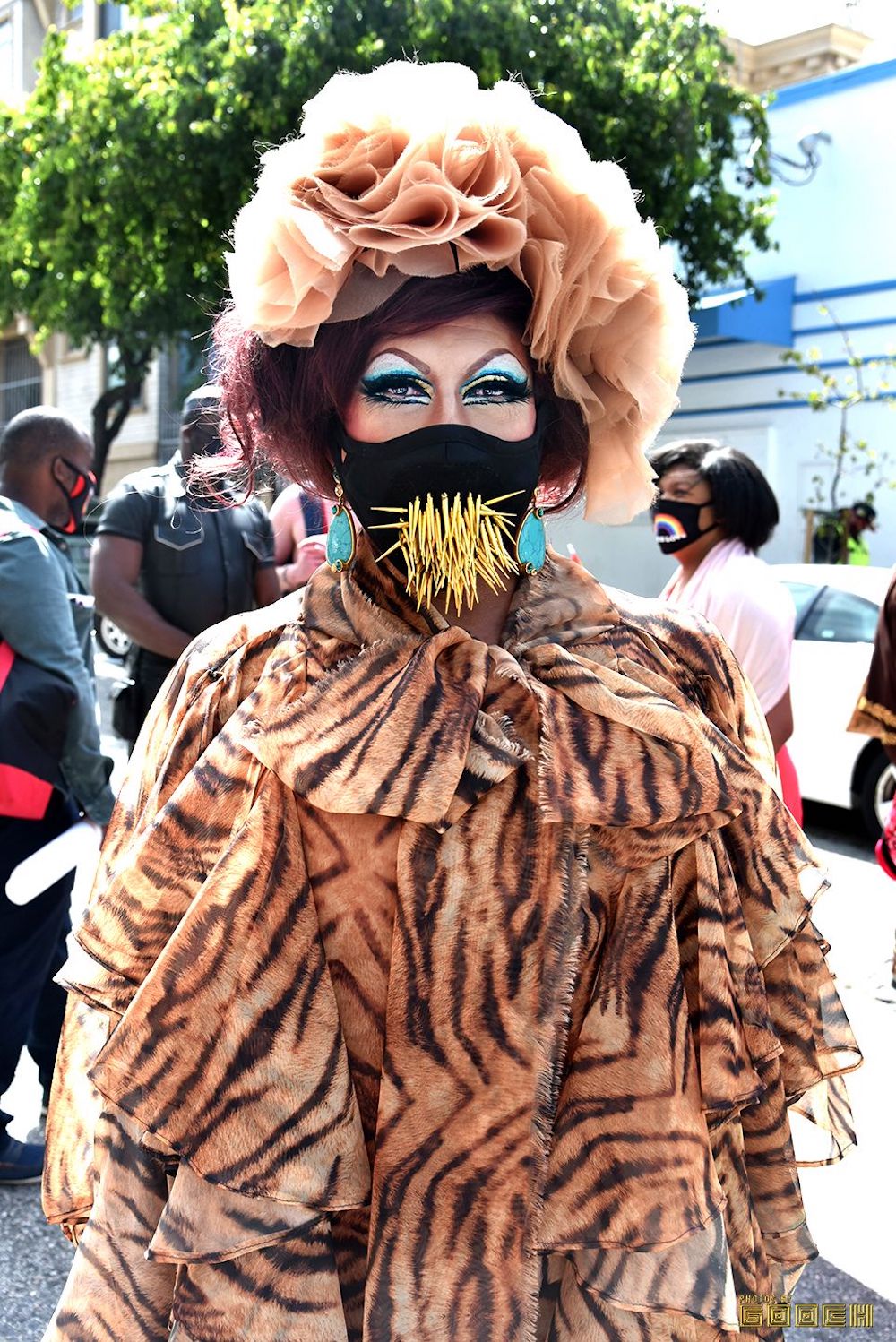 The pandemic didn't slow her down, either, as she organized the massive Peoples' March on Pride, which combined the original protest spirit at the root of Pride with the queer power of the Black Lives Matter movement.
Now she's actually snagged a real crown, as Empress LVI of San Francisco—via the San Francisco Imperial Council, the nation's oldest LGBTQ charitable organization—alongside drag legend and couturier to the queer stars Emperor LVI Mr. David Glamamore. (Her full title is "Her Most Imperial Majesty, La Hembra de la Jefe Wants More! From the Liquor Store, The Reigning Empress of San Francisco Juanita More! of The Court of More is MORE!")
And with the reopening, her Juanita MORE! Pride Party is back on in full force, Sun/27, noon-10pm at Jones, with an incredible lineup of DJs and performers, all benefiting the Imperial Council's good works, of course. I spoke with Empress More as the Pride festivities ramp up.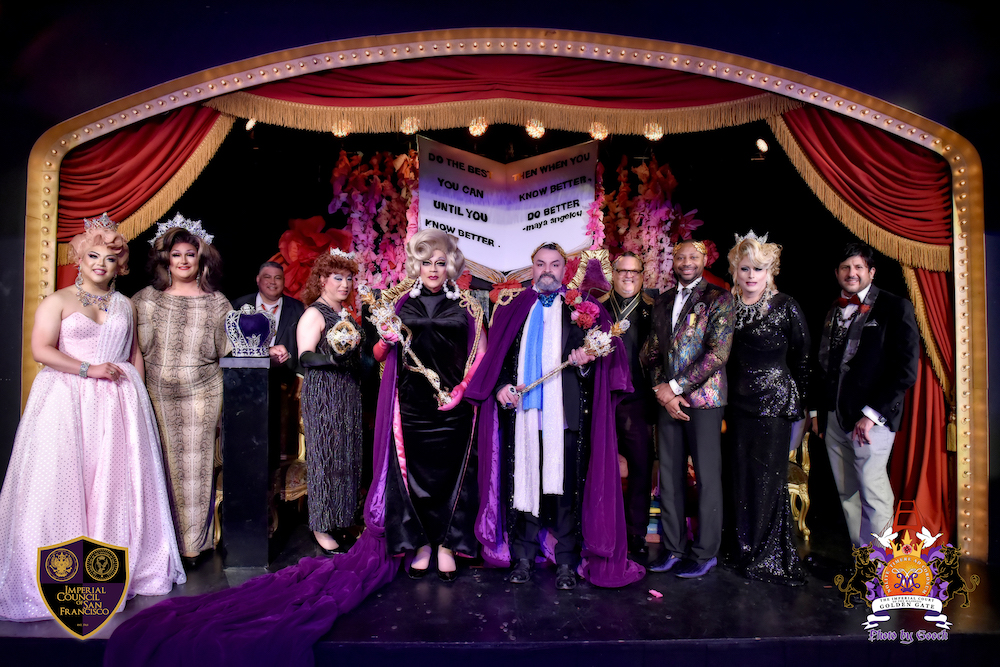 48HILLS Finally, the title you deserve! Congratulations on being crowned Empress. Can you tell me a little bit about your platform and what you intend to do for the community in this vaunted role?
JUANITA MORE! What an honor it is to be Empress to the Mother Court here in San Francisco. I intend to work with the Imperial Council to continue Her Royal Majesty, Empress of San Francisco, José I, The Widow Norton's legacy. My goal is to shine an even brighter light and modernize the Imperial Court's future as the oldest LGBTQ+ organization globally.
I've been an active member of our community as a mother, civil rights activist, and philanthropist for the past 30 years —and I believe these years have prepared me for this position! I've also had the opportunity to work closely with many of our cities leaders, activists, and social icons to bring people together and evoke positive change.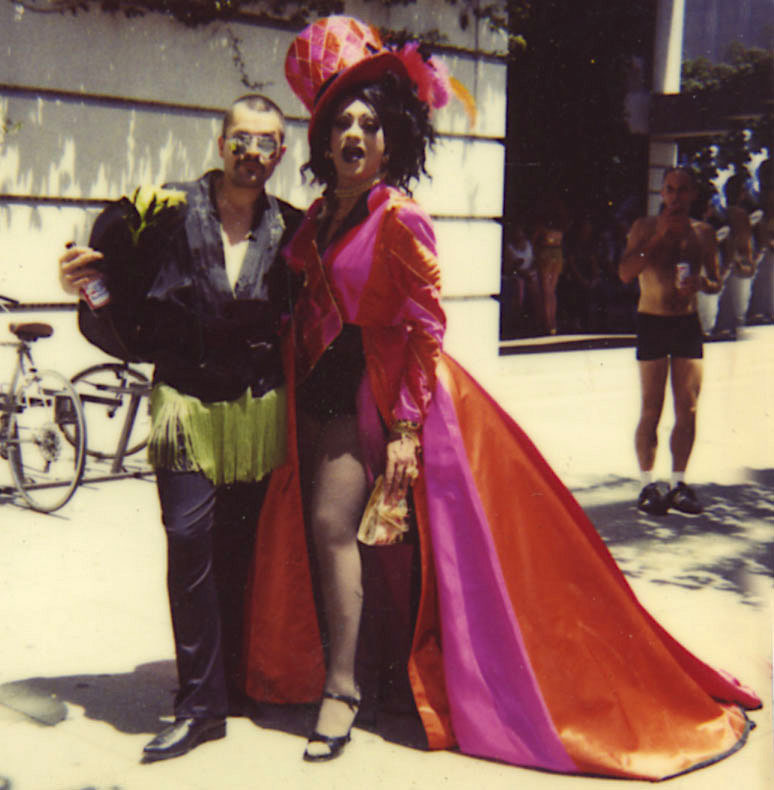 48H How did it feel to be crowned alongside Mr. David as Emperor? You two have been on such a journey together.
JM Mr. David and I met in 1987. I watched him perform at BoyBar on St. Marks Place in New York, where he demanded every bit of my attention. He captivated me in a way that no other queen had, and for a moment, it was as though I had never seen drag before. I knew right then that I would someday become friends with this person onstage. The MC asked us to give her a big round of applause and introduced her as "The Hog Queen of lip-sync—Glamamore."
A few months later, my boyfriend and I went to the airport in a limousine to pick up his best friend, clothing designer Mr. David, who was in Los Angeles working on a project. Little did I know that it was Glamamore, the queen on the stage that night at BoyBar.
We were friends from the moment we met—he's my mother, father, sister-brother.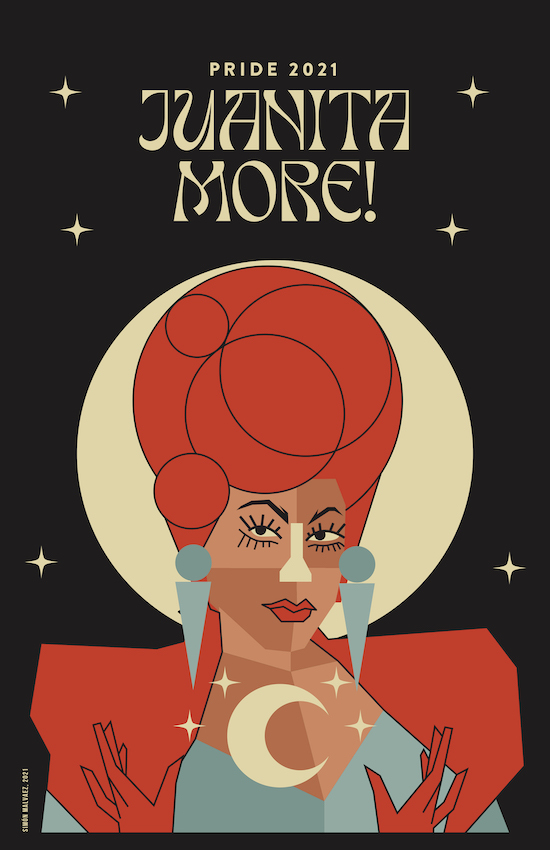 48H Your Pride party is coming back, and just as we fully reopen nightlife. What is the significance of that return, as we've turned a local corner on the pandemic? What are you looking forward to most, besides a refreshing cocktail in a bar, finally?
JM This year will mark the 18th anniversary of this party. I'm proud that we have supported some of San Francisco and the Bay Area's most impactful organizations. Of course, I am anxious and excited to see family and friends I haven't seen in over a year. As your newly crowned Empress, I am proud to have the Imperial Court of San Francisco as one of the beneficiaries.
And, at the beginning of the pandemic, I joined the steering committee of the San Francisco Bay Area Queer Nightlife Fund, which will also benefit from the donations. They have provided relief, resources, and opportunities to LGBTQ+ nightlife workers and entertainers affected by COVID-19 throughout the last year. QNF aims to prioritize funding to women, transgender, gender nonconforming, nonbinary, queer Black, Indigenous, and people of color. Even on this tail end of the pandemic, many of our local workers in queer nightlife still need help. Many are still not working or are underemployed until their places of employment fully reopen.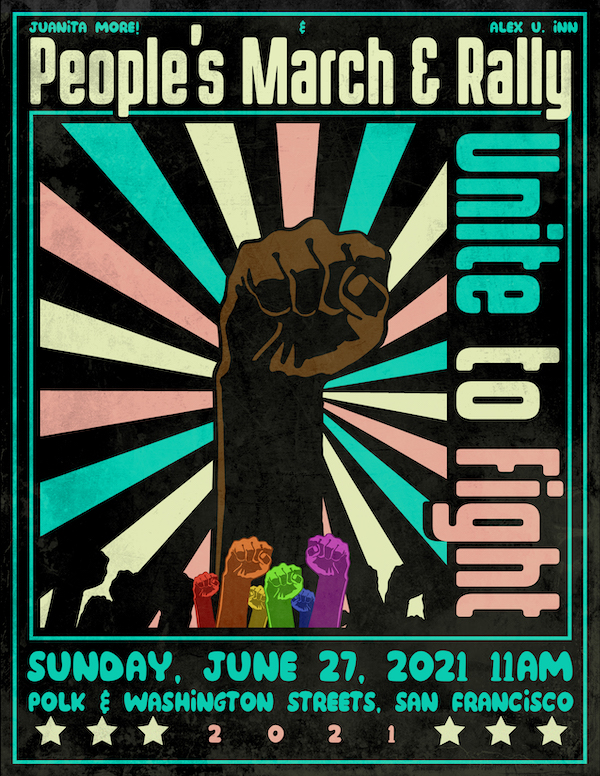 48H The Peoples' March is also happening again I hear—are you involved again this year?
JM The People's March is as important this year as it was in 2020. The fight for equality and civil rights is not over. I'm proud to organize this powerful event again with Alex U. Inn—we are a feisty pair. We are asking everyone to meet at Polk and Washington Streets at 11am on June 27, where the original route of the first Gay Liberation March happened 51 years ago.
Together we will roar our voices at Civic Center in solidarity with our Black, Brown, and Indigenous Trans and Queer family, friends, lovers, and neighbors. It was magical last year and will be again.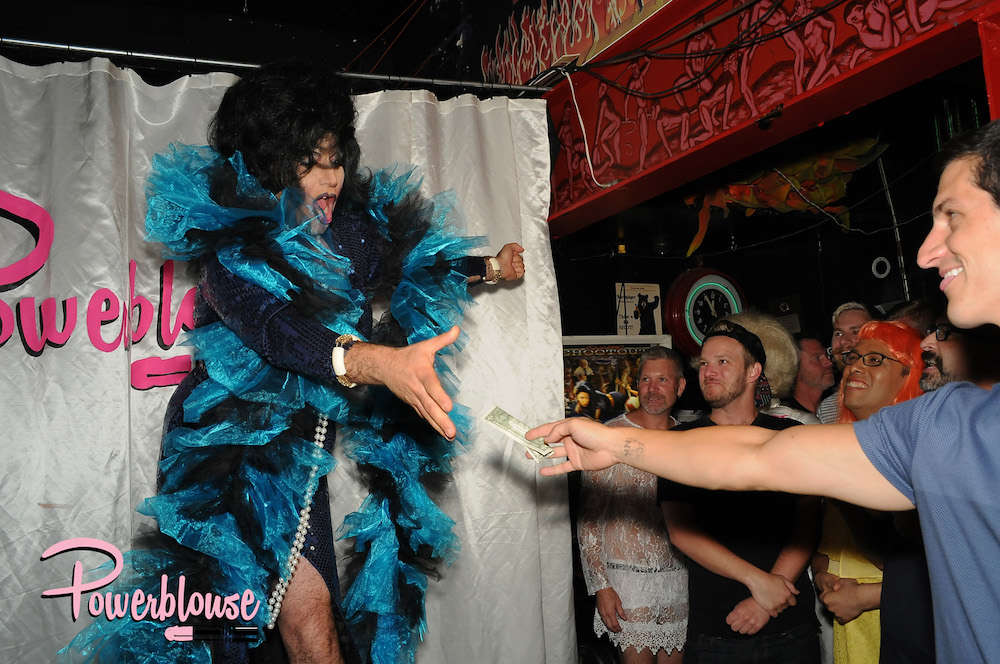 48H Besides your Reign of Terr…iffic gowns and acts, what else is in store from Empress Juanita More? Will your parties Beatpig and Powerblouse return?
All things MORE! will continue! As both Powerblouse (which you were the first Mz. Blouse) and Beatpig return. Glamour and Pigs—what more can you ask for?!!
I've spent more than a decade at Powerhouse Bar as a party promoter, do-gooder, mother of the house, and shit-stirrer. It's a place that I consider a second home and where I've watched my queer family grow tremendously. The monthly club night Beatpig, which Walter and I host is now 10 years young! To date, we have donated over $25,000, helping to advocate for fair employment, prison conditions, education, immigration, healthcare while protecting and advancing the rights of transgender and gender-nonconforming people across the country.
Moving forward we will be supporting the great work at TRUTH (TRans yoUTH), a joint program between Transgender Law Center and GSA Network. This program seeks to amplify the voices of trans and gender non-conforming young people by offering a safe place to share struggles, learn empathy, and build public understanding.
Powerblouse will kick off on Saturday, July 3 with Rahn D. Fudge getting the full-fantasy drag makeover. I'll be joined with Glamamore and Voodonna Black! This party will support the Imperial Court of San Francisco. Beatpig will return July 18.