A Board of Supes committee today approved what could be a profound change in citywide politics—with very little visible opposition.
The Rules Committee voted 3-0 to forward to the full board a City Charter amendment that would move the mayor's race to the same year as the presidential race, potentially increasing turnout by big numbers.
Other citywide races for district attorney, sheriff, city attorney, and treasurer would also be held in even-numbered years.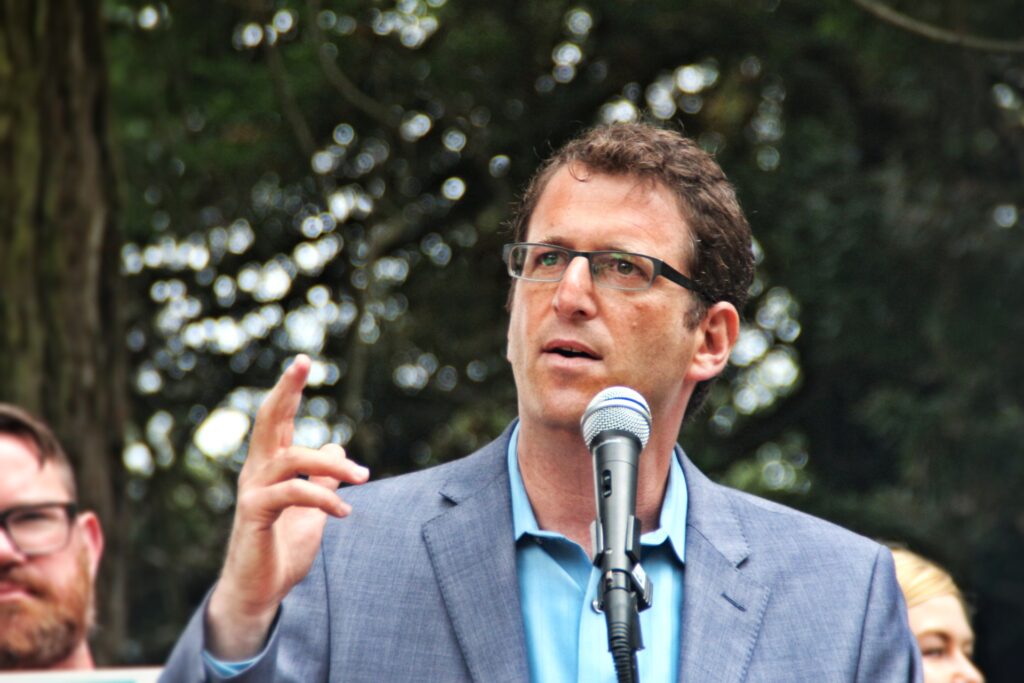 The committee had few questions, and few spoke against it. "Your logic is unassailable," the committee chair, Aaron Peskin, told Preston.
Common Cause, the national pro-democracy organization, agrees. In a 2021 report, the group found that moving municipal elections to even-numbered years triples turnout in California cities.
Los Angeles and San Jose recently made that move, after state legislation mandated cities from holding off-year elections if turnout was 25 percent lower in those years.
The data shows that the drop-off is particularly dramatic among low-income voters and voters of color. From Preston's office:
In November 2020, ​​86% of total registered voters cast their votes, in contrast to 41% in November 2019. With respect to low-income voters, over 70% of registered voters making under $50,000 voted in November 2020, while less than 40% of voters in the same economic range cast their ballots in November 2019.
A poll by David Binder and Associates shows that 74 percent of likely November voters support the change. But it's still not entirely clear that this will make the ballot.
But Mayor London Breed opposes the measure, and has been organizing and lobbying against it. In a letter to the Rules Committee, Breed said that the measure hadn't been fully studied, and that San Jose and LA had made the changes after a long public process.
There's more involved here. The big-money allies of the mayor don't like this idea at all. I think it's safe to say that if the last mayoral election had happened during a presidential year, there's a good chance we would today be talking about Mayor Mark Leno or Mayor Jane Kim.
Sup. Rafael Mandelman said he was worried that eliminating off-year elections would make it harder to pass bond acts, since there would be less opportunities. I get that, and I get that it's not a bad idea to have municipal elections every year.
But the voter-turnout argument is also pretty powerful—and the fact that the mayor and her allies oppose it (even though in this case it would give her an additional year on her current term) says a lot.
That moves to the full board.
So does a measure by Sup. Ahsha Safai that would create a commission to oversee the Department of Homelessness and Supportive Housing. That is one of the city's biggest departments today, with a $700 million budget that rivals the Police Department—but it's controlled entirely by the mayor, with no real opportunity for public input.
So the supes were receptive—except for one problem: The new commission would still be controlled by the mayor, who would appoint a majority of the members. One of the people appointed by the mayor would have to have "a record of participation in a merchants' or small business association, or neighborhood association."
That, said Jordan Davis, a longtime advocate for supportive housing, was a serious problem. "I have been harassed and subject to transphobic attacks by members of these associations," Davis said.
Davis also said that "it doesn't make any sense" to take a system that has failed under the mayor and let the mayor continue to control it: "Why even bother?"
Other callers who have experience working with the homeless community echoed that sentiment: Giving the mayor control of the commission means more of the same.
But Safai said that the City Charter calls for a strong mayor, and that person should have authority to run departments.
Sups. Peskin and Mandelman voted to forward the measure to the full board. Sup. Connie Chan did not.
And it appears, if the full board goes along, that a board measure on affordable housing, which is an alternative to a Yimby measure, along with a measure that would require developers who get density bonuses to accept rent control, will also be headed to the fall ballot.