On Thursday, October 6, John Crew, the longtime police-accountability advocate, gave an impassioned speech at an event for DA candidate John Hamasaki. A neighbor found him a few hours later, Friday morning, slumped over the steering wheel of his car, dead of what was probably a heart attack.
He was 65.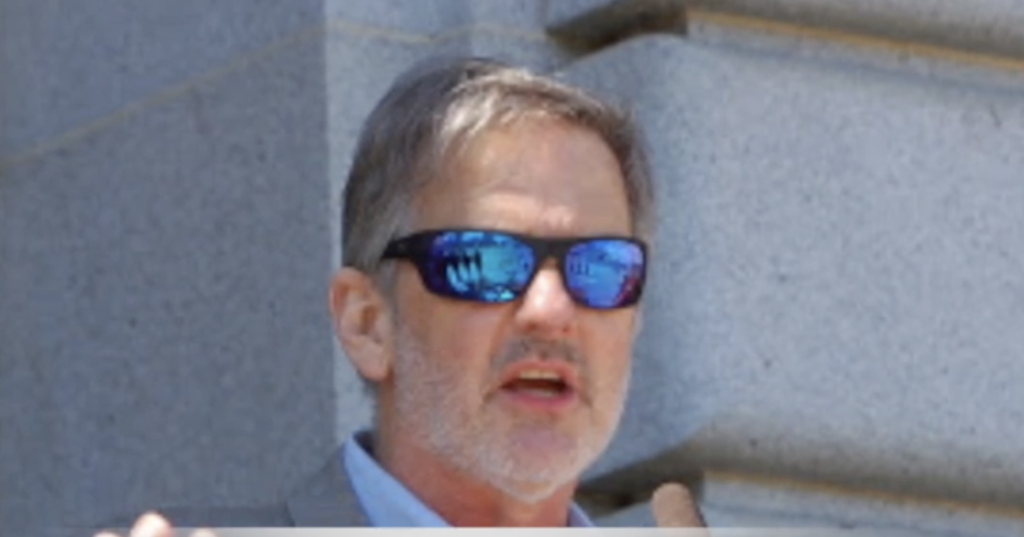 I can't even begin to say what a tragedy this is. John was, as the SF Standard writes in an excellent obituary, indispensable. He was a tireless and brilliant advocate for reform. He knew more about the workings of SFPD and police policy than most people alive. He was never, ever afraid to speak up in the face of injustice.
He was a dream source for journalists, always available, always accessible, always reliable—and always quotable.
He was also a great guy.
"John was always there for you," former Supervisor and state Assemblymember Tom Ammiano told me. "When you would get beat up and discouraged, he would keep you going."
John never got discouraged, even in a world where victories were rare and hard fought. Even in retirement, he was constantly engaged, sending off long, detailed emails to me (and many others) talking about the ongoing problems in the SFPD.
From ACLU Northern California executive director, Abdi Soltani:
The ACLU of Northern California extends its deepest condolences at the passing of John Crew to his family and friends. John has been an integral part of the ACLU community over decades, beginning with his role as our police practices attorney, as interim executive director, and then serving as an advisor and collaborator. He was a tireless and strategic advocate for police accountability. Just this week I asked him if he ever considered writing or teaching to pass on his knowledge, and he said his greatest joy has been doing this work shoulder to shoulder with the next generation of advocates and imparting what knowledge he has and learning from new advocates at the same time. We are forever grateful for his generous spirit, and we will continue his legacy.
Like many, many, others, I will miss him.
Here's an interview with him on SFPD contracts and practices from Steve Zeltzer and the Labor Video Project
Sups. Dean Preston and Hillary Ronen have called a special hearing at the Government Audit and Oversight Committee to look into Mayor London Breed's practice of requiring pre-signed and undated letters of resignation for commission appointees.
They have asked the Mayor's Office to respond. I wonder if Breed will send anyone.
That hearing starts at 10.
The San Francisco Planning Department released last week it's latest update of the Draft Housing Element, the plan for providing housing in the city for 2023-2030.
It's a remarkable document.
The draft shows that the city is nowhere near able to meet the state's Regional Housing Needs Assessment goals, and it will talk some truly radical approaches to come even remotely close. For one thing, there's not a lot of vacant or underutilized land in the city. The city estimates that it has room for maybe—maybe—60,000 new units, and that's 30,000 fewer than that state wants.
Unless San Francisco wants to rezone all of the remaining industrial and light-industrial land for housing, eliminating all of the blue-collar jobs, all of the warehouse space, production, distribution, and repair space, and utterly transform the local economy to wipe out tens of thousands of jobs and many small businesses, there's just no way to build that much housing.
And there is no way, and no plans, to build even a tiny fraction of the affordable housing the state is mandating. Here's one of my favorite quotes:
"Identifying additional funding for affordable housing will be crucial to meet targets for lower income units."
There is nothing in the plan, or an any other planning document, or any plan that anyone in the Mayor's Office has set forward, that comes close to providing the $19 billion the city needs to meet the state goals.
I've been asking all the candidates for supervisor, particularly the folks allied with the mayor and the Yimbys, where that money is going to come from. Nobody can give me an answer. The most honest response came from Sup. Matt Dorsey: "I don't know."
It now appears we don't have the answer to how we are going to create space for the market-rate housing the state is mandating either.
I know what some of the Yimbys want: highrise, dense housing in every single neighborhood, particularly on the West side of town. That would by definition and necessity mean bulldozing a lot of existing single-family housing and creating a lot of very small apartments, which is all that private developers want to build these days. Bigger units just "don't pencil out."
That is: The "market" we are relying on to solve our problems is incapable of solving our problems.
Which brings us to the Sunset Forward plan, which comes before the Planning Commission Thursday/13.
Sup. Gordon Mar is slated to help present the plan, which is the result of several years of community meetings and input. It's one of those things that sounds great—and is, on paper.
But it also depends on a vast amount of new funding for affordable housing that doesn't exist. And implementing the plan would mean preserving and expanding family-sized housing units, which private developers aren't interested in building (except for the very high-end luxury market).
Here are the main goals of the plan:
Providing affordable housing for low-income households and maintaining long-term affordability.

Building more housing for moderate incomes

Ensuring new housing is family-friendly with two- and three-bedroom units and access to outdoor space.

Strengthening anti-displacement and tenant protections with new development.

Providing seniors with a wide-range of options to age-in-place, including in their own homes.

Addressing potential impacts to infrastructure and transportation with new housing development.

Ensuring financial feasibility of new affordable housing models.

Pairing new housing with community services and preventing the loss of community-serving spaces with new housing development.

Ensuring Sunset residents can qualify for new permanently affordable housing.
The commission will probably approve a resolution endorsing the plan, which has broad community support.
It will not help meet the state-mandated RHNA goals.
All the city has to do, technically, is make space available for developers with new zoning and "streamlining" rules, and that will get the state to approve the Housing Element and avoid bad consequences. But this is all a joke: Nobody can force developers to build, and they won't unless they make a lot of money, and nobody right now can make money building affordable or middle-class housing.
Why are our state legislators not even talking about this? Because the whole RHNA process needs to change (including massive new state funding) or cities like SF will never, ever actually meet these goals.