A strong part of Jewish culture is expressing love through food. With new businesses making bagels, pastrami, babka, and more, the greater Bay Area is building a fresh Jewish food scene that also embraces the global tastes of the region, and now is a particularly good time to support it.
This new garden was planted about a decade ago; the eldest of these featured San Francisco-based restaurants and food spots is just 10 years old, but it's now the OG holding it down around here. Nab some nosh at our picks below, and read on for Jewish food events to put on the calendar for the remainder of 2022.
Wise Sons Jewish Delicatessen
When Wise Sons Jewish Delicatessen opened its first restaurant on 24th Street in San Francisco's Mission District in February 2012, it was the culmination of two years of pop-ups, farmers market appearances, and truck stops. The landscape for Jewish delis wasn't huge in San Francisco at the time, but there were two notable ones open for business: Miller's East Coast Deli on Polk Street and Moishe's Pippic on Hayes Street.
Wise Sons has since expanded throughout the Bay Area (including an outpost in SF's Contemporary Jewish Museum) and into Southern California, and now it's the only one of these three delis that are still open. Moishe's Pippic served deli fare for 26 years until it shuttered in 2013, while Miller's closed in 2019 after 18 years in operation.
This is a place to come for Jewish deli standards as well as new ideas. Over the years, Wise Sons has increasingly reflected the tastes of San Francisco on the menu: one of the best orders is to get kimchi on your regular or vegan smoked mushroom Reuben with Russian dressing and a side of Chinese-style chili crisp mixed with all the spices you'd see on an everything bagel.
Only one plea to Wise Sons, if they're reading: please bring back the black and white cookies!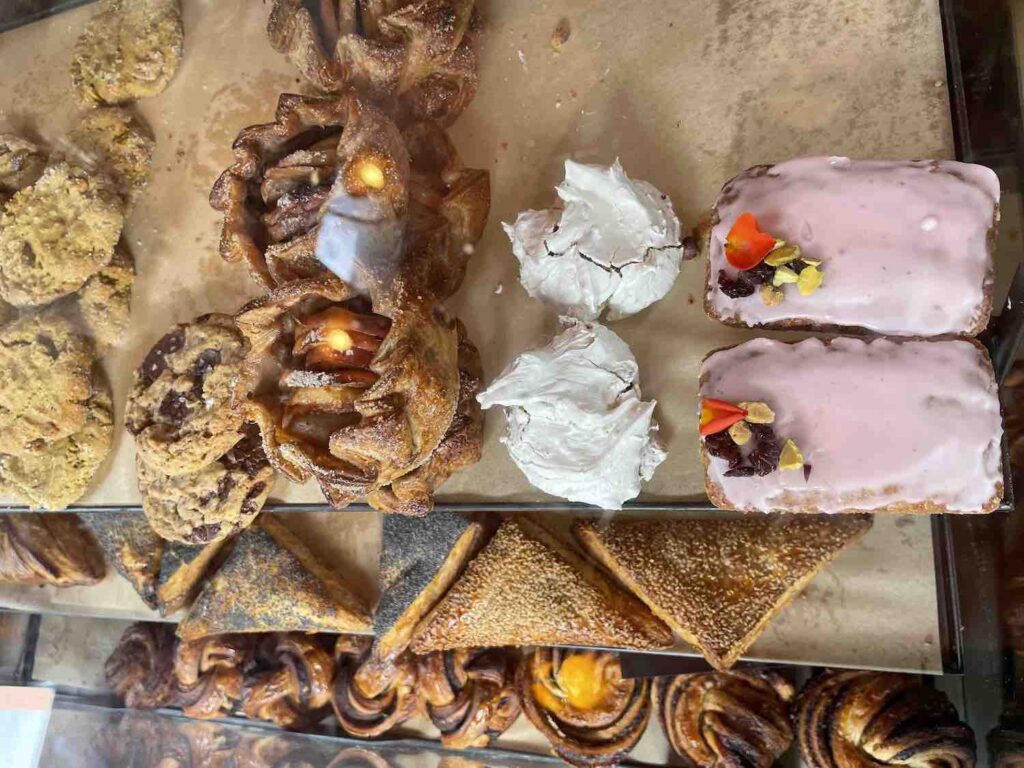 Loquat
A new Jewish and Levantine bakery and cafe called Loquat opened in the former 20th Century Cafe on Gough Street a few weeks ago. 20th Century's famous Russian layered honey cake will still be missed, but Loquat has a few early highlights to check out, like a brownie swirled with a sweetened sesame candy (halvah) and a cheesecake made with labne (a fermented dairy product similar to yogurt). If you're dining in, you can also order a hot breakfast platter and other limited morning specials.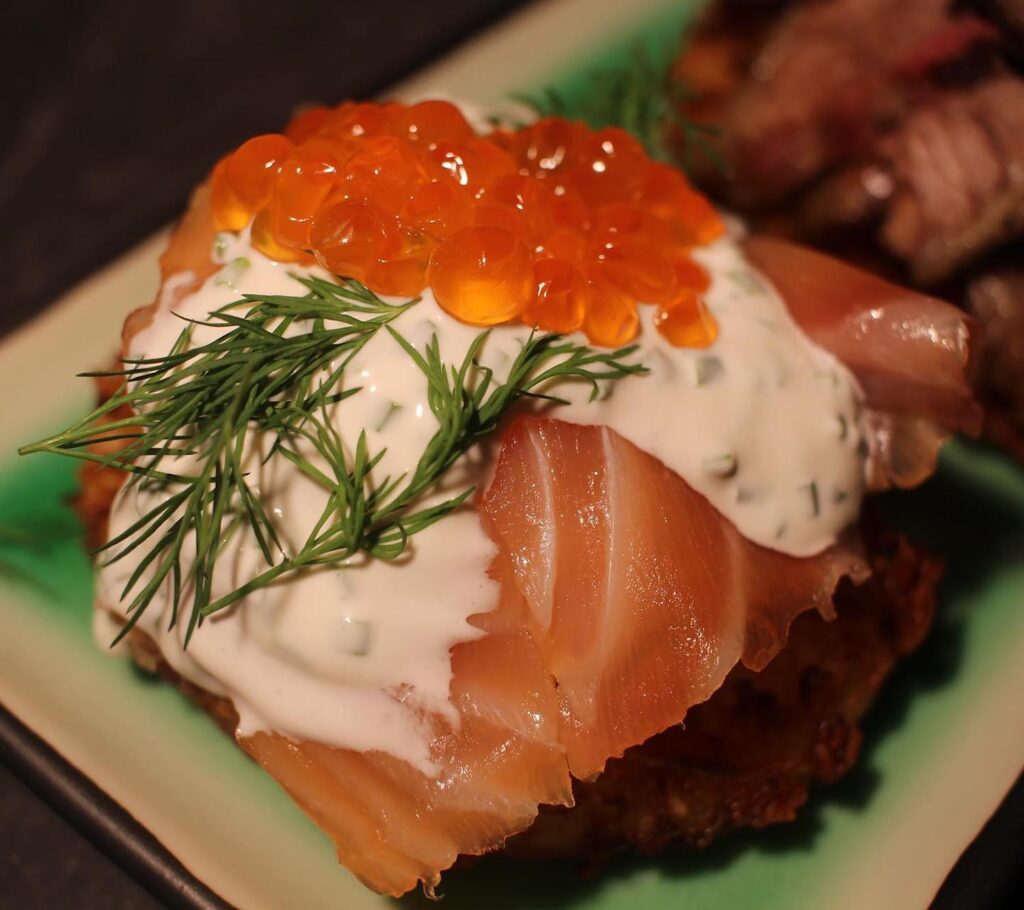 Mark 'N Mike's NY Style Deli
One Market Restaurant launched Mark 'N Mike's NY Style Deli as a new option for takeout and delivery during the pandemic. The concept now sits alongside One Market's original strengths, like prime rib dinners, and has since expanded to the Foodwise Farmers Market on Saturdays at the nearby Ferry Building. You can truly get your New York fix with standout pastrami, brisket, double and triple decker sandwiches, and—a personal favorite—elaborately loaded latkes.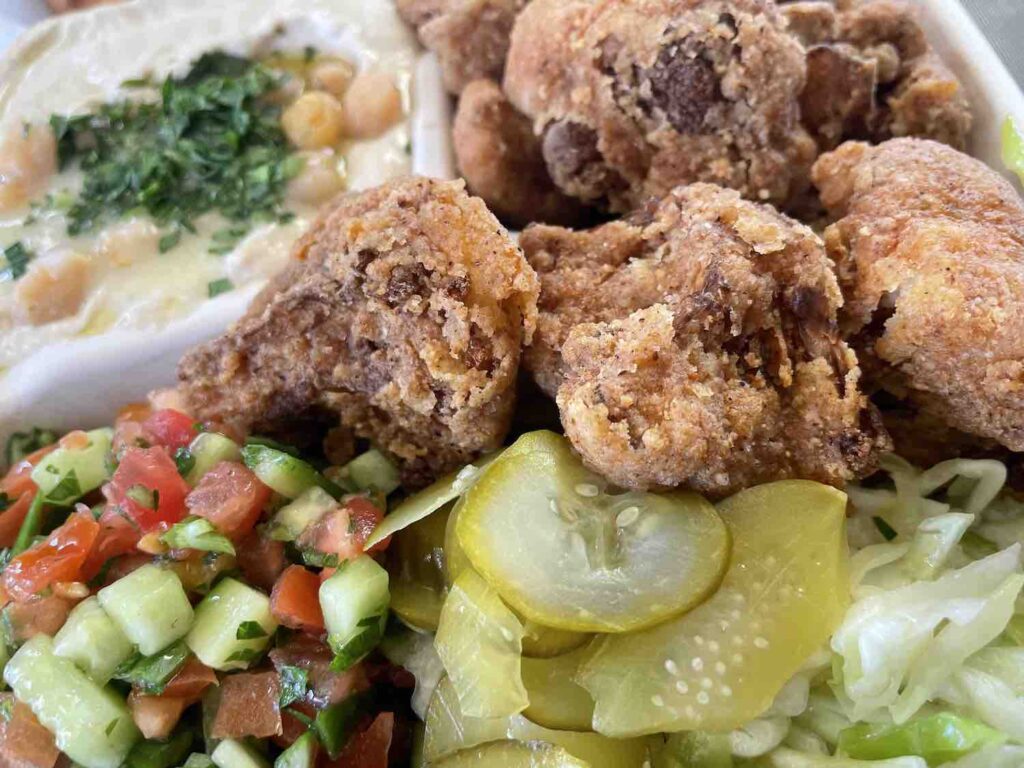 Hummus Bodega
Open since May 2020, Hummus Bodega on Geary Street in the Richmond District sells sumptuous hummus, falafel and veggie plates, and the unbelievably soft pita bread with English muffin-esque interior that had a cult following at the co-owner's Frena Bakery, which previously occupied the space. Recommended for a group snack or a solo comfort meal.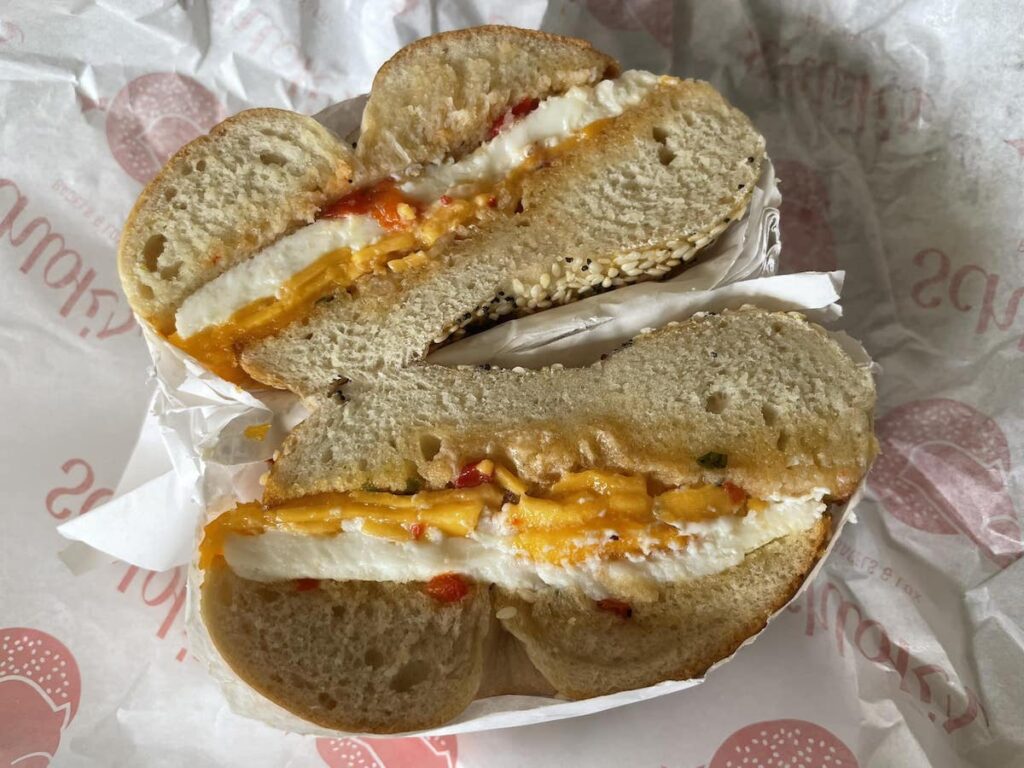 Schlok's + House of Bagels
You may have seen the weekend lines for bagels and breakfast sandwiches at Schlok's on Fell Street. Try them both, but do yourself a favor and pre-order them so that you can get on with your day! And don't forget about House of Bagels on Geary in the Richmond, the original bagel crew in town, which has modernized with options like ube cream cheese.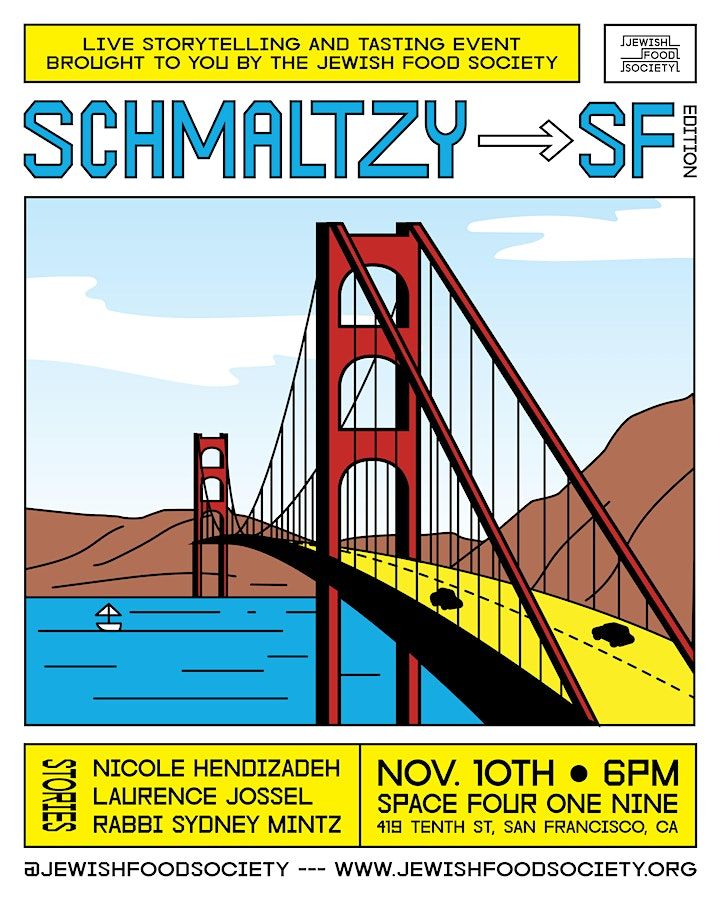 Save the Date
A few events of note to put on the calendar, starting this week: New York City's Jewish Food Society is hosting two intimate storytelling, food, and drink events called Schmaltzy Salon in the Bay Area in Oakland (Tue/8) and San Francisco (Thu/10). Oakland's event features Bad Walter's Bootleg Ice Cream's Sydney Arkin, while "spiels and noshes" in San Francisco will come from Mythical Kitchen author Nicole Hendizadeh, Nopa chef/owner Laurence Jossel, and Temple Emanu-El's Rabbi Sidney Mintz.

Closer to the holidays, there are already a few notable events to consider. On December 18, the Jewish Community Center of San Francisco's fifth annual Glowing Hanukkah Party Pop-Up returns to Ghirardelli Square with free donuts, Hanukkah crafts, and an LED piano concert. And on December 23-25, Kung Pao Kosher Comedy celebrates its 30th anniversary of making Jewish people and their friends laugh over Chinese food. This year, you can also watch the virtual show on YouTube.
Get more food ideas at Tamara's site California Eating