Remember the Oughties? When, after 9/11, anti-Arab and Islamophobic sentiments ran amuck, to the extent of rubber-stamping invasions of nations that had little or nothing to do with that terrorist attack? Strange how long ago it seems. And one reason is that those particular prejudices aren't a topic of popular discussion much anymore. Not because they've gone away—no, simply because in our current era, politicized waves of bigotry toward Asian, Black, Latino, trans, gay people have surged to equal or greater prominence. Who don't right-wing ideologues hate? Well, themselves, of course. But fellow conservative whites aside, it's hard to think of demographics they haven't aimed their chum hose at.
In that unhappy national cultural (or perhaps anti-cultural) climate, amid a crucial election to boot, chance has scheduled a number of film openings and events this weekend that amplify voices from Arab and/or Muslim communities and nations around the world.
The big one is the 26th edition of the Arab Film Festival (Fri/11-November 20), North America's longest-running and largest event of its type. This annual showcase for "the best of contemporary films that illuminate the richness of Arab culture" opens Fri/11 at the Castro Theater with Morocco's current Oscar submission feature, The Blue Caftan. It's a delicately nuanced drama about a traditional tailor (Saleh Bakri) whose painstaking craft—inherited, like the shop, from his father—is becoming obsolete. That is a source of frustration for his wife (Lubna Azabal), but doesn't seem to bother his new apprentice (Ayoub Messioui), who has a gift for meticulous embroidery.
Complicating matters considerably is the wife's terminal illness, as well as the tacit knowledge that her husband is a little too taken with this handsome new assistant. Writer-director Maryam Touzani will be present for the screening of this restrained yet touchingly intimate tale, which Strand Releasing will distribute in coming months. A party follows at Slate Bar.
That's far from the only item in the festival with LGBTQ+ content: There's also a "Queer Lens" shorts program, plus two unclassifiable features mixing elements of autobiography, fiction and experimentation: Miguel's War (about a gay man who returns to the Lebanon he'd fled nearly four decades earlier), and Egyptian Shall I Compare You to a Summer's Day. The latter is an imaginative no-budget musical of sorts about male same-sex desire whose freeform assertion of personal and collective identity may remind you of Marlon Riggs' Tongues Untied.
Beyond more from Lebanon (Beirut Hold 'Em, Fadia's Tree, Memory Box, Perhaps What I Fear Does Not Exist, The Sea Ahead) and Morocco (The Desert Rocker), other countries represented by feature work include Jordan (The Alleys, Daughters of Abdul-Rahman, Salma's Home), Tunisia (Ashkal, A Second Life), and the US (UK co-production The Swimmers, about two Syrian war-refugee sisters' path to the Rio Olympics).
As ever, several titles train their gaze on issues related to occupied Palestine and its diaspora. Abdallah Al-Khatib's Little Palestine, Diary of a Siege is his own diaristic account of years spent between 2011-2015 in the world's largest Palestinian refugee camp (in Damascus' Yarmouk district), which had been a livable place until targeted by both sides in the Syrian Civil War. Most of the residents fled; those left behind soon found they were trapped between road blocks, bombings, and rapidly dwindling food, water and medical supplies. (The director's mother appoints herself as resident wandering physician.) Nearly 200 people died of starvation during a prolonged siege, and the camp was ultimately all but erased. It's a strikingly immediate portrait of extreme, long-term deprivation, as well as courage under impossible circumstances.
Closing night feature The Stranger is a dramatic fiction with thematic overlaps to Al-Khatib's documentary. Ukraine-born, Syrian-heritage writer-director Ameer Fakher Eldin's debut feature is about an unlicensed doctor (Ashraf Barhom) living on a farm in Golan Heights terrain endlessly disputed over by Israel, Lebanon, and Syria. His bitter sense of an unfufilled life is challenged when he meets a wounded refugee from the war in Syria. This somber mood piece plays Sun/20 at SF's Roxie Theater. Other venues for AFF's 10 days of in-person screenings include Oakland's New Parkway Theater and Berkeley's BAMPFA. Some programs will also be available for online streaming, and play other US cities at future dates. For full info, go to www.arabfilmfestival.org.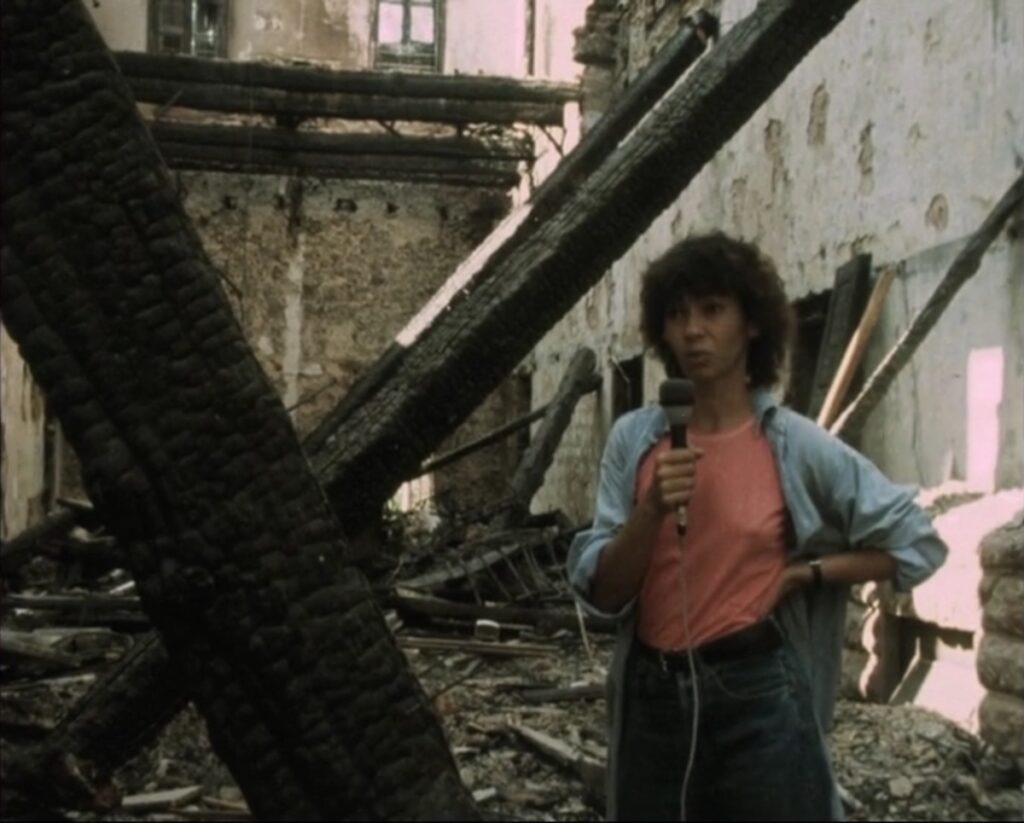 Also included in the festival roster this year is a satellite event, BAMPFA's short series The New Lebanese Cinema of the 1970s and 1980s (Thu/10-November 17, more info here). If you were around back then, you know it's extraordinary that any filmmaking at all came from that nation in an era when the word "Beirut" became a synonym for war's destruction and chaos. Journalist Jocelyne Saab, who passed away last year, braved the perils of a "city that no longer exists" to create "The Beirut Trilogy," a remarkable clutch of mid-length documentaries—Beirut, Never Again (1976), Letter From Beirut (1978), Beirut, My City (1982)—that are both blunt news reportage and poetically personal statements. They play on one program Thu/10.
The other two films in this brief survey are adventuresome narratives incorporating active war-zone locations. Borhane Alaouie's 1981 Beirut the Encounter (Sun/13) depicts two lovers already separated by war for two years, eventually communicating their long-distance yearnings and dislocation via exchanged cassette tapes—a device that purportedly influenced the storytelling in Wim Wenders' Paris, Texas. Heiny Srour's Leila and the Wolves (Thurs/17) is a complexly woven tapestry of present-day fictive characters, archival footage, staged historical flashbacks, essayistic and documentary elements. As its modern-day expat heroine assembles a London photography show illustrating Lebanon's tumultuous recent past, she imagines herself in each successive 20th century era, vignettes limning women's roles in seemingly endless strife. This ambitious and expansive conceit purportedly took seven years to film.
The plight of women in a patriarchal religious society is given a very different, true-crime-style depiction in Ali Abbasi's European-financed, Jordan-shot Holy Spider, which opens a regular run at the Roxie this Fri/11. Abbasi made something of a splash a few years ago with the Swedish Border, a refreshingly offbeat, low-key magical realist tale about a customs officer whose peculiarities were a matter less of personality than species designation. His latest is something else entirely, a grim fact-inspired look at institutionalized sexism in his native Iran that's part investigative procedural, part brutal thriller.
Rahimi (Zar Amir Ebrahimi) is a journalist who travels to the city of Mashhad to dig into the ongoing story of the "Spider Killer." Upon her arrival, he's already murdered nine local prostitutes in the same fashion—picking them up, strangling them with their own scarves, then dumping the bodies in an area just outside the city. Police seem to have made no progress in catching the perp. Nor do they seem to care to, their off-the-record sentiments being that he's "cleaning up the streets for them" by targeting sex workers and addicts. Rahimi discovers a colleague (Arash Ashtiani) is actually getting phone calls from the anonymous assailant after each death, in which he brags he's "waging a jihad against vice." But that hasn't made it into the news, because the theocratic government regime frowns on any public link between religion and crime—let alone crime this lurid.
Our protagonist eventually risks posing as a streetwalker to catch the man, since it seems no one else will. But we already know just who he is: Saeed (Mehdi Bajestani), a war hero whose delusions of personal grandeur are not being fulfilled by his humdrum construction job, or his ordinary domestic life with unsuspecting wife and children. As the bodies pile up, he grows ever more violently compulsive and careless.
Holy Spider—a Cannes prize-winner which the Iranian government has duly condemned, since it clearly indicts its institutions—is strong stuff, to the point that it may seem an excessively nasty piece of work to some. The murders are shown in ugly detail; the victims, strung out and sometimes vulgar, are not flatteringly depicted; our heroine is is abrasive and dour. But then, who can blame her? She's forever butting up against the limitations placed on her as a woman in this society, professionally and otherwise. Her career already suffered a setback from her rebuffing a superior's advances, and during the film's progress she'll suffer similar indignities from other men in positions of authority. As for the killer, he is hailed by many for "taking out corrupt women," even after his capture.
Though Abbasi and co-writer Afshin Kamran Bahrami take dramatic liberties here, Saeed Hanaei and his misogynist crime spree two decades ago were a real thing—and the moral climate that allowed him to claim at least sixteen lives has scarcely abated in Iran since then. Holy Spider is an engrossing movie… though you may also find it just plain gross at times.
There's not a lot of levity in the various films noted above. But stepping outside the realm of the Arab or Islamic worlds, there is fun to be had in the high 1970s Blaxploitation flashback of Solomon King, a long-lost, locally-produced movie whose recent restoration is showing at the Roxie this Sat/12. It was originally released in 1974, with high hopes: After all, one of the prior year's biggest hits was likewise Oakland-shot The Mack. That film's outrageous depiction of a pimp's ghetto-fabulous lifestyle was considered a moral nadir by those who thought Black cinema should be "uplifting." Still, audiences loved it.
The titular character in Sal Watts' first/last film as star, writer, co-director and financier (just for starters) is a less divisive figure, if just as much a living-large fantasy. Solomon K. is a former CIA agent and Special Forces operative turned Bay Area businessman called upon to protect members of a Middle Eastern nation's royal family after a duplicitous relative stages a coup. When he's not dodging assassins, women are throwing themselves at him, including a nightclub queen who gets her own funky theme song ("Sheila/She's a love heal-ah"). A multitasking entrepreneur off-screen as well, Sal Watts also costumed the cast with duds from his own clothing chain Mr. Sal's Fashion Stores, and trust me, the vintage threads (as well as decor) are to die for.
The film apparently had a deluxe black-tie premiere at the Paramount Theatre. But by 1974 the violent, sexy blaxploitation boom begun by Shaft three years earlier was considered to have fizzled out. Solomon King, a DIY enterprise with some amateurish production and performance aspects, failed to get any decent distribution. By the time anyone thought to excavate it, the original negative had vanished, the few surviving 35mm prints grownfaded and scratched.
This restoration, which premiered at Fantastic Fest in September and will be released to home formats by Deaf Crocodile, remains imperfect—which only heightens its retro charm. Watts, who also owned a record label, hosted a TV dance show, and did some Federal time on tax charges, passed away in 2003. But while he didn't live to see his magnum opus resuscitated, his widow and co-star Belinda Burton-Watts will be present at the Roxie screening for a live Q&A.