The San Francisco Planning Department has finally done a study, of sorts, of the impact market-rate housing can have on displacement and gentrification in vulnerable communities.
The study, by Seifel Consulting, is focused on the market-rate housing project at 469 Stevenson, which is by no means dead (despite what news media and the Matt Haney for Assembly campaign have said) but will be back before the Planning Commission Thursday/8.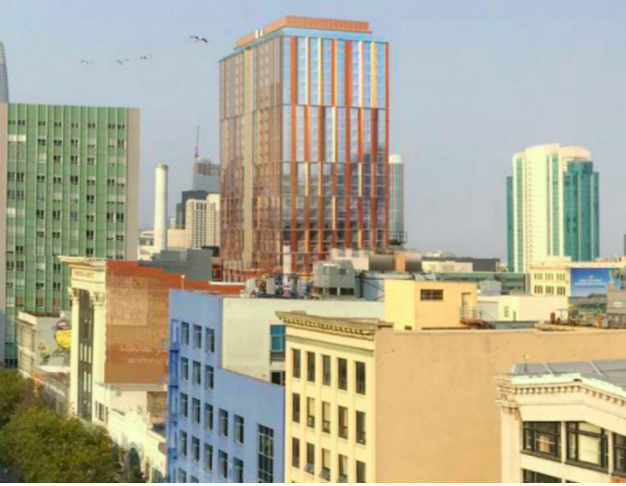 Let's remember: This is a proposal to develop luxury housing in the heart of a low-income part of Soma. There will be some, but limited, affordable housing.
The whole bitter debate is a bit foolish at this point: The project has no financing, the developer doesn't own the site, and it's very unlikely that in this market, it will be built anytime soon.
But never mind: The Board of Supes did a valuable service when they told the Planning Department to look at the likelihood that a luxury housing tower just off Sixth Street would change the neighborhood and drive out low-income people.
So the planners commissioned this study, which you can find here (you have to go to Appendix J).
It's conclusions:
As indicated in research reviewed for this report, displacement and gentrification are the result of a complex set of social and economic forces at both the local and regional scale. The construction of insufficient new housing over the past three decades, coupled with strong economic and job growth in the Bay Area region, including San Francisco, has intensified housing demand, which has led to increases in home prices and rents. These changes have contributed to gentrification and intensified displacement pressures throughout the region and in the City. …

Based on the research publications reviewed for this report and the analysis presented in Section G, the Proposed Project might contribute to gentrification and economic (indirect) displacement because the Proposed Project would add approximately 400 new above moderate-income households to the Surrounding Area and could potentially indirectly displace between 10 and 41 households. However, research indicates that new market rate construction neither worsens nor eases the rates of people moving out of gentrifying areas.
At the very least, that's a very limited description of the existing data and academic research on this issue.
The study makes some flawed assumptions, including that rent-controlled apartments are safe from displacement, which ignores the very real and brutal impact of the Ellis Act.
And focusing on the specific number of households that might be displaced misses the big picture.
Gentrification is, indeed, a complex process, but it involves a lot more than just housing. Neighborhoods are communities made up of residents, businesses, services, amenities, and the basic feel of street life, and all of these are affected by development.
When you put new rich people in a low-income neighborhood, they demand different types of businesses. Commercial rents rise, and since California has outlawed commercial rent control, local merchants and restaurants that cater to a lower income population are forced out, and new, higher-end places move in.
Service providers that need cheap space are priced out of the neighborhood. New residents demand more police, which leads to crackdowns on the unhoused and on people who spend much of their time on the streets.
As the area gets fancier and cleaner, more rich people want to move in, and the process continues.
This "study" completely ignores that process.
Just for the record, the outfit that did the study doesn't primarily focus on gentrification:
We help our clients resolve complex urban growth issues, maximize the value of real estate assets and achieve fiscal goals. Over the past two decades, our insightful analysis has guided our private and public sector clients through the planning, funding and development of high quality residential, commercial and industrial real estate.

Our clients achieve a competitive advantage by developing real estate that is both economically sound and socially responsible. Each parcel of land is precious, and we in the real estate community will be measured by the integrity, vision and permanence of our work. To that end, Seifel Consulting develops strategies that achieve our clients' desired returns and create enduring value for the communities they serve.
So a consulting firm that mostly encourages development says development won't gentrify the Tenderloin.
The California Environmental Quality Act, which guides the EIR that is at issue here, requires consideration of "cumulative effects," that is, not just one project but all of the others that are happening in the area.
The cumulative effects of gentrification are missing here: As some rich people move in, and a neighborhood changes, more rich people will move in. Capitalism is a brutal process, and a little bit of displacement leads to more displacement, and soon, an entire community is gone.
That's why community advocates are worried about 469 Stevenson—and why this study isn't terrible convincing.