Before I saw Mean Girls: The Musical (through February 26 at Golden Gate Theatre as part of BroadwaySF), I hadn't watched the 2004 movie on which it's based. I didn't need to: I'm a gay man with an Internet connection, I practically knew it all by heart via meme-osmosis. The Tina Fey-scripted Millennial touchstone's indelible quotes have shaped pop culture in many ways—right down to observing October 3 as practically a national holiday, simply because it was mentioned in the film. Sure, the Bush Era privileged feminist message is creaky (its "let's stick together and then cute boys will respect us" trope was soon bulldozed by social media-driven Girl Boss self-branding), but overall the movie is sweet, a sticky generational entry into the "Grease"/John Hughes/"Clueless" quotable high school hierarchy genre.
Two-and-a-half hours of cute, dressed up with frenetic music and even more '00s hip-hop 101 choreography, however, is exhausting. There's so much going on in the attempt to hold your attention and fill every corner in Mean Girls: The Musical that the key lines become anti-climactic, and attempts to update the script into the post-socials era are just plain weird. (For one, the kids are still dressed like Britney wannabes—an unfathomable miss to play with awesome Gen Z fashion—and the obsession with online status is already quite stale. I won't even go into the icky soliloquy about child porn solicitation.)
But the heroic cast sells this musical tale of an outsider—Cady, a white girl from Kenya, somehow bearing a US accent—who lands at an Illinois high school and is immediately absorbed into the Plastics, a trio of "mean girls" who run the school with looks, schemes, and money, and eventually get their gentle comeuppance. The sheer stamina of the players throughout this highest-wattage production is worth the inevitable standing ovation, as is that of the orchestra, even if the thing as a whole is just OK. Half of the main cast was out for the performance I attended, I can only guess from fatigue, but the understudies shined bright.
Despite questionable choices—we don't need a "jungle music" theme woven into Cady's songs or a basic gay "outcast" who worships the underground punk stylings of… Lady Gaga, and why on earth would you bury the movie's most culturally impactful line "Get in loser, we're going shopping?"—there are some smart chops, especially culling Fey's climactic victim-blaming declaration "You all have got to stop calling each other sluts and whores. It just makes it OK for guys to call you sluts and whores." Um, no. The "ditz" Keren (scene-stealingly played by sub Megan Grosso) gets a few pointed last laughs, and rich girl Gretchen's (sub Mary Beth Donahoe) growing self-awareness is amplified to affecting effect.
English Bernhardt as Cady and Nadina Hassan as nemesis and then friend Regina George sparkle in extensive roles, as does love interest Eric Huffman. There are a couple terrific sight gags—watch for some cafeteria tray razzle-dazzle and the horny school mascot. But let's not ignore the fact that the whole plot revolves around a tired and cruel fat joke. And dressing up male members of the cast in terrible wigs and dresses for most of the numbers borders on misogynist and/or transphobic. I highly advise some sort of sugar-shock Frappuccino to get through the evening—and yes, everyone wears pink, no matter what day you attend.
MORE EVENTS OF NOTE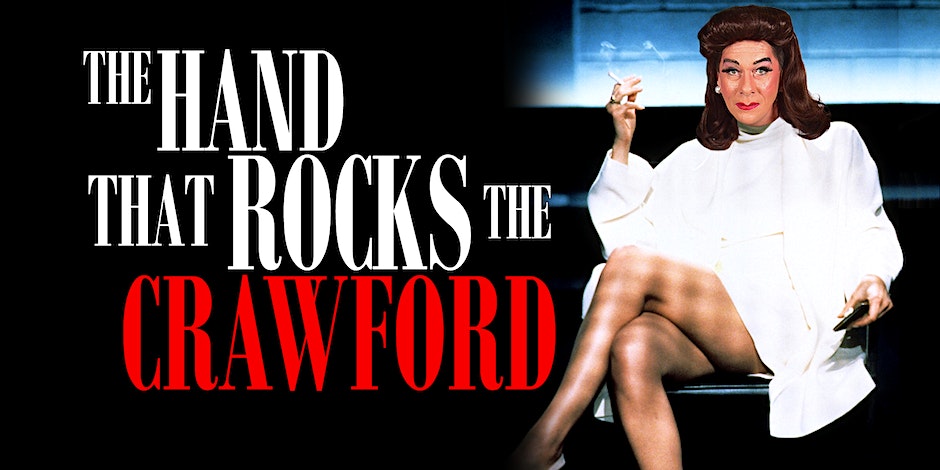 THU/16-MARCH 4: THE HAND THAT ROCKS THE CRAWFORD Providing an overload of campy ecstasy for fans of classic movies, drag phenomenon Matthew Martin impersonates Hollywood whirlwind Joan Crawford in a farce that pays tribute to her most delicious roles. Oasis, SF. More info here.
FRI/17 + SAT/18: RAWDANCE CONCEPT SERIES: 29 Family-friendly, pay-what-you-can, spectacular dance performances from the RAWdance company and guest artists Johnny Huy Nguyen, Audrey Johnson, Jess Bozzo, Jordan Wanderer + Mary Carbonara, and Chingchi Yu. The Green Room at San Francisco War Memorial. More info here.
FRI/17: SWIFT ME AWAY—A TAYLOR SWIFT VALENTINE Look at me, coming out as a Swiftie, lol. She's soundtracked love, life, and loss for an entire generation of pop music lovers. Now, fans can come together and sing along to tracks like "Sparks Fly," "Enchanted," and "Our Song" during Taylor's version of a post-Valentine's Day party. 9:30pm-1am, Milk, SF. More info here.
FRI/17-MARCH 4: BETWEEN THE SHEETS The Left Coast Theatre Company returns with "an anthology of original LGBTQ+ theatre about the trials and tribulations of queer sex and relationships" that tackles questions like, "How can I bag that daddy?" and "Is it always going to be this awkward to talk about sex with your grandma, even when she's a liberal lesbian?" Sounds like a potentially somewhat uncomfortably relatable hoot! Phoenix Theatre, Fort Mason, SF. More info here.
SAT/18: NORTH BEACH MARDI GRAS PARADE Tupelo Restaurant and North Star Cafe present this handkerchief waving and bead-throwing extravaganza, with MJ's Brass Boppers, "an authentic New Orleans singing and swinging Second Line brass band. These guys are the real deal straight out of Nola." There's of course heaps of Creole food, drink specials, and more. 1pm-7pm (parade starts at 3:30pm), North Star Cafe, SF. More info here.
SAT/18: ALL YOUR FAVORITE MUSIC IS (PROBABLY) BLACK The fabulous Mark Montgomery French knows pretty much everything about music, and his enormously appealing series that traces the Black roots of most musical genres is a delight. (I love his Youtube show, as well). Catch him in Berkeley and get hip. 2pm, Berkeley Public Library, West Branch. More info here.
SAT/18: THE NORDIC PSYCHEDELIC SOUL INVASION Yes, perhaps it sounds oxymoronic, but the social democracies of the Vikingsphere are pumping out some gorgeous psych-soul bops. Catch Rezá Azul featuring Raz Kennedy and Teresa Kali plus Alex Runo and Asynjur tear things up. 7pm, cafe Du Nord, SF. More info here.
SAT/18: SISTER NANCY Good goddess, can this reggae legend still rip. She's famous for number one hit "Bam Bam" from four decades ago but she is still plowing through crowds like a steam train. 8pm, The Chapel, SF. More info here.
SAT/18 + 19: NEW WINTER CHOREOGRAPHERS' SHOWCASE Check out hot new moves from some of the Bay's best dance-makers, including Nicole Klaymoon's House Performance Workshop, Fogo Na Roupa, Kirstin's Strong Pulse Dance Crew, SambaMix with Queen Mawuta. Dance Mission Theater, SF. More info here.
SUN/19: BONA VADA BARBERSHOP GRAND OPENING This is going to be THE wee celebration where you'll catch some of the gay scene's fantastical creatures. It's a hairdresser holiday (the name is from secret UK homo-slang dialect Polari) with DJ Bobby Please, art. from Adam Ansell and Jason Mecier, a gaggle of Sisters of Perpetual Indulgence, and plenty of drink and carousing. 2pm-8pm, Bona Vada, SF. More info here.
SUN/19: DISCO DADDY DOES CHAKA KHAN DJ Bus Station John celebrates our REAL president with this lovely tribute to the funk-soul queen at the Eagle. Throw on something that sparkles and come dance, Sweet Thing. 7pm-2am, Eagle, SF. More info here.
SUN/19: POLYGLAMOROUS WITH DJ HOLOGRAPHIC Detroit DJ (and one of my favorite people ever) Holographic plays incredible spins on funk, disco, and house tunes, revved up for big room joy. She's joined by forever awesome Chicago cutie Shaun J. Wright and the Polyglamorous crew for a pre-President's Day ho-down. 10pm-4am, Public Works, SF. More info here.